Click here to go straight to hike notes.
Is there anything better than a swinging rope over a swimming hole on a summer's day?
For my kids, that's just about as good as it gets. Luckily, in Gush Etzion where we live there are a few natural springs to choose from on a hot day.
The trick to enjoying these springs is to find the right one for the right moment. On a random morning during the school year, Ein Sejma in Bat Ayin is a great place to go. It's neat and pretty, with picnic benches and two little pools to dip your feet.
But visit Ein Sejma on a summer afternoon and you'll find yourself greeted by throngs of people swimming in one small pool– not exactly your idyllic swimming hole.
This past week on one such summer afternoon, we decided to venture a bit off the beaten path towards a different Bat Ayin spring: Ein Livne. One thing that makes Ein Livne more appealing is that you have to walk to get there. It's not a very far distance – only about a half a kilometer, and it's along a beautiful trail. But the walk itself is enough to dissuade many people from visiting Ein Livne on a hot summer afternoon.
We, on the other hand, enjoy a little hike. Even in the sun. And the pool that was waiting for us at the end? It was large, beautiful, and shady. We could have sat there for hours. (And we did!)
Here's how we hiked to Ein Livne of the Bat Ayin Springs.
Definitely Off the Beaten Track
To begin the hike, we first had to find the trailhead. Even using a map, it took a lot of driving around before we found a place to park the car and begin the trail.
That's because Bat Ayin is a unique yishuv (small town). It's in Judea and Samaria (over the green line), but there's no fence around it. The residents of Bat Ayin build all of the homes and public areas themselves. It's not laid out like your typical town.
After following a long steep road, we finally reached Bat Ayin Bet, the outpost part of the Yishuv. Here, we parked our car and followed the trail past a guest house and towards Ein Livne.
Walk Through the Countryside
The walk itself was quite pretty. Yes, it was summertime, so the land had the usual golden and dry look that always appears during that season. But the path was lined with trees.
Olive trees don't provide much shade. But they did provide deep beauty. We felt like we were talking a walk through the Italian countryside.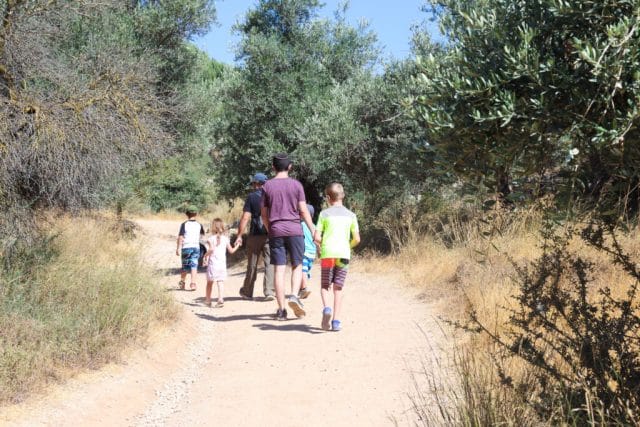 That day, we had set out with extended family.  All together, we had eleven kids between us.  But not one of them complained.  The path was relatively flat, and most of all, short.
Spring Time
Before we knew it, we had reached the spring, hidden under a thick cluster of trees in the shadowy darkness. As we approached, we were pleasantly surprised. Not only was the spring pool large and clean, but there were only two other small groups of teenagers swimming there. And there was plenty of room for everyone.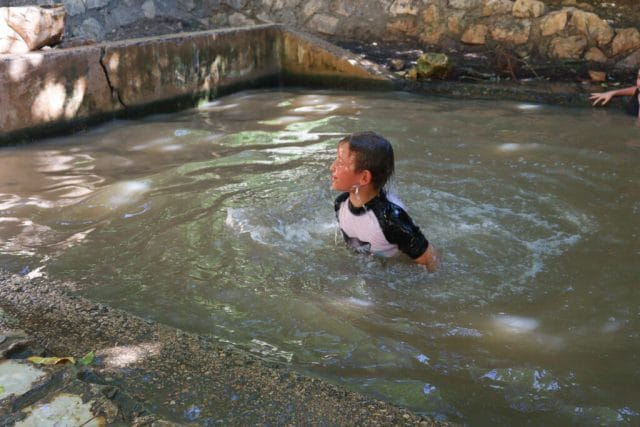 We adults made ourselves comfortable on the wooden tables and benches. And the kids gingerly approached the water, waiting a few moments before taking the plunge.
My son was the first to jump in. The water was cold, but super refreshing after our hot walk. Soon enough, all of the little boys followed suit.
Antics
At Livne Spring we discovered a platform and a Tarzan rope. It didn't take long for our kids to figure out how much fun it was to swing into the water from up above.
They splashed, they swam. They were in the water for what seemed like hours. When they got cold, the kids jumped out for snacks and laid themselves flat on warm rocks in the sun. And then they returned to the water, looking for new ways to have fun.
Up above the pool, there was a tall and twisty tree, perfect for climbing. None of our kids were brave enough to try, but some of the teenagers found that one overhanging tree branch was a perfect height for jumping into the two and a half meter deep pool down below.
Hot Fun in the Summertime
I can't say that we adults exerted ourselves very much, but we did spend a blissful summer afternoon relaxing on low wooden benches while the kids played. There was a lot to catch up on! And sitting under the shade of the trees at Ein Livne we lost ourselves in conversation.
A couple of hours later, it was time to go. The kids would have liked to stay forever, but it was getting late. The time had come to return home and finish up another great summer day.
We dried the kids off, helped them with their shoes, and set back the way we came.  Whoever was wet was happy to stay cool in the late afternoon sun.
Isn't it great to find a magical piece of summertime only 20 minutes from home? At the Bat Ayin Springs, anyone who's willing can head off the beaten track for good, messy, summer fun.
Hikers's Notes:
Here's what you need to know to hike to Ein Livne of the Bat Ayin Springs:
This trail is in Judea and Samaria, over the Green Line. Make sure you feel comfortable with your personal security before heading out on this type of hike.
Good for all seasons. There's not a lot of shade on the path, but it's a very short walk. You should be fine even in the summertime.
Suitable for dogs.
Great for kids.
The trail is marked, but poorly. The hike towards the spring is on the green trail. It's best to use our Google Earth map in the table up top to find your way. Alternately, use Amud Anan and follow Nahal Livne towards Ein Livne.
Don't forget to read my guide to the navigational features in this post before you hit the trail!
Trail map from Amud Anan.
Questions? Have you hiked the Bat Ayin springs? Let's hear about it in the comments.
Hiking can be dangerous and is done entirely at your own risk. Information is provided free of charge; it is each hiker's responsibility to check it and navigate using a map and compass.