Sataf. This name holds a special place in the heart of many Jerusalem area hikers.
Most nature loving locals have come across Sataf in one form or another – whether on a day hike or an early morning run. But visitors to Israel and the Jerusalem area are often completely oblivious to the deep beauty of the Sataf Forest. Since Sataf is located on the outskirts of Jerusalem and full of very accessible hiking paths, it's a shame to miss out on this woodland paradise.
For starters, right at the center of Sataf are two freshwater springs: Ein Sataf and Ein Bichora. The area right around these springs is what many people think of when they think of Sataf. But, there's much more to discover in Sataf Forest.
In Sataf Forest, there are mountain trails, hikes through ancient villages, and walks through deep woods. There are stroller friendly paths, jogger friendly paths, and hidden caves. Walk on one path for incredible vistas in the morning, then turn to another for an afternoon dip in a spring.
This guide will take you through the 6 best trails in Sataf Forest. Make your way through all of these hikes, and you'll be an official Sataf insider:
But First, Let Me Explain
First things first: Sataf Forest takes its name from an old village located at its center. This village, built just above the springs, was inhabited on and off during the last 6000 years, dating back to the Chalcolithic period.
Sataf (the village) was at its greatest splendor during the Second Temple and Byzantine eras. From then on, it was sporadically inhabited, finally as an Arab village until its residents fled during the War of Independence.
What has remained the same at Sataf for the last several thousand years is the unique agricultural methodology built into the side of the mountain. Throughout the centuries, locals used terraces to farm their many crops, including olive trees, grapes, and more. These terraces enabled water to flow from one plot of land to the next without extensive irrigation.
In 1949, Moshav Bikura was established at Sataf. But the settlement didn't last long. Crumbling infrastructure and landslides forced the residents to leave soon after. It wasn't until the 1980's, when KKL rehabilitated the entire site, that Sataf became the beautifully restored Biblical landscape that it is today.
So, That's It?
Actually, Sataf village is just one small part of the entire Sataf Forest. The forest itself (which gets its name from the village) encompasses a vast area, including several springs, 3 mountain peaks, and all sorts of fun stuff.
As with other KKL forests, Sataf Forest is well marked and full of shady hiking trails. It's an expansive, beautiful resource for anyone who lives in (or visits) Jerusalem.
Let's get to the trails.
Mount Eitan Loop
The Mount Eitan Loop is an 8 kilometer trail that encircles the peak of Mount Eitan. This hike is relatively flat, making it a great choice for strollers, joggers, or anyone who would like a nice walk in nature – no climbing required.
The trail is great for all seasons. I've hiked this trail on the day after a snowstorm and on an early morning in mid-July. In the springtime, it is full of beautiful flowers. In the fall, you can spot a colorful tree or two.
But the best part of the Mount Eitan loop is the view. From the trail, blue mountains decorate the horizon in the distance. It's the most spectacular perspective on the Jerusalem Mountains in the country. Since the trail loops around the mountain, walkers get a full tour of different views around the peak.
The trail begins from the Upper Sataf Parking lot, the main starting point for several Sataf hikes. At the parking area, there are bathrooms, exercise equipment, picnic tables, and a kiosk.
Read the full Mount Eitan post with free maps here.
The Sataf Springs Hike
For a beautiful walk through magical forests and olive groves, this 3.5 kilometer hike is the right choice. The trail begins at the Upper Sataf Parking lot, then follows a blue trail known as Shvil HaBa'al. This trail is thus named because of the terraced lots which can be found along the path, called Ba'al farming in Hebrew.
After walking through an area of great natural beauty, hikers reach the turnoff to Ein Sataf (Sataf Spring) and Ein Bichora. For kids, this is the best part of the hike.
At Sataf Spring, little adventurers can walk through a dark tunnel in knee deep water. At the end of the short (but fun!) journey, you emerge into a small wading pond in the sun.
There's also a large pool at Sataf Spring, where people swim. After Ein Sataf, follow the green trail to Bichora Spring, and then climb up through the ruins of Sataf village towards the trailhead.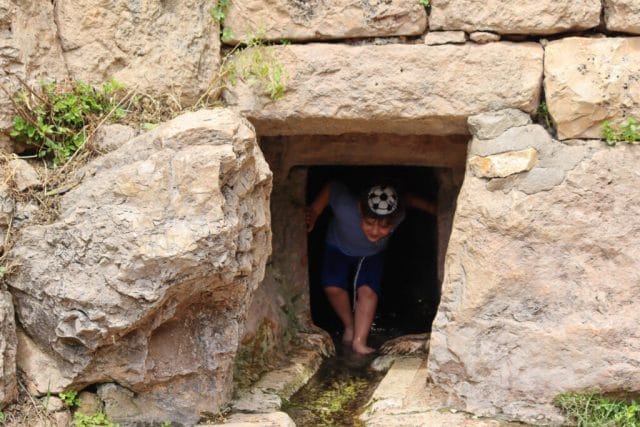 This hike is a great choice for families with kids… or just about anyone. It's easy to follow and absolutely gorgeous.
Read the full Sataf Springs post with free maps here.
Sataf Trails – The Extended Version
For those looking for a bigger adventure, the longer hike from Shvil HaBa'al down to Nahal Sorek and back up the mountain is a great choice.
The trail begins in the same way as the short trail, following Shvil Ha'Baal through an area of magical beauty. After a stop at the springs, the trail continues downhill, past gated gardens. These gardens are part of an initiative to give city dwelling locals their own plots of land to develop.
At the bottom of the hill, follow the Israel Trail to the black trail, then head back uphill along the red trail, known as Shvil HaShomrot. Along this trail, you'll see many "shomrot", or watch-houses, little huts where ancient villagers could rest during times when they were tending their crops.
Follow Shvil HaShomrot all the way back to the top where it hits the green trail (Shvil HaKfar, or the village trail). The green trail brings you back to the parking lot.
This longer Sataf trail is a perfect choice for people who want a full exploration of all of the different trails in the main Sataf area. The walk is 7 kilometers with a 390 meter ascent, so it's quite a challenge.
Read the full Sataf Trails post with free maps here.
Mount Heret Loop
Finishing off our roundup of trails that leave from the Upper Sataf Parking lot is the Mount Heret Loop Trail.
This trail encircles the second peak of the Sataf Forest. The Mount Heret Loop Trail begins on a wide, flat path through an evergreen forest. The trail progresses towards an olive grove, then to a natural spring.
From here, hikers backtrack and then take the black trail to cut across the top of a mountain next to an old quarry. The rest of the walk is through a beautiful pine tree forest along the green trail.
This path is a bit more difficult to follow and less well-traveled than other Sataf Forest hiking trails. At 6.5 kilometers, it's a great choice for anyone who likes to explore off the beaten track.
Read the full Mount Heret post with free maps here.
Mount Tayasim to Tayasim Spring
We've covered Mount Heret and Mount Eitan. The third mountain of the Sataf Forest is Mount Tayasim, a peak partially dedicated to an Airforce Memorial. (Tayasim = pilots)
The trail begins at the memorial, then continues on towards a beautiful lookout to the surrounding area. From here, the path cuts across the mountain towards the black trail: a challenging, steep climb down the side of Mount Tayasim.
This hike is absolutely awesome – climbing down a mountain while looking out on the green valley down below is thrilling. After 150 meters or so of descent, the trail enters a shaded woodland area. A little farther, and the path ends: at beautiful Tayasim Spring.
Tayasim Spring is one of the nicest springs in the Jerusalem area. The pool is clear and full year-round, with plenty of shade to relax in.
This Sataf Forest hike from a mountain peak down to a spring is perfect for bigger kids and adults. The trail is short… but challenging.
Read the full Mount Tayasim post with free maps here.
Hendek Spring
Sataf Forest is full of all sorts of hiking trails. But if you'd rather skip the hiking part, you can drive right up to a fun adventure at Hendek Spring.
Hendek Spring is at the very outskirts of Sataf forest. You can park right nearby, then take a set of stairs down to the spring. From the top, Hendek Spring doesn't look like much, but once you descend, you'll reach a dark and quiet area of great natural beauty. And lots of water to splash in.
Surprise: there's also a secret cave at Ein Hendek. Go a little further to wade through freezing cold water while exploring the dark cave. Don't forget to bring a flashlight!
To get to Ein Hendek: Put עין חנדק into Waze.
A Hiker's Paradise in the Jerusalem Mountains
Sataf Forest is more than just a place for a day hike. It's a vast and beautiful woodland that you'll want to hike through again and again, to explore at every season, in every way. From the biblical landscape at Sataf itself to the spectacular views at Mount Eitan, there's something here for everyone.
Sataf is open all day, year-round, with free entry to all. You can find a complete map of the forest online.
This local gem is a must-do for every resident and visitor in the Jerusalem area. Check each of these hikes off of your list. Then declare yourself an official Sataf Forest insider!
Don't forget to click on the individual hike posts for trail maps and trail marker galleries which will help you find your way!
Click to expand FAQ below.
FAQ
Where is Sataf?
Sataf is on the outskirts of Jerusalem, not far from Hadassah Ein Karem.
Is there a fee to get in? Do I need to reserve?
Sataf is free entry to all. There are no fees to get in and no reservations required.
Are there kid friendly hikes at Sataf Forest?
Yes! There are several kid friendly trails to choose from.
Are dogs allowed?
Yes. Dogs are allowed on all.
What will I see in there?
You'll see ancient agricultural plots of land, stunning views, olive groves, natural springs, an Airforce memorial, and more.
Can I get there by public transportation?
Yes. Use the Moovit links in the posts to find your route.
Is Sataf an ancient village or a forest?
It's both. Sataf village is located within the forest.
Are there facilities?
Yes. There is a small bathroom and kiosk at the Upper parking lot, available for your convenience.
What season is best for a visit?
Because there is lots of shade, Sataf is suitable for all seasons. It's most beautiful in late winter and early spring, when the flowers are in bloom.
Can I swim in there?
Yes. There are several natural springs to choose from. Tayasim Spring is the best of the bunch.