Click here to go straight to hike notes.
One Friday a few weeks ago, the kids were home from school…again. It was hot outside. So, if we were going to hike, it was going to have to be on a trail that was kid friendly and good for a very hot day.
We didn't want to drive far, so we had our work cut out for us. After spending some time with the map, we identified a hike that seemed perfect: a one-way trail from Mount Tayasim to Tayasim Spring, right outside of Jerusalem.
We were hoping that the climb down the mountain wouldn't be too challenging. And we were counting on Tayasim Spring being full of refreshing water (in early September, when many Jerusalem area springs are dried up).
Luckily for us, the spring was full and refreshing. It was quiet, shady, and a totally perfect way to spend an hour splashing with the kids. The mountain on the other hand? It was a major challenge! But my kids completely embraced it. It may have helped that we only climbed downhill and that there was a spring waiting for us at the end.
Here's how we took an amazing hike from Mount Tayasim to Tayasim Spring:
Memorial to Fallen Pilots
We began our day at the parking lot atop Mount Tayasim. There were signs leading every which way through the trees at the summit. Rather than follow the signs towards the black trail and Tayasim Spring, we decided to explore a bit first.
Walking down the shady pathways, we came across the Memorial to Fallen Pilots. Here, the names of every single pilot who died fighting for our country are inscribed on tall pillars. There's an audio presentation that explains the memorial – press a button, and you can hear it in English or Hebrew.
From the memorial, we headed out to the Mount Tayasim Lookout. Unfortunately, it was super hazy that day, likely due to the oppressive heat wave. We could see that if it had been a clear day, we would have been able to see all the way out to our town from across the valley.
On Our Way to the Black Trail
From the lookout, we found our way across the mountaintop and back to the black trail. It was already sunny, and the kids were hot, so we were hoping for a bit of shade. But at least at the beginning, it was mostly out in the sun.
We hopped over a series of gigantic black pipes and began to descend the mountain. Soon, we reached what seemed to be the edge of a cliff – and another spectacular lookout. From here, we could see the black trail winding down the side of the mountain. It did not look like an easy descent.
Is this a Good Idea?!
We started the downhill climb, slipping through loose dirt, using rocks for balance. My five- year old decided that some parts of the trail were much easier to tackle in a sitting position!
After negotiating the tough terrain for just a couple of minutes, my husband made an executive decision: he was going to skip this part of the hike and run back to the car. Then he would drive over to the parking lot at the spring down below. As far as he was concerned, there was no way that these kids were going to make it back up the mountain after our long journey down.
That was fine with us. My kids were too absorbed in their rock climbing to miss him. We carefully made our way downward, over rocks and dirt until finally we reached our first patch of shade.
Little Rock Climbers
We rested in the shade and took a long drink of water. After cooling down, we were ready to push forward. And what did we reach only a few moments later? An almost vertical descent down a series of metal handholds.
My kids were actually a hundred percent fine. But as their mother, I wasn't! I stayed close to my youngest as he carefully climbed down the side of the mountain. He's always up for an adventure.
From here, we continued along the black trail, down more precarious descents. Truthfully, if I had been on this hike without any children, I probably wouldn't have thought much of this level of rock climbing – it was totally fine and manageable for a fit adult. But I was a little concerned that one of my babies would go rolling down the mountain!
We had made it through the tough part. We watched as my husband drove the car up to the spring down below. A few minutes later, he met us on the side of the mountain, and escorted us through the beautiful scenery towards the Ein Tayasim.
Into the Shade and Beauty
The excitement of hiking towards a spring is a much greater thrill than driving up to one. The whole way down, visions of cool, refreshing water kept us all going through the summer heat. Would the reality of Ein Tayasim match up with our fantasies?
What we got was even more than we expected. Not only was Tayasim Spring filled with cold fresh water, it was also covered by a canopy of shady trees. And there were only three other people hanging around the pool, all of them on their way out. This little swimming hole was all ours.
To say that this was the best morning of the week would be an understatement. My boys cannonballed (and belly flopped) into the water again and again. (I sat on the side dangling my feet in, and my daughter daintily eased her way into the water.)
The kids paused for a brunch break, but aside from that, they couldn't get enough of the spring. We watched them splash away for about an hour. And then, with much coaxing and coercing, we finally pulled them away from their water fun.
After all of that activity, we were happy that the car was only a few steps away. No midday mountain climbing for us.
This walk from Mount Tayasim to Tayasim Spring was one of the best local hikes we've been on all summer long. It's not every day that one discovers a fun mountain climb and a freshwater pool all on one short trail.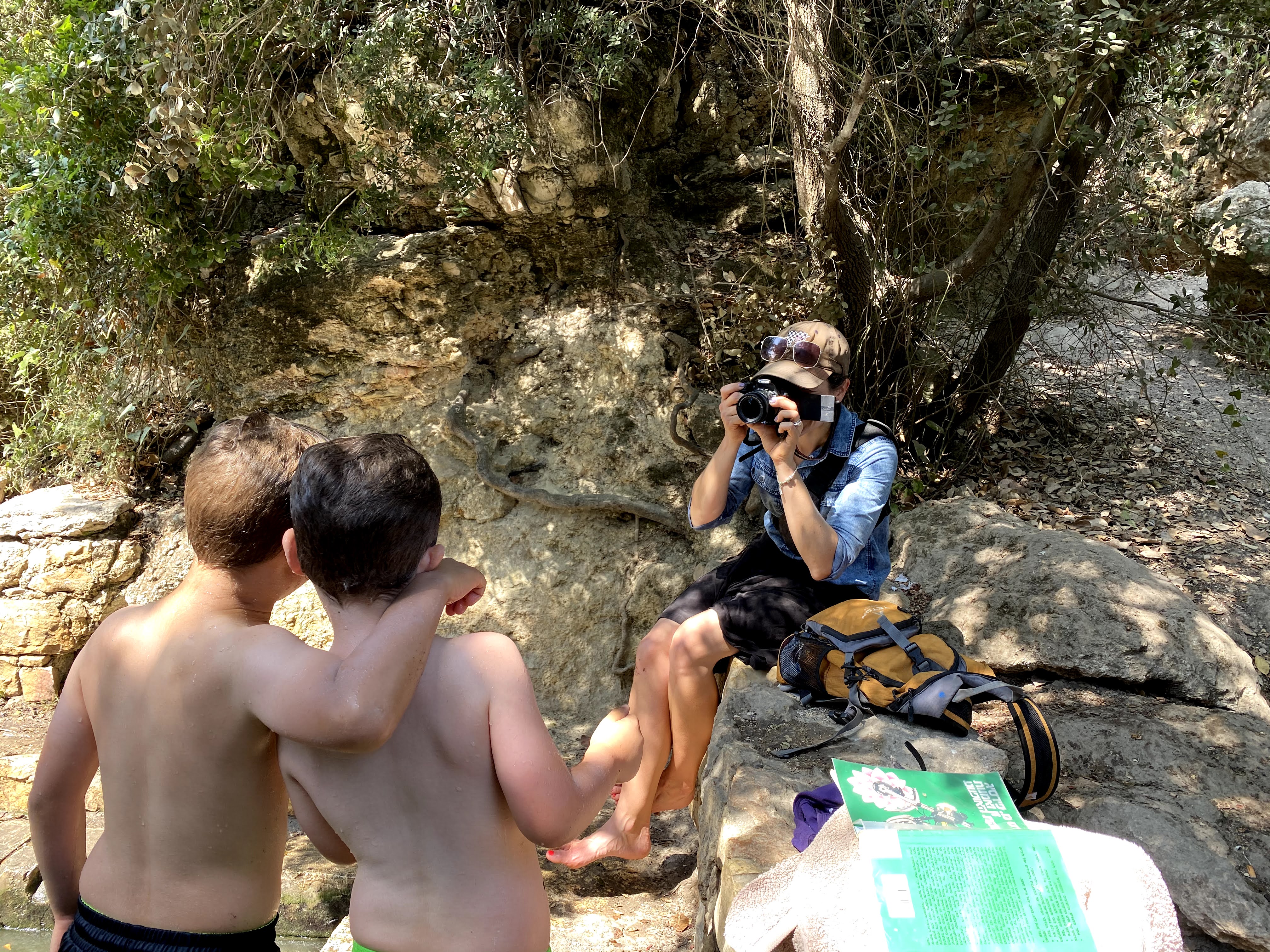 Hikers' Notes:
Here's what you need to know to hike from Har Tayasim to Ein Tayasim:
This trail is good for all seasons. That said, it can be hot and sunny on the mountain in the summertime. Go early in the day to beat the heat.
I don't think I can recommend this for kids (unless they are very adventurous!), but it would be great for older children and teens.
Good for dogs.
To follow the trail: explore the top of Mount Tayasim. Then follow signs for Ein Tayasim/ Tayasim Spring. The black trail will take you all the way down the mountain towards the spring.
This is a one way hike. Leave a car at Point B or have someone meet you at the bottom. Or, if you'd like a good workout, climb back up the mountain when you're done with the spring.
There is a beautiful, no facilities campground about 800 meters down the road. It's quiet, shady, and looks like a great place to spend the night.
Want to try more Sataf area trails? Check out our Complete Insider's Guide to Sataf Forest.
Don't forget to read my guide to the navigational features in this post before you hit the trail!
Trail map from Amud Anan.
Questions? Have you hiked from Mount Tayasim to Ein Tayasim? Let's hear about it in the comments.
Hiking can be dangerous and is done entirely at your own risk. Information is provided free of charge; it is each hiker's responsibility to check it and navigate using a map and compass.