Click here to go straight to hike notes.
Every once in a while, we just like to wander.
On an overcast day last week, we set out on an adventure from a familiar starting point: Kobe Bridge. This trailhead (and sight of an awesome natural wonder!) is close to our home. We were hoping to avoid a long drive and see if we could still reach an area we had been wanting to explore for a while: Mount Shalmon near Jerusalem.
And what do you know? Up a long winding bike trail, past a beautiful forested area, we were able to get to Mount Shalmon. The scenery along the route was simply spectacular. And it was really cool to see how close we actually were to this hiking spot on the other side of Jerusalem (a 45 minute drive from our home).
We discovered wildflowers, mushrooms, and asparagus while we hiked. We got to explore a gorgeous woodland. And most importantly, we experienced peace and quiet. These paths just aren't as crowded as some other Jerusalem Area trails. We even bumped into a few gazelles along the way!
Here's how we hiked this off-the-beaten track trail to Mount Shalmon:
Who Knows What We're in for?
Our trail began on a misty morning in the middle of the week. We had a rough idea of what we were setting out to accomplish…but we were open to the possibility that we might just be wandering instead.
Right past Kobe Bridge, the trail sign marked our starting point. But rather than following the well-marked trails to the right or left, we were going to be heading straight up a hill through the bushes, along an unmarked "single" trail, mostly used by mountain bikers.
We headed up into the trees, not quite sure what to expect.
An Adventure!
It didn't take long for us to realize that all was well on this trail. The path may not have been marked, but it was easy to follow. As we ascended, we were treated to beautiful views of Nahal Refaim and the forested mountains just beyond. The mist cleared away and the sky turned blue. White, puffy clouds dotted the heavens. It was a simply gorgeous.
As we climbed upwards, we encountered many perfect places to stop for a break. Little grassy areas sat right at the edge of the mountain, overlooking the valley. We didn't stop here this early on in our adventure, but we kind of wished we had a reason to.
Instead, we continued on, climbing until we reached a red trail crossing our path. Rather than turn onto it, we crossed the road to follow the bike trail into a bright green glen of pine trees.
Into the Woods
After weaving our way further along the bike path, we crossed through a small lot and headed back into the woods. This time, we found ourselves heading deeper into a magical forest, with pine trees that stretched in every direction.
It was quiet and peaceful in there. Soon, out of the corner of our eye, we saw the horns of a gazelle popping through a thicket, then another set. Two gazelles appeared, watching us from a distance.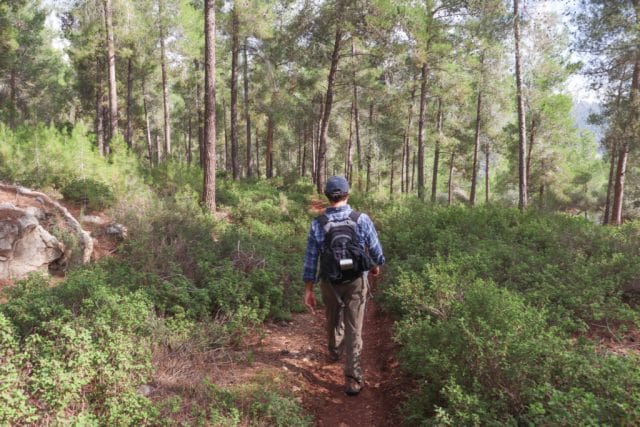 I moved in to get a closer look, and of course, they scurried away, leaving me to take pictures of the bright yellow mushrooms in the pine needles at my feet instead.
We continued on the trail through the woods until we reached a crossroads and a day campground. We had arrived: at the circular trail around Mount Shalmon.
Mount Shalmon
Just by looking at the map, we had no idea what to expect from Mount Shalmon. We knew it was a mountain, so that pretty much sold us on the idea of hiking there. But when we arrived, we found a very different type of trail.
The trail that encircled the mountain was paved and flat, handicapped accessible. Past the small campground, in the thick of the forest, there were playgrounds and exercise equipment. Groups of picnic benches peppered the woods. It was a great place to hike with kids.
All alone that day, we vowed to bring our children back to enjoy this mountaintop pathway near Jerusalem. And we wandered off along the trail through the trees, stopping to pick some wild asparagus along the way.
Back into the Wild
Once we had completed most of the loop, we continued to follow the blue trail, off of the paved pathway and back into the wild. We found ourselves following a rocky trail above a beautiful valley. Wildflowers popped up from between the cracks in the rocks: cyclamen, narcissus, and crocus in gentle shades of color.
This trail was less neat and orderly than the previous one, but the blue trail markers still appeared at regular intervals. We stuck through the trail as it led us over open terrain under a cloud filled sky.
Wrapping it Up
Soon, we had returned to the red trail: the flat paved path that we had crossed earlier on our way up the mountain. We made a left to head back to the bicycle path, stopping to take in the views along the way.
From here, it was back onto the single path and down the mountain through the thick trees. The rain had started up again, a gentle drizzle cooling us down at the end of our hike. It had been a great morning.
This wild trail from Nahal Refaim to Mount Shalmon and back had exceeded our expectations. At this point, I guess we should expect that to happen. What could be bad about wandering through the Jerusalem Mountains, especially on a cool and beautiful morning?
On this off-the-beaten track trail through quiet woodlands, we lost ourselves in the magic of Israel's nature.
Hikers' Notes:
Here's what you need to know to hike this trail:
This trail is good for all seasons. It is partially shaded and partially in the sun. Of course, it will be more green and beautiful in winter and spring, but still walkable in the summer and fall.
Suitable for dogs.
Wear good hiking boots and bring plenty of water. The trail can be muddy, especially after stormy weather.
This trail is somewhat off the beaten track. Use the trail marker gallery and Google Earth file to find your way on this trail.
To take this trail: begin with the bike trail uphill at the trail head. Cross over the red trail to continue to follow the bike trail. Then cross through a picnic area and follow an unmarked trail through the forest until you reach Mount Shalmon. At Mount Shalmon, make a left onto the brown trail. Then, when you reach the blue trail make a left onto that. Follow blue trail markers around the mountain and off of the paved trail, into a wilder area. Eventually you will reach the red trail (a larger road). Make a left here until you return to the bike trail. Make a right to follow the bike trail back to your car.
The handicapped accessible trail at Mount Shalmon is great for kids and stroller friendly. Park at Point B (Mount Shalmon Parking) for a short walk on a lovely, paved, woodland trail. There are playgrounds and picnic benches on site.
Don't forget to read my guide to the navigational features in this post before you hit the trail!
Trail map from Amud Anan.
Questions? Have you hiked (or biked?) this trail to Mount Shalmon? Let's hear about it in the comments!
Hiking can be dangerous and is done entirely at your own risk. Information is provided free of charge; it is each hiker's responsibility to check it and navigate using a map and compass.