I live in a mountainous area right outside of Jerusalem. Where I live, it snows in the winter time. In the summer, it stays breezy, turning into sweatshirt weather almost every night. In the fall, the leaves change color to bright shades of red and gold before scattering into the wind.
But less than an hour's drive from our home on a mountaintop, there's an entirely different type of climate waiting to be explored. Near the city of Arad, you can find desert hikes aplenty – this one wandering through a dry canyon, that one up a desert mountain.
True, you wouldn't want to try these hikes in the summer time. But fall, winter, and spring are the perfect seasons to escape to the warm weather and sunshine of the Judean desert.
This past Friday we tried one of those desert hikes – a trek to Tsfira Mountain (Har Tsfira). Since it wasn't a particularly cool day in November, I was a bit worried about what it would be like in the desert.
But once we got there, blue skies dotted with clouds greeted us. And a pleasant, gentle breeze escorted us through the whole trek.
The trail itself was spectacular. I am never disappointed by the beautiful and interesting sights there are to see on desert hikes in Israel.
Here's the low down on our hike to Har Tsfira:
Camel Time
We parked at Kfar Nokdim, which we learned was a Bedouin hospitality experience. There were a couple of tour groups under a large tent. And of course, a generous supply of camels waiting to give tourists an authentic Israeli trek through the desert.
We passed by the camel rides and made our way towards the trail signs. Somewhat surprisingly, there were several different trails that lead right out from this spot – a friendly Bedouin encampment in the middle of nowhere.
We found the green trail which would lead us to the trailhead, then quickly hopped onto the red trail after a minute of walking.
As oftentimes happens in the desert, we felt that we were in true peace and isolation almost instantaneously. Low desert mountains stretched out all around us. And we followed the well painted trail markers, which led us up and over rocks and through the wide expanse of desert terrain.
A Hidden Cave
After a kilometer or so of walking, we reached the first point of interest on the trail – a low cave hidden beneath a desert ridge. From what we read, we knew that this cave sometimes fills with water during the rainy season. But for now, it was dry.
We climbed down to see what it looked like. Layers of rock gleamed back at us from inside the cave in tones of red, pink, and wheat. The shade that the cave provided was a welcome respite from the sun outside.
After spending a few minutes in its shadows, we returned to the trail and continued to search for red trail markers which would lead us through the desert.
No High Anxiety
This time spent in the desert was solitary and silent. At the beginning of the trail, we saw a Bedouin family in a white pickup truck – one toddler in the passenger seat and a small child on his father's lap, driving the car.
But we saw no one else.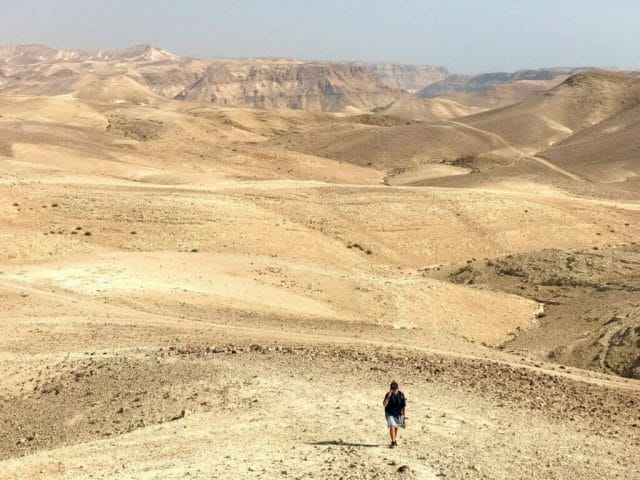 After a week full of activity, this escape was just what I needed. As we approached Har Tsfira, I was ready to climb up to the top for an amazing view of our uninhabited desert surroundings.
From the bottom, Mount Tsfira looked like a challenge. And it was – for less than ten minutes. Although we had to negotiate slippery rocks and a very steep incline, it didn't take more than that to reach the mountain's summit.
Atop a Desert Mountain
At the top of Mount Tsfira, the wind blew gently from one direction. The view out to the surrounding area was, indeed, spectacular. Even more spectacular than we had expected. Flat topped, red tinged dunes spread out into eternity on one side of the mountain. Rolling hills of sand on the other.
This was the place to stop for our half hour coffee break.
Even though we do this every week (go hiking), some picnic spots stand out in our memories. This week's stopping point will definitely be one of them.
Atop a desert mountain, there is total silence. The perfect breeze is delightfully cool. You can see far into the distance, and you see nothing – no people, animals, or trees. Just multicolored shades of minerals in alabaster and pink, under a sky that stretches out in every direction.
It's weird to feel so isolated and cut-off, yet so totally exposed at the same time.
Of course, we had to send the drone off for some arial shots while we were there.
Moon Mountains and Rivers
After a long time enjoying the beautiful views and isolation, we made our way back down the mountain. Descending was quite a bit more of a challenge than climbing up! All of the little rocks and the very steep path made me wish I had mountain goat feet.
Next, we followed the red trail across a dry riverbed (Nahal Tsfira). The trail then brought us alongside the "river". A dry canyon down below was filled with deep brown rock and jagged edges. On this part of the trail, the terrain was most definitely other-worldly.
A few kilometers later, and we had reached the Tsfira campground, and the official end of the hike. If we had brought a second car, we probably would have left it in this lot to skip the last three kilometers of the trail. But as it was, we knew we would be hoofing it down what others had called a "monotonous road."
Turns out, it wasn't that bad. The breeze died down and it got a little warmer. But there were still lots of cool things to see on this part of the trail. The only real downside to the last three kilometers were the cars that drove down the dust road every so often, releasing a storm cloud of sand into the air.
Before we knew it, we were back at the Bedouin tent.
We couldn't have asked for a better way to spend a Friday. The hike to Har Tsfira was beautiful and quiet, interesting and challenging – it was everything we could hope for in one perfect morning.
Hikers' Notes:
I could not believe that this beautiful desert hike was only an hour from home! This trail is not too hard and very cool.
The main part of the trail is around five kilometers – so if you have two cars it really is doable for families. The mountain climbing part is optional and would be a challenge for many. But it's over before you know it. I think that I would bring my kids to this hike on a cool day (if I parked a second car at Point B).
For the full hike, you start off on the black trail for a second, then the green trail for just a minute, then you follow the red trail all the way to the end. Make sure to look closely for red trail markers and follow them. Don't just wander in the direction that you think the trail leads. You'll get lost if you don't specifically look for trail markers.
When you reach the end of the red trail, make a right onto the black trail and follow it all the way back to Kfar Nokdim. This full trail is 8.7 kilometers.
Trail map from Amud Anan.
Don't forget to read my guide to the navigational features in this post.
Questions? Have you hiked the trail to Mount Tsfira? Let's hear about it in the comments below!
Hiking can be dangerous and is done entirely at your own risk. Information is provided free of charge; it is each hiker's responsibility to check it and navigate using a map and compass.