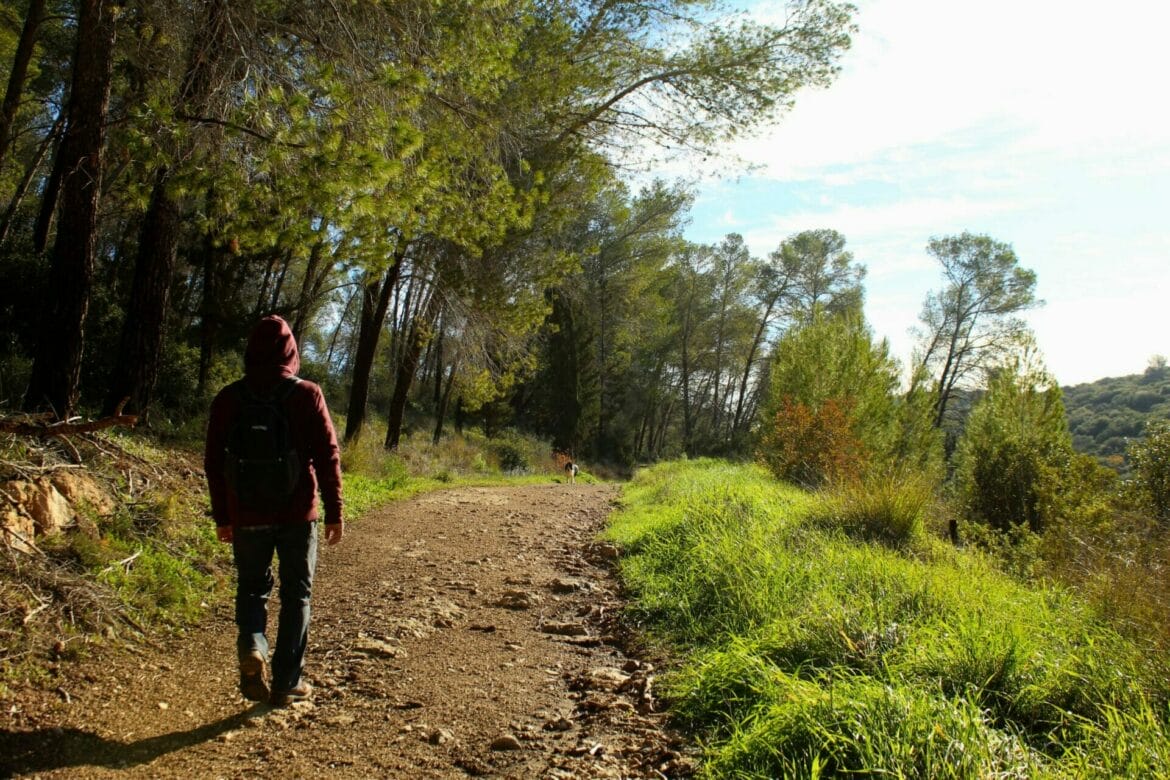 There are many of beautiful hikes all over Israel. But a lot of tourists stay close to Jerusalem during their trips. And many of us Israelis call the Jerusalem area our home.
But just because you're in the Holy City doesn't mean you can't hit the trail. The area around Jerusalem contains some of the most vastly forested and beautiful scenery in the country.
I've put together a list of my six favorite hikes near the capital city. Visit the Western Wall, take in the sights and smells of Mahane Yehuda, and then make sure to hit one of these beautiful Jerusalem area hikes while you are here:
Cheater's Hike to Derech HaGefen Cafe
This off the beaten track hike through the Jerusalem countryside takes you from the quaint neighborhood of Ein Karem all the way to Derech HaGefen Café in Beit Zayit. You'll get to experience beautiful wild scenery right on the outskirts of Jerusalem. And you'll be surprised to realize how close these two neighborhoods (which are seemingly on opposite sides of the city) are to one another.
The best part? A delicious brunch in Café Derech HaGefen at the end. This cute café has a beautiful outdoor seating area that will make you feel like you are still in the great outdoors. Return back the way you came, over the hills and through the woods near the city. One of my all-time favorite hikes near Jerusalem.
Click here for full description and free maps.
Mt. Eitan Loop
Next up on my list of favorite hikes near Jerusalem: the Mt. Eitan loop in Sataf. This eight kilometer trail leads you around the summit of a mountain. It's relatively even ground (you could bring a stroller), and there are beautiful views out to tree covered peaks the whole way through. This is a great hike for any season. It's well shaded for most of the way and is green and beautiful year-round.
The trailhead is located in Sataf National Park, a bit past Hadassah Ein Karem hospital. It will take you about two and a half hours to walk it, assuming you stop to enjoy the views. The Mt. Eitan loop will give you a fresh perspective on what the area surrounding Jerusalem really looks like.
Click here for full description and free maps.
Springs Trail
The best of the hikes near Jerusalem in the summer season? The Springs Trail! This awesome trail takes you through a quiet forest and passes by several natural springs. The hike is only three kilometers in each direction. If you have little kids, the water and caves along the way should be enough of a distraction to get them through the entire hike with no complaints.
It's also relatively flat – no mountain climbing on this hike. And the trailhead is just 11 kilometers from downtown Jerusalem.
Each natural pool has its own special feel, and all have beautiful views out to the mountains. Come prepared with a bathing suit, and get ready to experience summer like a real Israeli – go ahead and jump in!
Click here for full description and free maps.
Winter River at Nahal Refaim
This hike is only for really intrepid travelers. And it's also only for those who have the good fortune to be in Jerusalem right after a few days of good solid rain.
You heard me. The winter river at Nahal Refaim is a gushing raging river that only flows in the wintertime – and only after heavy rain. You'll need a bit of luck to catch it while its full.
So, if it's raining in Jerusalem and you're sick of hanging around indoors, put on your raingear and head down to this awesome hike in Begin Park, twenty minutes from the city. It's only a little over a kilometer in each direction (to the river and back). And you'll be rewarded with a sight you never thought you'd see near the Holy City.
The Nahal Refaim hike is one of my most loved and shared hikes near Jerusalem – with good reason. It's really spectacular!
Click here for full description and free maps.
The Schuster Trail
This little hike in American Independence Park has been a family favorite since we moved to Israel. It's a short hike (about 2 kilometers), but it is a perfect taste of natural beauty and quiet solitude. There are lots of great rocks to climb over and unbelievable views to gaze at. And there are even little log benches the whole way through under tree canopies of shade.
This hike is probably the best trail in the Jerusalem area for little kids. It's wild enough to feel like a real hike, but short enough that almost anyone can make it through.
The Schuster Trail is located near Nes Harim, about twenty minutes from the city. This is my family's most favorite of all of the hikes near Jerusalem.
Click here for full description and free maps.
Givat HaTurmusim
If you're looking for a hike in late February or early March, you're in luck. Givat HaTurmusim is in full bloom at that time of year. The purple display of tall wild lupines on rolling hills is not to be believed. You can hike straight up the hill and back down. Or, take the longer circular trail which yields a six-kilometer hike.
Even if you aren't visiting during blooming season, Givat HaTurmusim is still a nice mid-length hike through beautiful hillside scenery. It's best in the winter and spring, but we've actually hiked it in the heat of early fall and still had a good time.
Givat HaTurmusim is probably the most unique of all of the hikes near Jerusalem. You won't find scenery like this anywhere else.
Click here for full description and free maps.
Gear Up and Get Going
Remember – Jerusalem is even more than a Holy City. There are so many hikes near Jerusalem that can turn your visit to Israel into an inspiring outdoor adventure.
Whatever hike you choose, make sure to plan out your path before you go.  You can use the free navigational features and maps in each post to help you hike the trail without getting lost. 
Happy hiking!
Looking for something different? Click through to this link to see more great hikes in the Jerusalem area.
Maps and instructions on each hike post. Don't forget to read my guide to how to use the navigational features offered in the post – before hitting the trail!