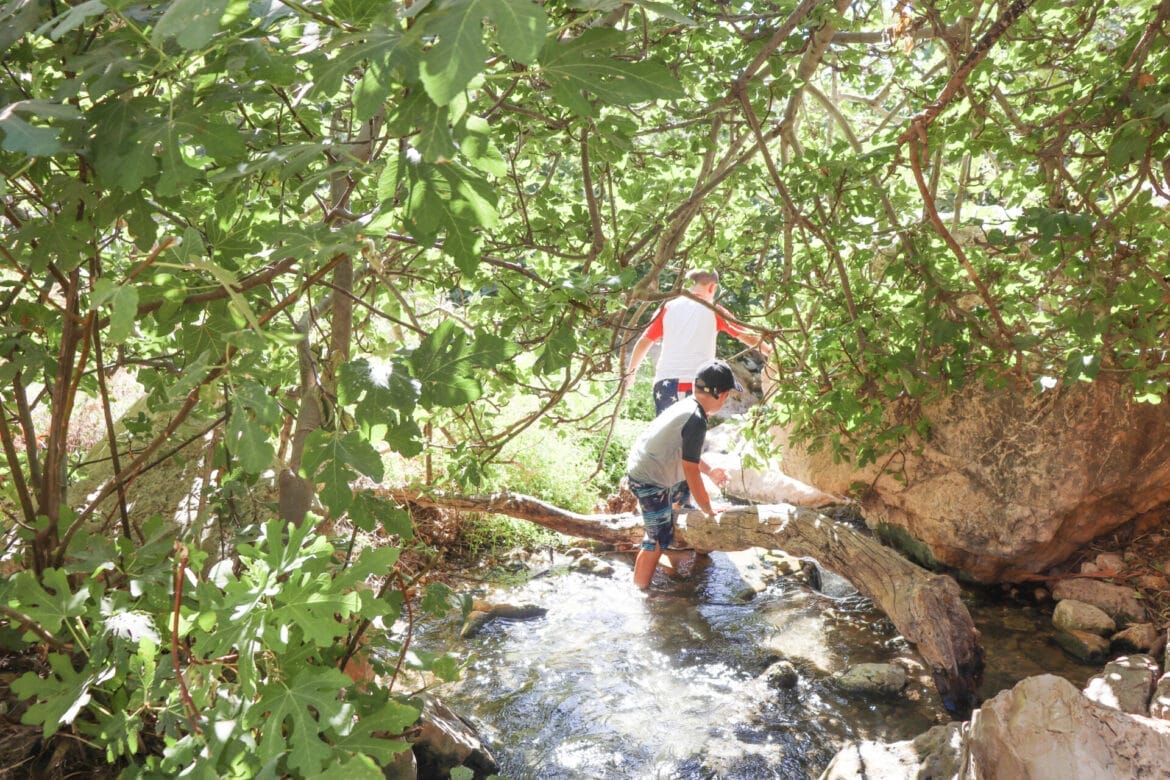 Summer's here!  And for parents, that means a lot of time with the kiddos.  They may be enrolled in summer camp, but the hours are short.  Fridays are free days.  And once summer camp ends, you've got a lot of entertaining to do.
Fortunately, summer is a great time of year for outdoor fun. True, it's hot outside, but that just means that your kids will relish any opportunity to get wet. Outdoor water adventures fit the bill perfectly.
One small problem: most of us don't live in Northern Israel, the area of Israel that's replete with waterfalls and streams. In Jerusalem and Central Israel, you need to work just a bit harder to find those wet trails your kids can enjoy. Fortunately, there are several perfect pint-sized water hikes near Jerusalem and Tel Aviv for you to choose from.
Here are some of the best:
Ein Prat Nature Reserve
About a half hour from Jerusalem near Maale Adumim, a beautiful desert oasis is waiting. The Ein Prat Nature Reserve is the best water hike in the Jerusalem area.
At Ein Prat, a cool spring flows into crystal pools and a bubbling stream. Fig trees and wild mint grow in abundance around the stream, creating shady spots for you to spend the day splashing. It's beautiful there. Grab your water shoes, pack some snacks, and head out for a full day of chilled out fun in one of the most beautiful nature reserves near Jerusalem.
My kids would be happy to spend every day of the summer at Ein Prat Nature Reserve. It's just that awesome.
Nahal Prat is the best of all water hikes near Jerusalem. Click here for the full hike post with maps.
Ein Hemed National Park
Just 10 minutes from Jerusalem, Ein Hemed National Park provides a perfect wet adventure for the pint-sized crowd. At Ein Hemed, beautiful scenery surrounds a pretty stream and a fun splash pool. It's no Ein Prat, but it is an easy outing in a cool and beautiful place.
Aside from the stream, your kids will like exploring the old farmhouse at Ein Hemed. This stone structure served as a way-station for pilgrims in the 11th and 12th century.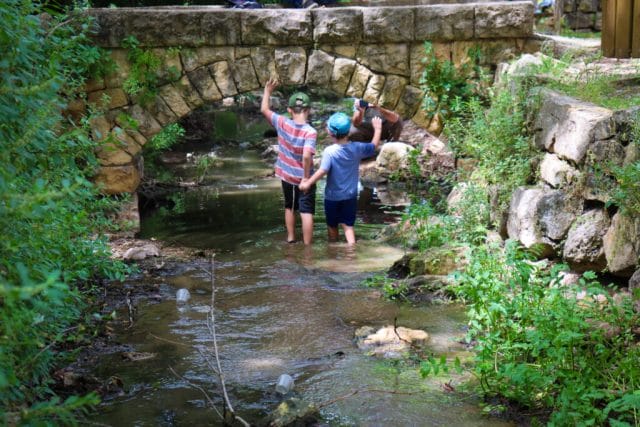 Wander along pretty pathways, under arched stone bridges, and take in the beautiful scenery by the picnic area. Ein Hemed is a great place to spend a summer morning.
Click here for the full Ein Hemed hike post with maps.
Ein Lavan to Ein Hania
If you're feeling a bit more adventurous, perhaps you'd like to spend the day at two watering holes. Near the Biblical Zoo in Jerusalem, Ein Lavan is a well-known picnic area and spring with two fun pools for swimming in. Get here early in the day before the crowds show up, then follow the marked trail to the next big adventure at Ein Hania.
Ein Hania is relatively new to the National Park scene. This historical site contains structures dating as far back as the First Temple era. Your kids will have fun swimming in the large spring pool. And more adventurous members of the family will love climbing through the 9 meter long water tunnel.
After you get completely soaked at Ein Hania National Park, you'll be ready to return along the trail in the summer sun.
Click here for the full Ein Lavan to Ein Hania hike post with maps.
Sataf
No list of kid-friendly Jerusalem area trails would be complete without a mention of Sataf. The trail at Sataf is a great choice for all seasons. But in the summertime, the cool spring is especially appealing to kids.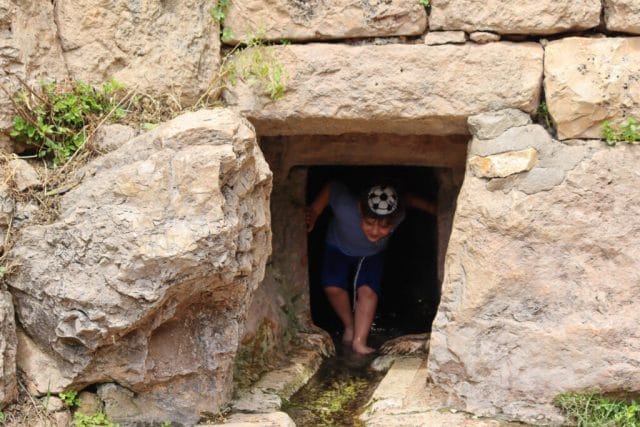 The deep pool at Sataf is marked with a "No Swimming Allowed" sign (but that never stopped any Israeli!) Just above the pool, there's a short, water-filled tunnel that ends in a splash pool. Little kids will love adventuring through the cool darkness and splashing around at the end.
Make sure you get nice and wet – there's a steep climb back to the trailhead waiting at the end!
Click here for the full Sataf hike post with maps.
Jerusalem Springs Trail
Just outside of Jerusalem near Hadassah Hospital, the Jerusalem Springs Trail offers a selection of spring pools to keep you cool in the summertime. There are so many ways to approach this trail. You can start at the Hurvat Seadim picnic area (a great place to have breakfast), then follow the path until you reach the deep and shallow spring pools. After spending a morning splashing around, turn back the way you came.
Alternatively, you can drive right up to the smaller pool at Ein Sarig. Or if your kids are truly adventurous, head down to Ein Hindak for a crazy cool exploration into the depths of a water filled cave.
Click here for the full Jerusalem Springs Trail hike post with maps.
Mekorot HaYarkon
Right in the middle of Central Israel, there's a beautiful, shady National Park with a spring inside. At Mekorot HaYarkon, you can go for an easy walk in the shade and get up close and personal with hungry catfish in a flowing stream. Your kids won't be able to swim in the stream, but they can dip their hands into the springs source – a mini waterfall in the middle of the park. And of course, they can feed bread crumbs to the catfish.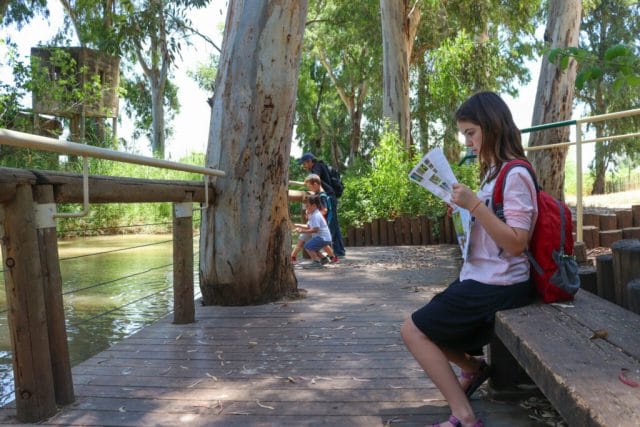 In addition to the main area of Mekorot HaYarkon, another trail leads out towards an old pillbox over the river and a larger pond. No swimming allowed here either. But there's something about gazing out a pond that keeps you cool.
This National Park is a great choice for a family outing.
Click here for the full Mekorot HaYarkon hike post with maps.
Tel Afek
Just downriver from Mekorot HaYarkon, Tel Afek National Park is another wonderful place to take an easy family walk in the summertime. Wander your way through a cool Crusader Fortress, then head down to the lake for a picnic in the shade.
After that, you can walk along the little stream in the park (or walk through it!) towards the splash pool at the end. Here, your kids can spend a long while enjoying a miniature version of a waterfall pool. What else does a five year old need?
Tel Afek is a great place to explore history and nature with kids on a summer morning.
Click here for the full Tel Afek hike post with maps.
You've Got Options
Don't limit yourself to air-conditioned activities this summer! If your family is based around Jerusalem or Tel Aviv, there are lots of wet, outdoor options that your kids will love. Pick from this list of kid-friendly water trails, then pack up some summer snacks and get ready for a day of wet fun. Your kids will thank you.