Click here to go straight to hike notes.
Near Jerusalem, next to the Kennedy Memorial, lies a gorgeous little trail that has it all.  This hike, dubbed the Springs Trail (Shvil HaMa'ayanot or Tzir HaMa'ayanot) , takes hikers on a journey past several freshwater springs.  In between the pools, there are cool caves, pretty forests, lovely wildflowers, and beautiful views to keep you captivated.
We've hiked the Springs Trail many times in many ways. But this past Friday, we set out on a journey along the Springs Trail that was a little bit different. Our goal was to add more spring stops to an already delightfully wet trail, extending the regular Springs Trail to include more of Jerusalem's best watering holes.
And I'm so happy we did. Although we did not succeed in creating an easy-to-follow circular trail out of this adventure, we did:
Discover that the Springs Trail is the most beautiful in May,
Find some new springs to add to the regular, one-way adventure, and
Create a fun, extremely off the beaten track circular loop through some of the prettiest parts of the Jerusalem Mountains
While I wouldn't recommend the circular, extended version for most people, I would recommend this upgraded one way trail from Hirbet Se'adim to Ein Hendek. With this new version of the hike, we got to stop in on the Sarig spring, another little gem tucked away right off the path.
Here's how we hiked the Springs Trail one glorious May morning:
Pulling in at the Picnic Ground
After a drive through Jerusalem to the outskirts of the city, we parked at a large and pretty picnic area, perfect for an organized meal before setting out on the trail.
Of course, we didn't stop.  Instead, we continued down the hill towards Hurvat Se'adim and the green trail.  The trail brought us down through the greenery onto a flat path overlooking Jerusalem.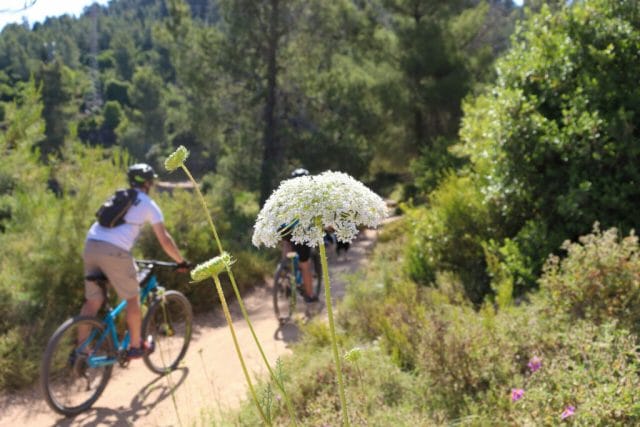 It wasn't the coolest of days, but it felt very pleasant up there in the Jerusalem Mountains. A gentle breeze blew in our faces, keeping us cool as we hiked along. Purple lavender sprouted in large bunches from the sides of the path, and butterflies flitted from flower to flower.
Surprise! A Spring
After a little bit of walking, our eyes wandered to the side of the trail towards a fun surprise. There, to our left, was the most beautiful spring we had ever seen on this trail. Every other time we had hiked here, it had sat empty and forlorn. Now, it was full to the brim, but still supremely quiet.
We climbed down off the path towards the spring, marveling at our surroundings. The water was clear and cool. Tall trees surrounded the pool, their leaf canopies reflected in the still water.
It would have been a great spot to sit with our feet in the water, drinking our morning coffee. It was so quiet there! But we still had lots of ground to cover. After a few minutes' stop, we continued on the path.
Our Favorite Caves and Classic Springs
From here, the scenery became more familiar to us. We stopped at our favorite cave, just past a stone archway. Then, we continued through the trees towards the Springs Trail's most popular pool about halfway through the main trail.
And true to form, the pool was packed with people that Friday morning. Teenagers in swimsuits sat along the sides, playing guitar and making shakshuka. It was a fun scene, but not one we wanted to wander into. We kept on moving.
Just past this spring, another smaller pool beckoned below the path. This one was surrounded by flowering vines and dragonflies. Between the thick greenery, a beautiful view out to Jerusalem completed the picture.
Since there was nobody inside, we decided to head on down and take a dip in the sunshine. The water was cool, refreshing, and absolutely glorious.
Preschool Party
After cooling off in the water we continued through thick trees and greenery. Next, we followed the green trail towards another classic pool, a shallow spring that's a favorite with families.
When we arrived, we saw a large group of preschoolers with parents, gathered around an elaborate picnic. They sat with hard plastic plates full of salad, hard boiled eggs, and other goodies. It was an "only in Israel" scene.
We soaked up the cuteness, dipped our feet in the shallow water of the spring pool, and kept on hiking.
Through the Forest
Next, we found ourselves walking through one of the prettiest parts of the Springs Trail: a shady forest. We walked through the trees, following the path downhill towards olive groves and agricultural land. Pretty soon, we were on a dust road opposite a large sign pointing to Ein Sarig.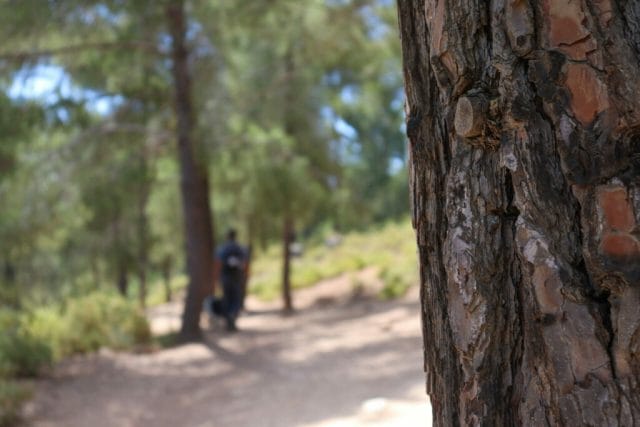 This was one spring we had never visited before! We followed the signs through the trees towards a pool hidden in the shadows.
For such a quiet spring, Ein Sarig sure was beautiful. The cold, crystal clear pool was surrounded by thick greenery. Raspberry vines grew, along with asparagus, grapes, figs and more.
We met a cute couple from Ashdod hanging out by the water. They offered to share their freshly brewed coffee with us. We spoke about the gorgeous scenery, and how you could just plop yourself down at Ein Sarig for all eternity, with sustenance from the fresh water and rich sweet fruits that grew there.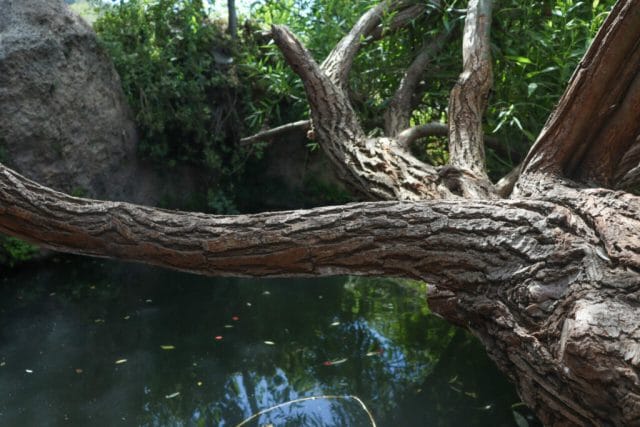 It was lovely there. And we had a few more springs left to see. We spent 15 minutes by Ein Sarig, then said goodbye to our new friends and headed back onto the green trail.
Down we Go
In general, the Springs Trail is a very easy trail, on a flat path with minimal technicality. The path to Ein Hendek, on the other hand, is a bit bumpier. While most of it was flat, there were a few rocks and stones along the trail to step over.
We passed lots of pretty flowers and old structures as we followed the sunny path downhill towards the next spring. After a good long walk, we reached Ein Hendek, hidden in the shadows.
We climbed down inside and discovered two massive water caves – the deepest and longest water caves that we had ever seen in Israel. Flashlights in hand, we walked through chest deep water in one cool cave. It was refreshingly freezing, and incredibly cool.
The other cave was a bit shallower, and still pretty awesome. My husband and I decided right then and there that we would return to this spot with our two little boys some time in the near future.
Now We're Pioneering
We still had one more spring on the hit list for the day: Ein Sapir.  The Sapir Spring is not officially part of the Springs Trail.  But we were so close that I figured we might as well include it on our journey.
Unfortunately for this post, this is where the path got a little messy. We left the handily painted trail markers, following a map along dust trails towards the town of Even Sapir. Then, we walked along a long road down to the spring.
While Ein Sapir was spectacular beautiful (it always is), it was also packed with people (as it always is on Fridays!). We took a few pictures and headed back onto our off-road adventure, leaving Even Sapir on an unmarked path through the trees.
Off the Beaten Track Beauty
And that was it for marked trails. From here on in, we used the map to find our way along teeny trails that led through an unbelievably beautiful part of the Jerusalem Mountains. Thick trees and silence surrounded us on every side. We climbed back up, up, up, towards Hirbet Seadim where we had parked our car.
Before we returned to the trailhead, we reached one last awesome spring: Ein Seadim. This large, deep, pool was surrounded by ancient structures, little bridges, tunnels, and other quaint features. Just as we had before, we made plans to return to this spot in the coming months with our kids, to explore and dip in the enticing pool of water.
From there, we followed the red trail back to the picnic area. It had been an incredible day.
In one short morning, we had seen 8 beautiful springs. This extended version of the Springs Trail had taken us on a deep dive into an oasis of nature near Jerusalem.
Hikers' Notes:
Here's what you need to know to hike the Springs Trail Jerusalem:
This trail can be hiked in two ways. The one way version is an easy to follow, well marked, moderate hike that begins at Hurvat Seadim and ends at Ein Hendek. The circular version is very difficult to follow. Use the Google Earth file in the table at the top of the page to find your way on the circular hike.
The one way trail is suitable for all times of year. Best in the springtime.
The one way trail is good for kids.
Suitable for dogs.
There are no bathrooms at the trailhead, but there is a water point at the picnic area.
Make sure to wear good walking shoes and a hat and bring plenty of water to hike this trail.
To follow the one way trail, follow green trail markers all the way from Hurvat Seadim to Ein Hendek. Make sure to follow signs towards Ein Sarig to take a slight detour off trail before returning to the green trail towards Ein Hendek. The one way trail ends at Ein Hendek.
Use the trail marker gallery and the trail map in the table at the top of this page to find your way. The parking points in the table above will allow you to park one car at the beginning of the trail and one at Ein Hendek for a one-way hike. Distances and ascents in the table are listed for both the one-way and the round trip trail.
Don't forget to read my guide to the navigational features in this post before you hit the trail!
Trail map from Amud Anan.
Questions? Have you hiked the Springs Trail? Let's hear about it in the comments!
Hiking can be dangerous and is done entirely at your own risk. Information is provided free of charge; it is each hiker's responsibility to check it and navigate using a map and compass.