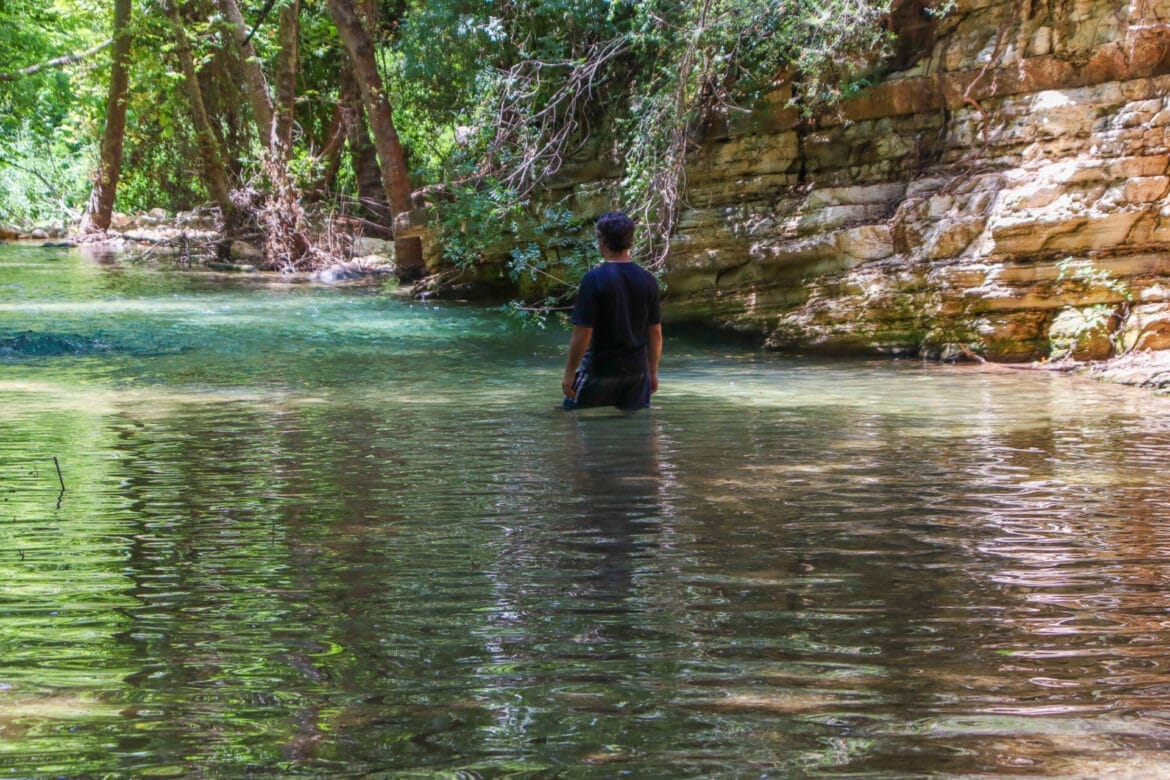 Baby, it's hot outside. The weather in Israel in July and August is not cool or balmy. In July, the dry Mediterranean heat settles in to stay for a while.
Still, summertime is no time to stay inside. One of the unique things about the land of Israel is that there is so much variety in the topography and climate. True, there are beyond bearable desert lands, flat lands, and river valleys (think Jordan River). But there are also breezy mountain tops, coastal view pathways, and shady waterfalls.
The trick to hiking in Israel at any time of year is to understand the season and what it feels like in different parts of the country. In July, your best bet is to seek out trails that use natural forces to keep you cool. This means waterfall hikes, cave dives, mountaintop wanders, and thickly shaded trails.
This list will guide you towards the best hikes in Israel for the month of July. Let's get to the trails:
Northern Israel
Nahal Kziv
It's no surprise that to find perfect summer hikes, one would head to northern Israel. This part of the country is replete with flowing streams and rushing waterfalls, many of which are hidden under a canopy of shade.
The nice thing about Nahal Kziv is that it's not too far of a drive – only about two hours from Jerusalem via Highway 6. And boy, is it worth it.
At Nahal Kziv, a wide, cool stream flows under a thick canopy of shade. Along some parts of the trail, the scenery looks more like the Amazon than Israel. Dragonflies flit from one tendril of vine to the next. There are springs along the way, where water bubbles up to create deeper pools for swimming.
This long trail can be tackled in few different ways, so it's suitable for all types of hikers. Novice hikers should use this guide, then just walk in for a little while and walk back out. More experienced hikers can try this longer trail.
Click here for a full Nahal Kziv hike post with maps.
Nahal Amud
Another easily accessible water hike in Northern Israel is Nahal Amud. This beautiful riverside trail loop is also part of the Israel Trail. At Nahal Amud, cool rock formations combine with a flowing stream to create fabulously beautiful scenery.
The trail at Nahal Amud is not too long – only about 5 kilometers. You'll stay cool in the shade for the entire loop at the bottom. But make sure to get wet in preparation for the uphill climb back to the parking lot at the end.
Nahal Amud is a National Park, so you should make sure to reserve online in advance. Click here to read the full Nahal Amud hike post with maps.
Mount Bental
Mount Bental is further North in the Golan Heights This cool mountaintop stays breezy even on the hottest days.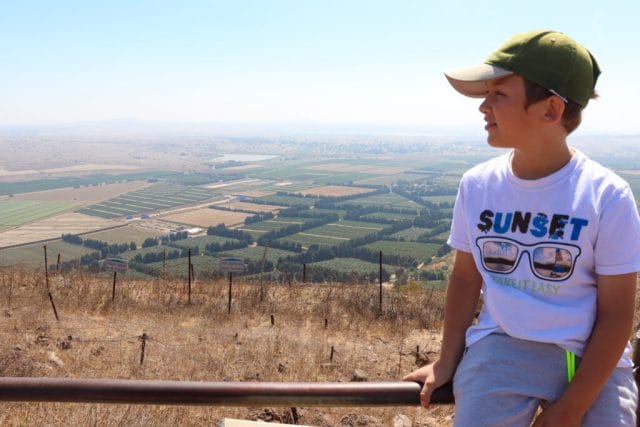 At the top of Mount Bental, you'll find an old Syrian army outpost and a cute café. After touring the summit, climb down the mountain trail to the town of Merom Golan below. This easy hike is a nice way to spend a summer morning.
Click here for the full Mount Bental hike post with maps.
Haifa Area
Little Switzerland
If you're searching for a shady hike that's not too far from Central Israel, look no further than Little Switzerland. Located in the Carmel Mountains, the Little Switzerland trail is a perfect little loop trail for outdoorsy families who want to stay out of the sun.
On this trail, thick tree cover above provides plentiful shade. The path, which is mostly made up of rocks and tree roots, provides endless opportunities for fun climbing for kids. And the views: spectacular!
You can take a short and easy loop at Little Switzerland. Or, try a longer hike through the Kelah and Oren riverbeds if you are feeling adventurous.
Click here for the full Little Switzerland hike post with maps.
Dor HaBonim Coastal Trail at Sunset
Some trails are just right for the right time of day. For a truly summertime experience, head to the Dor HaBonim Beach Trail for sunset this July.
This magical coastal pathway is full of rocky coves and flat-topped cliffs that jut into the water. Walk along the path towards evening and take in one of the most beautiful sunsets in all of Israel. As you walk back towards dusk, the reseve will come alive with the sounds of chirping crickets and cicadas. Heavenly.
The Dor HaBonim Trail is easy walking, and suitable for people of all ages and skill levels. Click here for the full Dor HaBonim hike post with maps.
Jerusalem Area
Nahal Katlav
If you're in the Jerusalem area, you've got options for July! One of the nicest trails near Jerusalem for summertime is Nahal Katlav, a shady, downhill trail in the Jerusalem mountains.
The Nahal Katlav hike is a one-way hike that heads down through a shady, dry stream bed towards the Sorek River flowing below. You'll enjoy the rich plant and bird life along this quintessentially Jerusalem trail.
You'll need to park a car at each end for this one, so go ahead and coordinate with another nature loving friend or family member. Click here for the Nahal Katlav hike post with maps.
Land of a Thousand Caves
Where does it stay cool in the summertime? Underground!
Adulam Nature Reserve in the Jerusalem Lowlands is part of the "Land of a Thousand Caves" which stretches from Beit Guvrin to Be'er Sheva. At Adulam, there are at least three main underground tunnel trails that are worth exploring. These tunnels were actually carved out during the Bar Kochva period by Jewish rebels hiding from Roman soldiers. Nowadays, these tunnels in the Jerusalem Lowlands are perfect for a summer adventure.
Deep inside the cave tunnels, you'll stay cool while experiencing an entirely new part of nature. The more popular caves at Midras tend to get crowded on Fridays and holidays but the trails at Itri and Burgin are usually pretty quiet.
Make sure to check out the remains of a Second Temple town at Itri Ruins while you're exploring!
Click here and here for the full Adulam Reserve cave hike posts with maps.
Judea and Samaria
Into the Depths of Haritoun Cave
If caving sounds good, you're going to love this next hike suggestion – an hour long journey into one of the deepest caves in Israel. At Haritoun Cave in Nahal Tekoa ,you can climb through the darkness into a multi-leveled cave system for an entire morning.
The one caveat? If you want to make sure to come out on the other side, you'll want to hire a licensed guide to take you there. Or, go with a group led by a guide.
If you do want to try it on your own, you can go as far as the first few chambers of the cave, then head back the way you came. The Haritoun Spring pool is a perfect spot for a quick dip just past the cave.
Click here for the full Haritoun Cave hike post with maps. Or go with a guide.
Ein Prat Nature Reserve
Would you believe it? There are deserts near Jerusalem. And where there's a desert, there must be….a desert oasis!
At Ein Prat Nature Reserve, you can wander through the shade through a flowing stream right in the middle of desert land. A hike at Ein Prat in summertime invariably includes the sweet smell of mint and ripening figs. You'll also encounter plentiful wildlife, in the form of fish, birds, and rock hyraxes.
You can take a long or short hike at Ein Prat Nature Reserve, so it's a perfect choice for families or more adventurous hikers.
The Ein Prat Nature Reserve is a National Park, so make sure to reserve online before you go. Click here for the full hike post with maps.
Happy Trails in July
Wherever you are in Israel this July, there's a hiking trail that's waiting for you. You may have to change up your regular hiking routine. But there's beauty in discovering a different side of nature or a different time of day. From sunset and water hikes to the cool comfort a cave, there are so many wonderful ways to stay cool on the trail this summer. Get out there!