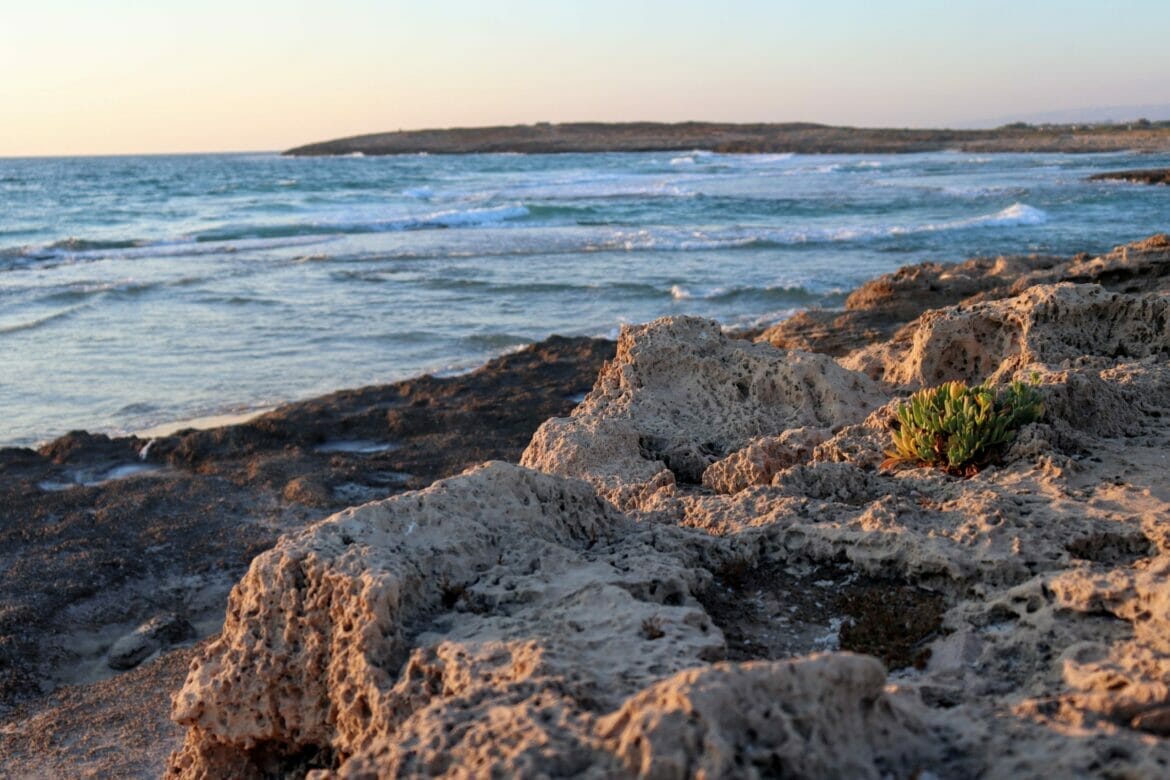 It always seemed strange when I came across a hike that was labeled "romantic." What did that even mean? A hike could be quiet, isolated, serene, beautiful. A hike could be many, many things. But why call it romantic?
After hiking the Dor HaBonim Beach trail, my thoughts on the matter have changed. This hike is most assuredly romantic – the most romantic hike I've ever been on.
Sure, there are craggy cliffs along the way. And beautiful beaches, some littered with seashells, and some covered with soft sands. But what puts this trail into the "romantic hike" category are the isolated coves, one after another, along the path.
Put that together with a red orange sunset and you've got a recipe for romance. I can think of no place I'd rather go on a date.
That's not to say that this trail can't be enjoyed with family, friends, or simply all alone. But while you're there, your mind may drift to what it would be like to open up a bottle of wine on one of those cliffs and watch the impossible combination of calm and stormy in the waves down below.
Here's a look at the intense beauty you'll find at the Dor Habonim Beach trail:
Into the Abyss
Driving off the highway, we pulled up to a regular old National Park stand, showed our Parks Card, and left our car in a sandy lot. From here, we followed a marked red trail through tall grasses, towards a completely different world of beauty.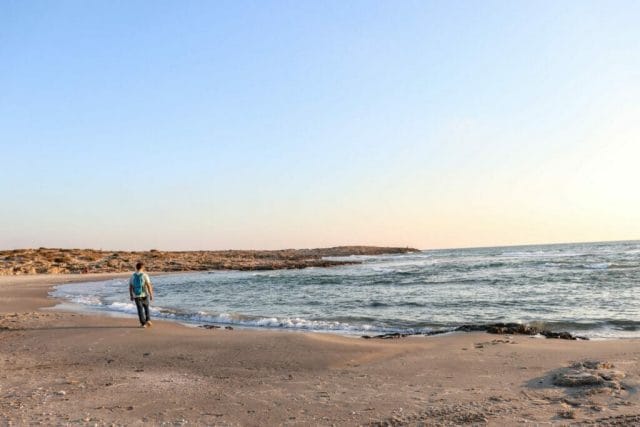 After only a few minutes' walk, we already had the sense that we were in for an incredible journey. First, we passed by a sandy beach covered with seashells. Then we reached the first of the cliffs, a twist of gray rock that formed an inlet for crashing waves.
Rather than pass on by, we climbed down into the cove to see it from the inside. Down below, it felt like a little cave, a secret entry to a pirate's lair. The sea flowed in and out through the rocks. And we could see the setting sun through a stone window.
Now that we were officially swept away, we were ready to continue along the Hof Dor HaBonim Trail to see what other secrets lay in store.
A Secret That Everyone Should Know
Besides the sunset and the ocean, what put this hike into the romance zone were the couples sitting on each inlet that we passed. Well, not every inlet. There were many little beaches along the way waiting for someone watch the sunset on their shores.
In fact, the trail was surprisingly quiet. Despite the happy people relaxing, silhouetted against the darkening sky in the distance, there was no noise of chatter, no music or loud voices.
The sound of the waves crashing against the shore filled our ears. That and the chirping of crickets and song of birds.
As we walked, I simply couldn't believe that more people weren't walking this path. On a Thursday night in the middle of the summer, I would have expected that many would take this incredible walk through nature's sound and light show.
Same Path With a Twist
Soon, the path diverged to the left. It led us away from the shores and through sandy, grassy dunes.
I was a little sad to leave the cliffside and the rolling waves. But that feeling quickly dissipated. I was totally taken in by our new surroundings.
A symphony of summer insects chirped around us. I knew that I was hearing more than just crickets, but I had no way of identifying all the sounds. I felt like a novice listening to a complicated orchestra, someone who just couldn't distinguish one instrument from another.
It brought me back to the past, to capture the flag evening at sleepaway camp in Tennessee. A gentle breeze blew up from the sea. Up here, we could hear other sounds. We saw a family of four, two little girls laughing and dancing in the setting sun on their way back to the trail head.
When Darkness Sets In
Soon the trail brought us back towards dramatic cliffs, then to a sandy beach. The sun was really low in the sky. We wanted to continue, but at this rate, if we didn't turn back, we would be walking in complete darkness.
Rather than go on, we decided to return on the path and find our own private cliff to watch the sunset and the sea. A few minutes later, we were sitting on a rock over the water. The sky was decorated in shades of purple and pink, and the sun sat very low over the horizon.
Unlike a typical beach, the rock formations on the Dor HaBonim Beach Trail make the waves perform a crazy dance. They crash up against the cliffs, then swim smooth over flat rocks as they return to sea.
We sat in silence until it was almost dark, then made our way back to the trail.
I'll Be Back
Rather than return the way we came, we took the green path back through the reeds on the far side of the beach. We were surprised to see that even as the darkness set in, there was still an occasional runner plodding along on the trail.
As we walked back to the car, I had to stop and close my eyes. I could almost taste the sounds that filled my ears – the sounds of summer, the sounds of a quiet river at nighttime. It was a music that I remembered from my childhood, when nature, night, and summertime all went together.
I guess it's not just for romantics. I'm already envisioning my next trip to the Dor HaBonim Beach Trail: one summer evening with the kids, a wintertime trip…anytime I can get there. This unique beach walk near Zichron Yaakov is one of the most magical trails in Israel.
Hikers' Tips:
Here's what you need to know to hike the Dor Habonim beach trail:
This is an all season trail. Walk here at sunset on hot summer days. In the wintertime, it is beautiful in the daytime as well.
Great for kids.
Suitable for dogs.
Do not attempt to swim in the water along this trail. The currents and rocks can be dangerous along this stretch of coastline. There is a beach with a lifeguard at the beginning of the trail.
Wear suitable footwear to hike this trail.
Bug repellent is a must for this hike! Apply mosquito repellent before you begin hiking.
This Nature Reserve is run by the Parks Authority. You must use your Matmon Card or pay an entrance fee to get in. You can reserve your spot in advance on the Parks website.
Date Tip: Begin the evening at Tishbi Winery in Zichron Yaakov, then head to the trail. Or, head to the restaurant after your sunset walk.
Trail map from Amud Anan.
Don't forget to read my guide to the navigational features in this post before you hit the trail.
Questions? Have you hiked the Dor HaBonim Beach Trail? Let's hear about it in the comments below!
Click to expand FAQ
FAQ
Where is Dor HaBonim Beach?
The Nature Reserve is in Central Israel, not far from Zichron Ya'akov.
Can I swim there?
You can swim at the lifeguarded beach at the beginning of the trail. Swimming is not safe along the trail, due to the rocky inlets and strong currents.
Is it good for kids?
This trail is good for kids, couples, and just about anyone!
Can I bring my dog?
Yes, dogs are allowed at Dor HaBonim Beach.
Is there a fee to get in?
Yes, it costs 22 per adult and 9 shekel per child.
Is there camping there?
Yes, there is overnight camping at Dor HaBonim beach. See the National Parks website for complete info.
What are the hours?
The reserve opens at 8:00 and closes at 20:00 all summer long. In September and June, it closes at 18:00. In October, March, April, and May, it closes at 17:00. In the wintertime, the beach closes at 16:00.
How long is the hike?
The trail is about 3.5 kilometers long in each direction.
What season is this trail good for?
It's great for all seasons, and especially beautiful at sunset.
Hiking can be dangerous and is done entirely at your own risk. Information is provided free of charge; it is each hiker's responsibility to check it and navigate using a map and compass.