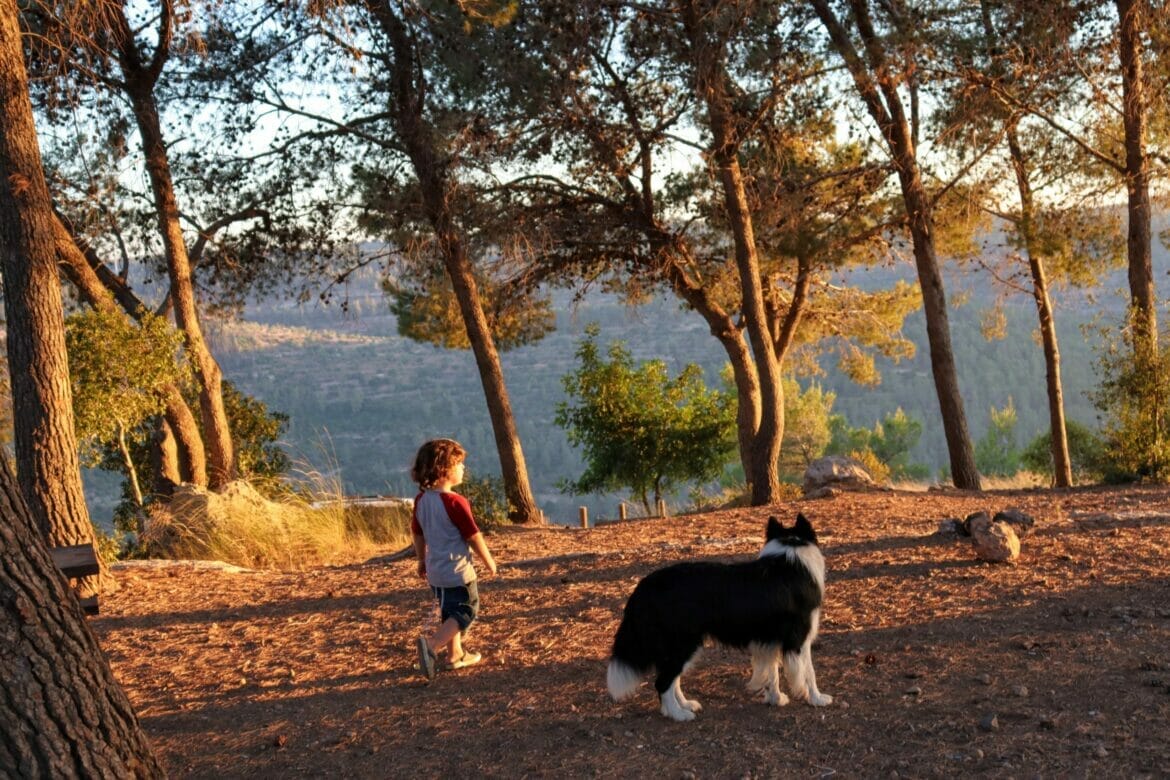 At 500 meters, the trail at Havat Hagitot (Olive Press Farm) can hardly be considered a hike. But the entire trip up to this isolated and beautiful mountaintop is worth writing about.
I'm not sure if anyone actually ever makes it up to this hilltop trail. We only discovered the site at the end of a very long, wandering hike along deserted pathways.
When we wander-hike, we always like to pinpoint some sort of destination, a place to arrive at and then turn around. Havat HaGitot was marked on the map. We chuckled to ourselves as we climbed towards the unidentified landmark, absolutely certain that whatever Havat HaGitot was, it was probably extremely unexciting.
But when we got there, we simply couldn't believe the magical place we had stumbled upon. It was quiet, peaceful, and simply beautiful.
Promise We'll Be Back
Pine trees towered high all around the top of the mountain. There was a large, flat area, perfect for pitching a tent. The surroundings were neat and clean, without a gum wrapper in sight. Wooden picnic tables, a fire pit, and a barbecue stand completed the picture.
It seemed like a great place to return to with our kids one late afternoon – for a barbecue dinner and maybe even some camping. To make Havat HaGitot even more appealing, the views out to the surrounding area were spectacular. And there was a marked, half kilometer loop trail up top, perfect for little legs.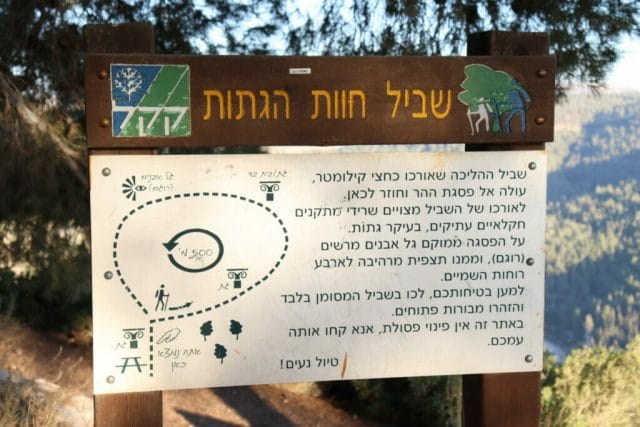 We didn't fully explore the area that day – we were just too tired from all of our hot wandering. But we vowed to return by car with our children in tow, on a warm summer night soon to come.
We did return. And it was memorable family time. But the trip up to the top of the mountain wasn't exactly what we expected. Here's the scoop on this isolated piece of paradise near Jerusalem:
The Long Journey Up
We packed up our car with all of the essentials – hot dogs, buns, and marshmallows – and set out for the very nearby mountaintop. According to Waze, it was going to take 40 minutes to get there. And we knew from experience that the journey would consist of long and winding roads, some better suited to a 4×4 than our big, bumbling van.
But we had no idea just how rugged the trip would be. We drove, past Nahal Refaim, up the trail we hiked in Beyond Kobi Bridge, and then continued to drive some more. It was bumpy, but still manageable. And then it wasn't.
According to the GPS, we had to take a sharp turn up what seemed to us to be a boulder filled path. It just wasn't going to happen, so we followed the dirt road in a different direction and scoured the map for a better way up.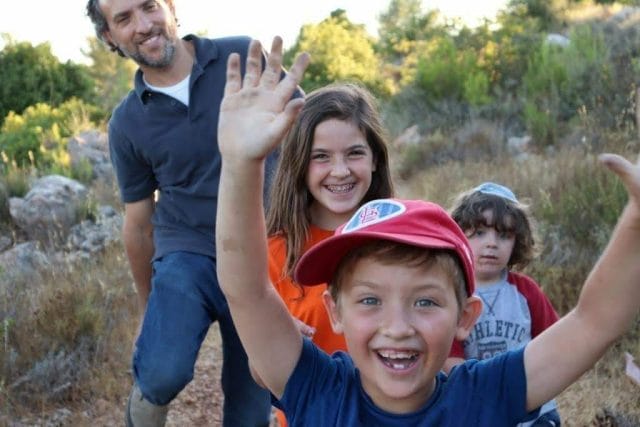 We drove, and we drove, and we drove some more. It started to get late – almost an hour had passed on these bumpy, nausea inducing roads. But with his careful eye on the map, my husband was sure that we were almost there.
One final journey near a fear inspiring drop down a cliff, on a road that definitely wasn't made for our car, and we were there.
Childhood Capriciousness
In a split second, my kids went from close to tears to happy as little monkeys. They hustled out of the car towards a peaceful picnic area. One grabbed the marshmallows, the other carried our little speaker, and we got cooking.
My husband set up the barbecue. I was simply inspired by the surroundings.
The view out from our picnic table consisted of blue green trees, cascading down a mountain. As the sun began to descend in the sky, a gentle glow turned the tree canopy into golden mood lighting. Our children became little pink cherubs in the late afternoon light.
And we had the whole place all to ourselves. Because who else was crazy enough to drive over what could hardly be called roads to get here?
Dinner and a Show
Soon, everyone was eating their fill of chicken, hot dogs, and tomato salad. We cranked up the tunes on our little speaker (there was no one around to object) and had our own little summer party in the beautiful middle of nowhere in Israel.
After dinner would have been the perfect time for a bonfire, but due to the rickety journey up, my husband wanted to make it back down the mountain before nightfall. So, if we were going on a half kilometer hike, we had to go right after dessert.
We had no idea what to expect on this mini trail – would it be overgrown and unpleasant? Would it be short and boring? There was only one way to find out.
Surprise Entertainment
We followed the signs up the stairs and along the well-marked pathway. And luckily for us, the trail was anything but boring.
We started off past tall trees and along a twisty pathway through green shrubs. First stop – an old olive press. We all climbed down into it to look around. Who knew that we'd find antiquities on this half kilometer walk?
After climbing out, we continued to follow the pathway – an awesome little walk all by itself. A bit further we saw a big sign, and lots of old stone, forming the outline of a series of olive and wine presses.
The sign explained that these old structures dated back to the period of the Second Temple, over 2000 years ago. It was unbelievable to see them so well preserved and out in the open. We climbed over an olive press and out onto a flat structure. From here, the view out to the Jerusalem Mountains was spectacular.
New Discoveries
We continued along the trail, past bouncing purple flowers and through fields of wild wheat, gleaming gold in the setting sun. Up ahead, there were more ancient structures to climb onto and explore.
There wasn't much time to get back down the rocky road before nightfall, so we continued on our way. But something made us stop in our tracks – a large, weird, and totally foreign (to us) flower that shot up right next to the path.
We had to stop and take a good look at this strange blossom. After marveling at our discovery, we hustled along back towards the trees.
As we crossed through the flatland under the pine trees, we talked about how it would be a perfect place to camp out for a night – flat, well kept, and silent under the trees and the stars.
Next time.
Next time we get back to Havat HaGitot, we'll make sure to bring a tent and some sleeping bags. That way we won't have to worry about driving uneven roads after dark.
In the meantime, we feel incredibly luckily that we live in a place, in a Land, where peaceful natural beauty can be found almost anywhere. When you wander off the beaten path, you're bound to discover the most incredible places.
Hikers' Notes:
I almost didn't know whether to share this adventure. The only way to get here is with a tough car or on your own two feet. But if you can find a way to get up to Havat HaGitot, you will be rewarded with a really peaceful place to hang out and go for a little hike.
Rather than the usual trail map, I've attached a trail map for cars. You can use the Waze or Google Maps as a guide, but you'll also want to follow the trail map while you drive so that you don't end up on a road you can't drive on (like we almost did). Again, these trails are rocky and bumpy (especially the last stretch of green) and are ideally suited to 4x4s. Not that we heeded that advice, but you may want to!
I hope to go camping here with my kids. We are always looking for that perfect camping spot that feels like you're really away from civilization and out in nature. This definitely fits the bill. I imagine that it gets really dark here at night.
Obviously, there are no facilities anywhere around. Know what to expect and prepare accordingly.
Trail map from Amud Anan.
Don't forget to read my guide to the navigational features in this post before you hit the trail?
Questions about Havat HaGitot. Tips for other hikers? Leave them in the comments below!
Hiking can be dangerous and is done entirely at your own risk. Information is provided free of charge; it is each hiker's responsibility to check it and navigate using a map and compass.