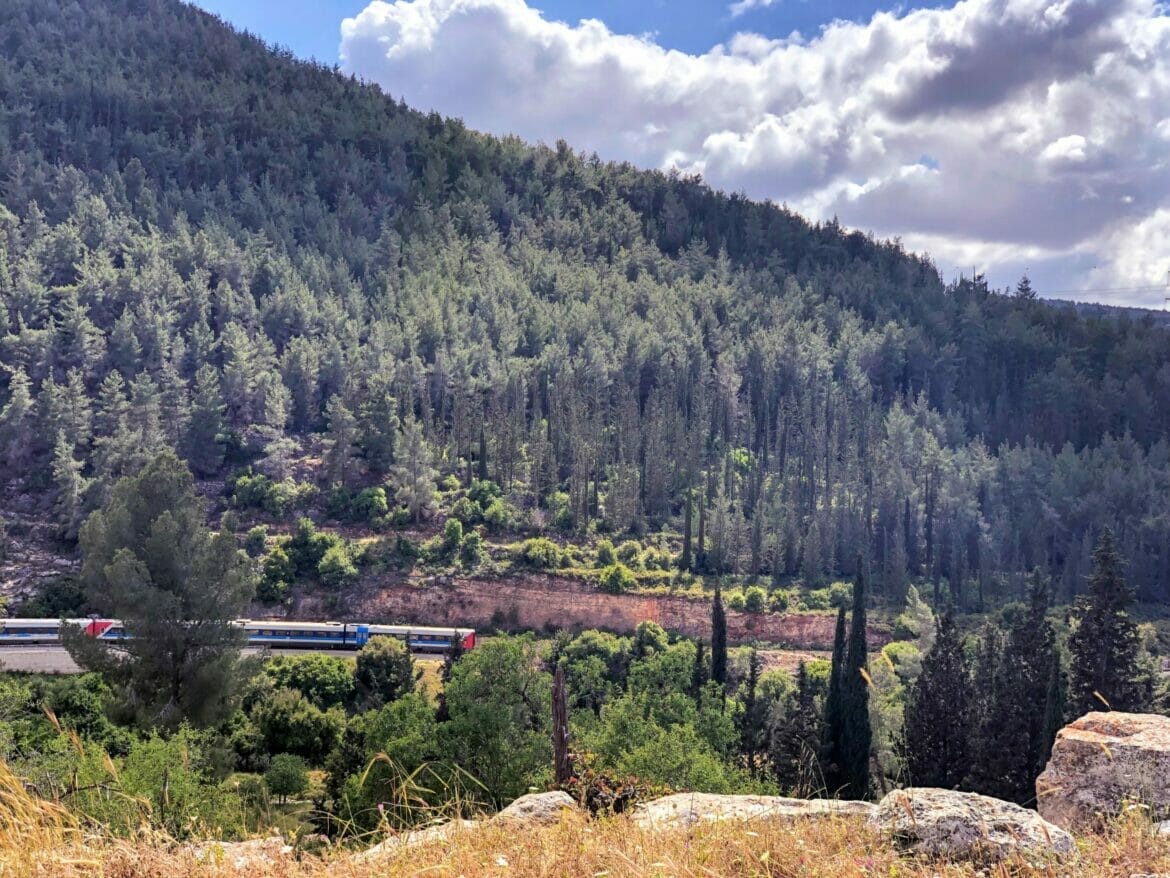 I love my garden at home. To me, it's beautiful. I know that I'm a teeny bit biased, since we planted almost all of it ourselves.
In our backyard, there are tall trees all around that shade our grassy lawn. We have two cherry trees which produce a flood of sweet fruit every year. I love the colorful snapdragons and irises that appear in the springtime. Roses bloom wildly, unleashing their heavenly scent on all who enter. And on the patio, next to the table and chairs, sits a Weber grill.
So every year, on Independence Day, we liked to have a barbecue in our yard – surrounded by birds chirping with the comfort and conveniences of our kitchen nearby.
But then some friends told us that if you wanted to be a real Israeli, you had to go barbecue outdoors. Like out in a National Park or on a trail somewhere. So, in our lifelong quest to fit in with our countrymen, we packed up all our food, bought a disposable grill, and went to find a place to fire it up somewhere in the great outdoors.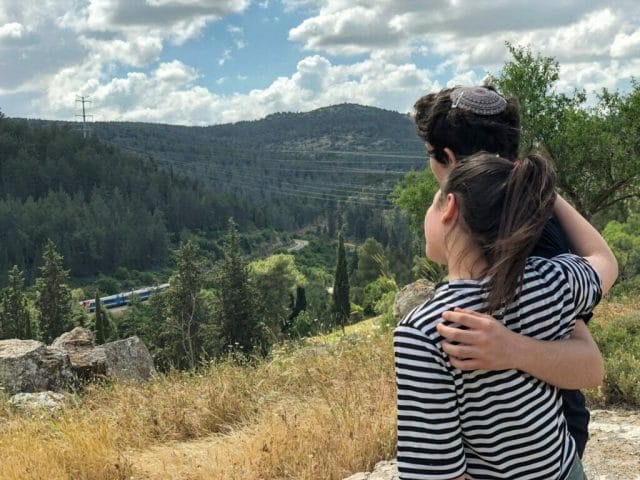 And it was actually really, really fun to go out and explore the Land of Israel on Independence Day. The food just seemed to taste better when we were out in nature.
But the trouble was that each and every time, we were inevitably surrounded by crowds of people. And fighting over picnic tables…well, that's just not our speed.
In Search of Something New
So this year, we went on a mission to find a truly quiet place to hike and barbecue on Independence Day in the great outdoors. Our destination? The other side of Kobi Bridge from Winter River in Park Begin: a spot that we knew was deep enough into the park that we probably wouldn't see a lot of people.
And would you believe it? Once we passed through the throngs of picnickers on the trails near the entrance, we didn't see one other person walking on this incredibly beautiful trail. We found a gorgeous open area to set up a bonfire and a barbecue. There was a cave to explore. And we were treated to incredible mountain views and a train passing periodically in the distance.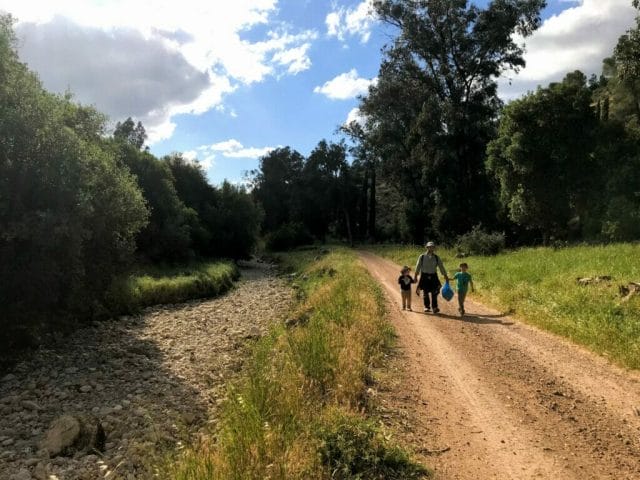 Here's the lowdown on this family friendly hike into the depths of Park Begin:
At the End of the Road, Drive Further
We had wanted to explore the other side of Nahal Refaim (near Kobi Bridge) since we saw it for the first time this winter. In the winter time, the trail is often cut off by the river that flows after rainstorms. But in the spring, we knew we would easily be able to cross the dry riverbed to the other side.
Instead of hiking all the way down, we drove down the trail to Kobi Bridge. Then we crossed the river and parked our car at the foot of the black trail.
We began walking along the black trail (with all six of our children). It was a hit from the very start. There were tons of flowers along the path, along with all sorts of things to find: sticks, bugs, and rocks to climb.
It was a cool and overcast day. The trail ascended slowly, but the kids had no trouble keeping up the pace in the beautiful weather. It was kind of fun just being all together on a pretty mountainside, with nobody else around.
What Really Matters
After about fifteen minutes of walking, we started to look for a place to set up our barbecue. We had everything in our backpacks – hot dogs, hamburgers, and all the fixings. And we brought along a few portable grills. All we needed was the perfect flat spot to situate ourselves.
We climbed a few ridges to see if we could get up off the trail but didn't find anything large and flat enough. After a few more minutes of walking we came to the spot – a large flat area with an amazing 180 degree view out to the surrounding forest.
As we scuttled down the side of the mountain towards our new hangout, we saw that there were also large stones for sitting and smaller ones for arranging in a circle. Plus, there was dead wood all around. Can anyone say bonfire?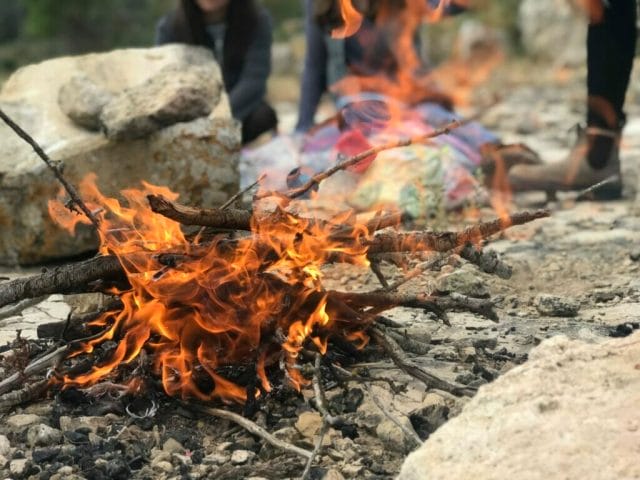 Getting Into the Groove
I guess you can probably imagine what happened next. We spent two hours in that place. First, we gathered wood. Then we set up the grills.
From there we moved on to cooking, eating, and listening to music (without having to worry about bothering anyone else around!) We explored the caves nearby. Some of us took naps. Some of us played Rubik's cube. And I just sat there enjoying the inner peace that sets in when my whole family is having fun.
A few cups of tea and two packages of marshmallows later, it was starting to cool down. The sun was descending in the sky. It was time to leave this incredible discovery and scope out the rest of the trail before nightfall.
We packed up, making sure to gather every last piece of plastic to put back in our bags. And we put out the burning embers of our bonfire. Then we climbed back up the side of the mountain and onto the trail.
Still So Beautiful
It was hard to compete with the serenity of that bonfire spot on the mountainside. But the rest of the hike was even more beautiful than the first half. At the blue and black trail crossroads, we made a left onto the blue trail, which took us down through a magnificent forest towards the riverbed.
From here it was all downhill, as we walked past the remains of an old village, and down a tree lined path. Everyone was tired, but there were no complaints. The surroundings were quiet and peaceful.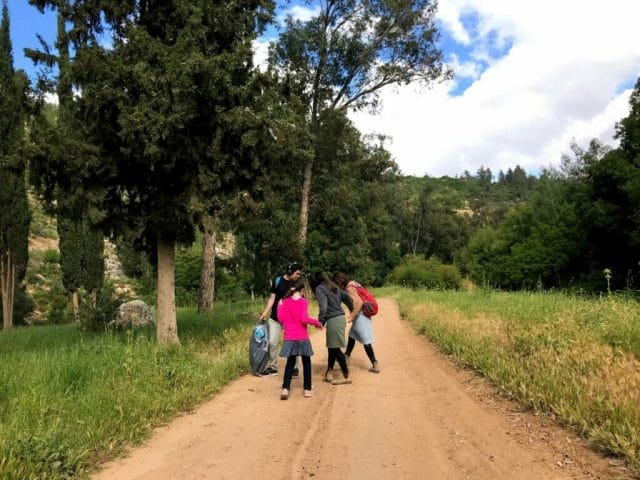 At the crossroads, we turned onto the red trail which took us back down a large flat path. Once we crossed over the dry riverbed (still lined with trees), it was a short walk back to Kobi Bridge and our car.
We had known that this sweet spot beyond Kobi Bridge would be somewhat off the beaten track, but we had no idea how incredible it would be. On Independence Day, to be able to find a well-marked and naturally beautiful trail that's completely secluded is no small feat.
I don't think I'll ever go back to backyard barbecues.
Hikers' Notes:
We had so much fun turning this hike beyond Kobi Bridge into our barbecue/bonfire spot on Yom Haatzmaut. But you can come here any time of year! If you are in the Beit Shemesh or Gush Etzion area, it's a great little hike that's off the beaten track. You can go with kids or without – it's a beautiful walk for anyone.
Follow the Waze link to parking (right next to Kobi Bridge – the road is a bit rocky driving down). You should see the trailhead right near the bridge. Follow it onto the black trail. When you reach the crossroads to the blue trail, make a left to follow the blue trail back. And at the next crossroads, take the red trail back in the direction you came from. That's the whole story.
When we went it was cool, but since it's not completely shaded (especially at the beginning), prepare with hat and water on a hot day. The trail itself is very wide (its 4×4 friendly almost the whole way through). So you shouldn't have trouble with thorns or anything like that.
This path is suitable for bikes as well.
Don't forget to read my guide to the navigational features in this post before you go!
Trail map from Amud Anan.
Questions? Have you hiked beyond Kobi Bridge? Let's hear about it in the comments below!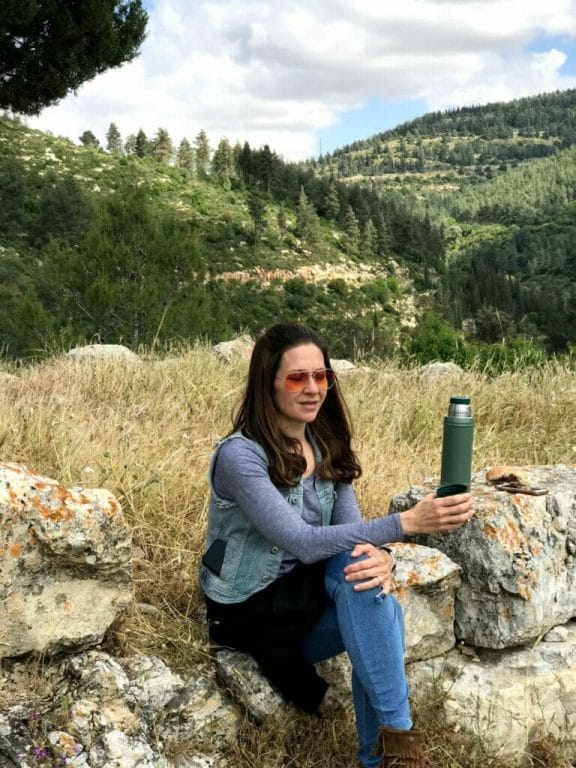 Hiking can be dangerous and is done entirely at your own risk. Information is provided free of charge; it is each hiker's responsibility to check it and navigate using a map and compass.