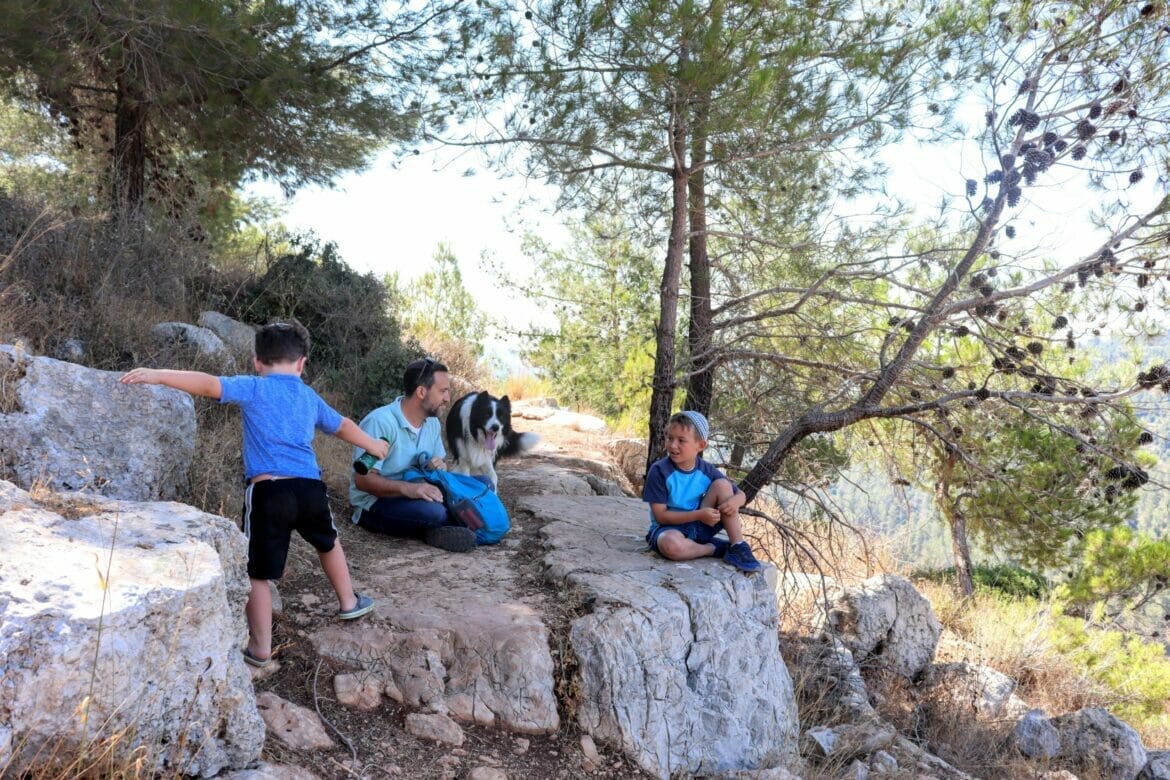 Remember when we took a long, cold, off the beaten track hike down into Nahal Yitla this past winter?
A few days ago, we decided to head back to this beautiful green area with our two little boys. Of course, we weren't going to be able to climb down into the riverbed. We weren't hoping to encounter any wild boar. And we had no intention of hiking back up a mountain.
Instead we took the Shvil Nof, or the Nahal Yitla Scenic Trail. This cute, 1.5 kilometer loop starts off in a wooded campground, complete with picnic tables, a fire pit, and playground equipment. The path then leads out over a beautiful view of the green valley down below, then on to other fun features before turning back in the other direction.
My boys had a great time on this trail. And oddly enough, although the path wasn't fully shaded, the area was very cool for a hot summer morning.
Here's everything you need to know about the Nahal Yitla Scenic Trail:
Goat Farm? Chicken Farm? No Farm?
Before we actually got started on the trail, we stopped our car up the road to check out what was supposed to be a goat farm. Our little boys were really excited to see the goats.
But as we climbed up the path to the farm, there was nary a goat in sight. There was a big old dog up on a caravan porch, but there were no other mammals that we could see.
Instead, where we expected to find goats, we found a large chicken coop, with some red plumed chickens clucking around. Near the chickens, there was machinery for handling milk. But if goats once lived here, they lived here no longer.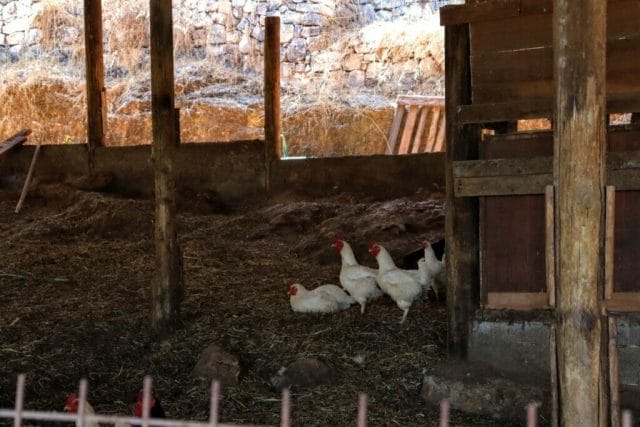 We said goodbye to the chickens and got back into our car for the five-minute drive up to the trailhead.
Someone's Campground
At the trailhead, we got read to head down the green path. Before we could start, we passed by a large wooded area, full of picnic tables, a stone fire circle, and a few families who had camped out for the night. It looked like a beautiful place to spend some time. We decided to hang out there at the end of our walk.
On the green trail, we passed through tall trees and dry summer grasses. After a few minutes' walk, we reached a large flat rock, with a gorgeous view out to the surrounding mountains and Nahal Yitla down below.
The kids were ready to stop and eat their second breakfast (just being honest – they'd already had their first before 7 am). A flat rock with a view is always a great place for a picnic. So, we pulled out our iced coffee and muffins and got comfortable.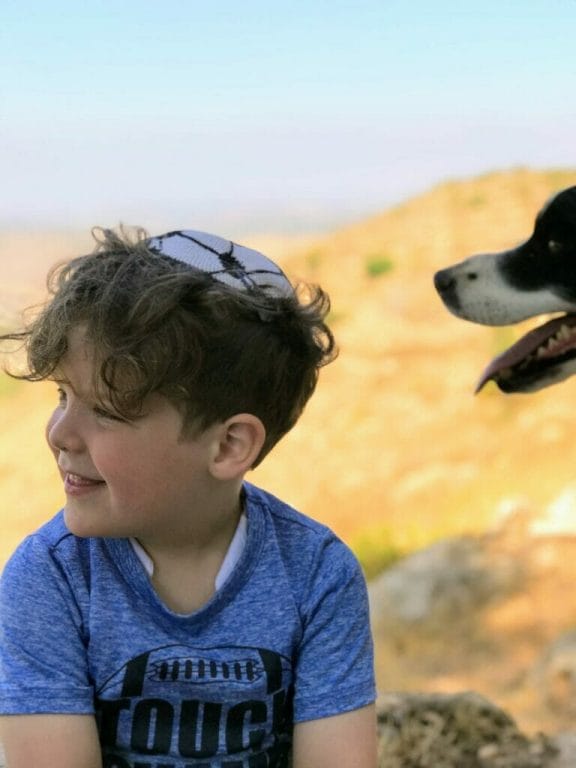 Wind Mountain
The Nahal Yitla Scenic Trail is right near a place called Har HaRuach, or Wind Mountain. And sitting there on our impromptu picnic ground, I felt that it was aptly named.
A gentle breeze blew from above the valley.  Even though it was 10 AM on a summer morning, I was cold enough to roll down my sleeves.  It's not my usual custom to cuddle up to our border collie (he doesn't meet my cleanliness standards), but his fur coat seemed like the perfect way to warm up.  So, I cuddled in close.
The little boys ate their rolls, and we started a game of I spy. I spy something that starts with…
We saw pinecones, trees, and a dried-up snail shell. And my seven year old stumped us with "something that starts with the letter M."
The moon was a faint quarter circle in the sky way up above.
On to More Adventures
After brushing ourselves off, we continued on our way along the mountainside. The walk was only 1.5 kilometers, so we weren't expecting much. But we soon we saw that the path continued towards a "Bor Mayim" 200 meters ahead.
We hurried along towards the well.
It wasn't much to look at – just a hole in the ground with a rusty grate on top. But anyone with little boys knows that endless fun can be had dropping rocks into a dark pit down below. They dropped one rock after another, to hear the silence, then the splash!
Beer Bottles, Airplanes, and Giant Butterflies
Once we had exhausted the fun of the well, we followed the green trail up a set of stone steps towards the blue trail up above. The blue trail led us back in the direction we had come from, past a memorial for "Har HaTayasim".
The boys wondered why there was a memorial, and why the mountain was called Har HaTayasim. So, my husband told them the story of the air traffic control accident which cause two army planes to crash into the mountain many years ago.
Soon, we were back at the forest where we started. In the couple of hours we had been on the trail, the camping group had cleaned up and gone.
Now was our chance to explore the area, ride on the see-saw, and approach a giant butterfly we found perched on an abandoned beer bottle.
Twenty minutes later, we were ready to go (at least the adults were).
This little trail along the Nahal Yitla Scenic Path turned out to be a great way to spend a morning with our kids. Nature, nurture…it's all the same.
Hikers' Notes:
If you're looking for a chilled out way to spend a morning, Nahal Yitla Scenic Trail is a perfect place. Don't expect an epic hike or unbelievable sights. But do expect a short walk through a pretty little piece of nature, quite near Jerusalem.
There are no facilities on this trail. No entrance free. And dogs are welcome.
The Nahal Yitla Scenic Trail was very pleasant in the summertime. But it's probably quite beautiful in the late winter and spring when everything is green and blooming.
The path is easy to follow. Just start on green and then turn right on blue when you hit the crossroads.
Trail map from Amud Anan.
Don't forget to read my guide to the navigational features in this post before you hit the trail!
Questions? Do you want to try this trail? Let's hear what you have to say in the comments below!
Hiking can be dangerous and is done entirely at your own risk. Information is provided free of charge; it is each hiker's responsibility to check it and navigate using a map and compass.