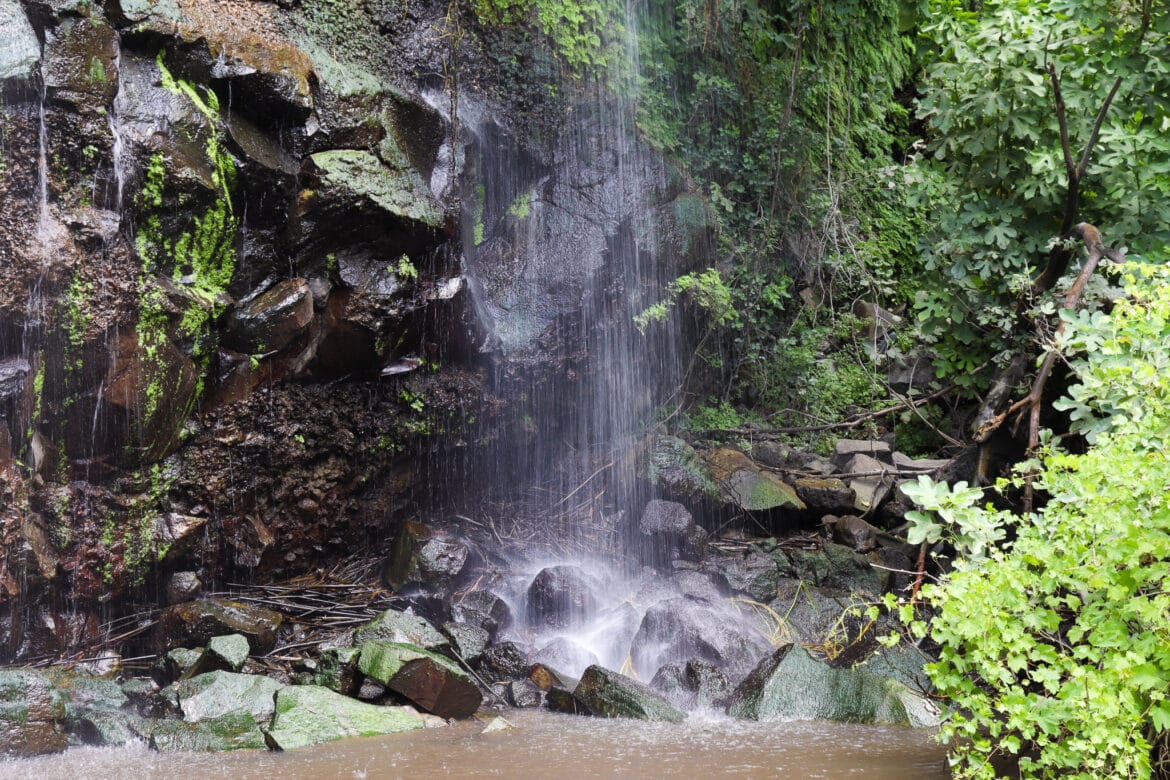 It's that time of year again.
Israel's Independence Day is just around the corner. Soon, we'll see Israeli flags flying from every home, balcony, and car window. Families are prepping their charcoal grills and barbecue paraphernalia. And people all around the country are planning on heading out on the trails.
That's right, true to Israeli custom, Yom Ha'atzmaut will be one of the busiest days in Israel's parks and natural areas. And this makes sense. What better way to celebrate the birth of our state than by getting out and enjoying its most beautiful places?
The trouble is that it can be quite difficult to find any peace and quiet in Israel's great outdoors on Yom Ha'atzmaut. Israel's most popular trails will be packed with people, and you can expect just about any park or picnic area to be full of holiday revelers with their picnic baskets and barbecue grills.
But that's okay. There's a simple solution for nature lovers who would like some peace and quiet on the holiday: head to a less popular trail. Many gorgeous hikes around Israel just aren't as well-known as some of the big ones.
Here's a list of 7 quieter trails for you to check out on Yom Ha'atzmaut:
Jerusalem Area
Mount Heret
If you're looking for a pretty, forested hike quite close to Jerusalem, look no further than Mount Heret near Sataf. At Mount Heret, you'll get to walk around a green mountaintop in relative peace and quiet.
The trail begins at the Sataf parking lot, which will be absolutely packed with people on the holiday. (After all, nearby Sataf and Mount Eitan are immensely popular trails!). But just a few minutes into the trail, you'll likely find yourself nearly alone at Mount Heret.
Along the path, you'll enjoy pine forests and olive groves. There's a spring mid-way through the hike, which may even be full at this time of year.
Make sure to check out a trail map and pay close attention to trail markers. As is typical with less popular trails, some of the signs can be a bit hard to follow.
The Mount Heret trail is easily accessible by public transportation from Jerusalem. The circular trail is 6.5 kilometers long. Click here to read the full post with maps.
Nahal Yitla Scenic Trail
Looking for a less adventurous trail near Jerusalem? Try the Nahal Yitla Scenic Trail. This easy path begins at a picnic area (which, again, will most likely be crowded) before heading towards beautiful views over the Yitla valley.
If you're hiking with kids, they'll enjoy the ease of this trail, along with some of the interesting sights along the way. From an old well to the Tayasim memorial, this trail has a lot of attractions for such a short and quiet loop.
The Nahal Yitla Scenic Trail is 1.5 kilometers long. Click here to read the full post with maps.
Tel Adulam
Right near Jerusalem, the Adulam Nature Reserve is filled with all kinds of natural beauty. There are ancient ruins, underground tunnels, wildflowers, forests and more. It's not too difficult to find some peace and quiet in Adulam, especially if you're willing to wander a bit.
One of my favorite quiet trails to hike with kids is at Tel Adulam, a hill that sits atop the ancient Biblical city of Adulam. Along this path, you can take in stunning views to the surrounding area. After you picnic on top of the hill, make sure to go exploring in the old structures and underground caves. You'll have to wander a bit, but it's worth it: some of these caves are simply incredible. You can even see a preserved ancient wine press and a grinding stone underground.
After you're done exploring, continue back down through the beautiful forest towards the meadow. This trail is simply heavenly.
The full trail at Tel Adulam is about 3 kilometers long. Click here to read the full post with maps.
Hurvat Toura
The Nes Harim area near Jerusalem is known for its great hiking trails. But there's a less popular hike at Hurvat Toura which is especially beautiful during the springtime.
The challenging trail leads along narrow pathways filled with dense greenery towards a hill that covers an ancient Hasmonean fortress. The hike is not long, but the ascents and descents can be challenging. You'll be rewarded with relative quiet as you sit atop a green hill, taking in the views of a beautiful valley.
The full trail at Hurvat Toura is 3.5 kilometers long. Click here to read the full hike post with maps.
Haifa Area
Nahal Sfunim
In the Carmel Mountains near Haifa, there are lots of long, rambling trails to choose from. Some are quite popular, and some are less well-known.
Nahal Sfunim is one of the quieter ones. This awesome trail in the Carmel is perfect for springtime. On the hike, you'll climb through a beautiful shady stream bed towards an incredible bat cave (which only opens in April, after the bats' long winter hibernation). After that, the trail heads along a mountain ridge past spectacular views out to lush greenery and the Mediterranean Sea.
Next, the trail proceeds out in the sun past plentiful wildflowers back towards the trailhead. You won't have this trail to yourself on the holiday, but it's unlikely to be crowded with people.
The full trail at Nahal Sfunim is 4.5 kilometers long. Click here for the full hike post with maps.
Northern Israel
Nahal Betzet
Perhaps by some chance, you'll find yourself in Northern Israel over Yom Ha'atzmaut. If so, you're in luck: there are lots of quiet trails to choose from in this part of the country.
One of my favorites is at Nahal Betzet, a beautiful forest trail along a dry stream bed towards a spring with waterfall pools.
You won't see many people along the bulk of the hike. But it's unlikely that you'll have the spring pools to yourself (these pools can also be accessed by climbing down the hill from the town up above). Still, you can take a dip and head back into the quiet solitude along beautiful Nahal Betzet.
The full trail at Nahal Betzet is about 6 kilometers long, there and back. Click here to read the full hike post with maps.
Ein Aniam
Here's another amazing, off the beaten track trail in Northern Israel: Ein Aniam. This hike begins in the small town of Aniam. After heading down a hill into a valley, the trail reaches a popular spring, complete with large boulders to dive in from.
But the real magic happens after this wet attraction. If you follow the trail deeper into nature, you'll soon discover a waterfall paradise which most people never make it to. This is one of the quietest, most beautiful waterfall pools in the area.
The trail at Ein Aniam is about 1 kilometer each way. Click here to read the full hike post with maps.
Happy Independence Day!
Don't forget to share your experiences with us after the holiday! If you hiked one of these trails (or another) on Israel's Independence Day, please send photos and feedback to susannah@hikingintheholyland.com !!!