Click here to go straight to hike notes.
There are a lot of waterfalls in our small country. But most are fairly well known – with well-marked trails leading towards them.
Not so at the Hidden Waterfall in Aniam – a small town in the Golan. Aniam is known for its Artist Colony (worth visiting!) and an off the beaten track trail to a natural pool (Ein Aniam) surrounded by large rocks that make great diving boards. But most people don't know that a bit further along into the countryside, there's another, spectacular hidden pool with a waterfall.
Part of the reason this waterfall remains a well-kept secret is that it's really hard to get to. And as for directions? Well, I wish myself much luck fielding all the questions that will come after I post this: the best way to get there is to follow someone who knows the way.
Despite being so completely off the beaten track, the Ein Aniam Hidden Waterfall is one of the most beautiful places I've been to, and therefore, worth writing about. It's generally very quiet – we were there on an August day for 4 hours with absolutely no one else. The waterfall is tall, cool, and refreshing. The pool sits in a mixture of oasis like shade and tropical sun – it's great for swimming in. Even the hike itself (once you know the way) is breathtakingly beautiful.
Here's how we discovered this trail to the Hidden Waterfall at Ein Aniam:
It Helps to Know Israelis
This story of this trip began with my daughter and son in law's Northern Israel vacation in June. They reported that they had been to the most spectacular waterfall ever – and there was nobody else there! Hearing this, I knew that when we next traveled up North, we'd be scoping out the spot.
A month or two later, we were on our way. As my son in law described it, the Hidden Waterfall at Ein Aniam was very difficult to get to with kids. But we had our kids along, and Aniam was on the itinerary. My children are pretty tough – I was sure they would be fine.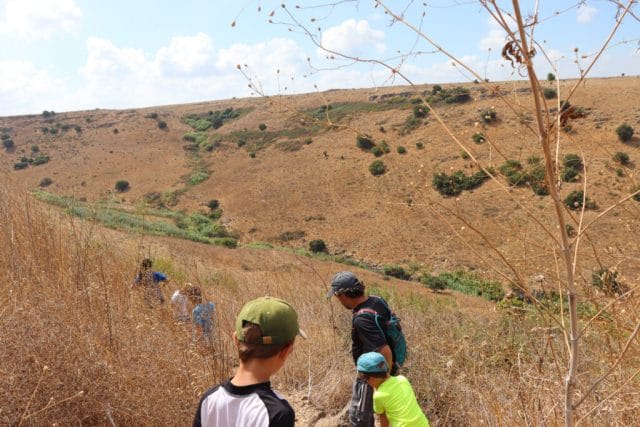 We reached our parking spot and made our way through a partially closed up gate. Of course, there was a sign there letting visitors know that this wasn't a place for visiting – No Entry Allowed. But that didn't stop the people who walked through right before us, and after giving it some thought, we decided it wouldn't stop us either. Clearly, using this gate was the local custom.
Golden Hills
We traveled down along hills covered in golden grass. As we descended, I couldn't believe the beauty of my surroundings. The valley below was lush and deep green, framed by golden hills and a bright blue sky. It felt like a scene from a storybook.
After descending for a few minutes, we saw the main pool at Ein Aniam just ahead.
This was the spot where all other hikers were headed. The pool was relatively empty for an August day. But there were people there – swimming inside and jumping off of high rocks to cool down in the refreshing waters below.
We could have stopped right there and still gotten our money's worth. But our destination was further into the wild. We would have to keep going to reach the hidden waterfall.
When the Going Gets Rough
We crossed over behind the pool, then followed a tiny little path through tall reeds and yellow flowers. It seemed as if we were wandering into the middle of nowhere – but my son-in-law led the way. He knew exactly where to go.
We reached a lone tree, then stayed straight on the path for another few minutes until we reached a sharp downhill turn to the right. It didn't look like a path at all. But we were following it.
We slipped and slid down over rocks and loose dirt, carefully treading so as not to unleash a torrent of small stones onto whoever was first in line. Soon, we arrived at a thicket of trees – still no hidden waterfall in sight. We pulled ourselves under the trees, into the shrubbery.
And then we were there.
Paradise Revealed
It was worth every thorn and every tight spot. This hidden pool was the prettiest spot I'd seen on our entire trip up North.
Water cascaded down the side of a black rock cliff, creating a gentle mist that filled the air. Moss and ivy covered the rock, dripping with little droplets of condensation. The pool itself, large and beautiful, was surrounded by flat rocks, tropical plants, and shade. There were dozens of different places to hang out – and nobody to share it with.
The kids dove into the cold pool and headed straight for the waterfall. I wasn't ready to get completely wet yet, so I made my way around the sides of the pool where the water was shallow. One misstep and I would be in the water.
Underneath the waterfall it felt like heaven itself. The best spa shower couldn't compete with its refreshing, misty spray. Neon dragonflies flitted between pink flowers nearby. This place was incredible.
Three Hours Later
We could have spent forever there. Between trips into the water, then back out onto the rock to relax and warm up, then again into the waterfall, it was like having a miniature waterpark all to ourselves.
After several amazing hours of peace, quiet, and solitude, it was time to say goodbye to the Hidden Waterfall at Aniam. We packed up our things, took one last dip in the water, and got ready for the great climb back to civilization.
Maybe it was due to the exhilaration of discovering a beautiful secret. For some reason, the walk back – up through the tangle of trees, along a nonexistent pathway, then up the side of a mountain – wasn't nearly as difficult as we expected it to be. Our kids were fine (for the most part.) We made it to the last difficult stretch before my 5 year old needed a piggy back ride.
Ein Aniam will always hold a special place in my heart. To me, it is mystery and beauty. It's a hidden paradise that takes insider knowledge and some perseverance to reach.
The Hidden Waterfall at Aniam is a place that every adventurous hiker in Israel must seek out and discover.
Hikers' Notes:
Here's what you need to know to hike to the Hidden Waterfall at Aniam:
This hike is off the beaten track. You must be prepared for a difficult to find adventure. If you can't find the Hidden Waterfall, backtrack and enjoy yourself at the main pool.
Hiking water shoes are a must for this trail. Or bring sneakers and change at the pool.
Dogs are allowed.
This trail would be very hard for small children (but possible for some!)
No facilities.
Watch out for falling rocks (and rocks you might cause to fall).
Suitable for all seasons. Extra fun on a warm day when you can enjoy the water.
Getting there:
To follow the trail: Park on the side of the road then pass through a small opening in a locked gate. The sign will say that you are not allowed to enter. Go through anyway. Afterwards, go downhill for about 10 minutes, following a dirt path, until you reach the main pool. When you get to the main pool, walk towards the end of it (all the way to the left if you are facing it sideways). Then, cross over behind the pool to the other side of the valley. After you cross, turn right and walk past the pool on the other side. After about 3 minutes, you'll reach a tree which stands out amongst its surroundings. Here you continue straight (not right). After about 3 more minutes, you'll reach the end of the path and a steep descent hidden in the rocks (you can start to see the waterfall here). Follow it down carefully. It is quite steep. After about 2 minutes you'll reach a sideways trunk of the tree about a meter above the ground. Use it to follow the path downwards without slipping. Then, you'll reach the pool.
Trail map from Amud Anan.
Don't forget to read my guide to the navigational features in this post before you hit the trail!
Questions? Have you been to the Hidden Waterfall at Ein Aniam? Let's hear about it in the comments!
Hiking can be dangerous and is done entirely at your own risk. Information is provided free of charge; it is each hiker's responsibility to check it and navigate using a map and compass.