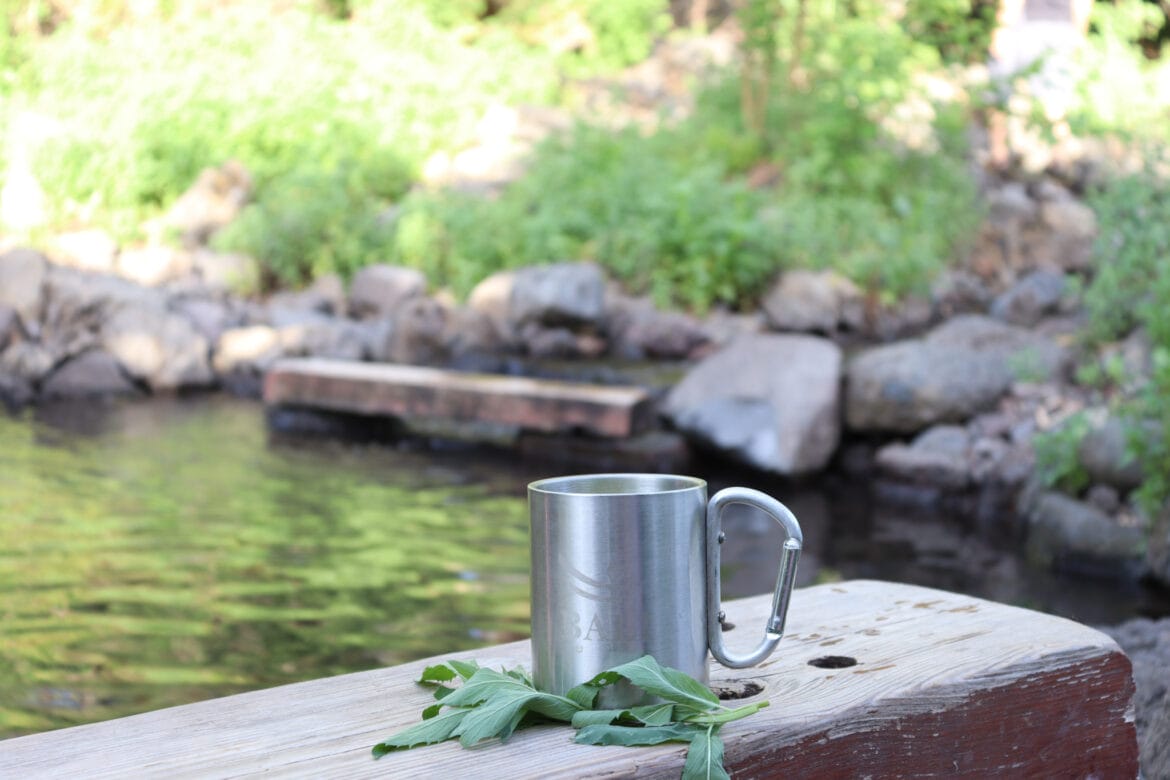 Click here to go straight to hike notes.
Last week, we went on a hiking vacation. I love those.
Our objective for these vacations is to cover as much terrain as reasonably possible. For me, travel is all about having adventures that I can't have in normal life. And as a mother of young children, that means putting in long days full of hard hiking on trails that I wouldn't be able to trek with my kids.
But on a four-day trip, there definitely needs to be some chill-out time. We like to trek, rest, repeat. So, our favorite thing to do at rest time is to find an off-the-beaten track gem where we can sit in silence and solitude, bottle of wine optional.
On the third day of last week's Golan vacation, we discovered a hidden spring called Ein Maimon. This beautiful oasis in the countryside was the perfect spot for late afternoon chill time. At Ein Maimon, fig and pomegranate trees surrounded a clear pool of water. A bubbling stream ran down the side of the mountain, creating a paradise filled with birdsong.
We had such a nice time at Ein Maimon that we stuck around much longer than intended. The setting sun and evening breeze was our signal that it was time to get going.
Here's how we hiked to Ein Maimon, a gorgeous freshwater spring in the Golan Heights:
Treasure Hunt
We pulled up to the side of the road and began to follow a dirt trail through the golden hills. White flowers popped up from the sides of the trail in clusters. The scenery was stunning.
But we didn't have too much time to appreciate the scenery. We were on the hunt! The first secret spring that we had to find was called Ein Heshek.
We veered off of the main trail and followed a series of confusing directions: make a left on this dirt path, right under that fig tree…until we began to see squishy puddles of water. We knew we must be getting close. Around one more bend and we found it: Ein Heshek.
Ein Heshek wasn't the hidden treasure we had imagined it to be. I jumped into the water, and it was cold and refreshing. But it wasn't particularly pretty and there were lots of bees swarming around.
So, I hopped out, and we went off in search of Ein Maimon, hoping for something better.
Towards Paradise
Back on the blue trail, we set out on a longer journey.  As we walked (now cooled off after Ein Heshek), I could see the beauty of the rolling hills of the Golan Heights.  No matter what we found at Ein Maimon, at least we were going to enjoy a pretty walk off the beaten track.
We followed the blue trail uphill for a while until we reached running water (over rocks on the ground) and a cluster of fig trees. Then, we began to follow a series of very precise instructions. We climbed through a cattle gate and under a fig tree. And we followed the stream uphill towards the secluded paradise of Ein Maimon.
Then we heard laughter and giggling.
Crashing the Party
Who woulda thunk it? There were two women sitting there enjoying the spring. And the biggest surprise of all: they weren't exactly dressed. The two ladies must have imagined that no one else would unearth this hidden gem.
They hurriedly put on their clothes while we waited behind a tree branch and then we joined them at the spring.
Trees surrounded a crystal pool of water. In the corner, a wooden picnic bench waited under a tree. Birdsong and the sound of bubbling water floated on the breeze. Ein Maimon was just what we were hoping for.
I immediately got comfortable on a bench in the spring and we started chatting with the local ladies. Turns out they were from a nearby community, and they had never been to this spring before. They had no idea that anyone else would turn up there, as they had been dropped off there by a local adventurer in a 4×4.
Explore a Little
After getting my feet wet, I went off to explore the surroundings. It was so beautiful all around the spring. Plump figs filled the branches of nearby trees. A little stream ran down the side of the hill over smooth rocks. I could just imagine how much my kids would enjoy this quiet little piece of paradise.
But for now, I had no kids to worry about. I gathered up some wild mint and returned to the spring, where we poured hot water for cups of tea. Then, we sat and had a long conversation with our new friends at the spring.
We had hoped for some solitude but getting to know these two quirky women more than made up for the lack of alone time.  They were friendly and interesting, and we exchanged life stories as the afternoon faded into evening light.
Back Before Sunset
Before we knew it, sunset was on its way. A cool breeze was working its way through the trees. It was time to get going.
We packed up our stuff and said goodbye to our friends, then followed the hidden pathway back towards the main trail.
As we returned the way we came, a golden glow settled upon the surrounding hills. Our little adventure towards solitude hadn't worked out exactly the way we had expected. But we had discovered a magical hidden oasis in the hills of the Golan Heights.
Ein Maimon was just the place to seek out peace and beauty after a long day of adventuring.
Hikers' Notes:
Here's what you need to know to follow the trail towards Ein Maimon:
Suitable for all seasons, but particularly nice in spring, summer, and fall.
Great for kids.
Suitable for dogs.
The path follows the blue marked trail for most of the time. At the end, you will have to follow some off-trail directions to get to the spring. Use to Google Earth file for extra assurance.
To get to Ein Maimon: Follow the blue trail. Eventually you will reach an uphill (still blue), which you will follow for about 10 minutes. When you reach the split in the path, head left and cross through flowing water. Follow the water uphill. When you reach the fig trees, keep walking uphill with the water. Go through the small gate, then climb underneath the branches of the fig tree and you will see the pool up ahead.
Don't forget to read my guide to the navigational features in this post before you hit the trail!
Trail map from Amud Anan.
Questions? Have you been to Ein Maimon? Let's hear about it in the comments!
Hiking can be dangerous and is done entirely at your own risk. Information is provided free of charge; it is each hiker's responsibility to check it and navigate using a map and compass.