Summertime. It's a wonderful time of year.
The kids are out of school, the sun is shining, and the great outdoors is calling. Now is the time to put together a plan of action for the next few weeks. Our summer plans will include lots of days filled with hiking and exploring our beautiful country. What better way is there to spend time together as a family?
The trick to summertime hiking is to pick trails that stay cool. Water, shade, or strategic planning (think early morning or evening hiking) are essential components of a successful outdoor outing in this season.
Here's my list of 7 favorite family hikes for summertime from all over Israel:
Banias Springs Trail
There's something special in the air at the Banias Springs Trail. Somehow, no matter the heat, this hike seems to stay cool and refreshing. Perhaps it's because of the plentiful shade, or maybe it's because of the freezing cold Hermon Stream that runs down the middle. But whatever it is, the trail to Banias Springs is the perfect summertime hike.
One thing I love about the Banias Springs Trail is that it's more than just a water hike. Between the massive waterfall at the beginning and the cool antiquities in the middle, there's a lot to see at this National Park. If you're hiking with kids, pick up a Junior Ranger book at the trail head to make the most of your trip to the Banias.
Read the full post here.
Ein Aviel
Ein Aviel is an unassuming little water hike right near Central Israel. What's nice about this hike (besides the fact that it's a perfect kid friendly water trail with a miniature waterfall) is that it's off the beaten track. It's not a National Park and not a very well-known spot, so you probably won't find yourself jostling the crowds as you walk to the waterfall.
My kids just love this trail. Swimming and hiking together? That's a winning combination.
Read the full post here.
Little Switzerland
If you're already in the Haifa area, you can't leave without hiking Little Switzerland. This short, circular trail will take you through thick shade, perfect for a summer day. Although there's no water here, there are tons of trees and rocks to climb. The view from the trail is pretty spectacular too.
Since Little Switzerland is completely shaded, it's a great choice for the summer heat.
Read the full post here.
Dor Habonim Beach Trail
This trail near Zichron Yaakov is a must-do for a summer evening.
At Dor Habonim, waves crash onto rocky outcrops, creating a dramatic coastline that's spectacular all day long. As the sun goes down along this trail, you'll get to experience one of the most beautiful sunsets in all of Israel. Bring a picnic dinner and a bottle of wine and make a toast to summer nights.
Read the full post here.
Holot Zikim
What's a visit to the beach without a hike beforehand? At Holot Zikim, you get to walk along a little river, past a lake, to a quiet beach.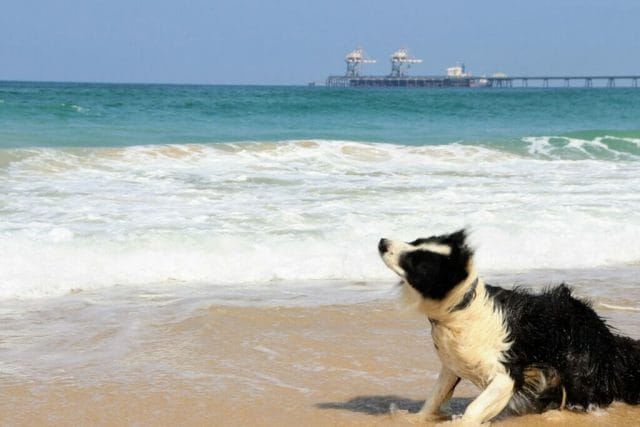 This is actually one of my favorite river to beach hikes. Although the scenery is more subdued than other popular beach trails, Holot Zikim is really quiet and off the beaten track. This means fewer crowds to contend with (and you know that everyone and their sister will be out looking for a great beach this summer). Go here for a quieter river to beach walk.
Read the full post here.
Nahal Arugot
I can't put together a list of favorite summertime hikes without mentioning Nahal Arugot. This Ein Gedi area trail has everything you want in a summer hike: water, water, and more water.
Arugot stream runs through most of the trail, so you can stay wet while you hike. And, you'll get to feel the rush of several spectacular waterfalls along the way. You'll probably meet some ibex too.
Hike out as much as your kids can handle, then hike back the way you came (through the water). This is one must-do hike for the summertime.
Read the full post here.
Nahal Prat
A little closer to Jerusalem, Nahal Prat is Nahal Arugot's less challenging cousin (at least this kid-friendly version is). At Nahal Prat you can find your own secret spot in the trees. Then spend the day splashing in the water under the shade and letting tiny fish nibble at your toes.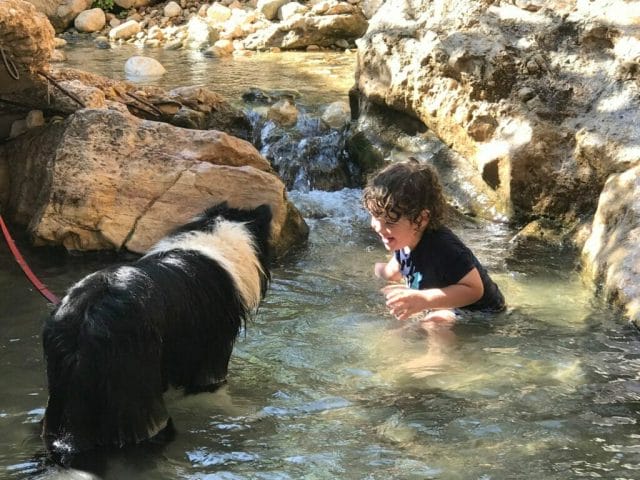 Make sure to skip the crowded pools at the beginning and go in search of a quieter spot.
Nahal Prat is long time family favorite. Read the full post here.
Bonus Trail: Cheater's Hike in Jerualem
Ready for one more hike for a summer evening? Try this Cheater's Hike in Jerusalem. This trail leads from the quaint neighborhood of Ein Karem through the beautiful Jerusalem countryside. It's the perfect walk to take as the sun goes down.
The hike ends at Café Derech HaGefen in Beit Zayit, a fabulous café in a garden center. Have dinner outside, then take a taxi back to your car – it will be too dark to walk back the way you came after nightfall.
Read the full post here.
International travel is out for now.  But you can still get that vacation feeling this summer, right here in Israel.  Plan a perfect summer itinerary using our beautiful Land as your inspiration.