Click here to go straight to hike notes.
Where do you find a hike with thick shade, trees to climb, and perfect weather mid-July? At Little Switzerland near Haifa, there's a hike with all of these features and more.
Little Switzerland is quite a name for a little mountain hike in Israel. But the truth? This hike has earned it.
On one side, lush green mountains make up the horizon, against the backdrop of an aquamarine sea. On the other, a tangle of trees and rocks creates a dense canopy over a twisty riverbed. This makes the perfect climbing space in the shade. Tree roots form impromptu ladders, which are both funny and fun to climb.
Because Little Switzerland is on the border of mountains and sea, the weather in the area is surprisingly temperate. We went during a heat wave. Near Jerusalem, the temperatures were soaring into the 90s.
But up near Haifa, it wasn't nearly as warm. The temperature was perfect for hiking in the shade.
We hiked Little Switzerland with my little kids (ages 5 and 8) at the end of a full day of adventures. I kind of assumed that they wouldn't be thrilled about hiking another trail at the end of a long day. But this hike was so appealing that they jumped into it with full force, using all of their energy to get the most out of Little Switzerland.
Here's how we hiked this short Little Switzerland trail near Haifa:
Goodbye Deer, Hello Monkeys!
We said goodbye to the fallow deer at Hai Bar Carmel and set off for the beginning of the Little Switzerland family trail, a short 10-minute drive away. After parking under some trees, we found the red trail and got started.
It wasn't long before we had stopped again. I never would have known this had I not been hiking with children, but Little Switerland has the best trees for climbing.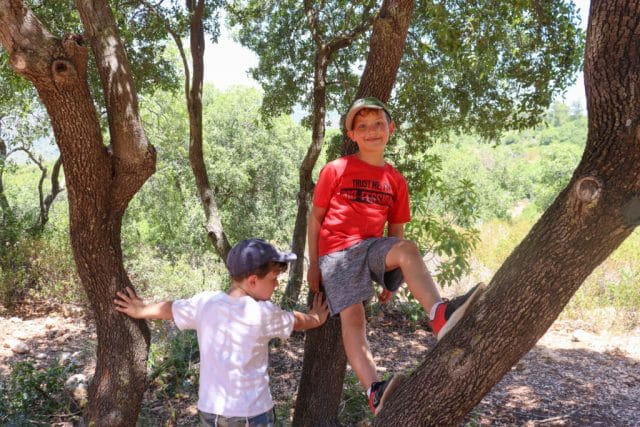 After only a few minutes on the trail, my older son found a tree to climb. Positioned just so, he found a way to lie down between the branches. Of course, my five-year old wanted to give it a try to. This was fine, because there was another great place to hang out in the same tree.
One son moved on over to make room for his brother. And two happy little monkeys sat in a tree.
On the Trail
Tree climbing aside, the first part of the trail was pretty classic. We walked through a mixture of sun and shade, only pausing every so often to tackle another tree trunk.
One side of the trail was lined with bushes. And every so often, a gap formed between the shrubbery, allowing us to look out to the incredible views around.
I've been to the Carmel Mountains many times. But on each and every visit I'm surprised all over again by the beauty of the place. Where else do you have dark green mountains at any time of year, framed against the cool crystal blue of the Mediterranean Sea? This one part of Israel kind of reminds me of my great-grandparents home country: the Azores Islands, where green mountains and sea meet.
In Search of the Green Trail
After walking down the red trail for a bit, we were ready to break off onto the green trail.  The green trail leads through a dark twisty riverbed which was going to be completely shady.
A little further along we found it. And none too soon, because my younger son was tired and ready for a change in scenery (this was his 3rd hike of the day!)
We broke left onto the green trail and entered a magical world of tree root and rock creations.
An All Time Favorite
It's hard to beat this kind of scenery – for beauty, interest, and uniqueness.  On the green trail, trees were everywhere.  But it wasn't a flat walk through a thick forest.  Instead, rocks tangled together with tree roots to form cool climbing ladders, up and down under a canopy of trees.
As one would expect, little boys love this kind of hiking. Now, there were more than just regular old trees to climb. The boys felt like explorers tackling uncharted terrain – who knew what they would find over the hill at the end of a climb?
The best part (for me) was that it was all in the shade. Climbing and shade are usually mutually exclusive in Israel. We really enjoyed the reprieve from the harsh midday sun while hiking through more interesting terrain.
Over Too Soon
Somehow, trails seem to move faster when you're climbing.  On this part of the hike, there was no collapsing onto the trail in exhaustion.  Nobody complained that they couldn't take one more step. 
Instead, the trail was a series of adventures – tackle one and then move onto the next. We just kept on going.
Before we knew it, we were at the end of the loop, walking towards the parking lot where we began. 
This 1.5 kilometer loop trail through Little Switzerland was just what we needed: a short foray into one of the most beautiful and fun places to hike in all of Israel.
Hikers' Notes:
Here's what you need to know to hike this Little Switzerland trail:
This is an all season trail – wear mud-proof boots in the wintertime and a hat in the summertime.
Great for kids.
Suitable for dogs.
The trail is labeled as moderate, but it would not be good for anyone with mobility issues. There is climbing involved.
To follow the trail, take the red path from the parking lot. Then, halfway through, turn left onto the green trail which will bring you back to the lot.
Use the trail maps and trail marker gallery in the table up top to familiarize yourself with the trail before you begin.
There are lots of great family hikes near here! Try Hai Bar Carmel and Nahal HaMearot. You could also stop at Dor HaBonim Beach Trail on the way up.
Don't forget to read my guide to the navigational features in this post before you hit the trail.
Trail map from Amud Anan.
Questions? Have you hiked this trail? Let's hear about it in the comments!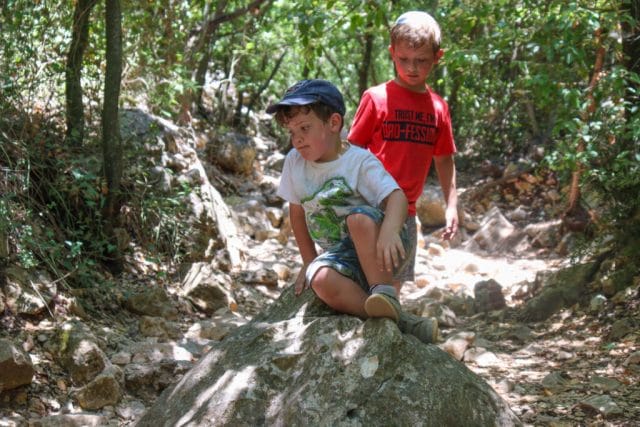 Hiking can be dangerous and is done entirely at your own risk. Information is provided free of charge; it is each hiker's responsibility to check it and navigate using a map and compass.