Click to go straight to hike notes.
Could you ever get tired of a desert oasis?
I never seem to.  Ein Prat Nature Reserve is one of my favorite places to hike near Jerusalem.  First of all, it's beautiful: at the reserve, a cool stream and springs turn stark desert scenery into a green paradise.  It's also full of history: since it's close to both Jerusalem and Jericho, Prat Stream was an important place for Biblical figures, Jewish kings, and even monks. 
For a National Park in Israel, the hiking trails are Ein Prat Nature Reserve are lengthy and impressive. You can walk for a full day along the Prat Stream, from Ein Prat to St. George's Monastery.   But sometimes, a full day hiking trip just isn't on the agenda.  Because the Prat Stream is so close to Jerusalem, it's a great place for a morning escape into nature.
Luckily for us, there are several ways to access Prat Stream along the way from the beginning to the end of the stream. We've already founds paths down to the water from Almon (Ein Prat), Nofei Prat (Ein Shaharit), and Alon (Ein Maboa). So last Friday, we decided to try a new access point to the Prat Stream at Mitzpe Yericho.
Since it's not a paid entry National Park, we knew that this short trail would be a bit wilder than the others. But we wanted to visit Kelt Spring, located in the valley right beneath Mitzpe Yericho. It was said to be quieter than the more popular springs at the reserve, and very beautiful.
Here's how we went on a mini morning adventure to Ein Kelt at Ein Prat Nature Reserve.
Stop Before You Start
After a short drive from home, we reached the yishuv of Mitzpe Yericho and followed signs to the beginning of the trail.  Then, we parked our car and got situated.  Up ahead, there was a short trail to a beautiful lookout over the sprawling desert.  We decided to head up to see the views.
In my opinion, desert scenery in Israel is never boring. That day, a bright blue sky filled with an assortment of grey and white clouds created a beautiful backdrop for rolling desert dunes. Up at the lookout, a crisp breeze made it feel like we were on top of the world.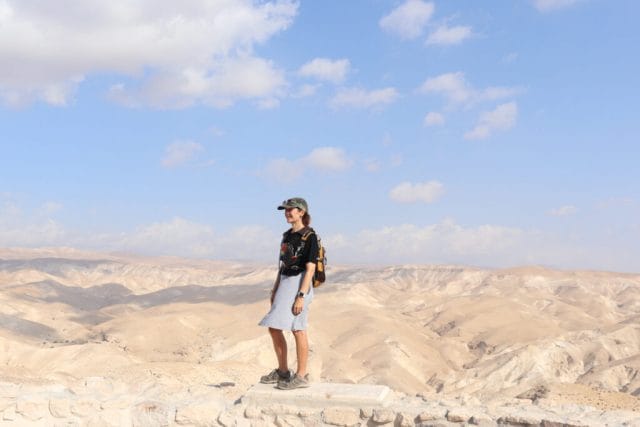 Down below, we could see green growth snaking through the valley: the Prat Stream. We were quite a distance away from our final destination. Our crew that day wanted a super easy hike, without a lot of climbing. So rather than begin our walk, we decided to return to our car and see how much of the trail we could tackle by car.
A Driving Hike?
We proceeded down a bumpy dirt road at a steep angle into the valley below. I wasn't sure how much of this our trusty van could handle, but we were going to drive along a little further and see how it went.
All in all, the drive down wasn't too bad. And after a while, we reached another organized parking lot, indicating that many people begin the hike from this second starting point.
Antiquities, Caves, and a Goat Farm
The first part of the trail took us down a set of rugged steps towards the valley below. We passed by a huge, crumbling wall, remnants of a gate built during the Ottoman Empire. Although we knew that Prat Stream was settled throughout history (King Herod even built aqueducts there), it was amazing to see this giant wall still standing.
Next, we passed by a pretty, little farm and reached a strange structure built into the mountain. From the outside, all we could see was a window and an unusual protrusion. We crawled through the tunnel to explore the dark and dusty room inside.
Then, we continued along the black trail, marveling at the desert views: tawny mountains against a dramatic sky.  After only a few minutes of walking we reached the first pool at Prat Stream.
Simply Spectacular
Wild mint hung over the pool, along with delicate purple flowers swaying in the breeze.  A small waterfall poured down the rock wall, causing moss and greenery to gather in the shadows.  One deep pool was full of fish.  And where the pool turned into a stream, croaking frogs jumped through the tall reeds.  It was incredible, as always.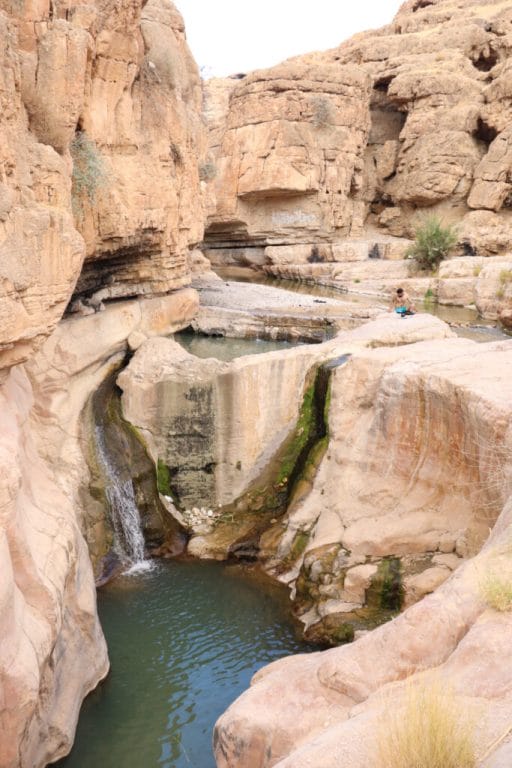 Rather than stop right away, we decided to explore just a bit further. We continued along towards Kelt Spring itself. Here, cold pools of fresh water gathered in the carved out rock of the desert canyon. We stopped to cool down in the water for a while, then continued through the stream into the canyon.
Cool in a Canyon
We waded through in the shadows, between two walls of rock. Scenery like that is pretty rare in September.  There are many desert canyons in Israel which fill up in the wintertime, but the water in Prat Stream comes from underground springs which flow year round.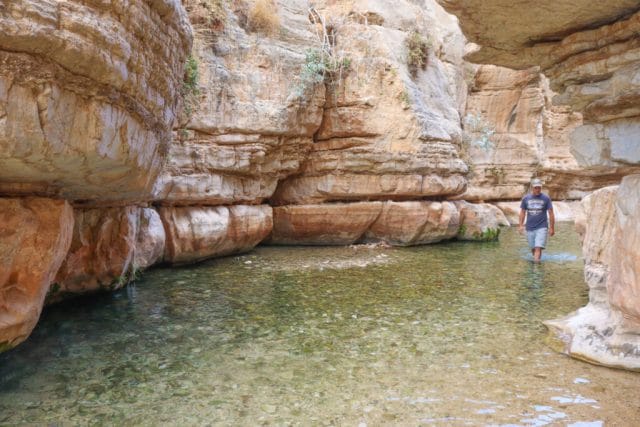 As we walked through the crystal-clear stream, I was impressed by the natural beauty of the place.  True, it was less clean than the for-pay part of the nature reserve (there were piles of discarded wrappers and soda bottles in some places), but overall, this part of the reserve was pretty spectacular.
After scoping out the canyon, we decided to return to the first, quiet pool for some chill out time.
Always Better at an Oasis
Back at the pool, we pulled out coffee, muffins, and bunches of grapes.  Our little group of teenagers and adults was more interested in hanging out by the water than doing any serious hiking.  And luckily for us, we had the perfect place to do just that.
We sat on some giant boulders and sipped cold coffee, the music of waterfalls and birdsong in the background.  It was hard to believe that we were less than a half hour from Jerusalem.  It felt incredibly peaceful.
We relaxed by the pool for quite some time, then packed up our stuff and left the quiet of the desert oasis behind. After a steep climb back along the trail and up the hill, we arrived back at the parking lot where our car was waiting.
Maybe we didn't do much actual hiking that morning, but we did get to experience the beauty of another one of the Prat Stream's amazing springs. Our trip to Ein Kelt was a great mini-escape into nature.
Hikers' Notes:
Here's what you need to know to hike the path to Ein Kelt:
This is a year round trail. Ein Prat Nature Reserve is beautiful all year long.
Great for kids.
Regarding dogs: We brought ours along since dogs are allowed in the paid-entry part of the park, as long as they are on a leash. When we arrived, the sign at the entrance to Ein Kelt said that dogs are not allowed. I'm not sure why that would be, specifically in this spot. Since there wasn't much to do about it at that point, we brought him in anyway. There were other hikers there who also brought dogs.
This hike is in Judea and Samaria. Make sure you feel comfortable with your level of personal safety and security before taking any hikes in this area!
This spring is much quieter than other parts of the Ein Prat Nature Reserve. That said, there are no rangers here, and no facilities. It is less well-kept than other parts of the reserve (ie: there was garbage lying around). We enjoyed the beauty of the place anyway, and tried to clean up along the way.
There are two places to park: up above near the lookout and further along the black trail. The walk from the top will add an extra kilometer (and a 140 meter ascent) to the distance each way. The road down isn't terrible, but it is quite bumpy! If you don't feel comfortable going down to the lot where we parked to start the hike (Trailhead Parking: Second Waze point), just leave your car at the Lookout Parking (first Waze point) and walk down.
The trail is very easy to follow. Just follow the black trail until you reach the pools and the stream. Find a place to swim and enjoy the stream, and then return the way you came.
Don't forget to read my guide to the navigational features in this post before you hit the trail!
Trail map from Amud Anan.
Questions? Have you hiked to Ein Kelt? Let's hear about it in the comments!
Hiking can be dangerous and is done entirely at your own risk. Information is provided free of charge; it is each hiker's responsibility to check it and navigate using a map and compass.