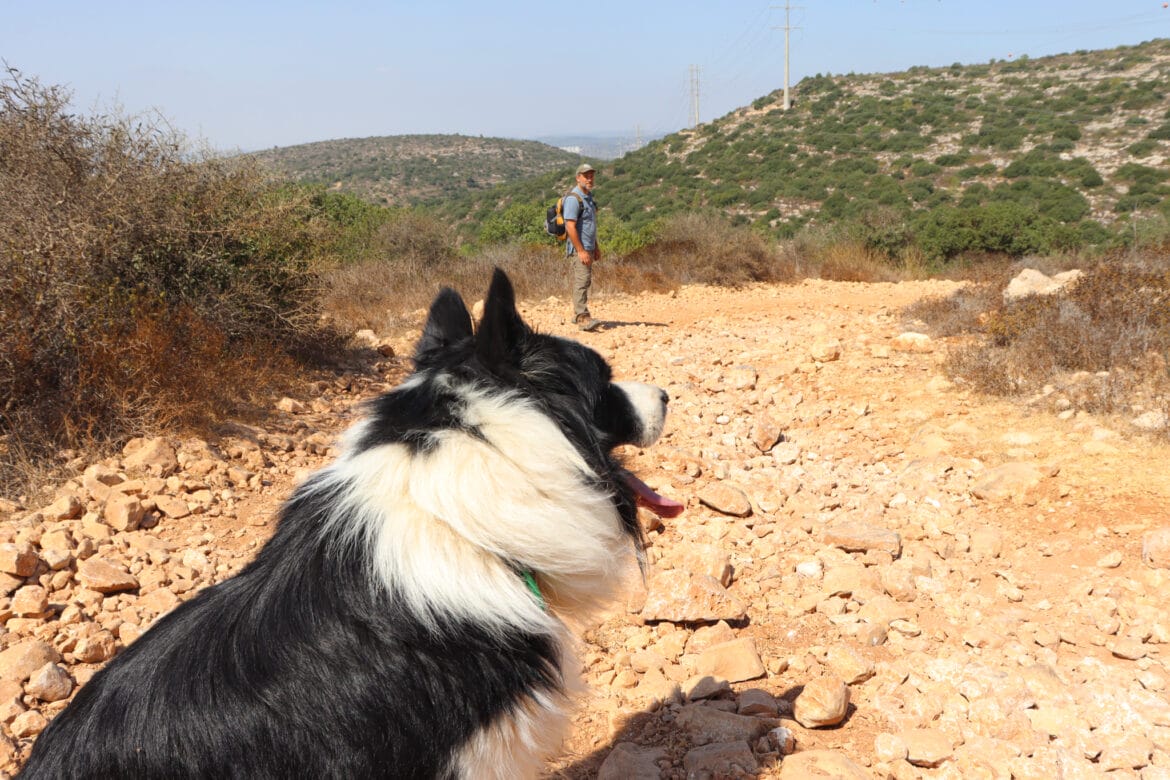 Click here to go straight to hike notes.
I would like to get to know every inch of the natural area near my home.
This holds true whether that area is beautifully forested or whether it's rocky and bare. Each type of terrain has its own special allure (and features that are unique to the season.) For this reason, when I scope out a new trail in the area near my home, I don't worry too much about finding the perfect hike.
Rather, I'm interested in discovering just how one trail leads to the next. Or what I can see from the top of a new hill. And without fail, we always come across something new and interesting on these trails that we didn't expect to see.
This past Friday, we decided to try a new 6 kilometer trail that began at Hirbet Hanot. Some appealing features of the hike we planned were the fact that it passed by Mata Spring and also traveled for a while along the Israel National Trail (I'm always interested in covering new parts of Shvil Yisrael). After studying the map, we had hoped that the trail would take us through some shady forests. Instead, we were treated to open terrain complete with fig trees, sabras, and surprise autumn squill.
Although it wasn't the most beautiful hike we have ever taken, it was really nice and quiet out there. The remoteness of the trail more than made up for its lack of fancy features. We had a great time.
Here's how we hiked this 6 kilometer loop trail near Mata:
Fun on the Descent
We began the trail at the Hanot Ruins. It was going to be a hot and sunny day. We strapped on our bags full of cold water and iced coffee, and began our descent down an old, familiar trail.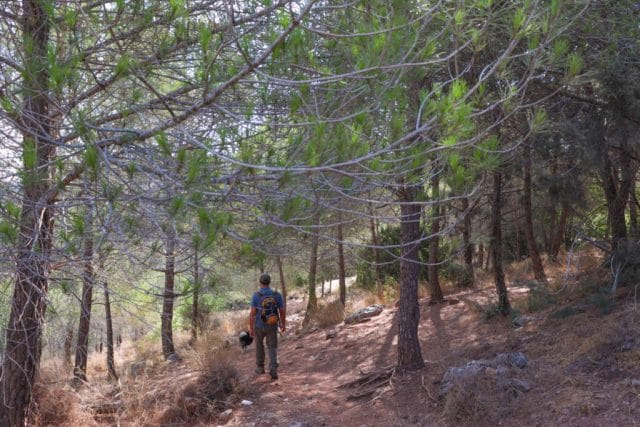 As we walked through the lightly forested area underneath a pine tree canopy, I remembered that we had seen narcissus flowers blossoming amongst the pine needles during the previous fall. It was too early for narcissus to blossom now …or anything, really. The terrain up ahead was golden and sun-drenched. We climbed down through the trees towards the start of the loop at Ein Mata.
Spring Time
Ein Mata is a really fun place to hang out. First of all, there are fig trees. The first of these fragrant fruits were just ripening on that day in early September. I searched through the trees for a few soft figs to pick.
Also, there's plentiful shade and a bit of running water. Ein Mata isn't a place you'd want to soak your feet (at least not in late summer). But our border collie enjoyed cooling off in the muddy water.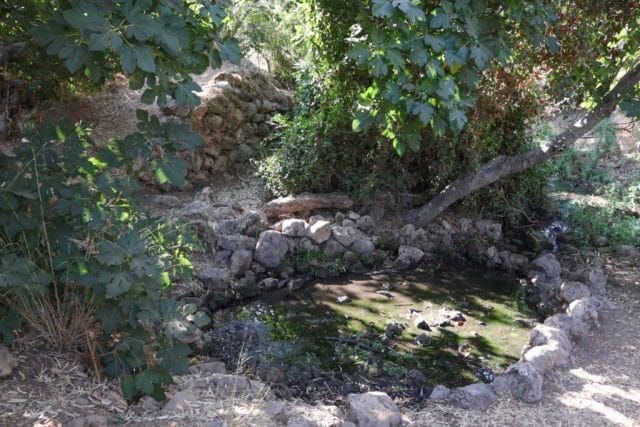 Just above Ein Mata, there is an old building surrounded by almond trees. In the wintertime, this area is beautiful and blossoming. But in late summer, we got to taste the almonds hanging from the tree.
After exploring the area around Ein Mata for a while, we continued on our way, through a blackened palm tree forest with bright green leaves.
Fun on the Ascent
From here, we passed by the outskirts of the Yishuv of Mata. We could see blossoming bougainvillea and rows and rows of grape vines. The scenery made me think that this would be a really nice hike for a cool fall day.
Next, we began the climb, up on the Israel Trail. We passed cacti: lots of them. They were all bursting with juicy red sabras, ready for picking. We've had run-ins with sabra fruits before, so we made sure to steer clear of these prickly delicacies.
And on we continued, up the rocky hill and into the sunlight. After a long ascent, we began to feel extremely thirsty and hot. We had arrived at a crossroads: from there we had planned to turn left to continue our loop on the black trail.
But a bit further up the hill, we spotted a lone carob tree, it's lush green canopy promising cool shade. We decided to break off of our planned path and continue up the Israel Trail until we reached the tree, where we would eat breakfast in the shadows.
Worth It
When we reached the tree, we threw down our bags and collapsed on some rocks. It was hot out there. Still, I could imagine that on a cool winter day, this place would be gorgeous: filled with green grass and colorful wildflowers.
And as we sat there in the shade, cooling down with our iced coffee, I noticed how blessedly silent it was all around us. Despite the electric towers in the distance and the town in the valley, this place felt truly isolated. We could hear the noise of birds chirping, the gentle rush of the breeze…and that was about it.
It's amazing how much beauty there is to be found just getting outdoors and away from it all.
Discoveries
After that, we returned to the crossroads and headed onto the black trail. It took us further out into the rocky hills towards the narrow cycling path we would be following back towards Ein Mata.
Just before we reached the breakaway path, we spotted something awesome: a cluster of early blooming fall squill flowers springing up from the side of the path! On a hot day like that one, I was happy to see at least one sign that fall was on its way. We snapped some pictures, then continued on our way, down the narrow cycling path over the rocks and through the brush.
We followed the white painted arrows closely, careful not to take a wrong turn. First, we traveled up, and then down, until finally, we reached another old building.
Of course, we had to stop to take a peek. Beyond the arched windows, we could see into colorful painted walls and arched passageways. But the windows were barred so that was all we were able to see.
Nature is Nurture
Then, we descended back towards Ein Mata, and followed the trail up the hill, through the forest, and back to the parking lot. Despite the heat and the dryness of the terrain, it had been a wonderful morning.
Maybe we hadn't seen any awesome waterfalls or panoramic views that morning, but we had explored another part of the spectacular mountains near Jerusalem. This circular hike was a good trail to file away for a cool winter day.
Hikers' Notes:
Here's what you need to know to hike this trail beyond Ein Mata:
This trail is ideally suited to cooler days in fall, winter, and spring. In the summertime, hike here early in the morning or late in the day.
Wear a hat and hiking boots and bring plenty of water to hike this trail.
Suitable for dogs.
This trail is fairly well marked and easy to follow except for the cycling trail piece of it. You can use the Google Earth file to find your way along with the trail marker gallery in the table at the top of this post. Along the way, you will see white painted arrows (clearly painted by a helpful cyclist). You can use those along with tire marks and footprints to ensure that you are on the correct path. The cycling path is only a short part of the total trail.
To find the breakaway cycling trail (see trail map): After the Israel Trail, follow the black trail to the left for quite a while. At some point, you will see a little unmarked turnoff to the left. This is the single cycling trail. Note: If you reach the red/black crossroads you have gone too far! Double back and walk for a minute or so and you should see the correct path.
There are two nice places to stop for a break on this trail. The first is at Ein Mata, right at the beginning of the hike. The second is slightly off trail: when you pass the sabras and reach the Israel Trail/black trail crossroads, continue up towards the carob tree (you will see it from the crossroads). After your break, return to the black trail and continue the hike.
Don't forget to read my guide to the navigational features in this post before you hit the trail!
Trail map from Amud Anan.
Questions? Have you hiked this trail beyond Ein Mata? Let's hear about it in the comments!
Hiking can be dangerous and is done entirely at your own risk. Information is provided free of charge; it is each hiker's responsibility to check it and navigate using a map and compass.