There's really nothing quite like stumbling upon a desert oasis.
This past Friday, we set out for the Judean Desert on a mission to explore a challenging dry canyon. Part of the plan included hitchhiking to the start point (it was a one way hike).
But while we were waiting for a ride, hand out, a police car pulled over for a friendly chat. The policeman asked us where we were going. And when we answered he looked confused, "Why are you going there?" he asked us, "Nahal Bokek is only ten minutes away and it's SO much more beautiful."
After he described Nahal Bokek, we were sold. An easy 2K walk in the desert along a river with pools and waterfalls? And one that we'd never heard of? It sounded too good to be true.
So, we abandoned our plan and drove to Nahal Bokek.
This beautiful little trail began right by the Dead Sea hotels. We were in disbelief that a water hike was hidden right there on the side of the road.
Yes, we were clad in hiking boots rather than water shoes, but we eagerly embarked on a journey to explore paradise. Here's what we saw along the way:
Just a Quiet Little Stream
After descending down some rocks towards the hike's start point, we hit the water almost immediately. It was a gently flowing stream, very shallow, barely moving. On both sides of the trail, tall reeds and plants cascaded down.
Like I said, we weren't wearing water shoes, but that wasn't much of a problem at first. We were easily able to hop from rock to rock during the early stages of the hike.
We proceeded forward, trying to take in the fact that we had stumbled upon an unknown desert oasis. As experienced Israel hikers, we usually have a pretty good idea of the water spots in any given area. Nahal Bokek was a complete surprise.
Boulders and Waterfalls
As we followed the trail, the scenery around became even more interesting. Giant boulders lay strewn along the path this way and that, forming impromptu waterfalls. The reedy look was replaced by walls of stone.
There was still plenty of shade from trees and rock on the path, but the trail opened up. We were able to see out to red desert cliffs in the distance.
As we moved forward, the rush of the stream intensified. It became more difficult to keep our feet dry.
In one spot, all of the water gushed through a small crevice, forming a rushing pool of white water. In another, boulders blocked the stream's path, leaving one opening in the center for a waterfall to pour through.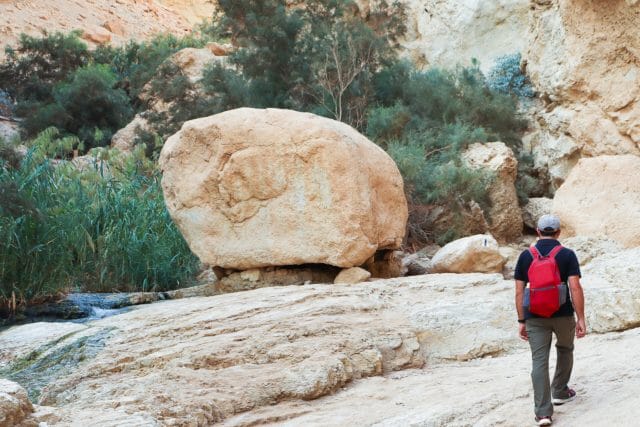 We passed an oversized boulder. And then we arrived at a waterfall pool.
The Place to Be
It was an aquamarine pool, hidden in the shade of a red rock cavern. As we approached, we saw where all the water was coming from – a cascading waterfall gushed down on one side of the pool.
There were two women enjoying the water when we arrived. And it was pretty obvious that a beautiful spot like this wouldn't stay quiet for long.
We snapped a bunch of pictures, then waded into the water, enjoying the reprieve from the Dead Sea heat.
While we sat there, other hikers came and went. It wasn't crowded. But we saw a family splashing in the spray of the waterfall and a few lone travelers relishing their discovery.
Near the pool, we found a quiet spot for breakfast. And we sat drinking our coffee with our feet in the stream.
Up for a Challenge
At this point in the trail, almost everyone turned back to follow the path the way they came. But we had planned a challenging hike that morning, and we had not exerted ourselves nearly enough!
So, after breakfast, we followed the trail to a steep set of stone steps. Past the steps, the black trail led up a rocky mountainside. It took us a while to get there, but the view from the top made the climb worth it.
A Spring, a Castle, and Hotel Row
After a short walk on top of the hill, we began the descent. It wasn't as steep as the climb had been. Instead, we followed the red trail as it snaked slowly down the side of the mountain.
About halfway down, we saw a cluster of growth surrounding an underground spring. There was no water in sight, but it was cool to see thick green plants right in the middle of a desert mountainside.
Next, we saw the outline of an old Roman Fortress, the last stop on our journey.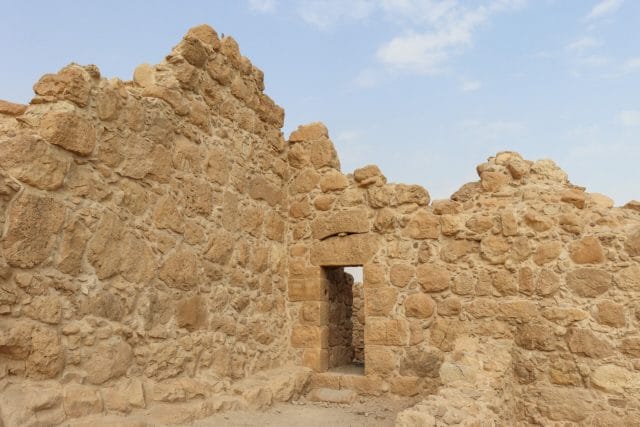 We had expected the old fortress to be similar to typical archeological discoveries around Israel. Instead, it was a well-formed building, with ramparts and rooms. It reminded me of a castle we had seen in Ireland on a summer trip.
After giving the area a thorough exploration, we followed the trail to the end. We were back where we started.
Wander Towards New Discoveries
Maybe back where we started, but so far from where we began.
That morning we had gone in search of a challenging desert hike. Instead, we found Nahal Bokek, where we tramped through a river, waded in a waterfall pool, and discovered a great family trail that we never even knew existed.
Stuff happens when you go out to explore in the Land of Israel.
Hikers' Notes:
Kid friendly and easy going – you'll want to check Nahal Bokek out. Come equipped with water shoes and bathing suits to make the most out of your experience.
The trail is short and easy- almost anyone can walk out to the waterfall pool and back. It's only 2 kilometers total. If you're looking for a more intense hike, continue along the black trail until you reach the red, then take the red trail back down the mountain.
The Dead Sea is one of the hottest parts of the country. Make sure to check the weather and plan accordingly.
If there's no parking in the little lot at the Waze link, look a bit further up to find the parking at the end of the red trail. There's plenty of space there.
Make sure to read my guide to the navigational features in this post before you hit the trail.
Original trail map from Amud Anan.
Questions? Have you hiked Nahal Bokek? Give me a shout out in the comments below!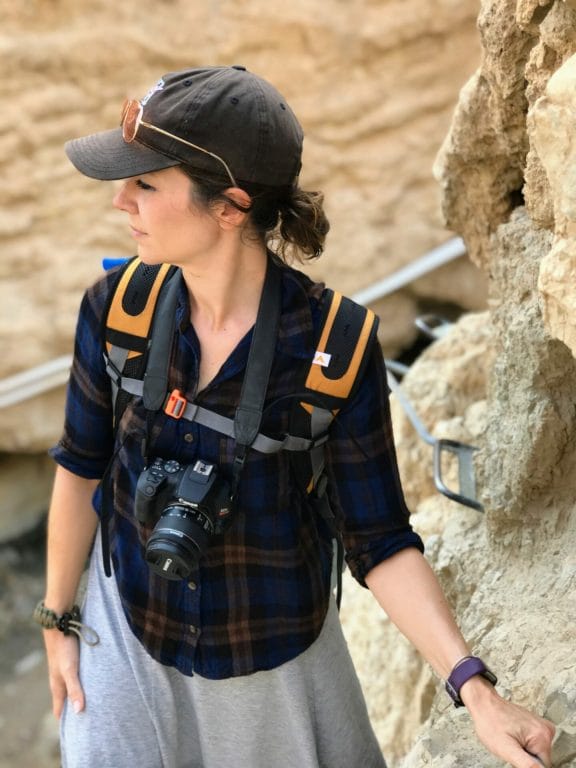 Hiking can be dangerous and is done entirely at your own risk. Information is provided free of charge; it is each hiker's responsibility to check it and navigate using a map and compass.