Click here to go straight to hike notes.
A couple of weeks ago, my son called from the army. He wanted to let us know that he was temporarily stationed up north, and no pressure, but he would love it if we would come visit.
Of course, we were thrilled for the opportunity to see him! And, for the chance to make a hiking trip out of it. We located the base he was stationed at and planned a hike five minutes away, through Nahal Betzet and Nahal Serach.
We'd hiked at Nahal Betzet before, so we were eager to return. Our last trip there revealed a world of quiet, hidden beauty, with a lovely flowing stream. This time around, we would get to hike the other side of Nahal Betzet, and we were looking forward to seeing the rest of it.
The 8 kilometer hike we planned began at Keshet Cave, another classic. From Ma'arat Keshet, the trail would take us above Nahal Betzet, then meet the stream where we had left off last time. After that, we would walk along Betzet to where it met up with Nahal Serach, passing by a place called Serach Cave along the way.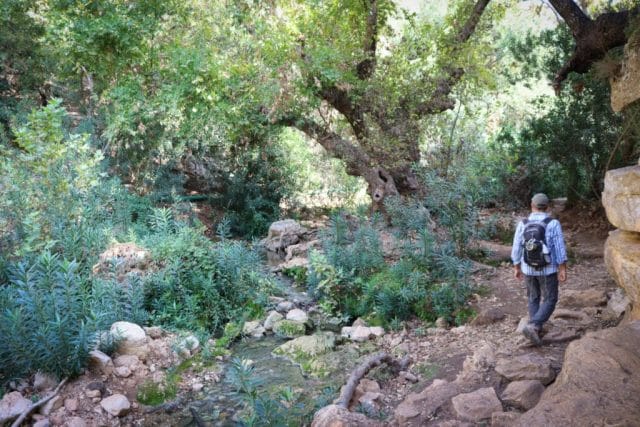 Our hike that morning was everything we had hoped it would be and more.  Along the way, we got to experience a world of magical beauty, in the form of a rushing river, waterfalls, and beautiful overhanging trees.  With autumn, leaves were changing color and falling to the ground to create a carpet next to the stream.  It was gorgeous.

Here's how we hiked this 8 kilometer trail through Nahal Betzet and Nahal Serach:
Keshet Cave
After waking up at 4 AM, we had plenty of time to drive all the way up north, visit with my son for an hour, and arrive at the Keshet Cave parking lot at 8 AM.  We strapped on our packs and left behind the organized picnic area near the lot as we walked towards the iconic view down below.
It was quiet at Keshet cave that morning. Gone were the usual crowds of tourists, who use the half cave as an adrenaline inducing rappelling spot. It was just us and the magical view, past the open-mouthed cave to the green hills of the Galilee.
We continued past the cave along the green trail, climbing over boulders and rocks towards the beginning of the trail above Nahal Betzet. Soon, we were on our way.
Ho-Hum, Just a View
We spent the next couple of hours walking along an easy path at a slight downhill, with gorgeous views greeting us everywhere we turned. Deep in the valley, we could see the green of Nahal Betzet snaking through. Rolling hills surrounded us.
We knew that there was one thing we must do on this part of the trail: stop for coffee. There were plenty of flat rocks and plenty of shady spots, but we wanted to wait until we felt isolated. It took some time to completely leave behind the light traffic noise.
Finally, just before our trail took us down to Nahal Betzet below, we found our spot. It was perfect. Behind the shade of some trees, large flat rocks sat perched over the valley. In the distance, we could see nothing but rolling hills. Yellow butterflies flew from place to place. We poured ourselves coffee and spent some relaxing time in nature, absorbing our beautiful Galilean surroundings.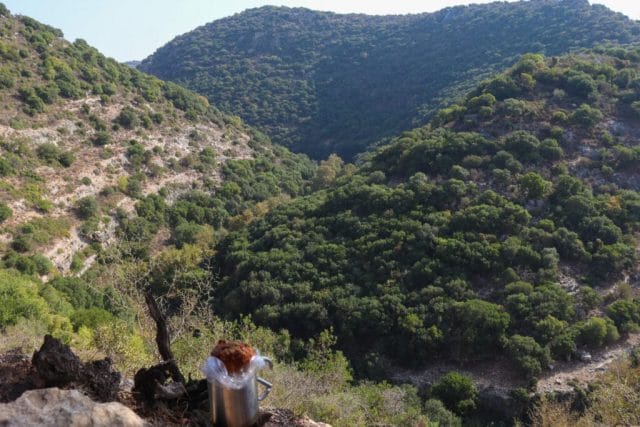 Always Beautiful Betzet
After our break, we headed downhill. As we approached Nahal Betzet, we could hear the rush of water from below. And then we were there – large boulders surrounded turquoise pools. Greenery and pink flowers blossomed all around. Considering that it was the very end of Israel's dry season, this trail was something special.
We took a small detour to the right, towards a little waterfall pool with water deep enough for swimming. And in we climbed. The water was cool, clear, and refreshing. Little fish swam through the pool, and a frog hopped from place to place. The cool rush of the waterfall completed the scene. It was gorgeous.
Next, we dried off and turned back to continue the trail on Nahal Betzet. The trail seemed to get more and more beautiful. We walked under a thick canopy of shade along the stream, every so often reaching another beautiful pool. Fall leaves from the oversized dolev (plane) trees crunched beneath our feet as we walked.
Onto Nahal Serach
After a simply magical walk along Nahal Betzet, we reached Nahal Serach. As opposed to Betzet, Serach is a dry stream bed. But like Betzet, it was covered in a thick canopy of shade, making the walk underneath truly spectacular. It felt like we were in a deep, hidden forest as we followed the trail.
Whenever we emerged from the trees, we were greeted by beautiful towering rock formations that formed the sides of the valley. This turned the walk through Nahal Serach into something truly spectacular.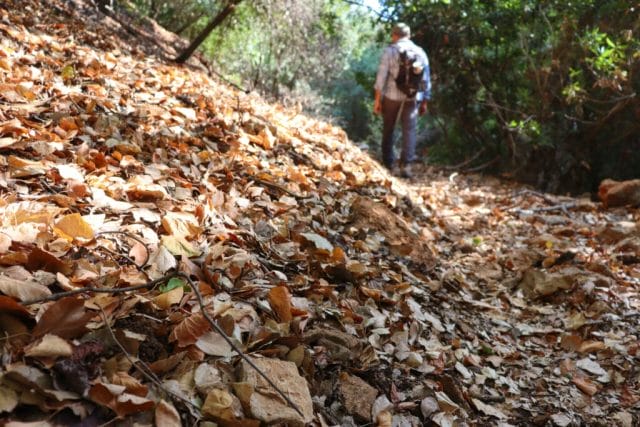 Midway through, we reached Serach Cave. Luckily, we came just in the nick of time: the cave is officially closed from November through March for bat nesting season. We had a few days left until closing time.
We turned on our flashlights and followed the reflectors on the wall into one of the coolest caves we've ever been in.
Ma'arat Serach
First, there were the stalagmites. Impressive formations were waiting here, hidden in this quiet cave. But as we followed the trail, it just got better and better. Instead of crawling, like one normally has to do in a cave, we were climbing – up rocks and hand hold rungs that had been thoughtfully attached to the wall. We climbed up and up, through tunnels and pathways, past awesome stalactites and rock ridges.
Soon, we saw the light at the end of the tunnel. This trail through the cave would bring us out a different exit. We followed the light and found ourselves perched on a rock above Nahal Serach. We climbed back down into the valley below.
One More Stop
We had had our fill of incredible sights that day, but we still had one more stop before the end. On we continued, through the rest of Nahal Serach, emerging at a small parking lot where the last attraction of the day awaited.
We found the little red trail, and followed it towards Hurvat Danila, a well-preserved agricultural farm from the Byzantine Era (the 1st to 7th century). We couldn't believe how much there was to see. There were olive presses and grape presses, along with little structures and low walls, all sitting in the middle of a miniature forest. This hurva was a nice addition to an already spectacular hike. With a lovely picnic area, a short circular trail, and plenty to see, Hurvat Danila was a place I would have visited all on its own.
We emerged from Hurvat Danila towards the parking lot where our ride back to the trailhead was waiting. Our hike that day had been both beautiful and fun. From views and waterfalls to a flowing stream and a secret cave this hike through Nahal Betzet and Nahal Serach was a great adventure.
Trail map from Amud Anan.
Don't forget to read my guide to the navigational features in this post before you hit the trail!
This is an all season trail. There is water in Nahal Betzet year round. Serach Cave is closed from November through March for bat nesting season.
Wear good hiking shoes and sun protection and bring plenty of water to hike this trail. Bring a headlamp or flashlight for Serach Cave. Water shoes are optional, but some sort of swimwear might be helpful!
This is a relatively simple hike, with some ascent at the end. This hike would be suitable for families with active kids.
Although the first trail (after Ma'arat Keshet) is marked green, it was once marked red. You may see red trail markers in addition to the green ones along the trail.
To follow the trail, use the trail marker gallery and trail map in the table at the top of the page, along with the Google Earth file.
Trail marker colors: Follow the green trail through Ma'arat Keshet towards the beginning of the trail above Nahal Betzet. Follow green above Nahal Betzet and into valley. When you reach the blue trail, take a brief detour to the right to check out big pools. Then follow the blue trail to the left to Nahal Betzet and Nahal Serach. At the end of Nahal Serach, follow the red loop trail to visit Hurvat Danila.
Questions? Have you hiked this trail at Nahal Betzet and Nahal Serach? Let's hear about it in the comments!
Hiking can be dangerous and is done entirely at your own risk. Information is provided free of charge; it is each hiker's responsibility to check it and navigate using a map and compass.