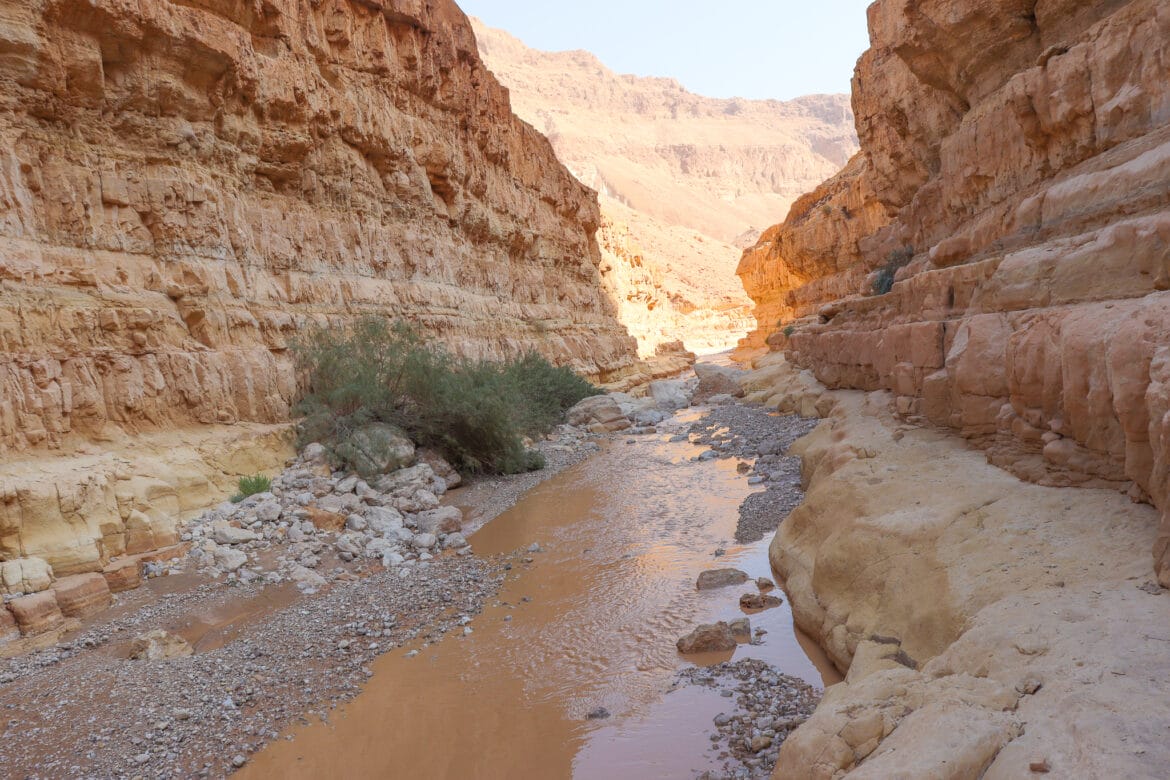 Click here to go straight to hike notes.
It was one of the most beautiful and unique desert trails we've been on.
Nahal Tze'elim was a trail that I had been wanting to get to for a while. But due to the distance from our home and the length of the journey, we were waiting for a full day in the autumn or winter-time. We finally made it there just a few days ago. And it was one of those trails which was well worth the wait.
I expected familiar desert scenery: canyon walls, birds, and maybe a few standing water pools. What I wasn't expecting was nature's own awesome obstacle course, with boulders, streams, waterfalls and more. Hiking this trail felt like an action-packed video game. The scenery was so striking that it was completely surreal.
When all was said and done, it was a good thing we waited for a desert vacation to hike this trail. Between breaks, photo ops, and navigating obstacles, it took us seven and a half hours to complete. And that was just the lower part of Nahal Tze'elim.
Nahal Tze'elim is a long stream that leads from the Arad area to the Dead Sea. It only runs during rainy season, and the water flow is especially strong right after rainy days. We lucked out in hiking just after a three-day storm. The stream was particularly full and flowing. It took balance and navigation to avoid walking through water and desert mudslides – which made the hike so much more fun!
Here's how we hiked the incredible, the beautiful Lower Nahal Tze'elim desert trail:
Surprise! It's a Desert River
We hopped out of the car and headed towards Nahal Tze'elim, beginning with a brief ascent towards desert mountains. At the first crossroads, we veered down into the canyon.
It didn't take long for us to realize that we were in for something super special. The stream was full – this wasn't a simple matter of a desert canyon with standing pools along the way. Water flowed over rocks with a soothing rush.
We figured that all of this water was due to the storms of the past few days. But as it turns out, Lower Tze'elim Stream does in fact flow through most of the winter. Of course, it's even more full and beautiful right after rainy days.
After following the trail along the stream for a kilometer or so, we found a shady spot to stop and have our morning coffee.
Roman Ruins and the Red Trail
After our break, we were on the ascent again, up towards the remains of an old Roman agricultural structure. Further along a detour path, we peeked down at a spring – we didn't see any water, but we did see lots of palm trees growing and birds flocking to the spot. After this little detour, we returned to the red trail (Ma'ale Anava) and made our way through the canyon.
It didn't take long for us to reach another crossroads. If we continued down and through the canyon, we would be walking on a wet trail with waterfalls that required ropes to climb. We didn't have ropes, but we still wanted to see the pools from up close. So, we decided to walk down below for as long as we could, then return to the crossroads and take the higher trail.
Since the stream was so full, it wasn't exactly easy to stay dry in Nahal Tze'elim. We hopped from rock to rock and hugged the canyon walls, trying to stay out of the water as much as possible as we approached the first pool.
There were boulders to climb and mudslides to sink in. Our progress required full body attention. But of course, this added to the adventure. And our surroundings were just so incredibly beautiful.
After a lot of careful maneuvering we reached the first pool.
Red Waterfall
It was a place of supreme natural beauty. Smooth red and gold rock surrounded us, forming a round pool at our feet. Up above, a glimmer of light peeked through an opening. And just beneath the light, a waterfall poured through, creating an effervescent mist in the golden shadows.
The pool was deep, with white bubbles at its surface. To put it simply, the scene was magical.
We climbed along the rock and peeked in closely, up at the waterfall that crashed into this stone crevice. It reminded me of an Antelope Canyon in Arizona, just with waterfalls.
Unfortunately for us, we were rope-less. So, this was one waterfall that we couldn't climb. We turned back and made our way back to the crossroads, where would then walk along the canyon up above.
Not Too Shabby Up Here
The scenery up above was almost as fascinating. We were able to peek down and see the flowing river and crashing waterfalls down below. After walking for a while, we reached another red trail. This one would take us to Ein Namer (Leopard? Spring), the source for most of the water that flows through Nahal Tze'elim in the winter time.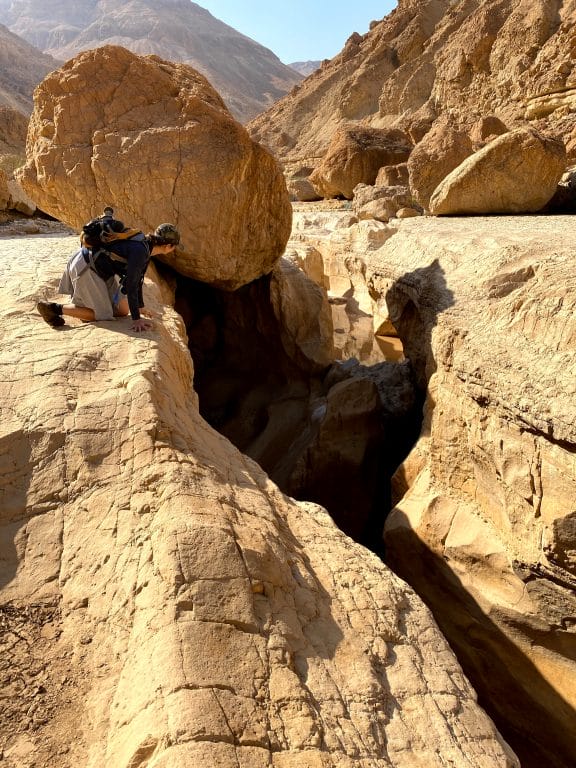 Even before we reached the spring, we could sense a change in the air. Birds chirped. Greenery blossomed all around us. It felt like we were approaching a desert oasis.
And then there we were.
Just Missing the Mermaids
It was hard to believe that another equally beautiful spot existed along the same trek. At Ein Namer, flat white rocks surrounded a crystal pool, hidden in the shadows of giant boulders. Two white waterfalls poured down over the rocks.
We needed a nice long break after all of our climbing. So, we spread out on the rocks for warm tea and sandwiches while we watched a group of teenagers play around in the waterfalls.
When the place emptied out, I made my way to a flat rock right in the center. It was so quiet and peaceful between the rocks with the rush of the waterfalls all around.
Well Rested? Get Ready for a Challenge!
Now that we had replenished our energy stores, it was time to head back the way we came for several kilometers, until we reached Gei Selaim – Boulder Valley.
Up until that point, the trail had been challenging, but not super-difficult. But as we began to make our way through the Valley of Boulders we realized that that was going to change.
Huge rocks were flung all over the place, as if by a giant scattering his pebbles. There was a black marked trail, but following it was sort of useless: since it was just after a storm, the trail was completely flooded. If we wanted to stay even a little bit dry (and a little bit less muddy), we were going to have to climb these boulders our own way.
It was intense at times, but always fun. We climbed up and down, re-locating the trail every so often, putting our full bodies into the motions.
Towards the very end, we bumped into a couple of older men, relaxing in a pool of water under a giant boulder. We exchanged pleasantries, took some pictures for them, and we were on our way.
Nahal Tze'elim for the Win
Our journey was almost at an end. The canyon finally began to open up. We started to ascend out of the riverbed and back towards the trail head and campground.
As the sun descended in the sky, we congratulated ourselves on job well done. Nahal Tze'lim hadn't been easy. But we had explored every nook and cranny along the way. We saw some incredible sights. And we experienced a completely different type of desert adventure.
This desert trail was unlike any other. At Nahal Tze'elim, we got desert beauty, crystal pools, and an unbelievable adventure all on one incredible hike.
Hikers' Notes:
Here's what you need to know to hike Lower Tze'elim Stream:
This trail is best on cooler days in fall, winter, and spring. Do not hike this trail on rainy days! Risk of flash floods!
Not good for dogs (too much climbing).
Wear good hiking shoes, sunscreen, and a hat. Bring plenty of liquids (3+ liters).
This trail will look different depending on when you hike it. If you hike it during the rainy season, there will be water along the way (perhaps not as much as we experienced). Bring a bathing suit and water shoes if you'd like to go into the water.
To follow the trail, use the trail marker gallery and the printable trail map in the table up top. There are many trail color changes along the way! You can also download the Google Earth file and follow your location along our trail.
Trail colors: Start by following the black and then taking green to the right. When you reach blue, follow it straight (not to the right). At the black/blue crossroads, turn left to follow blue uphill. At the crossroads, make a right onto red towards Maale Anava (or first take a short detour in the other direction on red to see the Roman Ruins and spring.). After a few minutes, make a right onto the green trail. Follow the green trail until you reach the black crossroads. This is where you follow the black until you reach the waterfall (If you so choose. Otherwise, skip this step). Then return the way you came and make a right onto the green trail to view waterfall from above. At the red crossroads, follow the red trail to Ein Namer. Then turn around and go back the way you came (red, green). When you reach the black trail, follow it towards Gei Selaim (Boulder Valley). After a long walk through Boulder Valley, you will continue straight onto the blue trail, which will turn back into black. When you reach the green/black crossroads follow the black trail back towards the campground/parking.
Don't forget to read my guide to the navigational features in this post before you hit the trail!
Trail map from Amud Anan.
Questions? Have you hiked this trail? Let's hear about it in the comments!
Hiking can be dangerous and is done entirely at your own risk. Information is provided free of charge; it is each hiker's responsibility to check it and navigate using a map and compass.