Click here to go straight to hike notes.
I'm kind of having a love affair with Sansan Nature Reserve right now.
Yes, it's true. This beautiful green area near Tzur Hadassah just keeps me coming back for more. Try as I might to resist the lure of quiet trails, rolling hills, and secluded riverbeds only 20 minutes from home, I just can't seem to stay away.
Last week we went on another journey through Sansan. Our goal this time: to cover a few trails that we hadn't yet explored and to visit the Sansan Ruins, the remains of an old village on one distant hill. Since it's still November, we were also hoping to find Halmoniot or Sternbergia flowers, sometimes called autumn daffodils.
We had heard that these flowers were blooming in abundance along the Sansan Ridge trail just a few weeks earlier. So, we thought we might be lucky enough to catch a few late bloomers.
Spoiler alert: we didn't see any yellow flowers. But, we did walk a gorgeous, 10 kilometer trail to really cool old ruins. We saw sheep and goats along the way, gorgeous views, and lots of other types of flowers. And yet again, we were surprised by how serene and vast the Sansan Nature Reserve really is – particularly since it's so close to our home.
Here's how we hiked this 10K trail to the Sansan Ruins:
Through the Locked Gate
This trail began in much the same way as other Sansan Reserve Trails – through the locked gate next to the Tzur Hadassah Stables. We called the number on the sign posted at the gate (see hike notes) and were let into our new stomping grounds.
We began on the blue trail (which by the way, is now clear of the fallen trees that were there a few weeks ago) and walked through a world of quiet beauty. The path was made up of medium sized stones, much like other riverbeds in Israel. Thick shade trees hung down on both sides.
Soon the trail made its way out into the sun. Our eyes kept returning to the sides of the path, looking for fall flowers. Instead, we saw wild thyme, lining the path and producing a heavenly scent in the air.
I grabbed a bunch for later use, and we continued on our way, above a deep valley along the blue trail.
Back in Black
At the end of the blue trail we came to the black trail crossroads. We were a little confused at first – there was a sign marking the area as a "Fire Zone" (basically an army training area), but after checking the map we saw that the no-go zone was in the opposite direction. So, we made a right onto the black trail.
Our path took us above a valley, rich and green after the mid-autumn rains. We found a flat rock to sit on and paused for a break.
From the valley, a crisp breeze blew in our faces. We poured hot coffee from a thermos and enjoyed the view: rolling mountains in the distance, a white puffy cloud filled sky. That familiar feeling crept into our hearts – how could an area so beautiful, so quiet, sit here undisturbed only 20 minutes away from our home. And how could it have taken us so many years to discover its existence?
We relished those moments of peace overlooking the valley. After a while, we reluctantly picked ourselves up and pulled ourselves back onto the trail.
Towards the Ruins
On we walked, our eyes still glued to the trail in search of yellow autumn daffodils. We didn't find any. But soon, we reached the ruins of an old settlement, on a grassy, tree covered hill.
Up we climbed to explore. And it was well worth the effort.
We saw remnants of walls and houses, all covered with moss and grass. There were ritual baths and water cisterns. In one spot, an old grinding stone had filled up with rainwater to create an impromptu pool.
The area was very beautiful. We found ourselves pulled in opposite directions as we went off to explore different parts of the abandoned town, leftover from Moslem, Byzantine, and even Roman times. It was fun to imagine what life in this little town was like thousands of years earlier.
After giving the area a thorough exploration, we headed onto the green trail, to loop around through a forested area to where the black trail continued down below.
Shepherds and Meadows
Back on the black trail, we passed by a meadowland once more.  In the distance, we could hear the bleating of goats and the sound of bells.  Our border collie felt it was his duty to go check things out.  So, still hoping for a halmoniot sighting, we followed him into the grassland towards the flock.
There were no flowers there. But the speckled goats did look picture perfect on a carpet of green. We imagined that towards springtime, this area would be full of red flowers. For now, the thick grass alone was a welcome change from the dry browns of summer.
We returned to the black trail and made our way back in the direction of Tzur Hadassa, all the while blessed with the same views of rolling hills in the distance. At the end of the trail, we made a sharp left and headed down a steep unmarked pathway back towards the trailhead. After a short walk back along the blue trail, our long journey had reached its end.
Sansan Nature Reserve surprises me with its off the beaten track beauty every time. We may not have found our yellow flowers (try early November for that!), but this walk along the Sansan Ridge to an ancient city was a breathtaking excursion into local nature.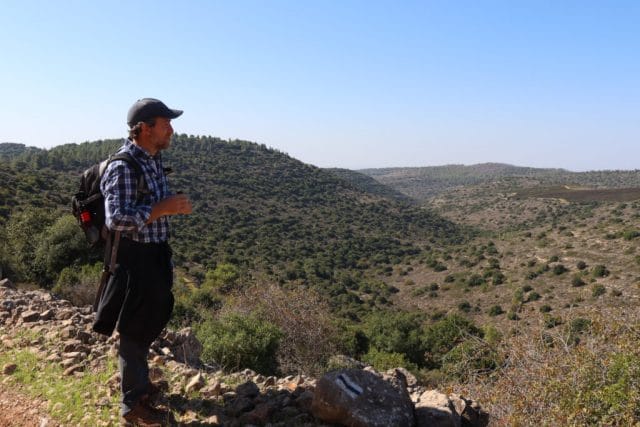 Hikers' Notes:
Here's what you need to know to hike this trail to Sansan Ruins:
Best for fall, winter, and spring. I would probably hike this trail in the summer too, but it's not particularly shady and the area would be much less beautiful in the summertime.
On sunny days, wear a hat. Wear good walking shoes or hiking boots for this trail.
To find halmoniot, hike here in early November.
Suitable for dogs.
To enter the Sansan Nature Reserve, call *6412 and ask the guard to let you in.
We did not have any trouble with army activity. To the best of my knowledge, the trail as we hiked it does not cross through firing zones. But it does come close in many sections. If you'd like, you can call this number to clear your hike with the army in advance of your arrival: 02-530-5042
To follow the trail use my trail marker gallery and the trail map in the table up top. Use the Google Earth file to follow our location on the map as you hike.
Start on the blue trail. Make a left onto the black trail. At some point, you will se a green trail to your left. Go up and make a right onto the Sansan Ruins. Explore thoroughly. Return to the green trail and take it in the opposite direction (back the way you came). The green trail leads to black. Take the black trail to the end, then make a sharp left at the Nature Reserve sign to get back down to the blue trail. Take the blue trail back to the trailhead.
Don't forget to read my guide to the navigational features in this post before you hit the trail!
Trail map from Amud Anan.
Questions? Have you hiked this trail? Let's hear about it in the comments!
Hiking can be dangerous and is done entirely at your own risk. Information is provided free of charge; it is each hiker's responsibility to check it and navigate using a map and compass.