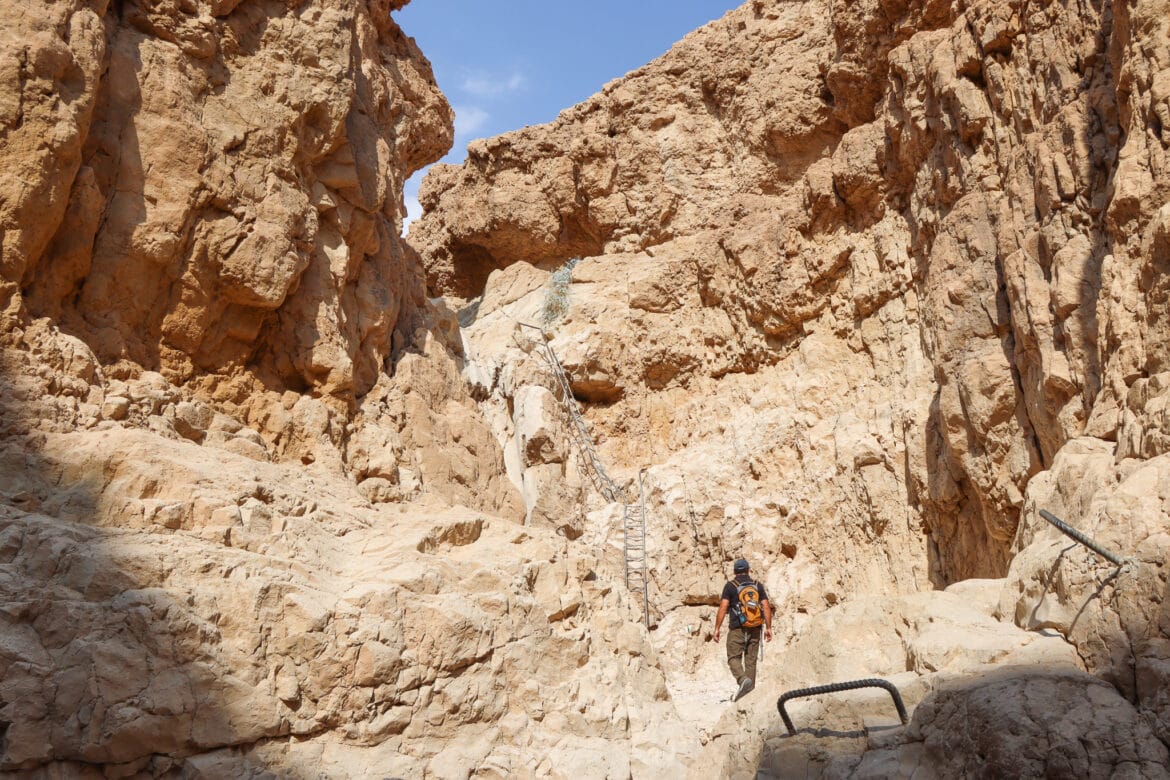 Click here to go straight to hike notes.
Ah, the desert. Some people may think it's just hot and monotonous. But my opinion of the desert? It is full of unadulterated, show-stopping beauty each and every time.
Yesterday, we began our yearly tradition: November is desert season. Our first trail of the season would be a relatively easy hike near the Dead Sea. The path would lead us through two beautiful canyons: Nahal Tamar and Nahal Tzafit.
All we knew about the trail was that there were climbing ladders: Nahal Tamar features the tallest trail ladder for free ascent (no climbing gear required) in all of Israel. What we didn't know is that these two beautiful canyons would be filled with all sorts of desert life – from ibex to pink lizards to all types of swooping birds.
As always, the canyon climbing was thrilling and fun. The ladders were, in fact, quite high. So much so that I felt an unfamiliar sense of fear creeping into my lungs as I climbed. But we made it through in one piece (as would anyone who's reasonably fit with no deep fear of heights), and the journey past the ladders was simply breathtaking.
Here's how we hiked through Nahal Tamar and Nahal Tzafit, two beautiful Dead Sea desert canyons.
The Hardest Part
We pulled into the gas station, geared up, and headed out on our journey. The hike began on an unmarked pathway as we made our way towards the real trailhead at Nahal Tamar.
The first metal rungs were embedded in the cliffside just up ahead. We followed the green trail up and into the canyon.
As we crawled through white rock, our excitement grew in anticipation of the climbing up ahead. At Nahal Tamar, we would be ascending the tallest free climbing trail ladders in all of Israel. A few more short ascents, and there we were.
Indeed, the ladder was incredibly high. It didn't look too daunting. After all, how hard can it be to climb a ladder? So up I went, taking it one rung at a time.
What I didn't expect was to actually feel fear as I rose higher and higher into the sky, nothing keeping me from a freefall except my own two hands and my own two feet. Luckily, I'm really not afraid of heights. So, it was easy for me to swallow my trepidation and keep on climbing until I reached solid ground up above.
The Journey Continues
After a couple of really exciting climbs, the canyon got darker and deeper. We were entering into my favorite desert scenery – cool white canyon walls providing shelter from the elements. When you're alone in the desert (which is often the case), it's always so silent in there.
As we rounded the bend to climb our next set of rungs, I noticed a handsome ibex waiting for us at the top. Rather than run, as ibex usually do, he stood there, a majestic figure against the backdrop of the stone "castle" where he stood at guard. I took a few photos, then hurried up the ladder, hoping to get some shots from up close. But he scurried away into the shadows before we could say hello.
Desert Life
Finally, after many more rungs, we made it to the top of Nahal Tamar. This canyon was actually the shorter part of the hike. From here, we would be following the blue trail deeper into the desert, away from the Dead Sea and highway noise that echoed down below.
As we made our way along the blue trail, the scenery just got more beautiful. Desert cliffs stood out against a blue sky and puffy white clouds. After a little while, we were treated to a bird's eye view of the next canyon we would be climbing through. For now, we were headed on a flat course through the desert, which we had assumed would be kind of boring.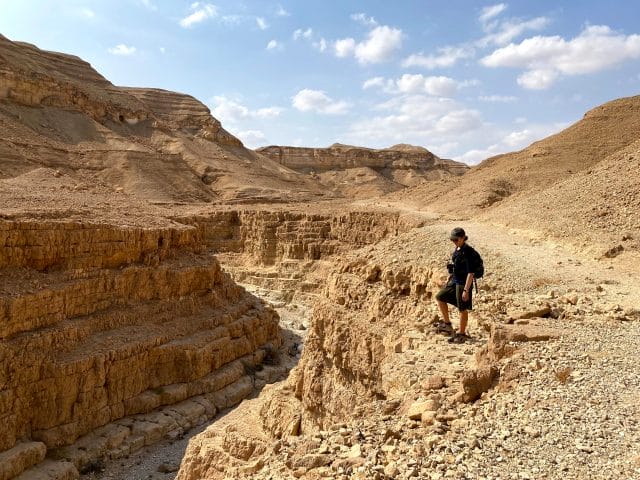 But the desert is always one for surprises. No sooner had we become accustomed to the jaw dropping scenery than little animals began to appear in our path. A sand mouse scurried past, then hid in the cracks. His cute tail poked out from between the rocks.
Up above, birds swooped down through the canyon. There were the usual starlings, black with yellow beneath their wings. And autumn migratory birds made an appearance, more skittery than their desert dwelling friends.
Canyon Break
By the time we reached Nahal Tzafit, it was definitely breakfast time. We were eager to take a break somewhere shaded, and this was it. So, we climbed down into the shadows towards our picnic spot, ready for some quiet meditation in a place of peaceful silence.
And it was…blissfully silent. The occasional noise of bird calls echoed from above. And besides that, there was nothing in the air but our conversation.
Soon, our feathered friends closed in, looking for some leftover crumbs. We happily shared.
Nahal Tzafit for the Win
After our break, we headed down on the black trail, through the shadowy smooth rock of Nahal Tzafit. At first, we found ourselves steadily descending, no metal rungs required.
As if not to let the first part of the trail get all the attention, Nahal Tzafit made an impression. Because it was so full of crevices and cracks, it turned out to be a favorite hiding spot for desert mice, which we saw scurrying away at intervals along the trail (in a super cute way!) As we climbed down through one narrow opening, a pink desert lizard appeared just to the side.
Nahal Tzafit was beautiful and full of life. We climbed down the metal rungs as we reached each set, making a slow and steady descent through this incredible canyon.
All in a Day's Adventure
After about an hour of climbing through, we made it back out into the open. We walked along a (finally monotonous) dust trail and took stock of the morning.
The Nahal Tamar and Nahal Tzafit trail had been an awesome discovery, perfect for a medium-sized adventure. The beauty that we experienced in the three hours we hiked was pretty awesome – and easily accessible, right off of the Dead Sea highway.
Nothing beats a day full of outdoor exploration. As our journey ended, we climbed back into the car, ready to return home after a wonderful morning of desert adventure.
Hikers' Notes:
This trail is only to be attempted on cool and dry days in the fall, winter, or spring. On a hot day, the rungs will be too hot to hold onto. On a rainy day, there is concern of flash floods, which are particularly dangerous in desert canyons.
Not suitable for those with a fear of heights.
Not suitable for dogs.
This is a great trail for older kids and teens who love to feel adventurous, but may not want a long and arduous trek.
Make sure to come equipped with plenty of water, a hat, sunscreen, and good hiking shoes.
To follow the trail: From the gas station, follow the dust path parallel to the highway until you reach the green trail (see trail marker gallery). Then, follow the green trail up through Nahal Tamar. Turn left on the blue trail at the top. Follow the blue trail for 30 minutes until you reach the black breakaway trail that leads through Nahal Tzafit. Follow the black through and out of the canyon, then follow the red trail towards the gas station.
Use the trail map and the trail marker gallery in the table up top o find your way.
Don't forget to read my guide to the navigational features in this post before you hit the trail.
Trail map from Amud Anan.
Questions? Have you hiked this trail? Let's hear about it in the comments.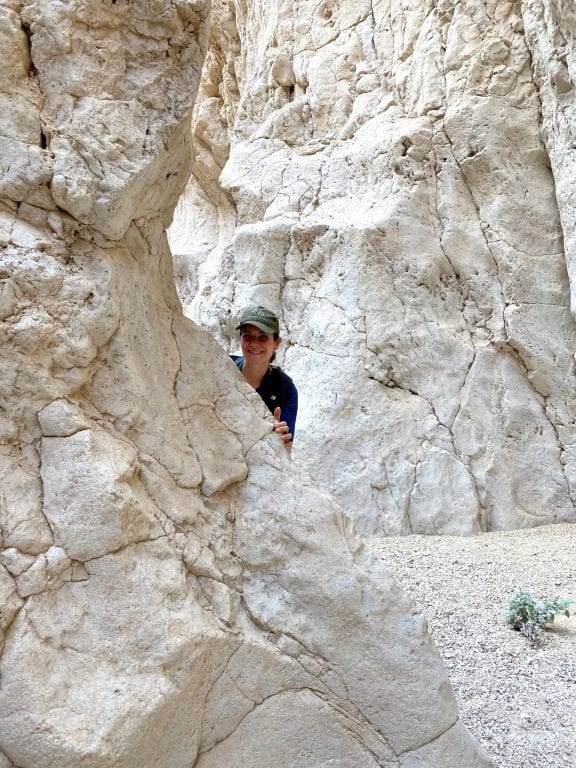 Hiking can be dangerous and is done entirely at your own risk. Information is provided free of charge; it is each hiker's responsibility to check it and navigate using a map and compass.