Click here to go straight to hike notes.
I always put a lot of planning into vacations.  At the same time, I make sure to leave some time for unearthing hidden treasures.  You never know what kind of local gems you'll discover once you're on the scene.
Setting out on Northern Israel vacation a few weeks ago, we didn't know much about the place we were staying.  After we arrived in Klil, we discovered that it was a really unique community:  it was quiet, ecologically minded, and there was no grocery or convenience store.
This small deficiency led us off in search of a nearby market. And, that's when we stumbled upon Kibbutz Yehiam, home to Malka Beer, Yehiam Fortress, and the beginning of an awesome, one-way hike through a riverbed back to Klil.
Always happy to try out a new hiking trail, we took a closer look at the map and planned out our journey.  Our game plan: start with a visit to Yehiam Fortress, then follow the green trail through Nahal Yehiam and back home to Klil.
We really didn't know what to expect out of this hike. But we were pleasantly surprised. The walk was gorgeous – green, shady, tucked away. It was almost magical. And it was perfect for our kids who all loved the dark beauty on the trail.

Here's how we took a one-way hike through Nahal Yehiam to Klil:
Home is Where the Heart Is
The trail began right from the parking lot at Yehiam Fortress. After spending part of the day exploring a Crusader Fortress, we were ready to get moving and take a closer look at the riverbed we had spotted from the lookout above.
The first stop on the trail was a small cemetery, where members of the kibbutz who fell in the War of Independence are buried. It was quite beautiful and touching, especially after hearing the story of the battle while visiting the fortress.
After stopping briefly to pay our respects, we continued downhill along the green trail. This part of the trail wasn't the easiest for our kids. The path wove back and forth – down, down down the hill towards the valley below. It may have been a challenge, but everyone made it!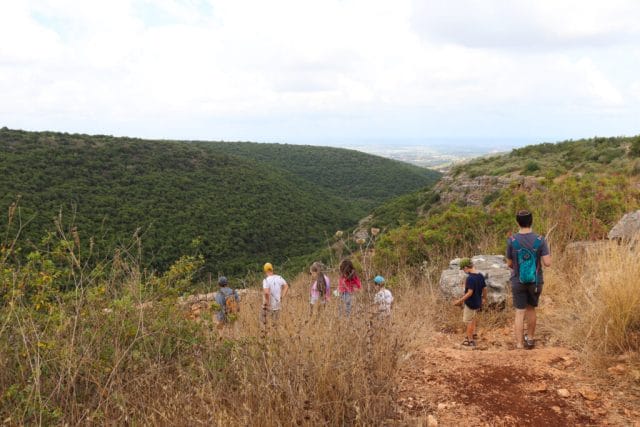 Just Wow
And once we did, we knew we had chosen well.  Nahal Yehiam was shady and green.  A thick tangle of trees surrounded the path on all sides.  We continued to descend for a while, until we reached the very bottom of riverbed, where a flat trail led through a canopy of shade.
Although the trail was simpler now, it certainly wasn't boring. Beautiful rock structures added interest on all sides. The path itself was formed from round, white river rocks and moss-covered boulders.
For a while, we just walked, appreciating the dense thicket of shade that covered us. Birds chirped, butterflies flitted about. We felt very isolated and close to nature. This was clearly not a well traveled trail – there were no people and no candy wrappers anywhere.
A Picnic and New Friends
Soon, it was time to stop for a break. Since there was no one else around, we just plopped ourselves down on some rocks right in the middle of the trail. Red apples, sandwiches, and bottles of water came out of our bags. There's nothing like a picnic in nature.
After a recharge and refresh, we got up and continued on our way.  And eventually, we did bump into someone else in Nahal Yehiam – a cute brown dog, looking for friends.  We followed each other for a while, past twisted tree roots and all kinds of rocks.  Eventually, we parted ways.
The trail continued in this way for quite some time: just a pleasant walk through very picturesque scenery. After several kilometers, the green trail led slightly up and out of the riverbed, through quiet countryside. We passed by a shepherd and his flock, and we knew that this meant we were getting close to Klil.
The Final Stretch
From here on in, we followed the green trail wherever it took us – through tall grasses, underneath olive trees with ripening fruits on their branches, and past a cluster of bouganvillia blossoms. After a lot more walking, we reached the Klil's main road. We were at the end of our journey (almost!)
A short while later, we were back at our vacation home, resting from our trip through a riverbed.
There's something special about scouting out a place by foot.  On our walk through Nahal Yehiam, we got a better of understanding of what nature looks like in this part of the Galilee.  The magic of a hidden riverbed trail was ours that morning.
Hikers' Notes:
This is a one way trail. You can park one car at each end and drive yourselves back to the starting point to pick up the first car when finished.
Suitable for dogs.
This trail is great for all seasons – its shady and mostly covered, so it's nice in the summertime too. There are parts of the trail (at the beginning and end) which are not shaded.
Begin with a trip to Yehiam Fortress at the beginning of the hike. Ga'aton Lake and Stream are also right nearby.
To take this hike: follow the green trail from Yehiam Fortress parking lot. There are green trail markers the whole way through. Use the Waze links in the table at the top to park a car at the beginning and one at the end.
Don't forget to read my guide to the navigational features in this post before you hit the trail!
Trail map from Amud Anan.
Questions? Have you hiked through Nahal Yehiam? Let's hear about it in the comments!
Hiking can be dangerous and is done entirely at your own risk. Information is provided free of charge; it is each hiker's responsibility to check it and navigate using a map and compass.