I knew that Ein Avdat would be stunningly beautiful. It is every time.
On the third day of last week's trip to the Ramon Crater, we made plans to visit this desert oasis near Sde Boker early in the morning, before heading back home.
One of the things that's so great about Ein Avdat is that it's a hike for all skill levels. There's a short trail for those who just want to see the reflective pools that make Ein Avdat famous. There's a long (and steep!) one-way trail for more adventurous hikers. And there's an in between hike that's perfect for families with kids or anyone looking for an easy walk in an incredible place.
White Rock, Waterfalls, and Rare Birds
The entrance to Ein Avdat is near Sde Boker, Ben Gurion's desert home and burial place. It's a National Park, so we stopped at the gate to show our Parks Card, which gives us free entrance to all National Parks in the country. Since Ein Avdat is a National Park, it's clean and well maintained, with facilities and parking.
We started along the blue trail (which takes you the whole way out and back), and were immediately taken in by the unusual natural beauty all around. Giant walls of white rock towered above us. A gentle spring bubbled quietly at our feet. I was impressed all over again at the incredible variety of nature that can be found in such a small area – Ein Avdat is only twenty minutes from the stark and rocky scenery of Makhtesh Ramon. And an hour and a half from the forested mountains near Jerusalem.
After a few minutes' walk, we reached a large cave – silent except for the sounds of birds chirping as they swooped from one rocky cliff to another. A griffon vulture sat on an outcrop at the top. We'd been hoping to see this bird since hanging out at the Vulture Lookout at Makhtesh Ramon. There were none in sight the whole time we were there, so it was exciting to finally spot one.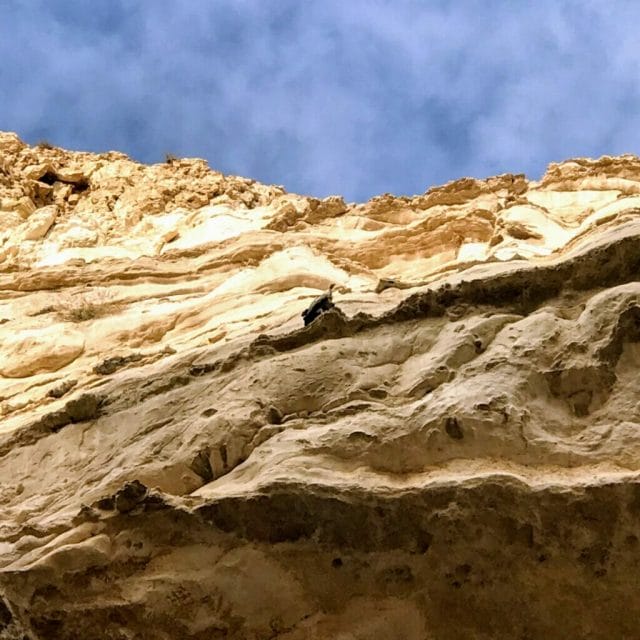 We waited patiently for it to spread its wings for a better picture.
At the Waterfall
Then we moved on towards the Ein Avdat waterfall, which gives the park its name. This waterfall pours down through a white canyon forming a large reflective pool of water. Golden mountains lay in sun rays in the distance above the falls. And a long strip of chalk colored rock divides the pool, creating a walkway for getting closer in. It makes a great spot for picture taking.
After hanging out at the waterfall for a little while, we headed up the stone cut staircase for the next part of the hike. An ibex just happened to be coming down.
The staircase was narrow, but that was no problem for him.
He just scooted onto a crack in the wall to let us pass.
The upper part of the trail presents an entirely new viewpoint of Ein Avdat. We got a different perspective on the magnificence of a canyon waterfall.
And Beyond…
Past the waterfall, we continued along the smooth plains of rock, hopping from one stone to another. The spring flowed right down the middle (on the side of the path), with desert greenery blooming within. It wasn't much further until we reached the last large pool, this one full of plants and surrounded by trees.
Up the hill a bit, and the intermediate trail ends. There's a big sign here that lets you know that if you continue further, you can't turn around and go back (it's a one-way trail only.) So it was time for us to head back home.
It was still quiet as we retraced our steps. This early in the morning on a random weekday, our only company was the animals and birds.
As I expected, Ein Avdat was an enchanting place to hike – nature at its finest. It's stark desert beauty combined with crystal waterfalls and pools of light. Something about this haven in the barren wilderness makes my heart skip a beat every time.
Hikers' Notes:
Hikers notes: Ok, so you can really take this hike however you like it. We've done it all three ways. Go for a short walk just to see the pools. Hike out to point number seven and hike back for a nice three kilometer walk. OR, go the long route and get a really great hike out of it!
If you do decide to go all the way on this one (not the way we did it above), you'll need two cars – one at the starting point and one at the end. It's not a short walk between the two places. And, while I've done this long route with babies in tow, I'm not sure it was a great idea – there are steep ladders on the sides of cliffs which make that unwieldy baby backpack seem pretty scary. I think most kids could make it through though, as long as there are enough adults to supervise. My kids had a great time!
Another thing to keep in mind – If you are a wildlife lover, I think the best time to visit is the early morning. I've never seen it so full of birds and animals as it was when we went last week (at 8:30 am).
And remember, this is a National Park, so there's a fee to get in. It costs 14 NIS for children and 28 for adults if you don't have a National Parks card.
New! Read this guide to how to use the navigational features in these posts.
Questions about this hike? Have you been here? Leave a comment below!
Hiking can be dangerous and is done entirely at your own risk. Information is provided free of charge; it is each hiker's responsibility to check it and navigate using a map and compass.