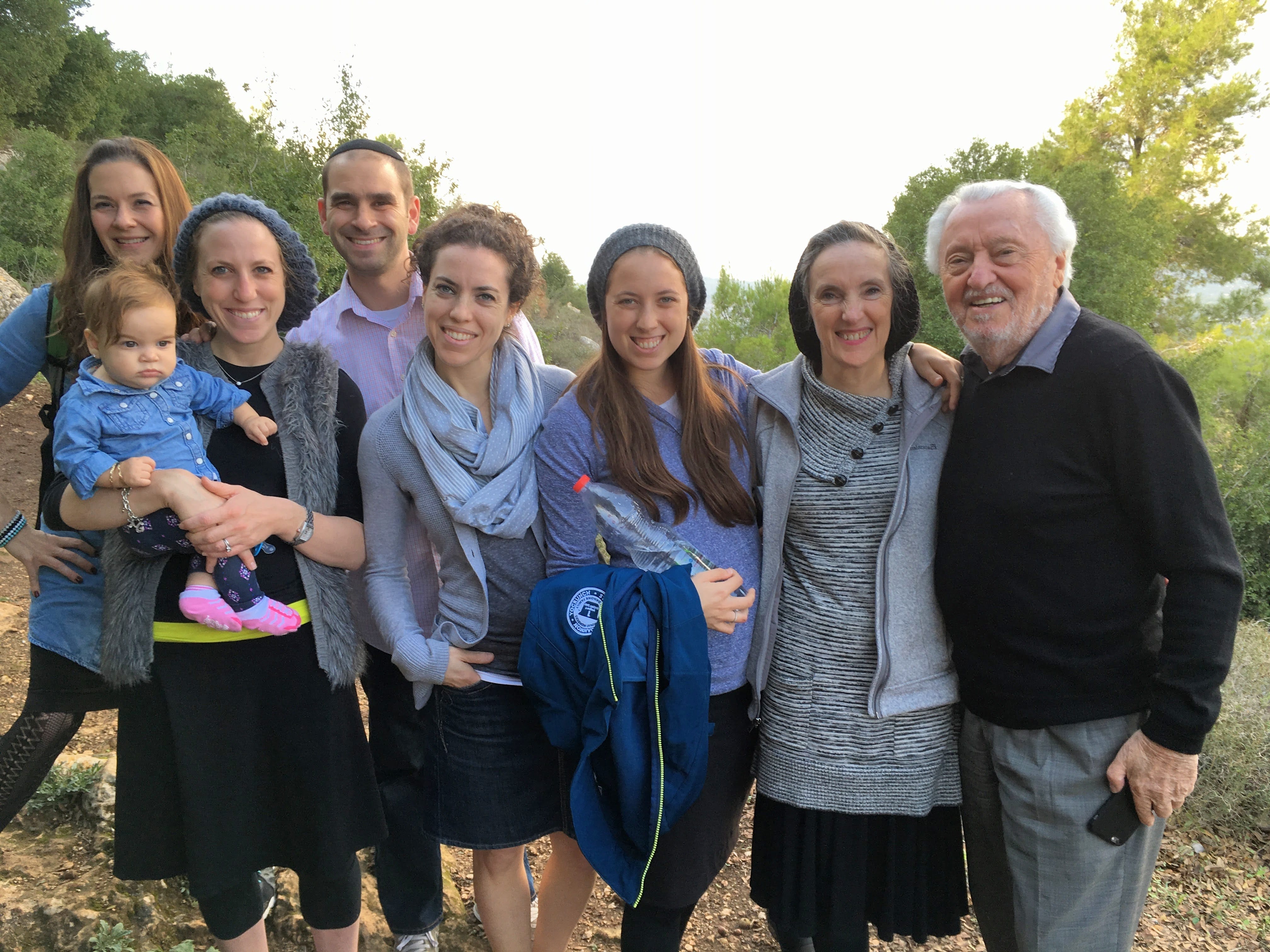 One autumn afternoon years ago, we went on a memorable hike at our favorite trail in the Jerusalem area: Nahal Katlav. The scenery was the same as always – green mountains and thick trees – but something was very different. My husband's grandfather, a holocaust survivor, was visiting from the United States. He joined us on the trail that day along with every other member of my husband's family. There were seven month old babies, toddlers, teens, parents, and grandparents in our group. Four generations hiked the Nahal Katlav Scenic Trail that afternoon. And it was wonderful. I'll never forget how my daughter held her great-grandfather's hand as they walked together in the Jerusalem Mountains.
We discovered a neat thing about hiking that day: it's a wonderful activity for people of all ages. People old and young love getting out into nature. And whether you live in Israel or are here for a visit, it's nice to be able to experience Israel's great outdoors with extended family.
But years of hiking experience have taught me that not all trails are well-suited to large family outings. So, I decided to put together a list of best hikes in Israel for 4 generation families.
To be included here, a trail must be entertaining enough for little kids and exciting enough for teens. For parents and grandparents, natural beauty and shade are important features. And for older folks, relatively flat terrain and a nice place to sit at the trailhead seal the deal.
Here are the ones that made the cut:
The Scenic Trail at Nahal Katlav
Since I have personally hiked the Scenic Trail at Nahal Katlav with 4 generations in tow, this hike leads the list. The circular trail in the Jerusalem Mountains begins at Bar Bahar, a beautiful outdoor café with plenty of free seating in the woods. There are bathrooms at the trailhead near the parking lot. If anyone wants to sit out the actual hike, they'll still get to enjoy some time in nature.
The trail itself is short, sweet, and very beautiful. There are some rocks to climb over (great for kids, less great for anyone unsteady), beautiful views, and cute tree trunk bunches to stop and sit at several places along the way. In the springtime, sweet-scented wildflowers line the sides of the pathway.
After 15 years of hiking it, every member of my family still loves this trail. Read the full post here.
Pros: Bathrooms, a nice place to sit at the trailhead, plenty of shade, natural beauty, and fun for kids and teens.
Cons: This trail is not completely flat, and there is an uphill at the end.
The Sorek Estuary at Palmahim
Who doesn't love the beach? At the Sorek Estuary at Palmahim in Central Israel, you can hike towards the Mediterranean coastline.
The trail begins in a shady, eucalyptus forest. Then, it proceeds to follow the Sorek River down a flat pathway towards rolling sand dunes. My kids love to stop here to run up and down the sandy hills. After that, the trail continues out in the open until reaching the sea. The quiet beach at the end is a great place to play in the sand and collect some shells.
I haven't hiked here with four generations, but I do know that everyone loves the sea. Read the full post here.
Pros: Shade and picnic benches near the beginning, a relatively flat trail, fun for all ages.
Cons: No bathrooms.
Tel Dan Nature Reserve
If you're traveling up North, Tel Dan Nature Reserve is a great choice for your family. At the trailhead, a large, shaded picnic area, bathrooms, and a National Park store make a perfect waiting area for anyone who doesn't want to hike.
There is a handicapped accessible trail (ie: completely flat) which leads along a beautiful, shaded stream. More adventurous types can leave the flat pathway to walk further into nature. And everyone can enjoy putting their feet in the shallow splash pool at the end.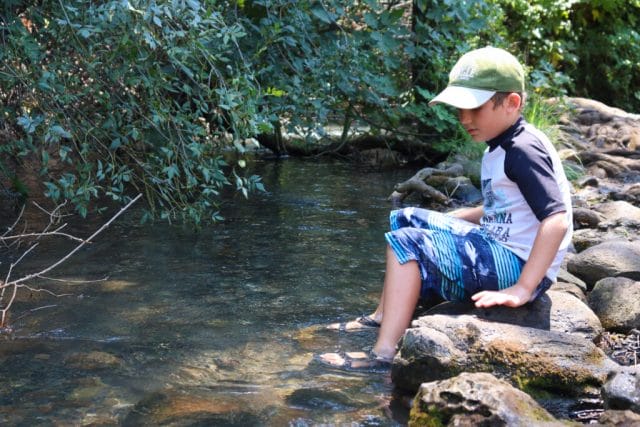 My kids loved drenching their heads into the cool spray of a mini waterfall at Tel Dan in mid-August. Read the full post here.
Pros: Shady picnic area with bathrooms, flat trail, fun for all ages, absolutely gorgeous.
Cons: None.
Masarek Park Sunset Walk
Everyone loves a beautiful sunset. At Masarek Park in the Jerusalem Mountains, you can follow a short loop trail towards a panoramic lookout where you can watch the sun setting over the surrounding hills.
The trail begins in an organized parking lot with some picnic benches (but no bathrooms). Then, hikers climb a set of stone steps towards a relatively flat pathway underneath the trees. After watching the setting sun at the lookout, you can head back the way you came or complete the loop.
Caves and war bunkers add some extra fun for kids. Great natural beauty makes this trail a win for adults. Read the full post here.
Pros: Picnic area near parking, somewhat flat trail, fun and beautiful, less than 3K.
Cons: No bathrooms.
Tzora Forest 6K Loop Trail
This is the longest trail on the list. The Tzora Forest 6K loop trail near Beit Shemesh begins in a shady parking lot with picnic benches. The first part of the trail is somewhat downhill, but soon you'll reach a wide, flat pathway which takes you through a beautiful forest.
Visit Samson's gravesite, see cows grazing, and take a look at all of the artistic sculptures scattered along the pathway. This is one trail that the whole family can enjoy. Read the full post here.
Pros: Organized, shaded picnic area at the beginning, shady trail, option for staying on flat pathways.
Cons: No bathrooms, a little too long for some families.
Ein Hemed National Park
Right outside of Jerusalem sits Ein Hemed, a small National Park that features historical structures, pretty pathways, and a bubbling stream. Ein Hemed is a great choice for a 4-generation outing.
It's not much of a hike, but you can go for a short walk at the park. Then sit back and relax on a picnic bench in the grass next to the stream. Little kids will enjoy dipping their feet into the water.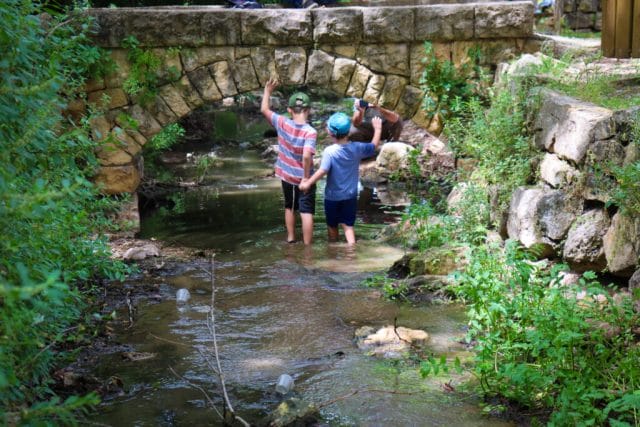 This is no great adventure, but it is a lovely way to spend time in nature near Jerusalem. Read the full post here.
Pros: Flat pathways, bathrooms, organized shaded picnic area, cool historical buildings, water feature.
Cons: You won't get much of a workout here.
Path of the Patriarchs
Maybe I'm just biased, but one of my top picks for 4 generation families is Path of the Patriarchs, which begins from my town in Gush Etzion. This ancient pathway has been in use for thousands of years, taking travelers from Jerusalem to Bethlehem and beyond.
There are no bathrooms at the trailhead, but there is a bakery where you can stop for rugelach and coffee (there are bathrooms and places to sit there). The trail is quite flat, and it leads past ancient Roman milstones, an old ritual bath, and gorgeous views out to the rolling hills.
Everyone in my family loves walking along this trail, especially in early fall when wild figs are ripe and ready for picking. Read the full post here.
Pros: Bakery café at the trailhead, flat pathway, sights to see along the way, interesting history for adults
Cons: No shade
Caesarea National Park
Caeasarea is a favorite vacation destination. This beachside town in Central Israel has a Florida resort vibe. And nearby, you can visit the ancient city at Caeasarea National Park.
This is another nature excursion that involves more strolling than hiking. But it's still worthwhile to visit. Children and adults will enjoy the new museum and audiovisual presentation. (Trust me, this one is really well-done!). Walk around the ancient ruins and then stroll along the boardwalk at the beach.
Caesarea National Park is a must-visit for tourists and locals. People of all ages will enjoy the sites at the ancient city. Read the full post here.
Pros: Bathrooms, picnic areas, and even restaurants. Fun by the beach and a great museum.
Cons: No shade (except inside the museum!) and not a lot of actual hiking at this National Park.
Ein Avdat
Want to take a trip to a desert oasis that the whole family can enjoy? Ein Avdat is a great place to do just that.
At Ein Avdat in the Northern Negev, a relatively smooth trail leads to a cool waterfall pool. Hike out and back while taking in the otherworldly scenery. Kids will love the water, as well as (possibly) meeting vultures and ibex on the trail. You can visit Ben Gurion's home in Sde Boker nearby after your time on the trail.
The hike leads out of an organized picnic area with bathrooms and shade, making this a family friendly desert oasis trail. Read the full post here.
Pros: Bathrooms, picnic area, shade, a relatively flat trail. Water features and animal sightings make it fun for kids.
Cons: None.
Memorable Moments
Toddlers, teens, mid-lifers, and the elderly can all benefit from time spent out in nature. With a bit of thought and planning, you can find a trail that works for everyone. Try one of these 4-generation trails for your next family outing and experience the beauty of Israel's great outdoors together as a family.