Here is Lauren Hamburger Adler's personal story about discovering her love of hiking and the beauty of the Land of Israel. Lauren is featured in Layers: Personal Narratives of Struggles, Resistance and Growth From Jewish Women, a new book by Shira Lankin Sheps.
My family and I made Aliyah 2.5 years ago with our 3 children.
While there have been so many amazing outcomes of that, one unexpected bonus is that my husband and I have fallen in love with hiking and exploring our homeland.
We never hiked or did adventures in the States, it just wasn't a part of our life.
I started following (literally and figuratively) Hiking the Holyland's website and began to plan and anticipate each new adventure excitedly. It's really hard to pick one favorite hike, because each one brings something different, whether it's the gorgeous background, intensity, overcoming a fear, seeing desert animals and fauna, or feeling like we are a part of living history.
If I had to pick one, I think I'd pick the day we hiked Nachal Tzafit/Nachal Tamar in the southern Dead Sea Region.
As soon as we found the start path (not always as easy as it sounds!) we stared up at a massive ladder, seemingly up to the sky. My height-fearing husband was definitely having second thoughts as we began to ascend. But after the ladders, the terrain turned beautiful with absolutely gorgeous views of the Dead Sea and interesting rock formations all over.
There were definitely a few very hairy, scary moments when there were no footpaths and we found ourselves hugging the side of the mountain as if our lives depended on it but through it all we laughed, talked, had great music playing, and enjoyed the beauty of it with great friends.
It was a long and intense hike with built-in ladders, windy paths, walking through a desert canyon, and some big water pools that we had to navigate around.
Hiking gives me a feeling of accomplishment, it is so satisfying. It connects me even more deeply to our land, it feels like a privilege to get to know the secrets and hideaways of our homeland.
And truthfully, I'm not sure we'd be as successful without Hiking the Holyland "guiding" us.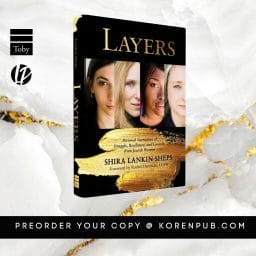 Want to hear more??? Lauren Hamburger Adler is featured in a brand new book by Shira Lankin Sheps, "Layers; Personal Narratives of Struggle, Resilience, and Growth From Jewish Women." Purchase your copy today to read more about the stories of Jewish women living in Israel.
Use code HHL to get 10% off on the website!!!
Israeli site: https://korenpub.co.il/en/products/layers?_pos=1&_sid=2b5e516e4&_ss=r
US site: https://korenpub.com/products/the-layers-project