Its Hanukkah time! Just when you thought you had holidays with the kids all figured out, COVID happened. This year, your Hanukkah itinerary is going to look a little bit different than usual. No museums, movie theaters, or bowling alleys for your family. Instead, you'll get to experience the magic of the great outdoors!
Luckily, December is a great month to be outside in Israel. It's still fall time, and it feels that way. Colorful leaves drift from the trees and crunch on the pathways. The land is green with moss and newly sprouted grass. And there are already plenty of flowers to see: narcissus, cyclamen, and winter daffodils line the trails.
Here are some of my top picks for Hanukkah hiking trails. Choose a few of your favorites and plan a COVID friendly Hanukkah to remember:
Jerusalem Area:
Tel Adulam
This 3K hilltop hike near Beit Shemesh has it all: forests, underground caves and antiquities, and green meadows that stretch out as far as the eye can see. The views from the top of Tel Adulam are simply stunning. It's a great place for some serious nature therapy.
You can also teach your kids a thing or two about the history of Adulam while you're at the top.  Adulam was mentioned several times in the Bible, perhaps most notably when King David hid there in a cave.  Some of the tunnels on the hill were most likely from Second Temple times.  Can anyone say Hanukkah connection?
Read the full post with maps here.
Nahal Katlav Scenic Trail
This little trail features prominently on many of my top picks for families lists. And why wouldn't it? It's short enough for a family hike, but wild enough to give your kids the feeling of exploring the great outdoors.
Your little kids will have fun climbing over rocks as they navigate the path. And your big kids will love climbing trees on the way. The scenery here in December is worth checking out.
Read the full post with maps here.
Midras Ruins Trail
If your kids like exploring, the Midras Ruins Trail is for you. This trail is also part of Adulam Park. The scenery is green and gorgeous in December. On this hike, your more adventurous kids can climb through caves like little moles in a tunnel, while the others wait outside. As the trail continues, you'll get to see an ancient synagogue and an impressive columbarium.
Some of the ruins at this trail are from Second Temple times. Use the structures here as a useful tool to show your kids what life may have been like during the time of the Maccabees.
Read the full post with maps here.
Borot and Be'erot
Nearby in Park Britannia, Borot and Be'erot is a great trail for families. This 5K trail wanders through forests and fields. Along the way, you'll encounter many cisterns and wells. Sounds boring? It's not!
My kids love to pick up rocks as they hike and drop the pebbles into wells. Use a timer to check how long it takes for the rock to hit the water, and you can calculate how deep the well is. Don't forget to take in the breathtaking scenery in between science experiments.
Read the full post with maps here.
Central Israel:
Tel Gezer
Tel Gezer sits on the site of ancient Gezer, a large city mentioned in the book of Maccabees. It's right near Modi'in, which just so happens to be the hometown and burial place of Matityahu and his sons.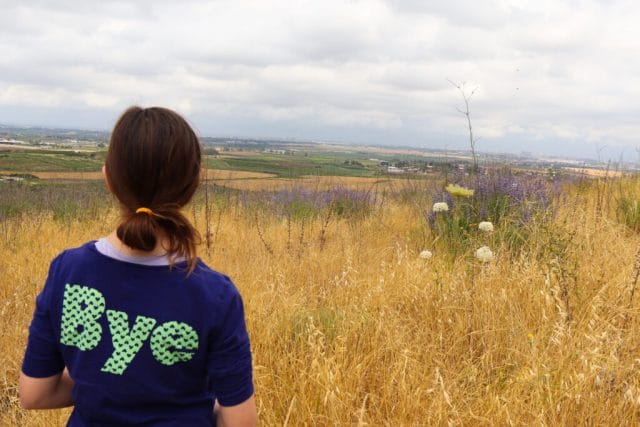 The hike up Tel Gezer combines archeology and beauty in one short trail. In December, the hill has turned green following the first rains of the season. Grasses sprout and flowers grow. It's a great setting for a tour through nature and history. My kids love this trail.
Read the full post with maps here.
Caesarea National Park
Caesarea may not be from the time of the Maccabees, but it's still a great hike for Hanukkah time. The Parks Authority has recently invested in a brand-new building at Caesarea…and it's actually quite impressive. Watch a movie on the big screen, then take a tour through artifacts (old anchors, coins, and much more) from ancient times.
Afterwards, you can hit the beach for a late fall taste of summer.
For a small fee, your kids can get a junior ranger activity book and pin. Don't forget to sign up on the Parks website before you go.
Read the full post with maps here.
Sorek Estuary at Palmahim
Did someone say beach? Real beach season might be over. But that doesn't mean you can't take a walk along a trail that ends at the sea.
The Sorek Estuary at Palmahim is one of my favorite hikes for kids. The trail isn't too long, but it is very beautiful, especially in cooler weather. Once you reach the beach, explore the rocky cliffs on the sides to find an incredible collection of seashells. We always leave this trail with lots of coastal treasures.
Read the full post with maps here.
The South:
Nahal Salvadora
I would be remiss if I didn't add some desert hikes to this list. The desert is a perfect place to hike during Hanukkah (as long as it's not raining). When it comes to the desert, the cooler it is outside, the better.
Bigger kids love climbing on desert ladders. Try Nahal Salvadora, a less well-known ladder hike that's just the right length for families. Bonus: you may encounter ibex, rock badgers, and cute little sand mice on the trail.
Read the full post with maps here.
Nahal Bokek
If you're still pining away for summertime, Nahal Bokek might be the trail for you. This desert hike near the Dead Sea leads along a flowing stream. If it's warm enough (which it usually is near the Dead Sea), you can dip in a waterfall pool at the end. Or just dip your feet in and call it a day.
This 2K trail is perfect for families.
Read the full post with maps here.
The Dead Sea Salt Walkway
If you've already made it down to the Dead Sea, take the opportunity to visit the Salt Walkway Trail. This isn't exactly a full day adventure, but it's definitely worth making time in your itinerary for.
The Salt Walkway is just what it sounds like: a long promontory encrusted with salt that leads right into the middle of the Dead Sea. The scenery along this trail is like none other. Hit the Salt Walkway at sunset (after a day of hiking fun) for maximum impact.
Read the full post with maps here.
Bonus Trail: Agamon HaHula in the Galilee
Ok, I just couldn't finish up a best hikes of Hanukkah article without mentioning Agamon HaHula. This 8 kilometer trail is the place to visit in late fall. At this time of year, you can witness one of the most impressive bird migrations in the Middle East.
Thousands of birds fly through Israel on their way to the southern hemisphere every fall. And many of them stop at Lake Hula.
You can walk the trail, or rent bikes or a golf cart for added fun. Make sure to arrive early in the morning or as the sun begins to set. We travel up North to witness this natural wonder almost every year.
Read the full post with maps here.
The Gift of Nature
This Hanukkah may be a bit different than usual, but you can make that difference work in your favor! Take the opportunity to explore our country (for free) at one of the most beautiful times of year. Share nature with your kids this Hanukkah: it's the greatest gift that you can give them.
For more great hikes for kids, check out Hiking the Holyland's Kids and Family section.
Check out last year's Hanukkah hiking list here.