Tucked away in the heart of the Ramat Menashe Forest Reserve is a beautiful waterfall and stream- Nahal Hashofet. This little river near Yokneam is surrounded by a towering forest. And a stroller friendly walking path is built alongside the stream.
The only downside to this gorgeous little hike is that you'll most likely have to share it with others. Because it's such an easy way to access real natural beauty, Nahal Hashofet fills up with visitors on vacation days and holidays.
We stumbled upon Nahal Hashofet when we were looking for an easy hike on our way home from the Galil. It fit the bill perfectly – only a bit over 2 kilometers long, lots of interesting spots for kids to explore, and a beautiful gushing waterfall.
Full Circle
There are two starting points for this circular hike. And they're both located within a few hundred meters of each other, so it really doesn't matter which one you start on – we chose the one further into the parking lot. The walk winds along a flat boardwalk the whole way through. We didn't have a stroller, but we saw several other families with strollers and even a wheelchair or two.
First, we passed an old flour mill, and crossed over a bridge with water flowing underneath. It was the closest I've seen to a raging river in the middle of nowhere in Israel. I'm guessing it was extra special because of the previous day's downpour – there were even a few photographers in water boots standing down below with their tripod.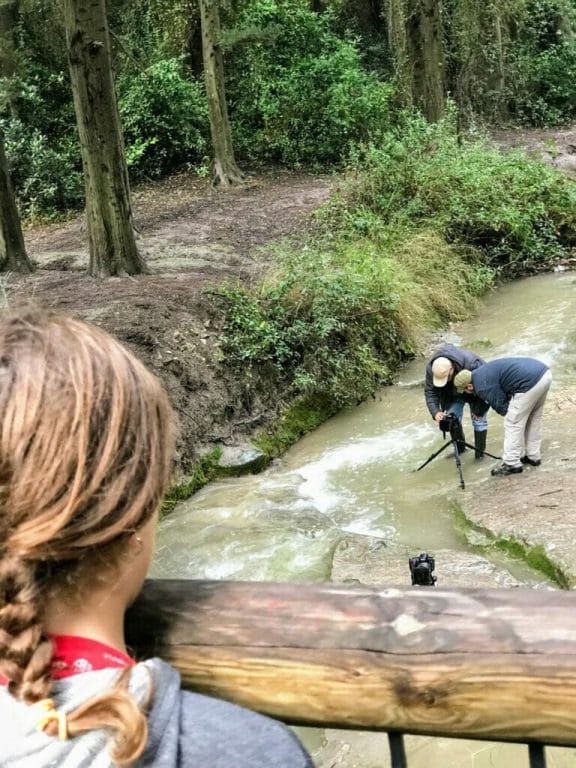 Once we passed over the bridge, my kids found a big cave to explore. But they didn't stay long. We could hear the sound of the waterfall coming from further along the path, and they wanted to go find its source.
From here, the river wound its way through the forest. There were tall tunnels of reeds along the side of the path which made a perfect place for hide and seek. And there were lots of wood carved benches the whole way through.
It's Always Lunchtime
At that point, it was after one o'clock, so of course, my kids were ready for lunch. We found a few benches in a quiet spot, opened our bags, and set up a picnic.
After coffee and sandwiches, we were ready to find the waterfall. So we walked a bit further until we reached the best vantage point. Down off the path, over some slippery rocks, water poured down from above, crashing into an emerald pool below.
As we walked around to the other side of the waterfall, my kids climbed off the path again – down through the mud and onto some more rocks near the water. We threw in some stones and marveled at the natural beauty all around.
It was hard to believe that we had never even heard of this sparkling stream – or of the Ramat Menashe woods altogether. It felt like we were walking through a dense forest in Romania.
To the Forest Walk
After the end of the river, the path started to curve toward the right. We followed the walkway past a green meadow and underneath a yellow leafed tree. The kids picked up walking sticks and heart shaped leaves. And there wasn't one word of complaint the whole way through. Before long, we were back at the parking lot, at the second trail head.
Here we crossed the lot to continue along the trail up in the forest above. This part of path was also flat and stroller friendly. Black asphalt made up the pathway, trimmed by medium sized rocks creating a picture perfect walkway through the forest.
As we walked, we passed by more fallen leaves and a mountainside of furry cows. My three year old was thrilled to see animals. He mooed at them. And they mooed back.
We continued along to the end of the trail where we reached stone pools filled with water. This was Maayan Ami – a carved out part of the mountain which had been chiseled to use as a burial cave. But those plans were scrapped when water was discovered underneath. Upon closer look we saw five large goldfish swimming around in the pool.
From here, we headed down the path back to the trailhead and the end of the hike.
It's a rare trek that combines a lush forest, caves, reeds, waterfalls, a river, and springs – all in around two kilometers. Nahal Hashofet was a great discovery, a beautiful gem in the lower Galilee.
Hike Notes:
So if you're heading up North, stop here! Nahal Hashofet is a perfect place to stretch your legs and take a beautiful walk through nature. Or have a picnic.
And if you're looking for a longer hike there are many more to choose from – both at Nahal Hashofet and in the Ramat Menashe Forest in general. Next time I head this way I am definitely going to check them out. I'll let you know what I find.
Remember, you can park anywhere in the lot and then just take the closest trail head to walk through the river path. Once you've finished with that part of the walk, cross the parking lot and head up towards the forest path. If you go this way, you'll head back in the direction of your car with much more beautiful scenery than simply walking through the parking lot.
New! Read this guide to how to use navigation features in this post.
Have you hiked this path? Questions or comments? If so, give me a shout out below!
Click to expand FAQ below
FAQ
What is Nahal HaShofet?
It's a perennial stream that runs through the Ramot Menashe forest.
Is the hike accessible?
Yes, the walk at Nahal HaShofet is stroller friendly and handicapped accessible.
Can you swim there?
Yes! You can get into the water at Nahal HaShofet.
Is there a fee to get in?
No. Entrance to Nahal HaShofet is free for everyone.
What season is best for visiting Nahal HaShofet?
In the summer, it's a great place to refresh in the water. In the winter, it's quieter, and very beautiful.
How do I get there?
Use the Waze link at the top of the post to reach Nahal HaShofet.
Hiking can be dangerous and is done entirely at your own risk. Information is provided free of charge; it is each hiker's responsibility to check it and navigate using a map and compass.