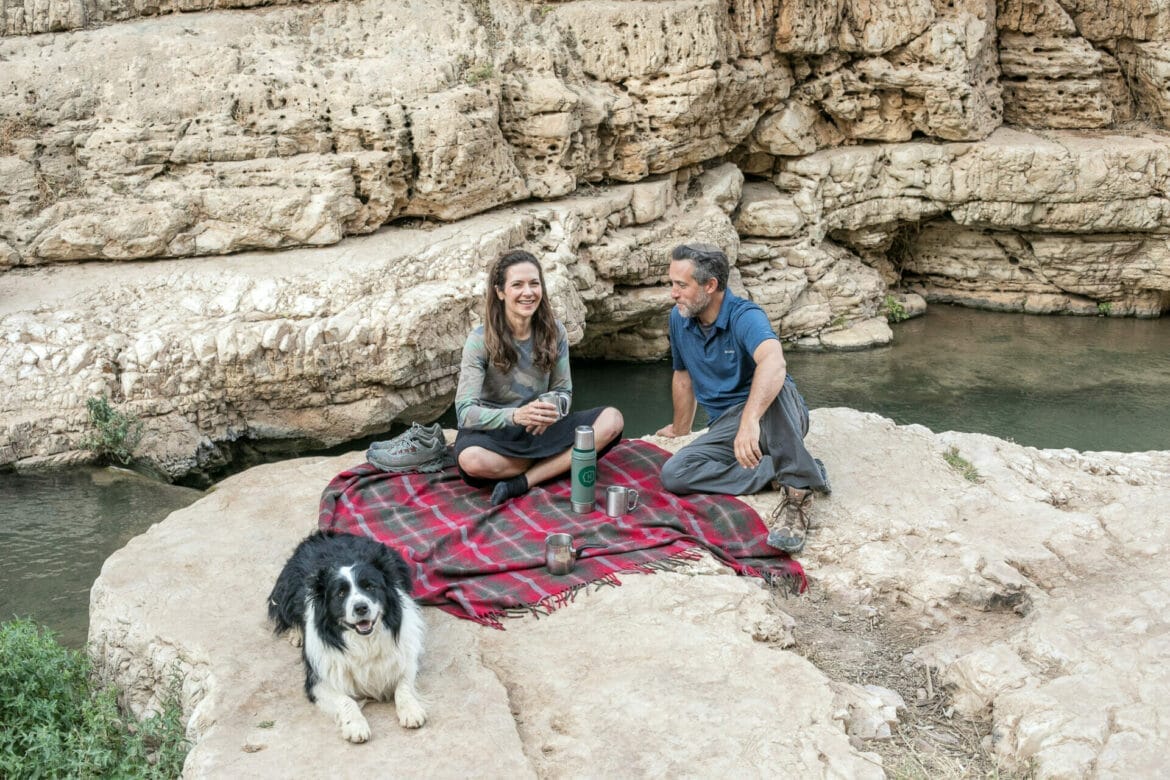 It was the fall of 2018: My family was feeling inspired by our recent trip to Scotland. Our time spent traveling through the lush and beautiful country had been so incredible. We had so loved hiking and fully immersing ourselves in nature for three and a half weeks. Upon our return to Israel, we decided that we wanted more vacation-like experiences like that in our lives. We began to explore Israel.
First, we returned to our favorite hiking trails nearby, the ones we had been to again and again since moving to Israel 15 years earlier. We hiked through Nahal Prat one morning, on our way to visit my sister and her kids in Kochav Hashahar. For the first time, we noticed wild mint growing on the trail, and the late summer figs that hung from trees growing out of the stream. We hiked the loop around Mount Eitan, a favorite Jerusalem Mountain trail we had discovered in a photo essay years earlier. And we returned to a little trail near Beit Shemesh we'd been hiking since we made aliyah, affectionately known by our kids as "The Schuster."
My son, Eitan, who had recently received a new Canon camera as a present, took professional looking photos, zooming in on pine needles, wildflowers, and waterfalls. We brought along thermoses filled with iced coffee, a nice replacement for the hot tea which had accompanied us on our day trips in Scotland.
Our First Adventure
One Friday morning, with the kids all (finally!) in school after a long summer, my husband, Avi, and I decided to try a totally new hiking trail. With a couple of hours of internet research, we managed to find a local trail called Caesar's Way, only twenty minutes from home.
Using Google Maps to guide us, Avi and I pulled up at the trailhead, then followed the path along an ancient Roman road, through a thick forest. This part of the hike was really lovely, and we congratulated ourselves on finding a nice new trail close to home. After an hour or so of walking, we stopped for breakfast, drinking our thermos of iced coffee and consuming our carrot muffins from the new bakery with relish. And sitting there, out in Israel's nature on a Friday morning, we felt almost like we were back in Scotland. True, it was a lot drier in this part of the world, especially in early September. But the birds were chirping, and the bees were buzzing. A gentle, late summer breeze blew through the overhanging oak trees. And most importantly, it was quiet, just like it had been in Scotland, where there were so many places to hike that it never got too crowded on any given trail.
To make the hike circular, we had to cut back along a differently marked path. We didn't have any of the cool navigational tools we had used in Scotland for this hike (on our summer trip, we had used an awesome website called Walk Highlands to help us navigate the many trails). So, of course, we got lost. We ended up climbing a mountain of dirt and rubble, along an old water pipe which we used to help us shimmy up the hill.
"Are you sure this is the right way?" I shouted up to Avi, who was peering over the last little bit of water pipe towards the path beyond.
"No!" he replied, "but at this point, it's the only way. Let's give it a try!"
I'm pretty sure it wasn't the right way. But eventually, we were back on Caesar's Way, only a little the worse for wear. Tired, sweaty, and covered with dust, we returned to the trailhead with mixed feelings.
Clearly, there were lots of places to hike in Israel, places near home that we'd never even known existed. But why was it so difficult to find them? And to find our way on the trails?
Behind the Scenes
Back at home on our playroom couch, I was having a mini mid-life crisis. After 18 years of devoted stay-at-home motherhood, I was looking for a new part-time profession. I wanted to try my hand at becoming a writer…whatever that meant.
A few months earlier, my oldest daughter Elie and I had taken a three-day graduation trip to Romania, mostly chosen by virtue of the fact that the tickets to Cluj-Napoca, part of the Transylvanian region, cost only a hundred dollars, total. For that price, we were willing to go just about anywhere. Elie and I had packed our carry-on bags and set off for an adventure through Romania, just the two of us.
On the first day of our trip, I hired a guide for a bike tour named Iancu. He and his partner Levi took us around the country in a big van, and together we biked from the beautiful Belis Lake towards the border with neighboring Hungary. Sharing cookies in the car after our bike trip, Iancu had told us about his other job as a travel writer. Every winter, he travelled around Europe to photograph and report on various skiing events and destinations.
For some reason, back in Israel months later, this conversation was playing on repeat through my head. In a short stint as a content writer back in 2007, I had been asked to write about many vacation destinations, some of which I had never even been to. Writing about traveling was something that I could do. And if I could become a travel writer…well who would say no to more vacation? Especially after an epic trip to Scotland?
With my plans still unformed, I sat down and wrote an article about traveling to Scotland. Then I wrote an article about visiting Romania. And then, for good measure, I wrote an article about our favorite local gem that we had just recently hiked through: Nahal Prat.
That Moment When it All Came Together
On the Sunday evening after our hiking trip to Caesar's way, I gave my two little sons, Gabi and Benzi, their daily bath. Sitting there on a plastic stool next to the tub, I mulled over my writing, our vacations, hiking, and our trip to Scotland. I thought about the difficulty Avi and I had experienced hiking the previous Friday morning. And also, the beauty of it.
Benzi and Gabi were fully engaged in their game of generously "washing" each other's hair, each taking turns with the blue plastic bucket.
"Why was hiking so much easier in Scotland?" I muttered under my breath.
Wait. I knew the answer to that question.
Hiking was so easy in Scotland because we had used an awesome website to guide us on our journeys. Featuring plenty of photos and descriptions, along with maps and navigational tools, Walk Highlands had taken most of the difficulty out of our hiking trips and allowed us to focus on our experiences in nature.
The wheels in my head started spinning. I thought about other trips we had taken—trips to Sedona and Sequoia during our summers in America, planned with the help of detailed blog posts written by other parents. I thought about the time Avi and I had gone away to the Lakes region in Italy in search of fall foliage. We had tried so hard to hike on that trip, but for some reason, the only information we could find was in Italian. My ability to decipher Romance languages was pretty good, but it wasn't good enough. We had driven to one national park and had spent hours looking for the trailhead before eventually giving up and having a picnic near an old, abandoned church.
I loved to hike. And I wanted to write. And Israel suffered from the same exact problem. Israel had no English language hiking resource like Walk Highlands.
My brain was suddenly on fire. I shouted down to Avi who was doing post-dinner clean-up. "Avi, can you come here?!"
Avi barreled up the stairs to the kids' bathroom, looking slightly panicked.
"I have an idea!" I exclaimed. "Remember how I want to become a writer? I think I should write about hikes in Israel for English speakers! Israel has sooooo many tourists. And we don't have an English hiking site like Walk Highlands. Maybe I can start a blog?!"
I paused for breath, giving Avi a chance to reply. He smiled with relief, "That's a great idea!" And as he helped me (actually) wash Gabi and Benzi's hair and get them out of the tub, I chattered on and on.
Who knew? Perhaps it was just a pipe dream. But I already had one article written, about Nahal Prat. And Eitan had taken lots of pretty pictures I could use for a first post. All I really needed was a website. I had once been a computer programming major. Of course, decades had passed, and I hadn't kept up with my skills at all. But we were living in modern times, when almost anyone could start a blog. How hard could it be?
Let's Do This
The next morning, after the kids were in school, I took up my now traditional spot on the playroom couch and did a Google search: "How to Start a Blog." According to the articles that came up, it could be accomplished in a few simple steps. I needed a hosting service—that would only cost $3 a month. I needed a logo, a signature, all easily designed using free tools on the Internet. But before getting started, I would need to choose a web address, and in order to do that, I needed a name.
I thought back to the blogs I had followed years earlier in my days as a young mom, about farm life and simple living. Once upon a time, I had wanted to start my own blog, Homestead in the Holy Land. Inspiration came to me. I knew just what my new website would be called. I began filling out the first form, ready to name my new website. "Site Title," the form requested. I typed my new name out in a flurry of excitement, "H-I-K-I-N-G-T-H-E-H-O-L-Y-L-A-N-D."
"Hiking the Holyland, here we come!"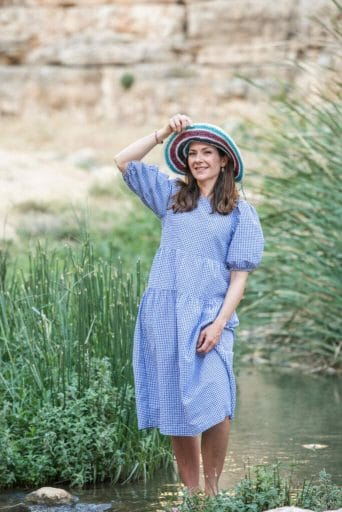 Want to read more? This short post is an excerpt from my new book From Southerner to Settler: Unexpected Lessons from the Land of Israel, being released this June!
Find out more and pre-order your own copy in Israel here.
Coming soon to Amazon!
Author photos by Kineret Rifkind photography.