Click here to go straight to hike notes.
This year, we've done a lot of cave exploring. And the more we explore, the more we realize that we've barely scratched the surface of Israel's underground world.
Beneath the surface, we've found small houses, giant gaping rooms, pillars, columbarium, secret tunnels, stables, olive presses, and so much more.  These remnants of the past are a way to connect to the history of the Holy Land.  Not only that, but if it's a rainy day or a hot one, caving is also a great way to escape from the elements.
This past Thursday as we planned out our Friday hike, the weather was hot and dusty. A short trip to a nearby, yet unexplored cave system seemed like the perfect way to spend the day.
About an hour from our home in Gush Etzion, there's an area known as The Land of a Thousand Caves, which stretches from Beit Shemesh to Beit Guvrin and beyond. Any hiking trail in this area is bound to cross paths with a cool cave system. So, we took a look at the map and focused in on a small network of trails that we hadn't yet hiked in the area.
As we studied the map, we noticed two caves that we had never visited before: Ma'arot Chazan and Ma'arat Ginta. Between the two spots, there was an unmarked, 3 kilometer trail. If we hiked out and back (on a slightly different path), it would be the perfect length for an easy Friday morning adventure.
And it was. This delightfully easy-going trail was lovely, quiet, and contained some beautiful and fascinating discoveries. We really enjoyed the relaxed trail between the two cave systems. It was a great hike for a Friday morning.

Here's how we hiked this 6.5 kilometer (total!) trail from Ma'arot Chazen to Ma'arot Ginta:
Getting There
To get to the trailhead, we had to drive into the Gevaot Gad Nature Reserve, a really special place in Southern Israel. The last time we had hiked here, the whole area had been green and flower filled. But it came as no surprise that a few short months later, the terrain had already turned to shades of pale green and gold.
We drove down a very questionable dirt road. It wasn't exactly private car friendly (as opposed to 4×4), but our minivan made it! At the very least, we knew that we wouldn't be getting stuck in any mud at this time of year.
We hopped out of the car and walked towards a really beautiful picnic area. On that hazy day, this spot seemed isolated and otherworldly. It was enchanting.
Where Not to Go
We headed towards the Ma'arot Chazan Nature Reserve. From what we had read, we were fairly certain that most of the caves in this area would be closed to the public. But we still had to determine exactly how closed they were.
As we approached, we could see that the authorities were really not keen on the public entering these caves.  Each entrance was sealed with the usual metal and wooden grates.  And on top of all of that, someone had laid barbed wire.
We peeked around at the various caves, got a glimpse of an old farmstead, and then set out back on the unmarked trail towards the next cave system.
Simple Pleasures
Sometimes, all you really want is to hike a pretty trail in a quiet place. That Friday morning, that's really all we were looking for.
And this quiet, unmarked trail near Gevaot Gad certainly fit the bill. As we walked, it felt like we were truly isolated, amongst rolling hills and valleys. Soon, we approached a tall KKL watchtower. And wouldn't you know it? The ranger was up inside, and he waved hello as we approached.
We said hello back and spoke about the possibility of wildfire (he said it was low), and where he lived (in Sderot, where rocket alerts had been sounding all night long). And then, we wished him a Shabbat Shalom and continued on our way.
A Quiet Place
About mid-way through the trail, we noticed a place marked on the map. According to the user who marked it, the spot boasted a beautiful view, and was a great place to make a bonfire. We had no bonfire plans for the morning, but we did have a bag full of iced coffee and blueberry muffins. So we made our way up to the top of the hill and sat down under a tree next to a bonfire ring.
The views from that spot really were spectacular. We were surrounded by wild grain, which blew gently back and forth in the breeze. It was so, so quiet there. It's rare to feel like you're really all alone in this part of Israel, but that's how we felt in that spot.
It was probably one of the most enjoyable breakfast spots we've sat in in recent history. Between the rolling hills and the little purple flowers, it was just perfect.
Gone Caving
After breakfast, we continued on our journey towards Ma'arot Ginta, the next set of caves we wanted to explore. As we neared the caves, we saw a large flock of sheep grazing in the entrance.
We made our way through the herd and entered a small opening, concealed by an overgrown, wild fig tree. And then we entered into the coolest bell cave we've ever seen.
It was massive. There were several openings up top, each one letting in its own spotlight, casting a circular glow on the dark ground inside. We made our way from one side to the next, taking in the magic and wonder of Ma'arat Ginta.
Of course, someone had put up metal rungs to climb. Those cavers really are something! (Yes, we climbed them too.)
One More Stop
Next, we went to scout out the next cave in the system. This one was multi-chambered and included a long tunnel. It wasn't as spectacular or impressive as the bell cave, but it was still worth exploring.
A little while later, we had finished with all of our underground explorations and were on our way back to the trailhead.
Our journey through this quiet nature reserve in the south had been just what we had hoped for: easy, gorgeous, and full of adventure! In Israel, the nature underground is a welcome addition to the country's spectacular scenery.
Hikers' Notes:
Here's what you need to know to hike this trail to Ginta Caves:
This is a circular trail.
The road to get to the trailhead is not exactly paved. Drive with caution.
This trail is in an army firing zone (at least part of it is). Best to go on weekends/holidays or to call the army to coordinate in advance.
This trail does not use marked trails. Please download the Google Earth file before you go and make sure you can follow the map. You can also use the Amud Anan app.
This trail is best in the fall, winter, and spring.
Bring along a head lamp, along with sun protection and good walking shoes to hike this trail.
Don't forget to read my guide to the navigational features in this post before you hit the trail!
Trail map from Amud Anan.
Questions? Have you hiked to Gimta Caves? Let's hear about it in the comments!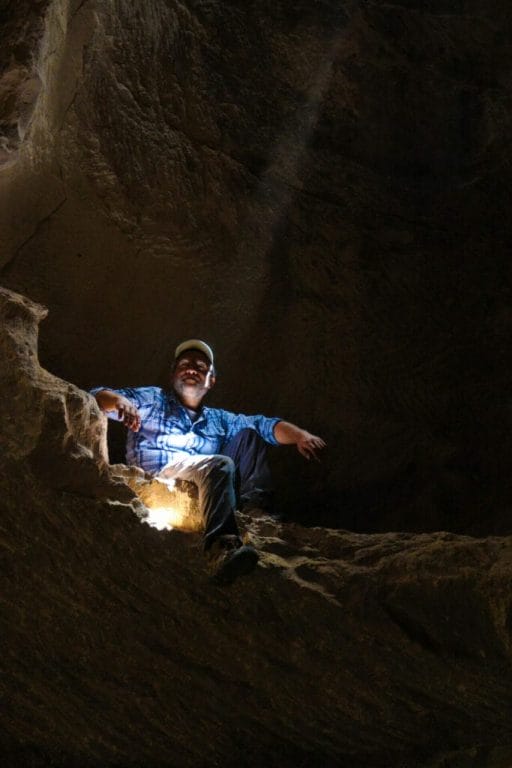 Hiking can be dangerous and is done entirely at your own risk. Information is provided free of charge; it is each hiker's responsibility to check it and navigate using a map and compass.