Summer is here – again! Isn't it funny how the season seems to surprise us every single year? If you have young kids, summer means a lot of activity time, whether you're in the mood for it or not. So instead of fighting against the summer current, go ahead and embrace long days full of fun with the family.
During the summertime, the best way to enjoy the season without breaking the budget is to hit the trails, especially in Israel where many paid activities are packed with people anyway. Of course, our hot Mediterranean climate here in Israel means that you're going to have to choose your hikes carefully. Every summer adventure should include either water, caves, or an option to hike at sunset (or sunrise!) Stick to these guidelines, and you'll find that there will be far fewer complaints from your crew.
To help you plan out your summer calendar, I've put together a newly updated list of perfect-for-the season hikes. Any of the trails on this list will guarantee a minivan full of happy campers rather than disgruntled tag-a-longs.
Let's get to the hike tips:
Ein Hindak
Is there anything cooler than a cave filled with freezing cold water? At this easy trail to Ein Hindak in the Jerusalem Mountains (near Hadassah Hospital), you'll get to hike along a pretty pathway towards just such a cave. Once inside, your gang will get to climb along in the darkness through deep water, with a few breaks along the way in pools of light.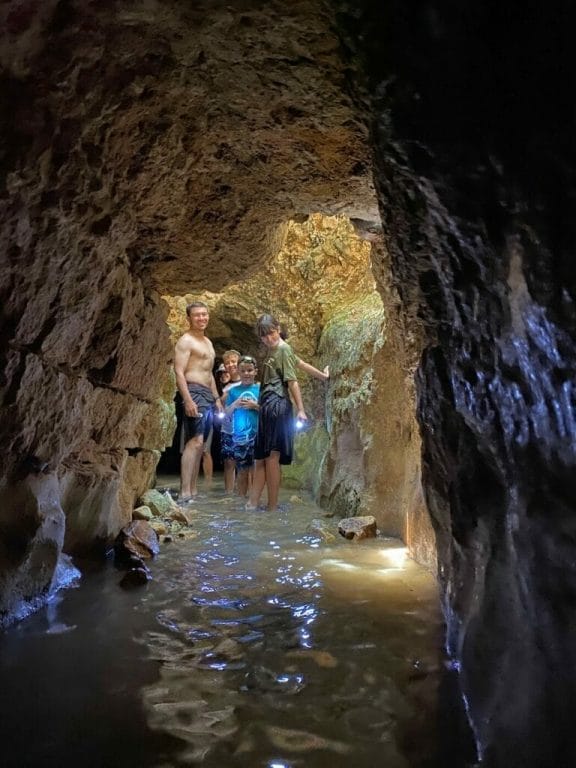 The best thing about this hike is that it's fun for the whole family. Even teens will think this cave is awesome.
For those who can't swim, it may be best to hang out in the shady pool of water right at the beginning of the tunnel – although I've seen parents carrying along kids with floaties.
The trail at Ein Hindak is 1.7 kilometers long. Read the full hike post with maps right here.
Masryk Park Sunset Trail
Just outside of Jerusalem near Beit Meir, there's a beautiful, short trail that leads to a magnificent lookout. The Masarek Park Sunset Trail is thus named because of the spectacular sunset you can watch from the lookout each and every day.
The trail towards the lookout is forested and lovely. It loops back past cool historical features, like old bunkers and more.
Bring along a picnic dinner and get ready for a hike at Masarek Park at the most beautiful time of day.
The trail at Masryk Park is 1.8 kilometers long. Read the full post with maps right here.
Ma'arat Hateumim
If you aren't hiking at sunset and you aren't hiking to a spring, the next best option is to hike in a cave. This awesome hike at Ma'arat HaTeumim near Beit Shemesh leads to a cool bat cave with a spring inside.
The trail itself is partially shaded, so it's best to hike it early or late in the day. Aside from getting to explore a dark and deep bat cave (bring a flashlight), your kids will also enjoy the smooth rock slide a bit further up the trail.
The trail at Ma'arat HaTeumim is 3 kilometers long. Read the full post with maps right here.
Nahal Prat at the Ein Prat Nature Reserve
Nahal Prat always tops the list of my favorite family hikes for summertime. This beautiful desert oasis thirty minutes from Jerusalem is absolutely beautiful. The springs and waterfalls at Nahal Prat are a hit with every underage hiker (and their parents).
Not only that, but there are a lot of hidden spots in the shade where you can hide away with your crew and enjoy the silence of nature. Listen to the music of birds chirping and frogs croaking while tiny fish nibble at your toes. And all of this occurs under a canopy of fig trees in a stream lined with fragrant mint.
This is one trail that's simply heavenly.
The trail at Nahal Prat is 1 kilometer long. Read the full post with maps right here.
Bat Ayin Springs Trail – Ein Livne
This hike is a bit off the beaten track, but it's worth stopping by for a visit. At Ein Livne, a quiet trail leads to a fun pool full of water, complete with Tarzan swing and all.
We've discovered turtles and frogs chilling out near this spring in the Judean mountains. Since the pool is quite deep, this trail is best for good swimmers.
When you've finished at Ein Livne, make a day out of it and visit Ein Tzurim right nearby.
The trail to Ein Livne is 1.2 kilometers long. Read the full post with maps right here.
The Biyar Aqueduct
Ready for some fascinating and very messy fun? The Biyar Aqueduct in Gush Etzion near Jerusalem is an incredible ancient aqueduct filled with knee deep water that you can actually hike through! Built during the Second Temple period to supply water to Jerusalem, the aqueduct was in use for about 2000 years.
Now, it's a great place to hike with kids. First, enjoy a 15 minute film complete with water sprays and mist. Then, brace yourself for the cold you'll experience as you walk through an incredible aqueduct towards a spring.
I said it before and I'll say it again: there's nothing better than water and caves in the summertime.
The trail at the Biyar Aqueduct is 150 meters long. Read the full post with maps right here.
Tel Afek/ Mekorot HaYarkon
Who says there are no hikes in Central Israel? At Yarkon National Park, there are two great places to explore: Tel Afek, and Mekorot Hayarkon.
At Tel Afek, you'll get to sit by a pretty lake, explore a cool fortress (do this early in the day), and then enjoy some kid-friendly water fun by splashing through a little stream. Mekorot HaYarkon is a shady place to see the source of the Yarkon Stream, feed catfish, and see a lily pad pond.
If you're looking for a longer adventure, you can hike from Tel Afek to Mekorot HaYarkon and back. This is best done earlier in the day when the weather is cooler.
The trail at Tel Afek is 2.4 kilometers long. Read the full post with maps right here.
Ein Reichania
Further north, near Zichron Ya'akov, Nahal Teninim (The Crocodile Stream) is the base for many wet hiking trails. One of our favorites is the short trail to Ein Reichania, a cool waterfall spring that's absolutely gorgeous.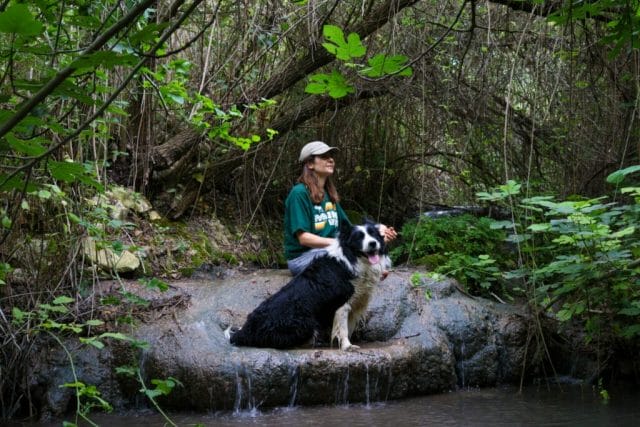 Nothing says summer like a water hike. And at Ein Reichania and the springs of Ramat HaShofet, you'll want to wade right in – the water's fine! Not only that, but the various waterfall pools are mostly shaded, so you can chill out away from the harsh rays of the sun with your crew.
The short out and back trail to Ein Reichania is 3 kilometers long. Read the full post with maps right here.
Dor Habonim Beach Trail
Also, near Zichron Ya'akov, the Dor HaBonim Beach Trail is a must for any list of family friendly summer hikes. This beautiful coastal trail leads from a sand beach along craggy cliffs with multiple inlets and tidal pools.
I absolutely recommend that you hike this trail at sunset. There's no place more magical in Israel to watch as the sky changes colors and night falls. Bring along a picnic dinner and find a nice flat rock to watch the show.
Then, you'll walk back to the trailhead accompanied by the sound of crickets and waves. Heavenly.
The trail at Dor HaBonim is 3.5 kilometers long. Read the full post with maps right here.
Lower Nahal Hermon
If you're looking for a really fun family adventure, head north to Lower Nahal Hermon. This cold, rushing stream is the continuation of what you see at Banias Nature Reserve. But at this part of the stream, you can actually enter the cool and refreshing water.
Walk up and down the stream with your crew or bring along inner tubes and float along the stream. There's simply nothing quite like floating along a lazy river in the summertime.
When you reach the end, you can walk up the pretty path, have a picnic in the sun, and then start all over again.
The trail at Lower Nahal Hermon is 2 kilometers long. Read the full post with maps right here.
Nahal Amud
It's an oldie but a goodie – Nahal Amud National Park in the Galilee is home to a beautiful stream, filled with secluded waterfall pools and interspersed with old flour mills and thick greenery. At Nahal Amud, you can spend the day splashing from pool to pool with your crew under an immense canopy of shade.
This 5 kilometer circular trail does include a descent towards the stream…and then an ascent at the end. But that may be what keeps this national park relatively quiet in the summertime (as compared to other parks in Northern Israel).
The trail at Nahal Amud is 5 kilometers long. Read the full post with maps right here.
Majrase
Last but not least, Majrase National Park is the place to head with kids in the summertime in Northern Israel. This hike through a stream is really less about hiking and a lot more about getting wet.
You'll feel like a character out of a movie as you wade through waist deep water surrounded by tall reeds and colorful dragonflies. Kids love this cool hike in Northern Israel – and so do their parents!
The trail at Majrase is 1 kilometer long. Read the full post with maps right here.
This summer, embrace the spirit of adventure and enjoy some free time with your family. These 10, family friendly hikes around Israel will put you well on your way to a summer to remember.