Click here to go straight to hike notes.
Ever want to get the feel of being out in nature without going for a super long hike?  Perhaps you need something stroller or wheelchair accessible, but still want to take a beautiful walk in a wooded area, complete with gorgeous views out to the surrounding hills?
If that's the case, the Sorek Lookout Path has got you covered.  This short little trail is one of our family favorites.  We often take late morning walks on the trail, stopping for chocolate popsicles at Café Bar Behar before we begin.  Or we pack up some bags and take an evening stroll in nature, finishing up with a bonfire dinner as the sun sets.
Even if you don't include food, this trail is really nice to know about.  Everyone has moments in life when a long hike just isn't in the cards: whether it's because you have a visitor along who can't negotiate uneven terrain or you yourself need to take it easy.  The Sorek Lookout Path near Nes Harim is the right choice for times like these.
This week, we decided to take another one of our late afternoon strolls along the path, finishing up with both a bonfire and popsicles at the end. The accessible trail is not a big commitment, and therefore, we were able to squeeze it in one afternoon after Zoom school.
As always, my kids had a blast. What could be better than an easy walk in nature combined with playgrounds and hot dogs?
Here's how we took a short hike along the Sorek Lookout Lookout Path:
So Many Options
This trail is so short that you can easily start from either side!  We parked at Bar BaHar, a popular café that's also the starting point for several cycling and hiking trails.  That day, the lot was pretty crowded.  It was a gorgeous afternoon.  All of the picnic tables were full, with families out enjoying a nice meal in nature.
If we hadn't been able to find a spot, we would have parked at point B, the other end of the trail. This trail leads out and back along a 750 meter walking path, so it doesn't make much difference where you begin.
We found a spot easily, got out of the car, and got started, walking past the crowded picnic tables and onto the quieter part of the trail.
Simplicity
This trail is pretty classic.  It's paved and shaded the whole way through, so it's a really good walk for any time of year.  In the winter and spring, some wildflowers blossom on the sides of the trail, but nothing too show-stopping.  For the most part, it's just a nice stroll through nature, with birds chirping and a breeze rustling through the trees.
My kids loved walking on the sides of the trail, where they could balance on the flat rocks that line the paved path. They also ran back and forth, did cartwheels, and everything else that paved pathways are perfect for.
Towards the middle of the walk, we passed a set of stairs, leading up towards a playground and a picnic area.  We would be coming back to this spot later on.  There are two fire pits up there in the trees, perfect for an early evening cookout.
For now, we continued along, taking in the beautiful views to our right. We passed a few wooden benches, perfect for sitting on a summer evening (yes, with a peanut butter chocolate popsicle!). And before we knew it, we were nearing the end of the line at parking point B.
A Place to Start or Stop
The end (beginning?) of the trail is also a really nice place to stop for a few minutes.  There is some exercise equipment and a big wooden deck.  Along the deck are signs explaining the surrounding area.  My five-year old looked closely at one sign, identifying the katlav tree that was right beyond the fence.  The next sign showed a bird that's native to the Jerusalem Mountains.  My son wondered where the bird was in real life.
In the past, we've stopped and made a bonfire right at this spot. But that day, we decided to turn back and head towards the trees. There was a great fire pit up the steps that we had our eye on.
Best Part of the Day
Back down the trail and up the stairs we went, passing up the first fire pit and playground (it was too full of trash).  We wandered over a hill to the next one, cleaned up a bit, and settled around the stone circle.
Then, we gathered wood, sticks, and pinecones for our bonfire.  Some of the families on the nearby playground helped us with that part.  When we had accumulated a (little) pile, we got the fire started.  Hot dogs, marshmallows, and hot soup from a thermos completed our bonfire out in nature.
When you have a bunch of little kids, it's nice to have dinner outdoors sometimes. The kids were free to run and play while they ate – no need for manners at this bonfire dinner. We adults relaxed in the stone circle while the sun began to set. The world around us quieted down as the playground emptied out.
One Last Stop
When it was almost dark, we put out the fire and got back on the trail.  A short walk later and we reached Cafe Bar Bahar again.
Then, we made a quick stop for desert (I just can't leave this place without eating a popsicle), and our nature walk was done. The Sorek Lookout Path was a great outing as always.  The kids climbed back into the car satisfied, happy, and ready for a good night's sleep.
Hikers' Notes:
Here's what you need to know to hike the Sorek Lookout Path:
This trail is great for all seasons.
Good for families. This trail is stroller friendly and handicapped accessible (except the part up the steps, which you can skip).
Suitable for dogs.
There are facilities at the trailhead.
You can Park either at Bar Bahar or Point B. Then follow the paved path to one end and turn around.
Check out other hikes that leave from this trailhead: Katlav Scenic Trail, True Nahal Katlav, Nahal Sorek and Beyond.
Don't forget to read my guide to the navigational features in this post before you hit the trail!
Trail map from Amud Anan.
Questions? Have you hiked the Sorek Lookout Path? Let's hear about it in the comments!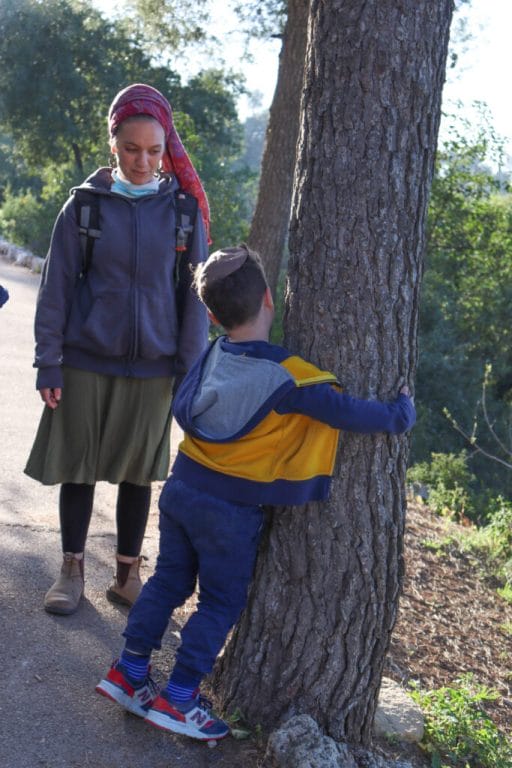 Hiking can be dangerous and is done entirely at your own risk. Information is provided free of charge; it is each hiker's responsibility to check it and navigate using a map and compass.