Click here to go straight to hike notes.
It's the most wonderful time of the year: flower season in Israel!
These are the days when we just can't get enough of being outside. If you're hiking right now, it's hard not to discover a field of wildflowers. They're especially prevalent in Southern Israel (now is the time for Darom Adom, or Red in the South).
This past Friday, we looked for a loop trail which would be short enough for our two boys, but long enough to really get lost in. We also wanted something in the South which wasn't a long drive away. After consulting the map, we came across the Shaharia Forest (otherwise known as Malachim Forest), which we had visited before.
We remembered that it was very beautiful, and decided to try to create a nice, 5K loop walk through the forest.
The hike was perfect.
There were flowers of every type, from cyclamen, to mustard blossoms, to red anemone and more. Although the trail wasn't too long (and was also in a somewhat confined area), it felt like we were really lost in nature. Every section of the trail was completely different. One thing that remained the same throughout the hike was the beautiful mix of sun and shade, in the form of pine and carob trees.
My kids had an amazing time…and so did we. Here's how we hiked this 5K Loop in the Shaharia Forest:
Flower Power
We pulled into a picnic area, and got started on the blue trail, up a little hill covered with fallen pine trees. This part of the path was narrow and wild. Yellow mustard blossoms poured over the sides of the trail, brushing by our feet as we walked.
There were lots of interesting things to see: we counted the rings on stumps of cut trees. And we examined root balls at the bottom of fallen pines. Between the flowers and the pine wood, the smell was simply heavenly.
This part of the hike was also known as The Winepresses Trail. Along the path, we saw an ancient winepress or two popping up from inside the sea of blossoms.
History Break
At the end of this path, we reached Hurvat Keroa, the remains of an old synagogue and water cistern/ritual bath. Truth be told, when I'm surrounded by beauty of the type that is in Shaharia Forest in February, antiquities don't really entice me.
But I can't say the same for my kids. They loved climbing the walls of the ancient structure and peering down into the depths of the cistern, imagining what it was once like when filled with water. They pointed out the various rooms inside, speculating about what each one was used for. And then we were on our way, down a flat road past more fields of beautiful blossoms.
Carob Trees and Cyclamen
As we walked down this part of the path, my son noticed carob, lots of it. He looked for the perfect tree to climb to grab a few of the sweet pods. When he found one, he scurried up and picked enough for all of us.
This was very good, because as usual, the kids were already hungry. The carob kept them happy while we searched for the perfect spot to sit. We passed cows grazing on the hills, sets of picnic benches, and big butterflies as we walked.
At the end of the road, we reached a large picnic area (not eating there – there were fields of flowers to sit in!) and continued on to another short trail: The Olive Press Trail.
When we reached the Olive Press Trail, we knew we had found our picnic spot. Cyclamen sprouted in abnormal quantities, turning this rocky, forested trail into a field of pink magic. We found a spot on a flat rock (there were lots of those) and stopped for a long break in a world of beauty.
Peace in a Forest
Total tranquility was ours in Shaharia Forest. On that particular part of the trail, we were all by ourselves, free to prance around in the cyclamen and take in the beautiful views out to the fields and valleys beyond. Over coffee and apple muffins, we fell into a place of total relaxation. Time slowed down. All that we heard were the birds chirping and the sound of the wind in the trees.
After a long break, we continued walking along the Olive Press Trail. Everywhere we walked, cyclamen sprouted. In February time, this was the perfect place for a frolic in a field of flowers. It seemed that other people had heard about this spot too – as we reached the end of the trail, we encountered several families walking along.
Meadows
On we continued, past ever-changing scenery. First, we reached a beautiful meadow, spattered with olive trees, tall grasses swaying in the wind. A bit further, and we reached a ridiculous field of flowers, one that we just couldn't resist running through.
In that field, classic red anemones grew along with all kinds of other blossoms, creating a colorful stomping ground that no kid could pass up. We left the main trail to skip through the field. It was wonderful.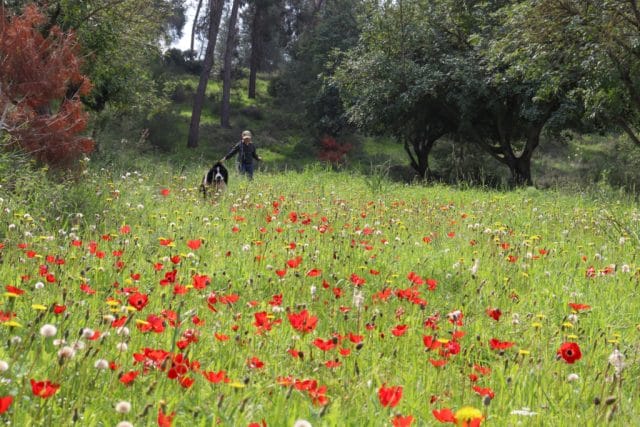 Next, we continued on along a more forested part of the trail. My son, yet again, decided that we needed carob for our journey. So, every few minutes he stopped to climb one of the many carob trees along the trail.
Luckily for me, the carob trees in Shaharia Forest seemed to be enjoying a symbiotic relationship with asparagus plants. Everywhere we stopped, there were spears of asparagus on plants at the foot of the tree, just waiting to be picked. Both my son and I lucked out, gathering our favorite goodies from inside this incredible forest as we hiked.
A Magical Morning
As we neared the end of the 5K Loop, my boys mentioned how much they had loved the trail. And who can blame them? Flower fields, forests, trees to climb, and things to gather make any little loop trail a fantastic adventure for kids. At Shaharia Forest in February, a variety of beauty comes together to create a wonderful place to wander.
Hikers' Notes:
Here's what you need to know to hike this trail in Shaharia Forest:
This trail is good for all seasons, but will be hot and dry in the summertime. It is most beautiful in winter and spring during flower season.
Good for kids.
Suitable for dogs.
Make sure to get here early on Fridays or vacation days. Alternatively, hike this trail on a weekday. This is a popular forest and can be crowded.
The trail isn't super easy to follow. You can use the Google Earth file, trail marker gallery, and trail map to help you find your way. It won't always be completely clear where to go (lots of unmarked trails) unless you use the Google Earth file. That said, this part of the forest isn't very large. It would be fun to just wander too.
Wear a hat, walking shoes, and bring plenty of water for this trail.
Free entry, no facilities on site.
If you'd like, you can go straight to the short cyclamen trail (Olive Press Trail). This path is beautiful in the wintertime!! Just drive to Parking Point B. Make sure to get there early on Fridays.
Don't forget to read my guide to the navigational features in this post before you hit the trail!
Trail map from Amud Anan.
Questions? Have you hiked this trail? Let's hear about it in the comments!
Hiking can be dangerous and is done entirely at your own risk. Information is provided free of charge; it is each hiker's responsibility to check it and navigate using a map and compass.