Click here to go straight to hike notes.
Yippee! We're free to frolic in a field of flowers. And guess what? It's the first week in February – also known as the best week to see the red flower explosion in southern Israel.
Conveniently, lockdown's out just in time for anemone season. So today, to celebrate our freedom, we headed south to Shokda Forest, in the same region as the Ruhama Badlands, Pura Valley, and the Be'eri Forest.
Our goal for the day was to take a short, 4K walk which wouldn't be too strenuous (kids still home from school). We wanted to spot lots and lots of beautiful red flowers, but not spend all morning wandering in the sun.
Our little hike through Shokda Forest met all of those requirements and more. We had a great day out just a long car ride away (finally) and got to experience the badlands region of the South at its best. Green rolling hills, blue skies, and crimson fields of anemones gave us just the scenery we were looking for. And there were plenty of trees for shade.
Here's what we saw on our 4K loop trail through Shokda forest:
Frolic in a Field of Flowers? Yeah!
As we pulled into the dirt parking lot in Shokda forest, we could already tell that this was going to be an amazing adventure. To be fair, we hadn't been this far from home in at least five weeks – since the lockdown officially started. But still, it's always a treat to see Israel's southern region turn green and glorious after the winter rain.
We stepped out to perfect weather and birds chirping. In the distance, we could already see giant patches of red anemones, little white butterflies flitting from flower to flower. While we got organized for our hike, we sent the kids off to play in the playground at the trailhead. They hadn't been on one of those in a while.
Next, we got ready to set off on the trail. But before we could get more than a few meters past the trailhead, we were distracted by a sea of anemone flowers. There was no stopping my kids from running off to frolic. Something about a field of red blossoms just does that to kids (or to pretty much anyone).
We watched our kids do handstands, skip around, and stop to smell the flowers. Then we coaxed them along down the main trail.
Towards the Forest
We walked on a main road for a while, past a world of crimson. Then, we reached the blue trail, where we made a left into a forest of Eucalyptus trees.
Of course, where there are trees, there aren't a lot of flowers. We were a little sad to see the bulk of them go. But on the other hand, it was nice to walk under a canopy of shade for a while.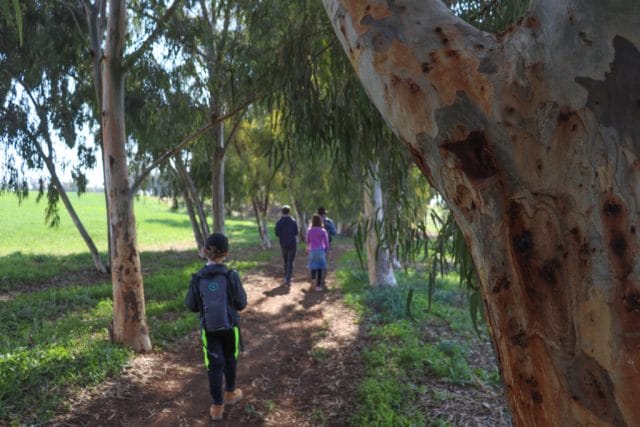 Soon, we heard loud bleating. Just up ahead was a large flock of sheep, grazing in the green grasses and flower patches of Shokda forest. For some reason, a couple of our kids were a little bit upset by all of the commotion (bleating, sheepdogs barking, shepherds calling orders to the dogs), so we pushed on through the trees to find a nice quiet spot for a picnic.
Soon, we reached a perfect place: patches of red flowers grew in rolling grass. Small shade trees grew here and there, providing a great mix of sun and shade to stop and rest for a while.
Pretty Sure it Doesn't Get any Better than This
We spread out our picnic blanket, distributed muffins, pita, and omelet sandwiches, and sat down for a serious brunch in nature. We were surrounded by the type of scenery that I've only seen in Israel: blue skies, rolling hills, clusters of trees, and flowers right in the middle of February.
After our kids ate (at the same time that we adults finally managed to sit down with our coffee), they ran off. One played fetch with our border collie. Another pulled apart wild wheat to discover little grains inside its pods. We were blissfully happy and content to be relaxing in that picture perfect spot.
After a while, a flock of sheep grazed into view just over the hill. We took a few pictures of the pastoral scenery of Shokda, packed up, and were on our way.
Tree Time
After that, the trail led us through a dark and shady forest – and we were really happy to be there. With all of their running around, the kids were hot. It was nice to be able to cool down in the shade.
On the sides of the path, all sorts of winter wildflowers sprouted. Stinging nettle covered up white mushrooms that grew under pine and eucalyptus trees. The scent in the air was heavenly.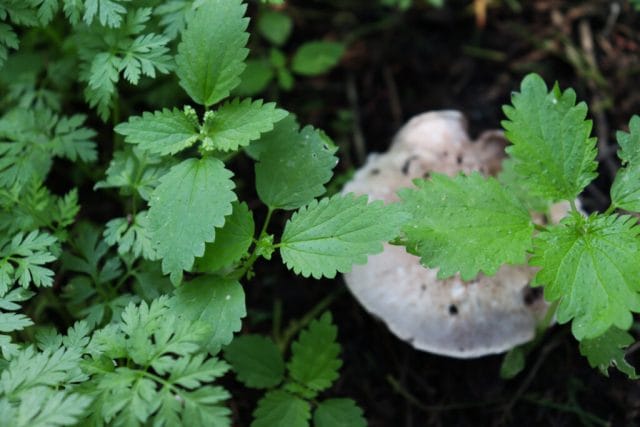 We wound our way along the twisty path through the trees for quite a while. Finally, as we looped back towards the trailhead, we made a right onto a large road again.
Take Home the Memories
After a short walk along the road, we returned to the main area for flower peeping. Since the time that we had left the spot (about two hours earlier), many visitors had arrived on the scene. They were mostly sitting and strolling, some with beach chairs and others with cameras. Everyone loves red flower season in February.
My kids really wished that they could take some anemones home. But we reminded them that calaniot are a protected flower and can't be picked. They would have to take them home in their memories instead.
We finished up our walk and got back into the car, feeling happy and refreshed. Our walk through Shokda Forest had given us an opportunity to see red flowers and take a walk along a quiet trail. This 4K loop trail was just what we needed for a great escape in early February.
Hikers' Notes:
Here's what you need to know to take this 4K loop through Shokda Forest:
This hike is suitable for whenever there is cooler weather, but it is especially well suited to late January through mid February, when anemone flowers blossom. Don't try this trail in the summer time. It probably won't be pleasant or particularly beautiful.
Great for kids.
Suitable for dogs.
Suitable for cycling.
Bring a hat, good walking shoes, and plenty of water.
The trail markers aren't great on this path. From the playground, follow the road to the left towards the beginning of the blue trail. Make a left at the blue trail and follow the path until you reach the red trail. At the red trail, make a right. Follow this path back to the main road. Then make a right on the road and follow it back to the car.
Use the Google Earth file in the table up top to help you find your way. (Or use Amud Anan.)
Don't forget to read my guide to the navigational features in this post before you hit the trail!
Trail map from Amud Anan.
Questions? Have you hiked through Shokda Forest? Let's hear about it in the comments!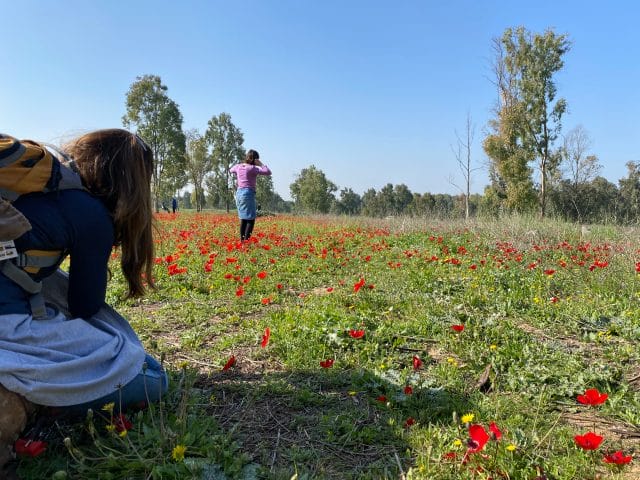 Hiking can be dangerous and is done entirely at your own risk. Information is provided free of charge; it is each hiker's responsibility to check it and navigate using a map and compass.