Click here to go straight to hike notes.
We just finished up the last week in February. That means that all over Israel, we are saying goodbye to red flower season. Some red anemones are still in blossoming in fields and patches around the country. But not for long.
During February, you can see anemones all over Israel. But the absolute best place to witness a mass explosion of red is in Southern Israel, in the Besor Region. There, flat sunny plains and warm weather are the perfect environment for these red flowers to grow in abundance.
Last week, we decided to head down to Be'eri Forest in the South to see if we could catch one glimpse of fields of red before saying goodbye. Be'eri had been on our to-do list all season long. We figured that even if there weren't many flowers left, we would still get to take a nice walk in a warmer part of the country. Also, we needed something short and flat (thanks to a minor foot injury!). This 4K loop trail amongst meadows and flower fields was just the thing.
As it turned out, there were still lots of flower fields all around Be'eri. But we didn't see many anemone patches on this particular loop trail (also known as the Anemone Trail, according to the map). We did get to enjoy warm temperatures, sunny skies, and green meadows on a winter day. We also met a flock of sheep, did some bird watching, and took a detour to walk along the Grar River which runs through Be'eri in the wintertime. It was a beautiful place to hike.
Here's how we walked this 4K loop trail in Be'eri Forest:
A River Runs Through It
We started off the day in the car with our map, planning out an adventure through the forest. The one challenge with Be'eri (and many KKL forests) is that most of the paths were cycling trails. This meant that they were much, much longer than usual hiking trails. But after studying the map for a while, we found a small loop that was part of a long biking trail.
Next, we set off off to find the trailhead. But that day, the Grar Stream was flowing right through the road, making it impossible to cross by car. Instead, we backtracked in the car and found a new place to reach the trail from the side of the highway.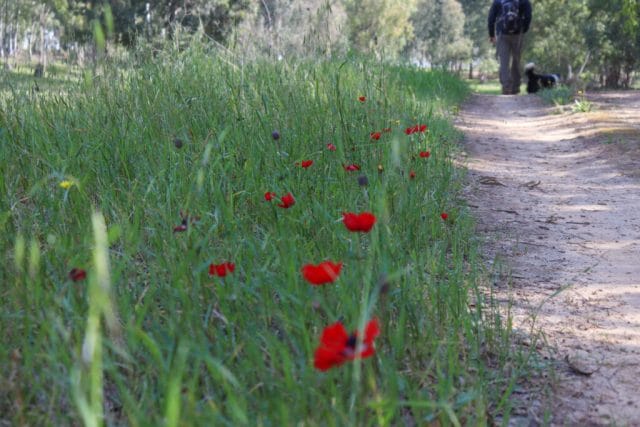 We emerged from our car into the beautiful mid-February sunshine. After taking off our sweaters, we set out on a narrow pathway that through the trees.
Rolling Hills and Green Meadows
We were on the search for anemone flowers. At the main part of the park we had seen a few sprawling fields of leftover blossoms, but on this particular trail, there were only small patches here and there. Perhaps it was because the best part of flower season had already come and gone.
Either way, we enjoyed the rolling hills and meadows of Be'eri. Past the trees, green fields extended out for miles. Up above, birds chirped and swooped in the clear blue sky. It was a great place to walk in the middle of winter.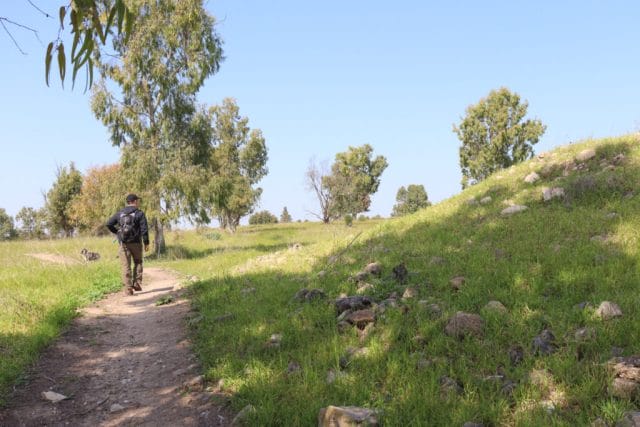 We passed by an old well lined with cactus, headed back through the trees, and found ourselves in another large clearing. Big birds circled overhead. We wanted to stop to see if we could catch them up close. We found a shady spot under a lone tree and got comfortable in the wildflowers and grass to watch the birds.
Breakfast Guests
Those birds never did get close enough to photograph. But we did enjoy watching them circle in close, gliding on the wind, their forked tails rigid in the air.
We pulled out our thermos and set up breakfast. As we sipped hot coffee, I imagined what the scenery at Be'eri would look like in other types of weather. On a cloudy day in the wintertime, the lush green terrain would probably be vibrant and dramatic. Since the weather is generally warm in the South, I imagined it would be a perfect escape from the cold mountain temperatures around Jerusalem on a winter day.
Mid-way through our coffee break, we heard bleating sounds. Our border collie perked up, his ears standing at attention. And we watched as a large flock of sheep came to graze in the meadow, their Bedouin shepherds right nearby.
They were speckled and fluffy, immersed in grazing while white birds followed along. Some of them were entranced by our dog, the natural relationship between sheep and sheepdog evidenced by their reaction to his presence. The sheep looked particularly picturesque in the green meadows of Be'eri, and I spent lots of time taking photos.
To the Grar River and Beyond
When the flock had wandered off and we were all done with our break, we brushed ourselves off and set out back on the path to follow the same cycling trail as before. The trail wove through meadows and patches of trees, finally reaching a strange structure near a sheer cliff edge. We walked past the structure and found ourselves on the blue trail, walking right along the Grar River.
This was the very same stream that had blocked the road before. This time, we could walk down into the tall grass and see the water flowing from up close. It was a pretty stream, and it's always a nice surprise to find water in Southern Israel. As we walked on the trail, we found several spots where it would be nice to stop and sit a while, with views of the twisting stream down below.
Soon, we turned back onto the cycling trail, following the narrow pathway back to complete the loop. More red anemones sprouted on the side of the pathway. The sun shone brightly in the sky, making it feel more like a pleasant day in May than mid-February.
Mid-Winter Escape
We returned to our car and took stock of the morning. This particular loop trail in Be'eri may not have been the best place to see sprawling fields of red flowers in February – but those flower fields were easily accessible by car, just a few minutes drive away. What this hike was good for was a warm weather walk in the wintertime, an escape to green meadows and cheery scenery in Southern Israel.
Hikers' Notes:
Here's what you need to know to hike this trail in Be'eri Forest:
This hike is best suited to the winter months. It gets very hot and dry here during all other seasons.
This would be easy enough for kids. It's not a super-interesting walk, but it's nice and easy.
Suitable for dogs.
The trail markers for the cycling trail are not always easy to follow by foot. You can tour Be'eri with a bicycle (definitely the best way to visit this park), or use the Google Earth file to find your way along the trail without getting lost. If you try to use the trail marker gallery and map along with trail markers, you will probably find yourself wandering a bit.
Important directional info: while this loop is not easy to follow, it's also difficult to get too lost as it is a small loop but make sure not to veer off the loop onto the much longer (30K) bike trail. Take a look at the trail marker gallery to see a photo of the spot where the trail splits!!!
If you'd like to take a walk in February and also see lots of flowers, visit the Main Parking Area first. You'll see plenty of anemones there. Then, follow this loop trail for a pleasant walk through forests, fields, and some flowers.
You can also begin this trail from the Main Parking Area if the river is crossable. Use the Google Earth file to find your way from the second starting point.
Here's a link to the KKL map of the Be'eri Forest. The loop that we hiked is in the lower left hand side of the map, marked at "Single Calaniot."
The Grar Stream is a fun sight to see during rainy season, when it is flowing strong after the winter rains.
Try visiting this trail on a cold and overcast day for warmer weather and dramatic green scenery in mid-winter
Don't forget to read my guide to the navigational features in this post before you hit the trail!
Trail map from Amud Anan.
Questions? Have you hiked in Be'eri Forest? Let's hear about it in the comments!
Hiking can be dangerous and is done entirely at your own risk. Information is provided free of charge; it is each hiker's responsibility to check it and navigate using a map and compass.