Ah, February! Back in the days when I lived in the United States, the month of February really wanted to evoke feelings of spring.  From pastel colored Valentine's Day candies to the release of upcoming spring fashions, one could almost imagine that February wasn't the cold and wintry month that it felt like.
But it was. 
Especially in the northern United States (where i lived for a few years), February was not a time for blossoming flowers or lush greenery.  Rather, it was the part of the year when the snow piled up, ice sheets formed, and plants and trees remained endlessly bare.  It was a cold and forbidding month, one that was the polar opposite of springtime.
Here in Israel, on the other hand, February means flower time.  Just as the month begins, pockets of red anemones pop up in a scarlet flash from their long hibernation.  Throughout the month's stormy days, Israel becomes more and more beautiful.  This is the season to get out there and enjoy an incredible transformation and spring-like scenery on the trails.
So, what are you waiting for? Seize the day and go flower peeping while you can! In rain or shine, there's a flower filled trail waiting for you.  Here's a list of some of my favorite flower peeping locales around Israel:
Ramat HaNadiv
The Zichron Ya'akov area is known for many things, one of them being beautiful scenery.  Right on the coast and just at the edge of the Carmel mountains, this part of the country has some of the most picturesque views around.
But what happens when you combine gorgeous sea views with abundant wildflowers? Head on over to Ramat HaNadiv to find out.  This beautiful reserve near Zichron Ya'akov is full of lush greenery and colorful wildflowers during the months of February and March.
Along the trails at the park, you'll also find an ancient aqueduct and spring, the remains of a Second Temple settlement, and an ancient villa overlooking the sea.  Follow the trail past free growing yellow mustard flowers and fields of red cyclamen.  When you're finished with a morning full of flower peeping, you can stop by the Mata'im café on the outskirts of the reserve for a relaxing lunch in a beautiful setting.
The full loop trail at Ramat HaNadiv is 6 kilometers long, but it's easy to shorten. For maps and the full hike description click here.
Shaharia Forest
Not too far from Kiryat Gat, Shaharia Forest awaits, full of plentiful wildflowers along with show-stopping cyclamen beginning in the month of January.  Shaharia (otherwise known as Malahim Forest) is one of my favorite lesser-known flower peeping spots.
You can take a mid-length 5 kilometer hike through the forest, to take a tour of all of the best flower fields in the park. Along this trail, there are wild asparagus growing aplenty, along with thick patches of shade trees, sunny fields, and even some ancient ruins. All of this variety means that there's a lot to see in Shaharia, from pink cyclamen to crimson anemone flowers.
If you aren't up for a long hike, you can drive right to the most beautiful cyclamen patch instead.  Pack a picnic blanket and brunch in a basket and get ready for a spring-like morning in a field of wildflowers.
This hike at Shaharia is about 5 kilometers long. Click here for maps and a full hike description.
Mount Tavor
I can't write a list of favorite flower spots without mentioning the Tavor area, in the Lower Galilee.  And since I always wax rhapsodic about the Tavor Stream and its incredible display of wildflowers, I figured I'd give a shout-out to the stream's partner in crime, Tavor Mountain.
You can climb up and down Mount Tavor, or you can drive right to the top.  Up top, there's a little loop trail that takes you past beautiful views and fields of wildflowers.  Looking out on the lush greenery of the surrounding landscape in February, it's hard to believe that it's the middle of the winter.
And added bonus to flower peeping at Mount Tavor is that it has a rich and fascinating history. The biblical battle of Deborah and Barak with Sisera happened at the foot of the mountain.
Of course, if you're visiting Mount Tavor, you may as well stop in on the Tavor Stream as well.  This is my favorite flower filled hike in the country.
The circular trail at Mount Tavor is 2 kilometers. Click here for the full hike post with maps.
Pura Nature Reserve
Everyone in Israel knows that during the month of February, Southern Israel is the place to go.  In the south, a yearly festival called "Darom Adom", or Red in the South is held in the Besor Region.  This festival celebrates the emergence of masses of red anemone flowers or calaniot, the national flower of Israel.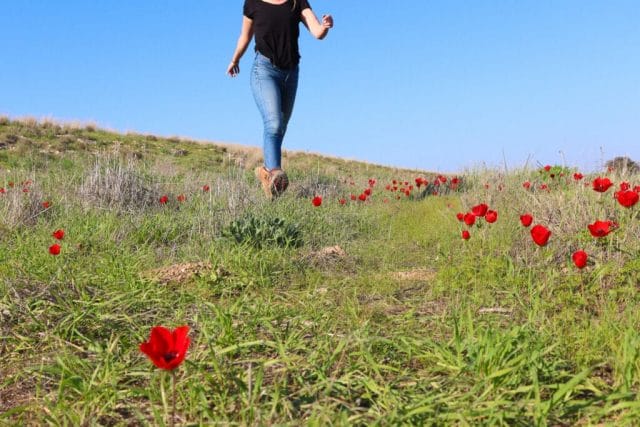 One of my favorite places to see red flowers in the Southern Israel is at Pura Nature Reserve.  This pretty reserve has a lot of character.  There's a stream running through, along with a picturesque Ottoman Era bridge and an ancient tel.  Best of all, there are wildflowers in abundance, from the parking lot all the way out into the distant trails.
It's worth a visit to the south in February to see this unique flatland terrain transformed into a multi-hued paradise. Pura is a wonderful place to take a flower peeping hike in the wintertime.
The circular trail at Pura is about 6 kilometers long. Click here for maps and a full hike description.
Tel Maresha & Beit Guvrin
Most people don't think of wildflowers when they think of Beit Guvrin.  Usually, they think of ancient ruins, underground dwellings, old artifacts, and cool caves.
But the landscape in Beit Guvrin is also just perfect for winter flower growth. This is especially true at Tel Maresha, a hill in the park which is made up of layer upon layer of ancient settlements.
In late February and early March, this hill becomes covered with a carpet of red flowers.  Visit on a cloudy day to get the best impression of the rich reds and greens that cover Tel Maresha.
The easy trail at Tel Maresha/Beit Guvrin is about 2 kilometers long. Click here for the full hike post with maps.
Adulam Reserve
So far, I've mentioned great flower peeping spots in distant places all around the country.  But if you're visiting Jerusalem (or live in the area) you don't have to travel far to find gorgeous wildflower displays on a hiking trail.  In fact, one of the best places to see gorgeous wildflowers in February and March is at Adulam Reserve, a sprawling park in the Jerusalem Lowlands.
In Adulam, there are forests and flatlands, ancient ruins and underground caves.  Between all of these features, fleeting wildflowers grow in February and March, in every shade and color. 
There are so many great wildflower hikes around the park that it's hard to choose just one.  This easy loop trail at Adulam is a nice way to see plentiful wildflowers while enjoying some of the forests and ancient ruins that make Adulam unique.
The loop trail is about 5 kilometers long. Click here for the full hike post with maps.
A Spring-Like Season
Thankfully, winter in Israel is nothing like the coldest season in some other parts of the world.  This winter in Israel, lace up your hiking boots and hit the trails – now is the only time to see the magnificent wildflower displays adorning the country's landscape.