Click here to go straight to hike notes.
The first time I visited Rosh HaNikra I was fifteen years old. I remember being struck by the beauty of the place: the white rock, framing turquoise waters inside the grottoes. It felt like some secret pirate lair, or a mermaid palace.
Since that visit, I've been back to Rosh Hanikra many times. Despite the many tourists and the cable cars, it's still one of my favorite attractions in Israel. And on one visit a few years back, while we were gazing out at the islands off the coast, we noticed a trail that followed the shoreline towards Achziv. At the time, we made plans to return to Rosh Hanikra and follow that trail.
Last week, we did just that. On an overcast and drizzly morning, we made the two and a half hour drive to Achziv National Park where we began our day. Then, we hiked up the coastline, exploring tidal pools and rocky crevices as we followed the trail all the way up to Rosh Hanikra. The sky was filled with dramatic grey clouds, and the area beyond the coast was green and flower filled. Just as in the Rosh Hanikra grottoes, the sea was a deep turquoise blue. It was a wonderful morning.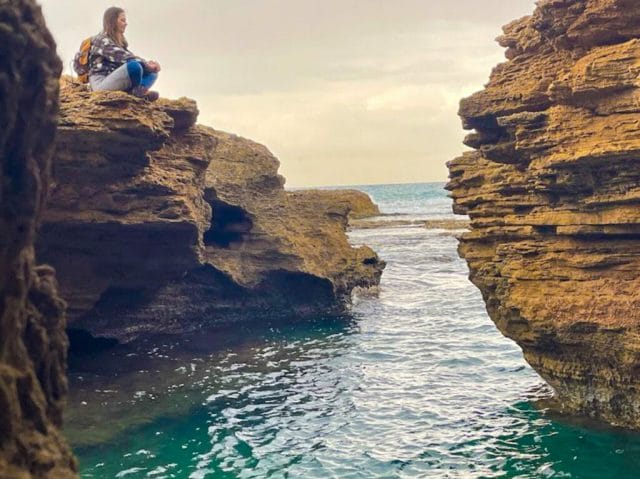 Here's how we hiked this 7 kilometer, one way coastal hike from Achziv National Park to Rosh Hanikra:
Where to Begin?
After a few failed beginnings (at the Achziv neighborhood of Nahariya, and then at the Achziv National Park), we found the beginning of the trail just outside of the popular Achziv national park and campground. Once we set out on the trail, we were now officially in the Rosh Hanikra – Achziv Marine Nature Reserve.

To one side, we could see forests and fields, to the other the coast. This was the exact spot where we began our Yam el Yam hike a couple of years ago, the trail that leads from the Mediterranean Sea to the Sea of Galilee. We strapped on our backpacks and began walking.
Our first stop was a memorial to the Ma'apilim, the Jews who bypassed the British during mandate times to immigrate to Palestine. It seemed to be in disrepair, but we enjoyed reading about it online, where it said that it was built from pieces of the ships that they used to reach Israel.
Next, we followed the asphalt paved path along a beautiful coastline. It was cold outside, and a little bit rainy. Our goal was to warm up our blood with some fast walking and get away from the highway noise as quickly as we could.
We're There!
Pretty soon, the traffic noise disappeared, to be replaced by the overpowering sound of crashing waves. Having just spent a summer at Acadia National Park in Maine, I was reminded of the coastal hikes there. In Maine, there's a place called Thunder Hole, where crashing waves sound like thunder on the shore. Tourists flock to the spot.
On this coastline in Northern Israel, we had our very own thunder hole all to ourselves. Watching the waves crash against the rocky shoreline, we knew that we had found our morning coffee spot.
Breakfast and More
We sat down on the dry rocks, just above the crashing waves. It was chilly out there, and I was eagerly looking forward to a hot cup of coffee poured from our thermos. Soon, coffee in hand, we were free to enjoy the magnificent show of the waxing and waning waves. Strawberry overnight oats were the perfect accompaniment to the magnificent views.
In the shadows of a jagged rock, I noticed two smooth red bumps. After we finished eating, I crept down to try to touch them, making every effort to avoid the crashing waves that drenched the inside of the rock every few seconds. I didn't stay completely dry, but I did discover that the red bumps were smooth and soft and planted firmly into the rock. They seemed sort of like snails without a shell.
I moved to another spot to take pictures of the waves crashing into the shore. It was then that a massive wave overtook me on my precarious spot on the rocks, drenching me completely. First I had to get over my shock, then I strapped on my backpack and got ready to move. It was time to keep going.
Sea Sights
Luckily, this was an easy walking trail – it wasn't difficult to hike quickly and warm up. As we climbed over rocks and took in the scenery, I dried off bit by bit.
What most impressed me about this area was the quiet. We felt fully immersed in nature. This is rare for coastal trails. At the Rosh Hanikra-Achziv Marine Nature Reserve, it really felt like we were in a nature reserve, not some urban coastal trail with a pretty shoreline.
We passed by low walls of rock, and little tidal pools, each one full of marine life. This too reminded me of Acadia, where we picked up starfish in tiny pools off the sea.
After a few kilometers of beautiful walking, we found ourselves at the foot of Rosh Hanikra. Here, we crept into our own private "water cave" – a little inlet of turquoise water flowed in and out of dark grey rock.
To Rosh HaNikra
Our plan was to climb up to Rosh Hanikra and visit the grottoes. But when we reached the top, we encountered a massive group of young tourists. There was no way we were going to get a cable car any time soon – and even if we did, it probably wouldn't have been a very serene experience to visit the grottoes with a loud and boisterous group. So, we left the grottoes for next time and called a cab to get back to our car.
Last Stop
A short ride later, we were back at the trailhead. Before heading off to complete our errands in the north, we made one final stop at the Achziv National Park right nearby. We wanted to see the historical artifacts at the site.
Turns out, Achziv National Park is more of a beautiful picnic area and campground than anything else. There are historical buildings at the site – from Ottoman and Roman periods – but there were no signs or anything else to explain what we were seeing. We spoke to a chilled out ranger who basically said, "There are some old buildings here – and a really nice place to have a picnic!"
It was quite pretty. And as we walked away from the well-kept grounds of Achziv National Park we got our final treat of the day: a group of five hoopoes, Israel's national bird, busily plucking worms from the rain moistened grass. They were so busy with their hunting that they allowed us to get quite close to observe.
It had been a fantastic morning, full of so many beautiful rainy-day sights and sounds on the coast. This gorgeous hike from Achziv to Rosh Hanikra is a spectacular excursion into the nature of the Mediterranean coastline.
Hikers' Notes:
Here's what you need to know to hike this trail from Achziv to Rosh HaNikra:
This is a one way trail.
Great for kids.
Suitable for dogs (except Rosh HaNikra).
This is an all season trail.
To enter the National Park at the beginning of the trail (optional) or the Rosh Hanikra grottoes at the end (optional), you will have to pay an entrance fee. There are bathrooms and a store in both places. Otherwise, this is a free entry trail.
To follow the trail: Just walk along the coast, either on the path or on the rocks, until you reach the blue trail at the bottom of Rosh Hanikra.(The blue trail is not pictured on the trail map.) From there, follow the blue trail to the top of Rosh Hanikra, at the entrance to the cable car site.
To get back to the trailhead: it's a short cab ride away, which costs about 50 NIS. (Achziv Cab: 052-372-5726)
Don't forget to read my guide to the navigational features in this post before you hit the trail!
Trail map from Amud Anan.
Questions? Have you hiked this trail from Achziv to Rosh HaNikra? Let's hear about it in the comments!
Hiking can be dangerous and is done entirely at your own risk. Information is provided free of charge; it is each hiker's responsibility to check it and navigate using a map and compass.