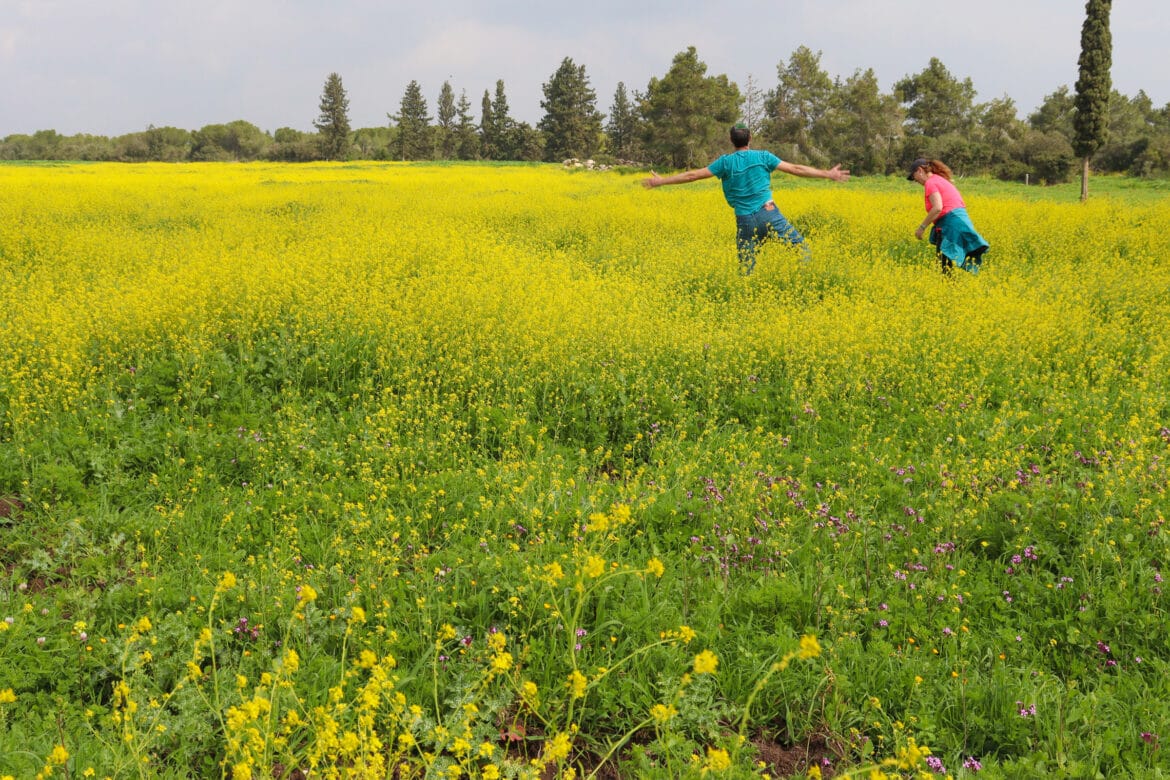 Click here to go straight to hike notes.
Winter in Israel: for local hikers, it really is the best time of year.
In the wintertime, it seems as if every trail is a perfect choice. Now is the time of year to take another look at those hiking routes that seemed too hot for the summertime. So, this past week, that's just what we did.
We considered desert trails and trails in the Gilboa. And finally, after a bit of deliberation, we settled on a 6.5 kilometer loop trail in Ramat HaNadiv near Zichron Yaakov. This trail was supposed to be green and flower-filled in the winter and spring, with beautiful views out to the Mediterranean Sea and the surrounding area. Not only that, but there were several sets of ancient ruins along with a flowing spring.
This seemed like a great trail for this time of year, especially as we had been wanting to check out the "Flower Hill" at Magan Michael right nearby. We made plans for the next day, then sent out a late-night WhatsApp to our good friends in Zichron Ya'akov to see if they wanted to join us.
The next morning, we set out early, with our daughter and granddaughter in tow. The sun was shining through the fog, and it looked like it was going to be a gorgeous day.
And it was. This trail at Ramat HaNadiv was truly beautiful. I can't imagine a better place to take an easy hike on a sunshiny winter day.
Here's how we hiked this 6.5 kilometer loop trail at Ein Tzur in Ramat HaNadiv:
Start at a Ship
We parked near a school and a big boat, perched on the side of the parking lot. This is where our trail began.
Our friends were waiting and ready to go. As Zichron Ya'akov locals, they knew this path well from their previous biking and hiking escapades. So, they led the way into the flower lined trail.
What struck me first about the path was the many types of flowers that blossomed along the side from the path. There were the usual anemones, mustard blossoms, and cyclamen. But there were also dozens of smaller varieties that I didn't know the names of. I still enjoyed taking pictures of them and watching colorful butterflies flit between the petals.
As often happens when we hike with friends, I didn't pay super close attention to the trail. But I did notice when we passed a small seasonal pond, then turned to cross over a bridge and head deeper into nature.
Ancient Ruins
After a little while of wandering, we reached the first series of ancient ruins at Ein Tzur. This well-preserved area included the remains of a swimming pool once connected to a Roman bath. In the 1st century BCE, locals channeled the waters from the Ein Tzur spring to create a series of aqueducts and pools. Nowadays, the remains of the aqueduct at Ein Tzur is the most complete in all of Israel, and the only one where water still flows as it once did in ancient times.
We climbed around to check out the different layers. Aside from being a cool archeological find, I could also guess that this spot was a favorite during the warmer months of springtime. I know my kids would have enjoyed splashing in the little stream and cooling off in the spray of water.
We left Ein Tzur and continued along the nature trail, past more blossoming flowers and an Ottoman archway. There were a lot of old structures to explore (and we tried to see everything!), but our little group pressed on.
Red Anemones, Yellow Flowers, and an Ancient Villa
This part of the trail may have been the most enchanting. We walked through fields of tall yellow flowers, then past low grassy areas peppered with red anemones. It seemed that at every point on the trail, there was some new colorful thing to see: a butterfly, a white flower, a purple bug.
We walked along talking, stopping every so often to examine nature up close. After rambling along this way for quite some time we arrived at mid-way point and the next big attraction: the ruins of an old villa overlooking the sea.
This would have been a cool place to live! Between the abundant nature and the fantastic views (which were a bit obscured for us on that foggy day), it seemed move-in ready to me. At the site, there were remnants of the lives of those who once lived there. It was first occupied in Second Temple times, by a Jewish family. Afterwards, the villa changed hands repeatedly, through the Byzantine and Ottoman eras. We passed an old wine press and the threshing floor. There was an ancient ritual bath, built in the Second Temple period.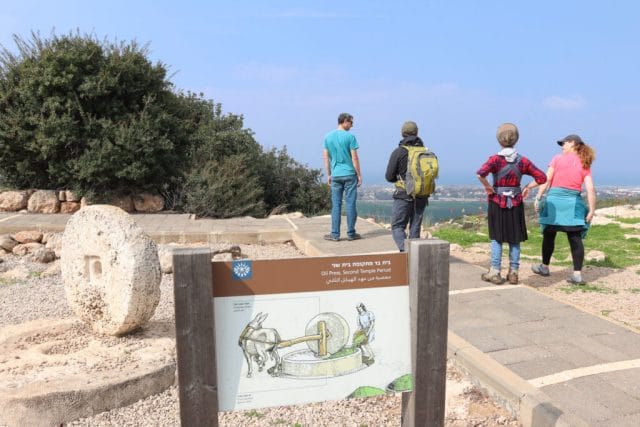 As is typical in many sites in Israel, several layers of history were interspersed across one large area.
The Edge of the Carmel
From here, we crossed through a small olive grove, past a flock of white egrets, towards another point of interest: a series of ancient Canaanite stone piles, indicating old graves. From this area, we could see out to where the Carmel mountains ended and dropped into the flat areas of Central Israel.
I knew we were in the Southern Carmel Mountains, but it was still neat to see the point where the range actually ended. It was also an extremely beautiful place to stop. Yellow flowers were scattered across the cliffs on either side. A beautiful breeze blew, and the views out to farmland and the sea were simply spectacular. It reminded me of cliffs in Ireland.
Our friends had already had their morning coffee and oatmeal, so we weren't going to stop for our usual mid-hike picnic that morning. But if we had, this would have been the place for it.
Completing the Loop
From this far end of the loop, all we had to do was go back in the other direction along a different trail. We picked up the pace and enjoyed a brisk walk along a pretty cycling trail.
As we walked, I felt that we were lucky to be in this place at this time of year. I snapped off asparagus shoots along the way, took close-up pictures of butterflies, and even got our friends to stop for a photo-op in a field of yellow flowers.
Soon, we were back by the ship and the trailhead. Our journey through Ramat HaNadiv that day had been eye opening: this large reserve near Zichron Yaakov had a lot to offer. Between easy walking, wild beauty, pretty flowers, ancient ruins, and killer views, this 6.5 kilometer loop trail at Ein Tzur was a perfect choice for the winter season.
Hikers' Notes:
Here's what you need to know to hike this 6 kilometer loop trail at Ramat HaNadiv:
This trail is best suited to cooler days in the fall, winter, and spring.
Dogs are allowed.
This trail is potentially good for kids: there is a nice spring, many cool sites to explore, flowers, and ways to shorten the trail.
Wear good walking shoes and bring water and a hat to hike this trail. Much of the trail is exposed to the sun.
There is a kosher, dairy cafe/restaurant called Mataim right off of the trail. You could park there and then hike the loop from that spot, ending the morning with a delicious brunch.
We visited the Flower Hill at Magan Michael afterwards (and had our picnic there). It is interesting to see, and you can find some rare flowers, but it feels quite urban.
To follow the trail, begin at the ship and follow the Israel Trail. Along the way, you will see the aqueduct and some other ancient ruins. Eventually, you will reach the villa. The Israel Trail will take you all the way out to "Hotem HaCarmel", the edge of the Carmel Mountains. From here, you can continue to to follow the Israel Trail OR you can follow the red trail for a slightly longer loop (this trail reconnects with the Israel Trail). Follow the Israel Trail to the blue trail and back to your car. OR, you can follow the Israel Trail to the bike trail and follow that back to your car (we took the bike trail).
Use the trail marker gallery, trail map, and Google Earth file to find your way on the trail. This beautiful nature reserve is kind of hard to get lost in, so don't worry too much about directions.
Don't forget to read my guide to the navigational features in this post before you hit the trail!
Trail map from Amud Anan.
Questions? Have you hiked this trail at Ramat HaNadiv? Let's hear about it in the comments!
Hiking can be dangerous and is done entirely at your own risk. Information is provided free of charge; it is each hiker's responsibility to check it and navigate using a map and compass.