Growing up, February wasn't a month I really associated with outdoor beauty. In the United States in February time, we were slogging our way through the thick of winter. Trees were bare and skies were grey. In February time, flowers didn't blossom, and neighborhood lawns had taken on a brownish hue. In short, it wasn't pretty.
But anyone who's lived in Israel for a while knows that in this country, nature undergoes a beautiful transformation in the wintertime.  Just driving on the highway, one can see once yellow fields turned lush, verdant green.  Some trees may be bare, but others (like almond trees) are sprouting pink and white blossoms.  Wildflowers are starting to grow abundantly all over the place, in shades of pink, yellow, purple, and scarlet red.  
As an avid hiker, I look forward to the wintertime all year long. During this season, Israel's great outdoors is at its absolute best. It's almost difficult to find a trail which isn't wonderful during the month of February.
Still, there are some trails that outshine the others this month. The terrain on these trails is blanketed in anemone flowers and cyclamen in a way that simply transforms the landscape. And many of them just aren't worth visiting at any other time of year
Here are my top hike picks for February time in Israel:
Shokda Forest
Let's begin in Southern Israel at Shokda Forest, where fields of crimson anemone sprout in February time. Inside of Shokda, you'll find an easy, 4.5 kilometer loop trail, making this woodland an excellent choice for families. The weather in this part of Southern Israel (the Besor Region) is always warmer than in other places. An outing to Shokda in February can feel like a mini vacation in the middle of winter.
As opposed to some other red flower peeping spots, Shokda is also a forest. So, the trail is relatively shady.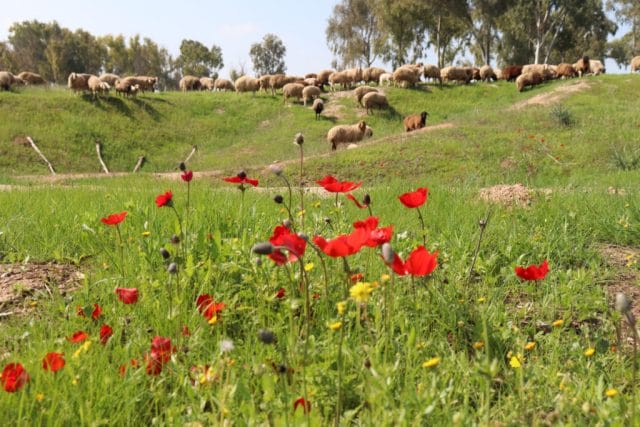 If walking is not your thing, you can simply drive into the parking lot, head out to a field, and plop down on a red blanket of anemone flowers. Photo ops await.
Click here to read the full Shokda Forest hike post with maps
Nahal HaBesor
Near Shokda, head to Nahal HaBesor (Besor Stream), a riverbed that fills up with flowing water in the wintertime. Here, you can experience a large variety of wildflowers as you walk along a path next to the stream.
Red wildflowers dominate in some areas, yellows in others. But everywhere you look, you'll see beautiful blossoms. The 7-kilometer loop trail at Nahal HaBesor travels along a wintertime only stream, which attracts croaking frogs and birdlife.
One nice thing about Nahal HaBesor is that it is easy walking in an extremely beautiful setting. Come summertime, the entire area will dry out completely, so February is when you'll want to check out this wonderful part of Israel.
Click here to read the full Nahal HaBesor hike post with maps.
Shaharia Forest
A bit further north, between Ashkelon and Beit Shemesh, there's a wildflower explosion of another kind, at Shaharia Forest. Here, you can find the quintessential winter anemones and poppies. But you can also frolic in fields of light pink cyclamen, popping up out of every rock and crevice under a canopy of trees.
Shaharia Forest is a wonderful place to wander in February. There are a lot of different things to see (antiquities, winding pathways, assorted wildflowers) so it's good for kids and families as well.
In some parts of the forest, wild asparagus grow plentifully under every carob tree. You can collect a bunch and bring them home for dinner.
Click here to read the full Shaharia Forest hike post with maps.
Haruvit Forest
As we continue on our way up North, we arrive at Haruvit Forest, just west of Beit Shemesh.  Within this forest, there is a handicapped accessible hike which is just glorious during red anemone season. This short, easy trail is a great choice for families with strollers.  You can wander through a woodland and see fields of wildflowers all on one easy trail.  
Added bonus: Tel Tsafit is a really cool place to visit that's just up the road. Tel Tsafit sits atop the ancient Biblical city of Gat, birthplace of the great giant Goliath.
Click here to read the full Haruvit Forest post with hike maps.
Cyclamen Hill in Tal Shahar
If you don't want to venture far from Central Israel, there are still plenty of wildflower trails to choose from. One of the best in February time is Cyclamen Hill in Tal Shahar.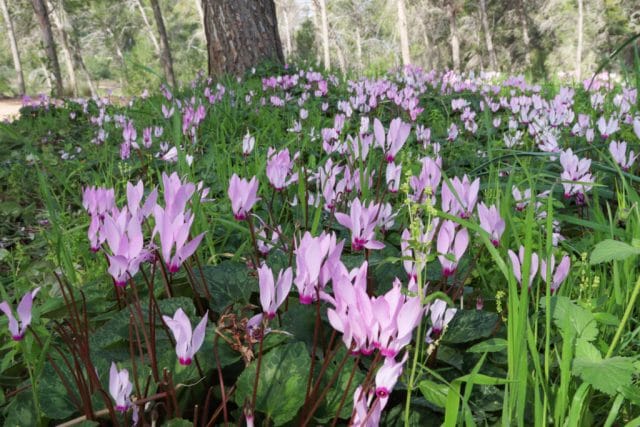 This beautiful, forested hill is absolutely bursting with pink cyclamen during the winter months. It feels almost magical to wander through the blossoms under a canopy of towering trees.
Every place has got its own brand of beauty. Cyclamen Hill has cyclamen flowers, and lots of them. February is the month to see this trail on a hill at its best.
Click here to read the full Cyclamen Hill hike post with maps.
Nahal Tavor
No discussion of most beautiful hikes in February would be complete without a mention of Nahal Tavor, in the Lower Galilee. This stream-side hike is one of the most beautiful in Israel, especially during the months of January, February, and March.
In February time, red anemones sprout along with flowers of every other color. If you're lucky, you'll see worlds of purple lupines beginning to blossom on the lush green hills.
A hike at Nahal Tavor includes multiple water crossings (over the stream), and a visit to the Basalt Waterfall. You can hike it as a more challenging 6 kilometer loop trail or drive straight down to the stream and wander out and back as much as you like (a better choice for families).
The Tavor Stream trail in wintertime is an absolute must-do for Israel nature lovers. You won't regret making the drive.
Click here to read the full Nahal Tavor hike post with maps.
Don't Miss the Outdoors this Season
Perhaps the best advice I can give you about hiking in Israel in the month of February is to get out there and go hiking. It may feel cold out, or it may be foggy, but a short trip to a different part of the country might just result in a weather change. Exploring during this month will also allow you to experience beauty that you can't experience at any other time of year, as the winter wildflowers begin to take over Israel's great outdoors.