Click here to go straight to hike notes.
Baby, it's hot outside. And it's been hot for quite some time! In Israel in the summertime, there are many days when it's just too hot to go on a regular hike…unless there's water involved.
This makes summer a perfect time to get to all of those adventures you never seem to make it to during the rest of the year – like, caving. And what better time to go on a 2 hour deep dive into a cave than during The Nine Days, a time period when most religious Jews stay away from water hikes altogether?
That's why this past Friday, we planned out a camping trip in the north to include a visit to Alma Cave, a massively deep cave that we had been wanting to visit for just about forever. Since the cave is closed from November through June for bat hibernation, it's especially difficult to find time to visit.
I am so happy that we finally made it to this spectacular cave.
Alma Cave wasn't just beautiful and well-marked, it also felt like a real adventure, with tons of climbing, negotiating tough spots, and searching for reflective trail markers in absolute darkness. My two boys (ages 8 and 11) had an amazing time. (And, of course, we did too.)

Here's how we hiked this 2 hour, 106 meter descent adventure through Alma Cave in the Galilee.
The Beginning
After waking up to the sound of ocean waves on Achziv beach, we swiftly packed up our tent and set out in the direction of Alma Cave before 7 AM. We had one stop to make along the way – our oldest son, a soldier, was stationed near the Lebanese border, and we wanted to visit him.
We enjoyed a lovely picnic breakfast together in a quiet park, and then piled back in the car for the drive to Alma Cave, a half hour away.
When we pulled up to the start of the trail, it seemed really deserted. There was nothing there, no greenery or shade, no big signs announcing the existence of an incredible cave. There were some trail markers though, so we got out of the car and followed them through the already harsh sun towards some fig trees growing in the distance.
Soon, we reached the signs which announced the Hazor Stream Reserve and Alma Cave. We continued to follow the red trail until we reached something different in the landscape. Massive fig trees grew out of a giant hole in the ground. We were in the right place. We passed through the gate and descended along an increasingly shady paths towards the depths of Alma Cave.
Scary, at First
Of course, everything's a little scary the first time around. As we climbed down hand hold rungs, then along a metal banister, my boys were a little bit hesitant. They had heard that there were bats in this cave, and they were waiting for them to swoop down.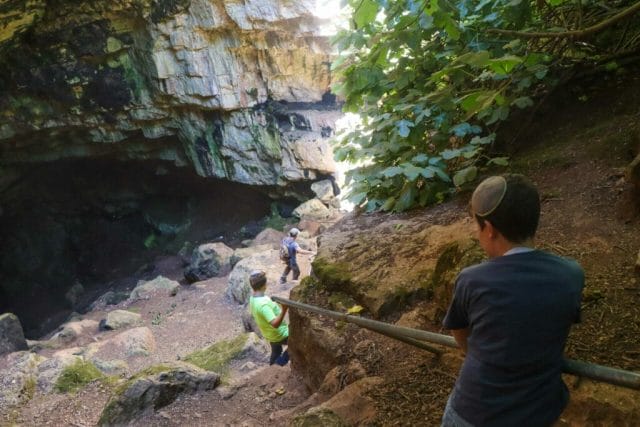 As we proceeded downward, it got darker and darker. Looking up, we could see a cascade of fig leaves bathed in light, but down below, it was getting hard to see.
We never saw any bats, but we did eventually get to the bottom of the first cave, where oversized stalagmites grew in beautiful formations up from the ground.
My husband distributed headlamps, and we got ourselves all geared up and ready to go. The next part of this adventure was a vertical descent through a tunnel of rock into the darkness. We needed our hands free and something to light the way.
We're Doing This
Then, we proceeded downward, through the long chute equipped with handhold rungs. It took everyone a minute to get used to the idea that this was going to be a full body experience. But after the first descent, we were all ready to embrace the challenge.
We climbed up and down on rocks and handholds, squirmed through tight openings into gaping chambers. The walls around us were moist and beautiful, covered in little knobs and pointy stalactites, formed by years of mineral buildup from dripping water.
Each step of the way presented a new challenge, from steep descents that were tough for short legs to narrow openings which were harder for our adult frames. But the boys were having a blast, completely engaged in the experience of proceeding downward through the cave.
Not only that, but just a week earlier, we had watched Journey to the Center of the Earth (highly recommended family flick!). So we had fun imagining that we would find diamonds and gemstones, or that we would step onto a thin rock formation and fall through to the earth's core.
Tight Squeeze
Still, this was nothing like the caves we were used to crawling through in the Jerusalem area. This natural cave in Northern Israel was mostly spacious enough to spread out in. There were only one or two places which required deft maneuvering, to get through a small "doorway" into the continuation of the trail.
Luckily for us, the entire trail was marked with reflective arrows, and metal hand holds seemed to appear in just the right place whenever they were needed.
As we climbed through, we wondered about the history of Alma Cave – had anyone used this cave? And for what purpose? In ancient times, the cave was thought to be so massive that it led all the way to Jerusalem. Others had called Alma Cave "The Babylon Cave", thinking that this tunnel was used by the Babylonians to enter and wage war on Israel.
Nowadays, the cave is under the auspices of the Parks Authority, which is why it is relatively user friendly and carefully marked.
The Birth Canal
We climbed through the last little doorway, deemed the birth canal by other spelunkers. Then, we continued down, down, down, never knowing when this trail would come to an end.
And then, after a particularly dicey decent, we saw the sign "Sof HaMaslul." We were at the end of the line. Now all we had to do was follow the red reflective arrows back the way we came, this time, with the power of gravity working against us.
Embrace the Challenge
Despite their small stature and minimal upper body strength, the boys did really well with this part of the hike. They climbed like little monkeys, up over rocks and through tight places.
We had taken the time to really enjoy our surroundings on the way down. So, on the way back up, all we had to do was focus on overcoming the next obstacle.
As often happens, the return trip went by much faster than the trip into the depths of the cave. Still, it took time as we maneuvered through, feeling the weight of our bodies as we tried to climb back up, particularly when an opening just didn't allow for full body movement.
Eventually, we made it into the light. A beautiful canopy of bright green fig leaves greeted us. We inhaled the sweet smell of the fruit as we ascended back up and out of the cave, holding on to the cool temperatures down below for as long as we could.
This journey into the depths of Alma Cave was a truly spectacular experience, one that was worth driving several hours north for. Alma Cave is a gem in Israel, a wonderful summer adventure for the truly intrepid.
Hikers' Notes:
Here's what you need to hike this trail at Alma Cave:
This trail is only opened from June through October. In the fall and winter months, it is closed for bat hibernation season.
This is a challenging trail, for fit hikers only! Not suitable for those with a fear of closed spaces.
Bring headlamps and flashlights (and backup batteries!) to hike this trail.
Wear closed toe shoes and long pants to hike this trail.
Always follow reflective trail markers. If you cannot find the next trail marker, go back to the last one you saw and move forward from there (this happened to us a couple of times). You do not want to get lost in a cave!
Gear should be kept to a minimum. You can bring a very slimline backpack with water, but don't try to carry a large pack.
Expect your clothing (and skin) to get very dirty!
There are no bathrooms or water points at the trailhead.
Don't forget to read my guide to the navigational features in this post before you hit the trail!
Trail map from Amud Anan.
Questions? Have you hiked this trail through Alma Cave? Let's hear about it in the comments!
Hiking can be dangerous and is done entirely at your own risk. Information is provided free of charge; it is each hiker's responsibility to check it and navigate using a map and compass.