Click here to go straight to hike notes.
We are always on the lookout for good stream-side hikes, especially those that lead to the beach.  And a few months ago, we saw something on the map that we had never noticed before: a long trail along Hadera Stream, one that leads to the Mediterranean Sea.
Right away, we made plans to take a hike along the stream. But try as we might, we never managed to find time to drive the hour and forty five minutes north to Hadera. So, Hadera stream stayed on the "To Do" list for some time.
Then, just a week or two ago, we had a last minute change of plans. We had scheduled a camping trip in Northern Israel, with hikes in two separate caves. As unexpected obstacles arose and traffic built up, we realized that we would not have time to do both cave hikes. So instead, we opted for a short stop at Nahal Hadera with the kids, and a campout at Achziv Beach.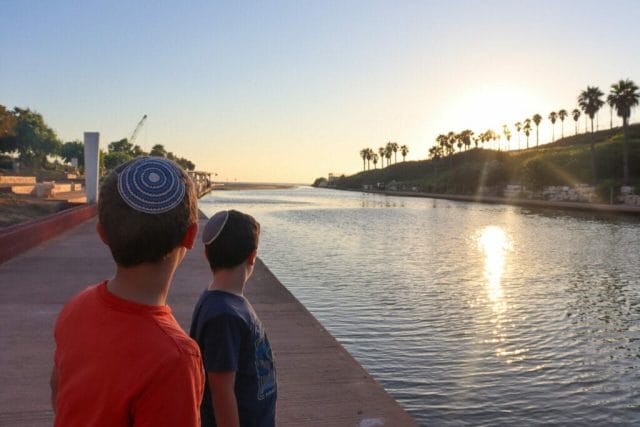 Hadera Stream turned out to be oh so beautiful, especially at sunset when we hiked it. Although it was hot that day, a cool sea breeze kept us comfortable (for the most part!). And although we didn't manage to take a full length hike along Nahal Hadera, we liked what we saw enough that we promised to return to the stream in the future.
As it was, we took an easy out and back walk at Hadera Stream, which we combined with a picnic dinner. Here's how we hiked this easy, flat trail at Hadera Stream to the sea.
It All Starts with Falafel
Want to know the absolute best thing about Hadera? They have the most amazing falafel in all of Israel! Not that I'm a falafel connoisseur, but our family did enjoy some super delicious falafel there on a late-night drive home from Caesarea this past winter. So, we were very excited to pick up dinner on our way to our walk at Hadera Stream.
We got a bag full of the good stuff, piping hot, and drove to Nahal Hadera where we parked our car. Together, we walked down towards the stream, taking in the relaxed and quiet scene that surrounded us. Families had gathered in the grass above the water, having picnic dinners or just chilling out. It wasn't hard to find a nice, secluded spot in the shade, with a perfect view of the wide stream. We settled down in the grass for the most delicious falafel in the country.
This isn't a post about felafel, but let's just say that it didn't disappoint! When we were finished eating, we gathered up our stuff and set out on the trail.
Over the Bridge
First, we proceeded to walk away from the sea, towards a cool pedestrian bridge which was built over the stream. We climbed across the bridge, took in the beautiful views from above of the river spilling into the sea, and then continued across.
On the other side, we began to notice brightly painted Israel Trail markers – blue, orange and white. After stopping to read a sign about the bridge (called Harp Bridge), we followed the trail markers along the stream, next to thick greenery.
Hiking this trail, we got a better sense of what the full path along Nahal Hadera might be like. As opposed to the more pedestrian walkway near the beach, this trail was a bit more rugged, and full of nature. We noticed the plants, listened to the sounds of chirping birds, and eventually, turned back towards the bridge and the flat walkway to the sea.
Urban Beauty
Although the walkway was well organized and neatly paved, there was still a lot of natural beauty in the scenery that surrounded us. Fisherman gathered there, in shady spots, waiting for their evening catch by the stream. A small family sat near the water, feeding bread crumbs to the fish which swam up in a flurry to feed.
We passed a pretty water fountain – our boys said it made them feel like they were walking in a European town. There was even a steel instrument, perched up high on a rock. The kids took turns using plastic bottles to bang on the keys, which emitted a melodious chiming sound.
To the Sea
Eventually, we left the walkway and proceeded onto the sand. Here, the water seemed to run in both directions, as the sea waves exerted their force against the current of the stream. The setting sun illuminated the thin layer of water above the sand, creating glassy reflections.
It was absolutely beautiful, just the type of scenery we were hoping for. There's something special about seeing a serious stream turn to small trickle as it's lost in the raging sea.
Of course, some of us got our feet wet.
More to Explore
As the sky got dark, we turned back the way we came.  We followed the streamside path back to the grassy area, passing an empty playground, and a well-appointed exercise park, and reaching the parking lot.  We still had a long way to go that night – Achziv Campground was a forty minute drive away, and it was almost nightfall.
Still, we were so happy that we had the opportunity to encounter this unexpectedly pretty part of Israel, a stream in a city that isn't necessarily known for its natural beauty.
Hadera Stream is a great place to walk and experience the serenity of a river flowing into the sea.
Hikers' Notes:
Here's what you need to know to walk this trail along Nahal Hadera:
This is an out and back trail.
Great for kids.
Suitable for dogs.
This trail is best suited to cooler days, or at sunrise or sunset.
According to the sign, the park officially closes at 7 PM. We left a little after 8 PM.
There are bathrooms and water points at the park.
To follow the trail, just walk back and forth along the stream!
Don't forget to read my guide to the navigational features in this post before you hit the trail!
Trail map from Amud Anan.
Questions? Have you walked this trail at Hadera Stream? Let's hear about it in the comments!
Hiking can be dangerous and is done entirely at your own risk. Information is provided free of charge; it is each hiker's responsibility to check it and navigate using a map and compass.