Ah, summer…there's simply nothing like it! When I think of summer, I think of the throaty noise of chirping cicadas, accompanied by birdsong, crickets, and frogs. In my mental picture, all of these sounds surround a lazy river, which I float down with a cold drink in hand.
Well, that is one version of summer. And it may not be a version that feels very familiar here in Israel, especially for parents. For years, as a young mom new to the land of Israel, I used wait for trips to the United States to seek out opportunities to float down lazy rivers. I was convinced that this type of experience in nature was only accessible in my country of birth.
But years later, I discovered that that's just not the case. There are lots of lazy rivers to explore throughout Israel, all around the country. Some of them are short adventures, perfect for parents of little kids. And others are long, lazy streams, that are fun to float down the whole day long.
Here are a few streams in Israel which you're going to want to check out this summer. Between neon colored flitting dragonflies, plentiful shade and cool water, you can capture the essence of summer here in Israel on these streams, cold drink optional.
Hermon Stream (The Other Banias)
Let's start with the quintessential lazy river experience here in Israel: Hermon Stream. Hermon Stream is the continuation of the stream that forms the Banias waterfall in Northern Israel. Further south of the National Park, this stream floats along past thick greenery, between two kibbutzim.
If you have some inner tubes, you'll want to pack them up and bring them to Nahal Hermon this summer. Envision a long trip downriver (with a few stops along the way to get around the rapids, unless you'd like to go right over them!) and a picnic on the grass in the sun when you're done. Then, get that tube back up to the start of the stream and do it all over again. Rest. Rinse. Repeat.
Read all about Hermon Stream right here.
Nahal HaKibbutzim
Near Beit She'an in the Jordan Valley, Nahal HaKibbutzim is another fun stream to float down. It's not as long or shady as Nahal Hermon, but it does have one distinct advantage over its northern counterpart.
At Nahal HaKibbutzim, there are large water pipe slides which will give your kids and teens hours of fun. After floating down the stream for a while, seek out these unusual water slides to take your river experience up to the next level.
Click here to read the full post about Nahal HaKibbutzim.
Majrase
Majrase was one of the first lazy rivers we discovered as newcomers to the Land of Israel. This gorgeous National Park features a "water hike" that's really more of a slosh through a stream. Bring along some small tubes and pull your kids along as you literally walk through water.
The scenery at Majrase is out of this world, full of overhanging greenery, brightly colored dragonflies, and beautiful birds. When you finish floating down the stream, you can enjoy a picnic in the large grassy area in the center of the park.
Read all about Majrase right here.
Nahal Hadera
Did you know that there's a large and beautiful stream that heads right through Hadera? At Nahal Hadera park, you can float down that stream to the sea!
Grab a bag of breadcrumbs to feed the fish and get ready for a day of fun on the river. You can float down this stream in a tube or on a stand up paddle board. When the stream reaches the sea, hop out and enjoy some time at the beach.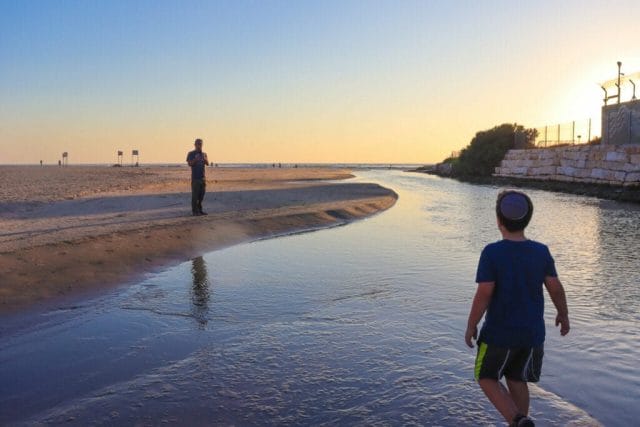 The water in Nahal Hadera is officially not suitable for swimming, so make sure you stay afloat until you reach the last stretch by the sea, where saltwater fills the stream.
Read the full post about Nahal Hadera right here.
Nahal Kziv
You can't exactly float down Nahal Kziv, but it is the type of streamside adventure that makes you feel like you've gone on a trip to an Amazon rainforest.
This beautiful stream in the Galilee stretches for kilometers underneath a thick canopy of shade. There are multiple springs and pools along the stream, which are great for a full body dip on a hot summer day.
If you have kids, you may want to situate yourself at Ein Hardalit, a popular swimming spot at the entrance to the stream. More adventurous types will want to walk out and back through the stream.
Click here to read more about Nahal Kziv.
Shikma Stream
There are streams closer to Southern and Central Israel too! Shikma Stream is another one of those lovely streams that leads to the sea. This stream is perfect for standup paddle boarding or inner tubing. And you can hit the beach when you're done, just like at Nahal Hadera.
Again, the water here is officially unsuitable for swimming, so keep yourself mostly above water until you reach the part that's next to the sea.
Click here to read more about Shikma Stream.
Jordan River
I can't write a list of lazy rivers in Israel without including Israel's most well-known lazy river, the Jordan. This large river in northern Israel is a kayaker's paradise – which is why there are so many kayak rental companies operating along the Jordan.
Since it's quite popular, you aren't going to find much peace and quiet in the summertime on the Jordan Stream. But you will find a fun kayaking adventure for your family, no need to bring any equipment from home.
Summer in an Experience
Ever since I've discovered lazy rivers here in the Holy Land, I look forward to the summer months even more. For me, nothing says summertime like floating on the water, enjoying the sun's rays and turning myself over to the deep relaxation of the season. Luckily for us, this little piece of paradise is available in Israel…if you know where to look.