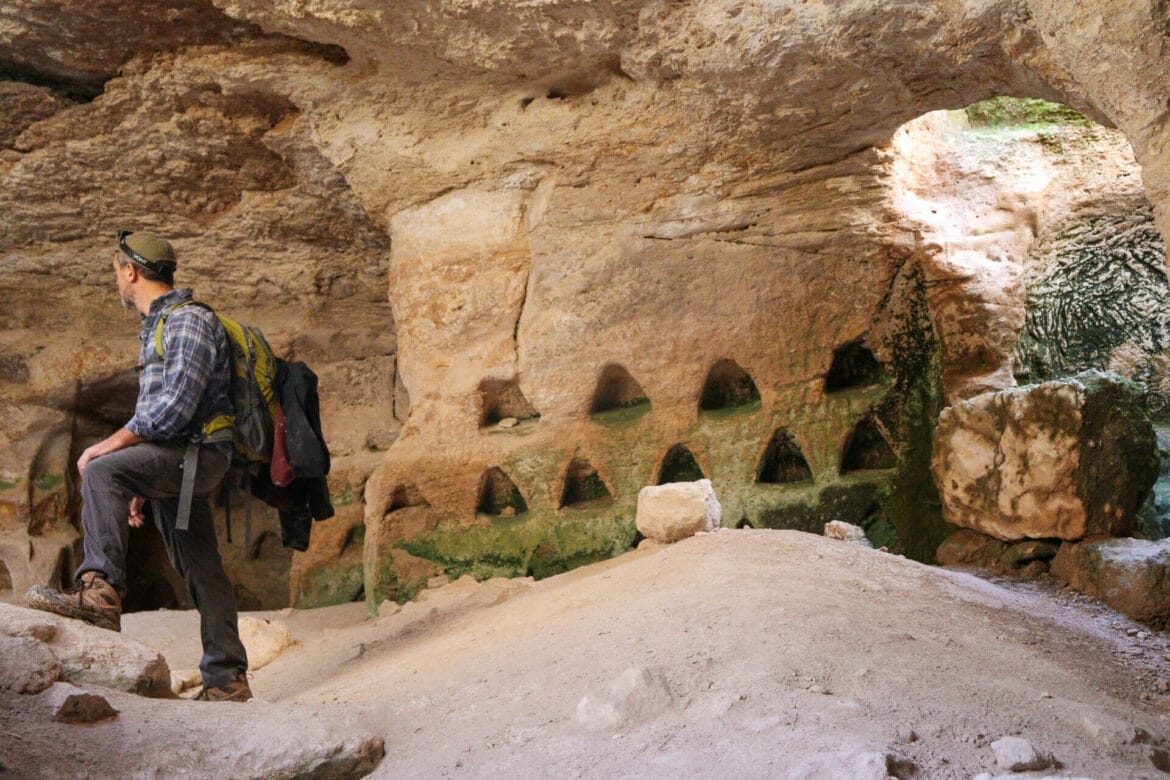 Click here to go straight to hike notes.
Some hikes are appealing in their straightforward ease: you park at the trailhead, follow a marked trail, see the sights, and head on home. Hurvat Beit Loya is not one of these.
Rather, this off the beaten track trail is an adventure for those who don't mind a bit of unknown.  There is so much to see at Hurvat Beit Loya.  Archeologist have uncovered ancient stables, menorah engraved doorposts, ritual baths, bell caves, columbariums, old prayer halls, and more.  The area of Hurvat Beit Loya is identified as Beit Levaot, a town mentioned in the book of Joshua, located on the border between the tribal areas of Shimon and Yehuda.
But despite all this glitz and glamour, Hurvat Beit Loya remains a quiet and untraveled area, left to those who are willing to wander into unmarked territory.
We actually hiked the trail through Hurvat Beit Loya for the first time in early December (thanks to Richard Gertler and Eli Berkovits for the tip!) And we were so amazed at the quantity of magnificent ruins, underground caves, and secret tunnels that we knew we had to go back and give it our full attention. When we were there in December, I had also noticed the first signs of sprouting lupine flowers. And I had a feeling that if we came back in February, we would get to enjoy the purple blossoms in full bloom.
We Return
So this past Friday (you can only hike there on Fridays and Saturdays or with advance permission, as it is in an army zone), we headed on back to Beit Loya. And despite the fact that I had been to the spot only two months earlier, I was amazed all over again. We hiked a trail that took us past First Temple Burial caves, a Second Temple settlement, an incredibly intact Byzantine church with an intricate mosaic floor, the biggest columbarium in all of Israel, an Edomite Palace from the Second Temple period, and a magnificent underground bell cave full of pillars, arches, and secret tunnels. Above ground, we enjoyed green hills and plentiful wildflowers, including the much anticipated purple lupines.
It was a great day.
Here's how we hiked this 8 kilometer off the beaten track trail at Hurvat Beit Loya:
To the Ruins
Of course, we didn't expect our day to start off easy. After heavy rainstorms the previous few days, we knew that the dirt roads near Hurvat Beit Loya were going to be difficult to traverse. Rather than risk getting stuck in the mud, we decided to park our car a few kilometers before the actual beginning of the hike and take a brisk walk towards the ruins.
It was lovely outside – cool and sunny. The area had transformed since early December; its hills had turned from a dusty brown to a lush green. After warming up our blood, we reached the trailhead, and followed an unmarked path towards the main area of underground discoveries.
First, we stepped into a columbarium. This home for pigeons was one of the most beautiful I had ever seen, full of different geometric shapes covered with a layer of green algae. Although we already had great photos of the spot, we took some more, then continued walking atop the walls of an ancient settlement to the next site.
Each opening into a secret world looked like nothing more than a hole in the ground, overgrown with thick weeds and prickly asparagus plants. But when we peeked in to one hiding place after another, we saw burial caves, bell caves, underground wine presses, and more, and more, and more.
The Main Event
Finally, we reached the main event at Hurvat Beit Loya: a large and beautiful Byzantine era church, its intricate mosaic floor almost completely intact. We hopped between fallen pillars, to peer closely at the beautiful artwork, sitting out exposed to the Mediterranean sun. There were birds, fish, deer, letters, geometric pictures, and more.
As we explored, we looked up to see a trio of white-tailed deer bouncing through the green hills. This place was incredible.
Makom Yafeh LePakal
After checking out the church, we were ready for breakfast – and we knew just the spot! Last time we were here, we had found a Makom Yafeh LePakal on the map – translated loosely as a perfect spot for coffee. We headed back up to the tree and spread out our picnic blanket.
This time around, the tree was bare, having lost its leafy canopy with the change in season. We were still a little chilly, so we were happy to feel the sunshine through its bare branches. I pulled our thermos of coffee out of our bag, and we got ready to enjoy some quiet time in nature.
Towards the Lupines
I really could have sat in that spot all morning. But we had a lot more to explore. So after some time, we packed up our bag and returned to the unmarked path, following our online map towards the next set of ruins in the distance.
On the way, we passed fields of red anemone flowers. And just beyond the red, we saw purple lupines popping up from the ground, just beginning to blossom. I was so excited to see them!
As I took in the beauty of the lupines, I thought back to a historical tidbit about lupines in Israel shared by a friend. He had told me that during the Mishnaic period, lupines were planted in areas around Israel in order to identify ancient burial grounds. When lupines successfully sprouted and blossomed, it meant that there were burial sites underneath. Using this technique, the Kohanim (priestly class) knew to avoid these spots of ritual impurity.
Another Incredible Discovery
After walking along the path for quite some time, we reached the Edomite Palace from the Second Temple Period, a large flat area on a hilltop. We climbed between the rooms atop its walls, then continued on towards more caves.
Last time we were at this spot, we had discovered a truly incredible underground system, a giant dwelling with layer after layer of secrets. The tiny entrance led into a multi chambered space.
Then past the entrance, we had followed one small path into a giant room with huge pillars. We couldn't believe that this was sitting here underground, hidden by flowers and grass.
But the best part was yet to come. Off to the side of the chamber there were carved tunnels, chipped away by a small chisel. I had climbed into one of the tunnels and discovered little oil lamp holders lining the walls.
Last time I was there, we hadn't had time to go very deep. But this time, I was determined to follow it to the end.
Here We are Again
After some searching, we found the underground cave system once again, its appearance masked by a humble opening. We climbed through and I headed straight towards the tunnel.
In I climbed, inching along on my hands and knees, through the small opening. I reached a turn and slithered upwards, then continued along through the tunnel. As I crawled, I passed by small rooms off to each side of the tunnel. I am no archeologist, but this seemed exactly like Bar Kochva tunnels I had seen before, from the time of the Jewish Revolt against the Romans. This tunnel was equipped with small chambers, perfect for living in and hiding underground from the enemy.
I kept crawling and crawling, sure that soon I would reach the end. Ten minutes later, I reached a set of steps, which I proceeded to climb on my hands and knees. These steps, too, led to two more tunnels, equipped with side chambers of their own.
After twenty minutes of crawling, I decided to call it a day, and leave the rest of the explorations to a future visit. Next time, we would devote the day to reaching the end of the tunnel!
So Much to Explore
As we emerged back into the sunshine, we knew we had to head back home to the kids. All of that exploration had taken hours, and we still had lots of hiking to do. We quickly popped into a few more underground spots we noticed on the map – another burial cave, a cistern – and then continued to follow unmarked paths back through the flower filled grasses towards the trailhead.
Many kilometers later we were back at our car. It had been an incredible Friday morning – full of natural beauty and ancient mystery. This trail at Hurvat Beit Loya is a the perfect off the beaten track adventure for the winter wildflower season.
I can't wait to go back.
Hikers' Notes:
Here's what you need to know to hike this trail at Hurvat Loya:
This trail is best suited to cooler days in fall, winter, and spring.
This is an off the beaten track trail. There are no trail markers to follow.
Suitable for dogs.
This trail is located in an army firing zone. You can hike there freely on weekends and holidays, or call in advance to get permission.
Bring good walking shoes, a hat, and a headlamp to hike this trail.
This trail is good for those hikers who are comfortable wandering on their own or following our Google Earth map. There are no trail markers to follow. In some cases, you are required to follow non-existent paths through wild terrain to get from one cave to the next. If you aren't comfortable with this, you can still check out the sites at the main part of Hurvat Loya, which are relatively easy to get to just off of the marked red trail.
If you visit on a muddy day, you may have to park before the trailhead and walk to the trailhead (unless you have a 4x4 vehicle).
If you follow Waze straight to the trailhead, the app may bring you on an impassable road. For this reason, there are two Waze points in the table at the top. The first is the actual point you will want to reach. The second Waze point (point B), is the first one you should follow. Following that point will bring you in the right direction, towards paths that are drivable. Once you reach that point, follow the main Waze point to get to the trailhead.
Don't forget to read my guide to the navigational features in this post before you hit the trail!
Trail map from Amud Anan.
Thanks again to Richard Gertler for tipping me off to the existence of this place!
Questions? Have you hiked this trail at Hurvat Beit Loya? Let's hear about it in the comments!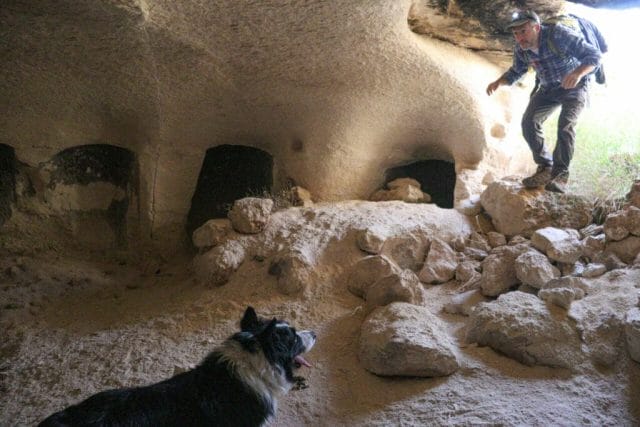 Hiking can be dangerous and is done entirely at your own risk. Information is provided free of charge; it is each hiker's responsibility to check it and navigate using a map and compass.