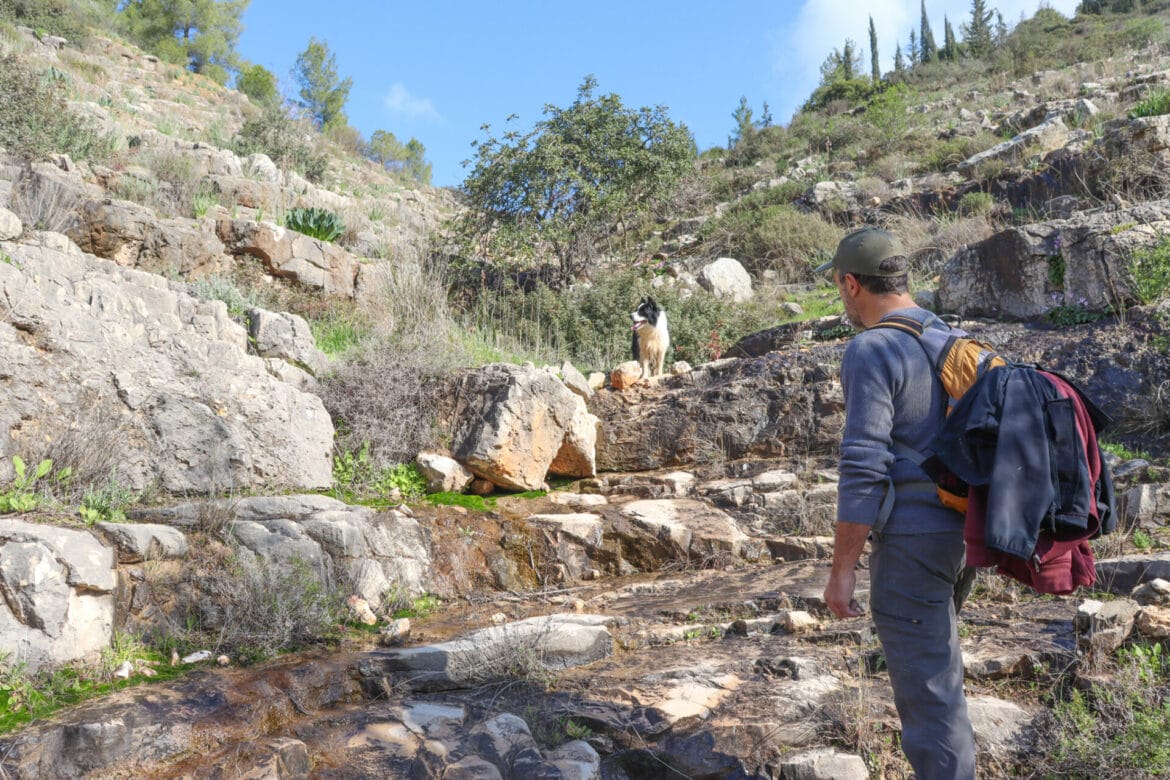 Click here to go straight to hike notes.
Last Friday, we went wandering.
Sometimes, it's nice to lose yourself in nature, to follow a trail without knowing where it leads or what's at the end of it. Last Friday, we did just that, on a new series of trails in the Jerusalem Mountains.
To be sure, it's hard to go wrong on any trail at this time of year. With flowers in full bloom and greenery sprouting everywhere, almost any outdoor path can lead you towards a beautiful adventure. So we weren't too worried when we embarked on this unknown, circular hike.
To plan out our route, we picked a few trails that we had yet to hike in the mountains near our home (there are very few at this point!). We strung them together to create a 7 kilometer loop.
We didn't know much about what we would see along the way. What we did know was that the first part of the trail would take us through something called Nahal Etziona, one of the tributaries into Emek HaElah. We also knew that Nahal Sansan would be in view for part of the walk. And finally, we knew that towards the end of the trail, we would reach some kind of ancient ruins called Hurvat Beit Habad.
With all of this info in mind, we set out on an adventure with zero expectations. Who knew what kind of hike we would have that day?
As it turned out, this 7k loop trail overlooking the Elah Valley was absolutely amazing. Here's how we hiked it:
Woah, That's Unexpected!
We parked our car and set out on the trail. Right away, we were impressed by the dense greenery along the narrow pathway. It was a bit wild, and it felt like we were diving right into nature. Cyclamen grew under rocks and asparagus shoots stuck out into the path. Oak branches formed a thick canopy above.
Soon, the path took a surprising turn: straight down. It had rained just a day earlier, and the marked trail led down a series of smooth, steep rocks, at a sharp angle. This seemed like a slipping disaster waiting to happen.
After watching our border collie slip and slide down the rocks on the path, we decided to take it slow. We also used the overgrown plants and fallen leaves as an alternate path, stepping away from the marked trail as we climbed down. They provided traction for the steep descent.
Of course, we were having the best fun already! There's nothing like a challenge to turn an everyday hike into an exciting adventure.
In the Nahal
We got to the bottom of the valley and turned right. Now, we were walking through Nahal Etziona.
It was beautiful down there. White river rocks made up the bulk of the path, interspersed with large pools leftover from the rain. Yes, it was muddy. But for me, the wetness added to the appeal. I got in close to take pictures of red anemone flowers, still closed tight in the early morning dimness, little droplets clinging to their petals.
This path was definitely a bit untamed. And although we could hear trucks going by on the road just above, it still felt very far away from civilization.
We followed the stream bed, past tall eucalyptus trees and through a tunnel. After a long walk in the valley, we reached the next turnoff. Cliff-like rocks loomed large to our left. We were going to be climbing again.
On the Ascent
This was a welcome challenge. Now, rather than climbing down slippery rocks, we were going to be climbing up. The sun was shining, our blood was warming up, and we were ready to go.
We very carefully ascended along a series of dark gray, craggy rocks, looking for dry handholds to hoist ourselves up. The trail was so wet that there was even a little waterfall running down the hill in some places.
On a dry day, this trail wouldn't have been much of a challenge. But on that day, we definitely had to work it to propel ourselves upward towards the next part of the hike.
Tranquile Meadows
Once we were at the top, things got really quiet. We walked along a flat pathway through low meadows, fenced in by tall forests of trees. It felt like we were completely isolated and alone, in the middle of nowhere.
Red anemone flowers were blossoming abundantly in the grass. And we soon decided that this was the perfect place to stop for our morning cup of coffee.
We found a semi dry patch of grass and spread out a blanket for added protection. Then, we sat enjoying the utter silence. In every direction we glanced, we could see nothing but nature: here a forest, there a mountain and valley. We deeply appreciated the sunshine, the flowers, the tall grass, and our hot drinks.
But all breaks must come to an end. Eventually, we picked ourselves up and continued along the trail, ascending gently and slowly towards the final stretch.
The Show Must Go On
This last part of the trail took us on a wider, flatter road. It still felt like we were in the middle of nowhere. On one side, we passed by a variety of wildflowers, along with old stones that indicated some sort of ancient settlement. When we climbed up the pathway a bit on the other side, we could see down into the valley towards Nahal Sansan, where we had hiked before.
After walking for a while, we saw Hurvat Beit HaBad in the distance, a picturesque structure on a hill. We took the breakaway path to climb up the hill towards the two story building.
This was fun!  And way cooler than expected.  We climbed into the building which was framed on three sides by beautiful, geometric windows.  Through the intricate archway, we could see out to the green and flower filled area just beyond.  It was gorgeous up there.
If we needed shelter from the rain, this is where we would have wanted to stop. As it was, the sun was shining. And we didn't have much time left for hiking that morning. We took some pictures and left Hurvat Beit HaBad to some bikers who had stopped by to peek in.
Full Circle
As we made our way back to the trailhead, we couldn't help but be distracted by a deep and beautiful forest to our left. I went to wander inside to collect armfuls of asparagus. I knew my family would be thankful for the addition to Shabbat dinner.
Eventually, we made it back to our car, tired and exhilarated. We had set out that morning with no idea of the wild beauty we would encounter on the trail.
From flowers, to ruins, to meadows, to cliffs, this wild trail in the Jerusalem Mountains had it all. There's always something new to discover on the vast network of trails that weaves its way through the Holy Land.
Hikers' Notes:
Here's what you need to know to hike this 7 kilometer loop trail through Nahal Etziona to Hurvat Beit HaBad:
This trail is ideally suited to cooler days in fall, winter, and spring.
Suitable for dogs.
It's best to avoid this trail right after rainy days if you don't like mud and slipping.
Bring plenty of water, and wear good hiking shoes and sun protection to hike this trail.
Part of this hike is in a Shetach Aish (Army Firing Zone). You can hike here freely on weekends, or call the army three days in advance to get approval to hike here on weekdays(02-530-5042). Mention that you are hiking from Be'er Etziona up to trail #9435.
This trail is relatively well marked, but there are some markers that are covered in overgrowth or difficult to find. Use the Google Earth file to guide you on the path.
If you would like to shorten the trail and avoid the first downhill, park at Point B. This will take you to the place where the blue and black trails intersect (at the tunnel we crossed through). From here, find the blue trail.
Don't forget to read my guide to the navigational features in this post before you hit the trail!
Trail map from Amud Anan.
Questions? Have you hiked this trail at Nahal Etziona? Let's hear about it in the comments!
Hiking can be dangerous and is done entirely at your own risk. Information is provided free of charge; it is each hiker's responsibility to check it and navigate using a map and compass.