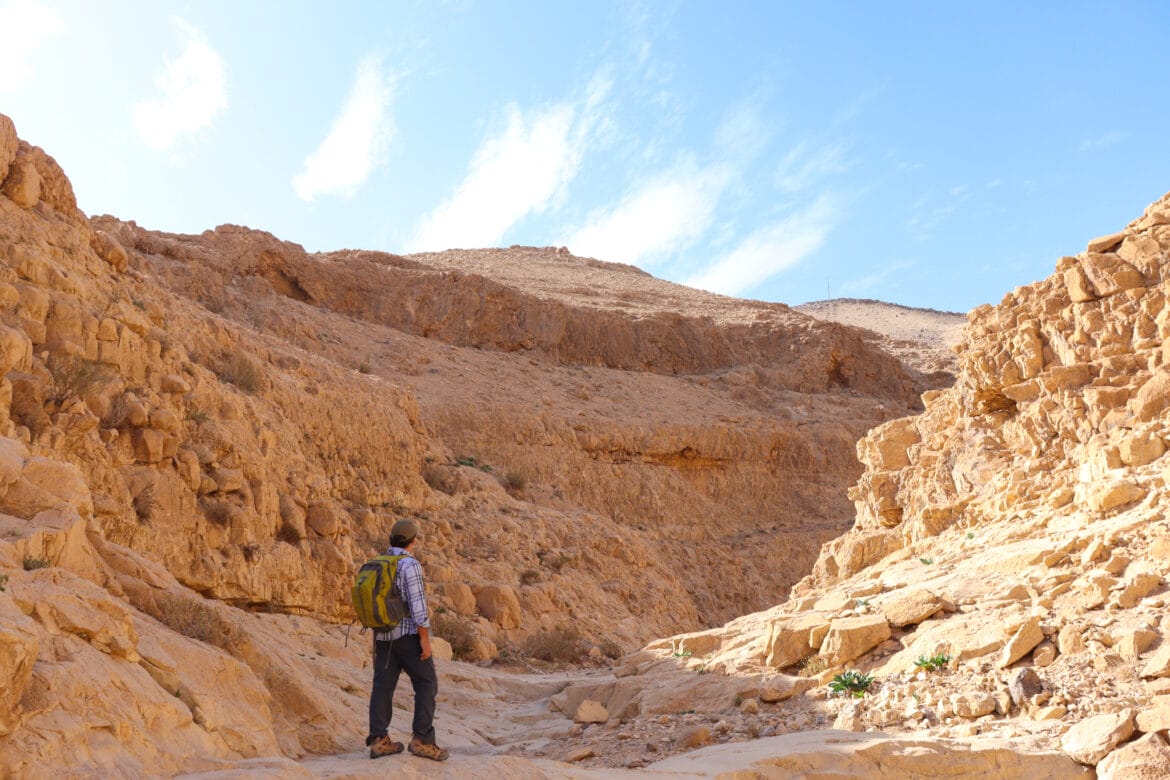 Click here to go straight to hike notes.
How many different desert trails can a person go on? That's a good question: one I ask myself repeatedly. As we scope out new trails in the Southern part of Israel, I start to wonder if I'm a little too obsessed with the desert.
But then, we pick a trail, head out, and I realize all over again: Israel's deserts are beautiful. Just like forest trails, each desert trail has its own special charm. Although they may be similar, they are never the same. And even the most unexciting of desert trails usually feels like an adventure. There are rocks to climb, animals to see, and crazy stark views to take in. What could be bad about that?
So back we go, again and again.
This past week took us to another new desert trail: Nahal Yaelim near Arad.
I am consistently impressed with the assortment of wonderful trails near this Southern city. Inside the city, it feels completely urban. But just take a few steps outside, and you may find yourself in a dramatic desert canyon, with layers of rock that somehow remind you of the Emerald Palace in Wizard of Oz.
Nahal Yaelim was just such a trail. This 10K+, moderate loop trail begins just inside Arad. And for the first several kilometers, it is nothing more than a walk in a mild desert canyon, not too far from the road.
But the second part of the trail took us through a beautiful world of stone and sky that made my soul feel free. It was beautiful.
Here's how we took this 10 kilometer loop trail near Arad, at Nahal Yaelim.
Into Nahal Yaelim
Although I hadn't heard much about this trail, I was still hopeful. Yaelim are Ibexes, a majestic desert animal. A trail with that name has gotta be good, right?
So, as we parked our car in Arad and found our way out of the city onto the trailhead, I was a little bit surprised. This trail was quite near the highway, and although it could have been nice, construction refuse and stray garbage marred its beauty.
We walked, and walked, and walked some more. And still things remained mostly the same. While it was lovely to walk in the desert and lose ourselves in conversation, the first part of the trail was nothing to write home about.
Seeing Things
Then, as the trail pulled away from the highway, things started looking up. The garbage disappeared. On the sides of the trail, we noticed dried up squill flowers with bright green leaves popping up from the ground. These flowers appear as if out of nowhere in early fall. Long after they die away, the squill plant itself grows up from the ground.
After several kilometers of hiking, we veered to the right, onto a little loop that took us away from the road.  As we approached an old cistern, we decided that it would be a good spot to leave the trail and find a place to eat breakfast.  We climbed into the hills and sat on a flat rock overlooking a shallow stream bed.
Gimme a Break
On hikes, break times are always good. Of course, I love the coffee and food that comes along with break time. But more importantly, I just love to stop and contemplate the nature on the trail.
When we stopped hiking that morning in Nahal Yaelim, everything started to feel far quieter and more beautiful. We noticed the desert birds swooping through the air, stopping near us to pick up stray muffin crumbs. I felt the silence, suddenly palpable and present. It was so relaxing that I felt like lying down and taking a nap right there on the rocks.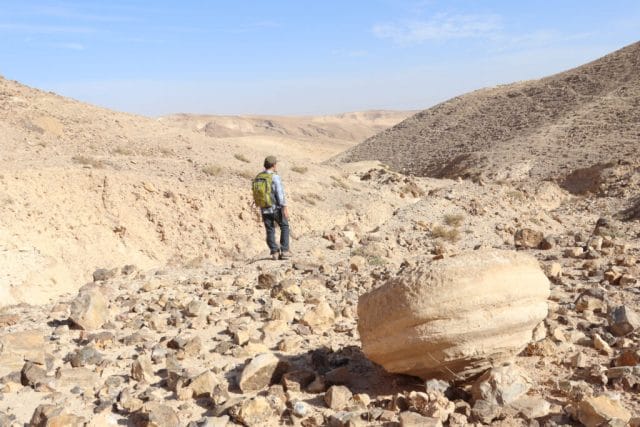 I did lie down for a bit, appreciating the comfort of a rock pillow. But after a while, it was time to keep on going. We packed up and picked ourselves up, walking back to the trail. On the way, we passed a piece of stone that was clearly once part of an old structure. Soon, we were back on track.
The Emerald Palace
Next, we crossed a highway and found ourselves in another canyon. This one felt more remote and striking than the previous one. Rocks were stacked in every which way, forming white walls of the canyon. As we walked, we passed a family of rock hyrax, hiding in the shadows.
This canyon was fun to walk through. We ascended slowly. This terrain didn't make for fast walking. Some parts of the path were flat rocks. But in other places, we got to climb up and over big boulders or along rock walls to get through to the other side.
I was struck by the way the rocks stacked up geometrically, small rectangular rock on top of small rectangular rock. All together, the picture they formed looked like the Emerald Palace, a wall of tawny bricks that towered into the sky.
That Was Fun!
We hiked this way for quite a while, enjoying the quiet and the beautiful scenery that surrounded us. And after many kilometers, we found ourselves ascending sharply. Soon, we were able to see the homes on the outskirts of Arad. This trail was coming to an end.
As we climbed out of the canyon, we made our way back into the city. Our hike seemed to be over. But in fact, we still had quite a way to go.
This trail was circular. And for the last 20 minutes or so, we would be walking through the streets of Arad to complete the loop and return to our car.
We used the maps on our cell phone to follow the twists and turns of the streets, past large shopping centers and through small parks. Although this was quite a departure from our desert walk of the morning, it was still interesting to see the different types of people who lived in Arad. And it was really nice there on a cold, December morning.
Eventually, we made our way back to the car. Yes, it had been just another desert trek. But it had also been a wonderful morning.
Near Arad, an assortment of trails leads nature lovers out into beautiful pieces of nature nearby. This long circular trail through Nahal Yaelim was a fun and easy way to experience the quiet majesty of Israel's desert.
Hikers' Notes:
Here's what you ned to know to hike Nahal Yaelim near Arad:
This trail is best suited to cooler days in fall, winter, and spring.
This is a circular trail. The trail begins and ends in the city of Arad. When you return to the city (on the blue trail), use Google Maps to find your way back to the trailhead on the city streets. It will be about a fifteen minute walk.
This trail is suitable for dogs.
Wear good hiking shoes, sun protection, and bring plenty of water to hike this trail.
As with all desert trails, check the forecast for flash flood warnings before you go.
Use the trail marker gallery and trail map in the table at the top of this post to find your way on the trail.
To start the hike: after you park, backtrack towards the traffic circle you passed through on the way. From there, cross through the park towards Israel Trail Markers to begin the hike. If you need help, use the Google Earth file to help you locate the trailhead.
Trail marker colors: Start on Israel Trail.Follow the Israel Trail/ Red Trail for several kilometers. When the trail veers to the right, follow the Israel Trail/ Green trail (not marked correctly on the map) until you reach the breakaway trail to the cistern. Explore the cistern, then return to green trail/ Israel Trail. When you reach the road, follow the red trail across. When you reach the green crossroads, follow the green. When you reach the blue crossroads, follow the blue. The blue trail will take you all the way back into Arad. In Arad, use Google Maps to find your way through the city back to where you parked (15 minute walk).
Don't forget to read my guide to the navigational features in this post before you hit the trail!
Trail map from Amud Anan.
Questions? Have you hiked this trail at Nahal Yaelim? Let's hear about it in the comments!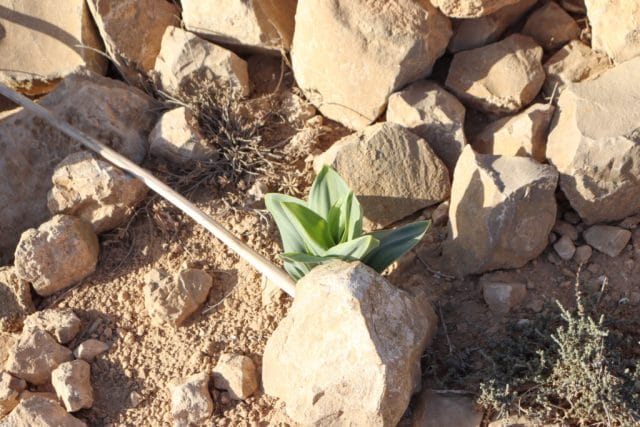 Hiking can be dangerous and is done entirely at your own risk. Information is provided free of charge; it is each hiker's responsibility to check it and navigate using a map and compass.