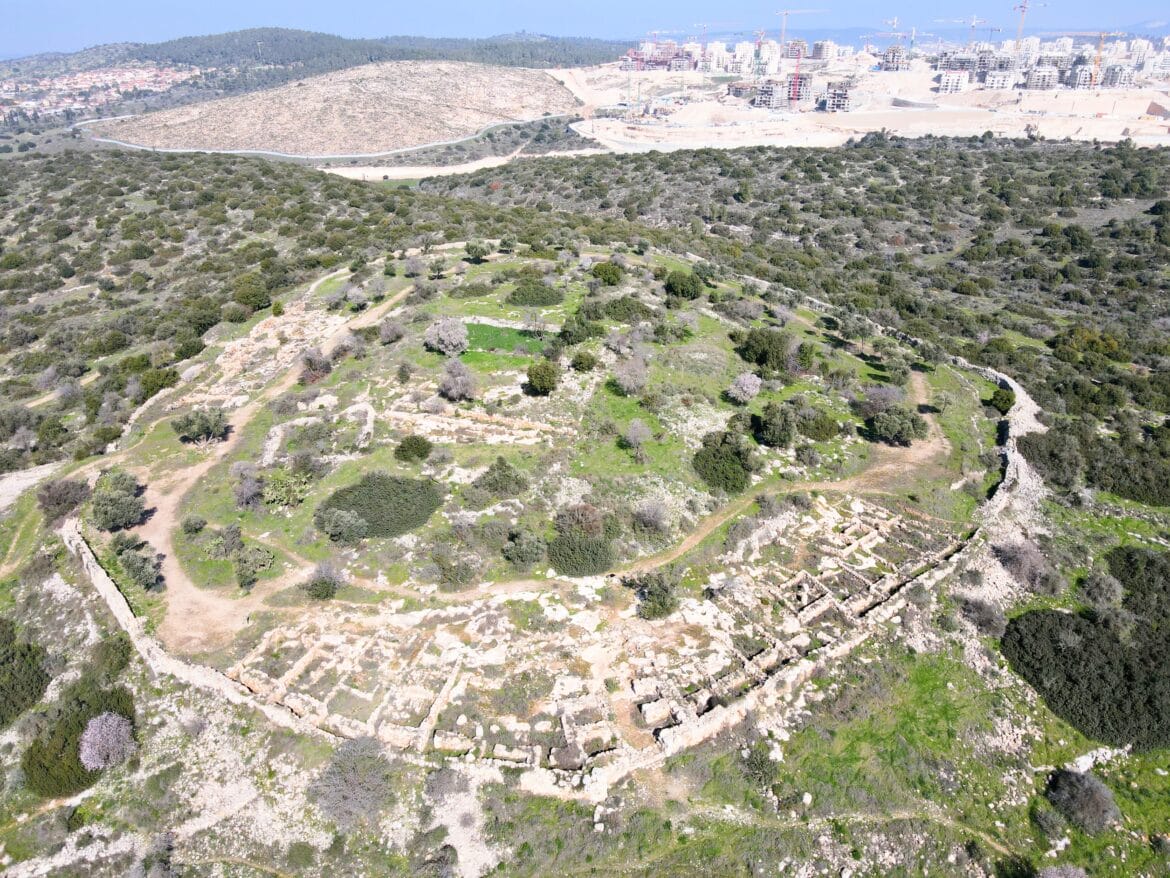 Click here to go straight to hike notes.
What's the coolest thing about hiking in Israel? For some people, it's the flowers in springtime. For others, it's the varied beauty of the land, a place where you can visit a desert canyon and a lush, green mountain on the same day.
But for me, the coolest thing about hiking here is the connection of the Land to stories from the Bible. Around Jerusalem, one can go on a nature hike in a beautiful place and also visit a Second Temple city. One can visit a purple flower covered hill that also sits atop an ancient town mentioned in the stories of David and Goliath (Tel Socho).
This past week, we went on a very little-known hike near Beit Shemesh to a place called Hurvat Kiyafeh. The trail was quiet, beautiful, flower filled, and also home to the most interesting and complete First Temple City in all of Israel.
This city has been thoroughly excavated. Coins and the earliest Hebrew writings have been discovered in this spot (now located at the Bible Lands Museum). Through carbon dating and analysis of finds at the site, the fortified city at Hurvat Kiyafeh (with two walls!) was determined to have been inhabited by Jews during the time of King David.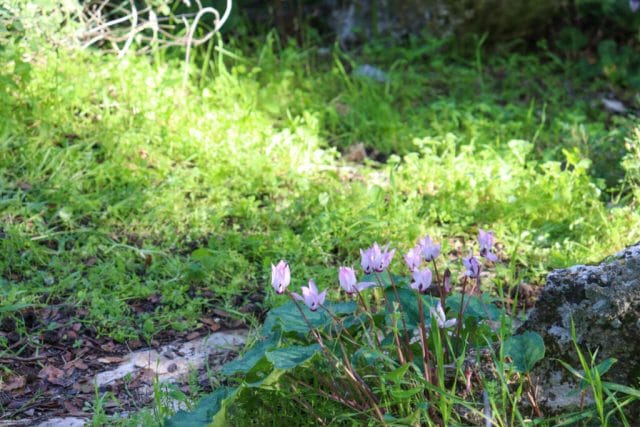 Strangely enough, there isn't much publicity around this local trail. It is barely noticed, poorly marked, and there are no signs whatsoever at the remains of a city on top of the hill. This is all the more reason to go there: you probably won't bump into any tour groups or big busses on your journey.
Although it is right next to Beit Shemesh, the trail felt quiet and isolated. We had a wonderful adventure.
Here's how we hiked this 4.5 kilometer loop to Hurvat Kiyafeh near Beit Shemesh:
What's in Store?
We pulled off the highway towards green meadows and parked our car at the trailhead. Up ahead, a blue trail marker indicated our direction, on a wide jeep road alongside the meadows.
We began walking, the traffic from the nearby highway ringing in our ears as we hiked. At this point in our journey, we really had no idea what to expect out of this short loop trail. We hadn't been able to find many pictures or descriptions of the trail itself (although there were many of the ancient city at the top).
For this reason, we were pleasantly surprised when we made a right to follow the black trail into the beautiful Elah Valley Nature Reserve.
A Quiet, Narrow Trail
From here on in, the path became just lovely. We followed a narrow trail through masses of cyclamen and anemone. Carob trees, olive trees, terabinth trees, and more grew all around. We noticed plentiful asparagus plants, their thorny vines climbing the trunks of trees.
This trail was just about everything you could want out of a nature trail. In the early morning mist, it felt simply magical. And since we were ensconced in a little valley, we felt removed from the hustle and bustle of the nearby cities and highways. We saw a pair of gazelle scurry off into the trees when our border collie approached. And then we followed their tracks in the fresh mud. It was clear that this was a favorite place for animals to gather.
After walking for a while, we decided to veer off the trail for breakfast. We climbed into a little nook of trees and sat on a rock, right in the middle of a mass of cyclamen flowers.
Morning Escape
Had we just hiked to that spot, had breakfast, and turned around and gone home, the hike still would have been completely worth it. It was beautiful there.
A mix of sun and shade made a perfect sitting area in the grass on a warm winter morning. The trees blocked our view of anything else. It felt like we were in a little room: leafy walls, a carpet of cyclamen blossoms, their pink petals reaching towards the sky.
We drank cup after cup of hot coffee, not willing to leave our little hideaway too quickly. But Hurvet Kiyafeh was waiting…
Eventually, we finished the last of our coffee and reluctantly left our picnic spot.
On the Climb
We continued to follow the trail, up out of the valley, then alongside a hill. The views out to the surrounding area were spectacular: green and glorious. Flowers blossomed everywhere. We felt lucky to be visiting this unique area during a wonderful season.
After a while, we found the breakaway trail up to the top of the hill, towards the great walls and gates that loomed up above. We passed by blossoming almond trees and tall white flowers on our way to the top.
In the Walled City
So what was so special about Hurvat Kafiyeh? Well, first of all, the structure itself is incredible to see. At the city, two thick walls surround the hill, with two large gates at either side. In the gateway, there are holes for giant bolts. This was typical during Iron Age building (at the time of King David).
Insides the city, there are even walls that made up the homes and buildings. One can see what an ancient walled city must have looked like, just by wandering around the complete structures at the site.
When ancient Hebrew writings were discovered at Hurvat Kiyafeh, some archeologists saw this as proof that the stories of King David were rooted in actual events. Until then, there had been some debate as to whether ancient Israelites would have even been able to write their history. Hebrew writings from that time period had yet to be discovered. If there was no writing, perhaps the stories were just stories, written down years later and presented as history.
We wandered on the walls for quite a while ( I may have been collecting asparagus most of the time). Then, we left the city through the second large gate and followed the path down to the jeep trail below.
Full Circle
We walked back along the jeep trail, the Elah Valley Nature Reserve on one side and green meadows on the other. Soon, we passed the spot where we had entered the reserve hours earlier, not knowing what sort of adventure we had in store.
For the rest of the walk, we were in a state of wonder that this incredible place existed, so close to home. As we approached our car, the traffic noise from nearby Beit Shemesh grew louder. This trail wasn't far away or remote – just unknown.
At Hurvat Kayifeh, a wonderful world of wild beauty and fascinating history coexist, on one easy, local trail.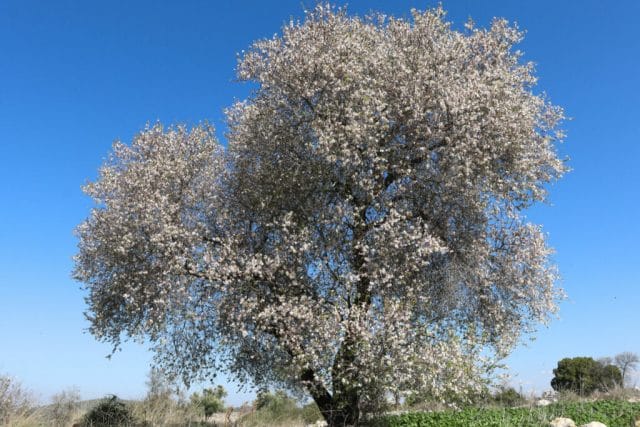 Hikers' Notes:
Here's what you need to know to hike this trail at Hurvat Kiyafeh:
This trail can be suitable for all seasons, but it is much more beautiful and pleasant on cooler days in winter and spring.
Good for kids.
Suitable for dogs.
Wear good hiking shoes and bring plenty of water and sun protection to hike this trail.
Some scholars have identified this spot as the Biblical city of Sha'arayim (because of it's two gates/walls), mentioned in the book of Samuel.
To follow the trail: Begin on the blue trail. When you see the first sign for Elah Valley Nature Reserve, make a right and follow the unmarked trail. The unmarked trail will take you on a slow ascent until you reach the Israel Trail. Make a left on the Israel Trail. After walking for a while, you will notice the Hurva to your left. Follow the unmarked trail to reach the Hurva. Loop around the Hurva, then follow the blue trail back to your car.
If you have a 4x4, you can drive all the way to Hurvat Kiyafeh. Just use parking point B.
Use the Google Earth file in the table at the top of this page to better find your way on the trail.
Don't forget to read my guide to the navigational features in this post before you hit the trail!
Trail map from Amud Anan.
Questions? Have you hiked this trail to Hurvat Kiyafeh? Let's hear about it in the comments!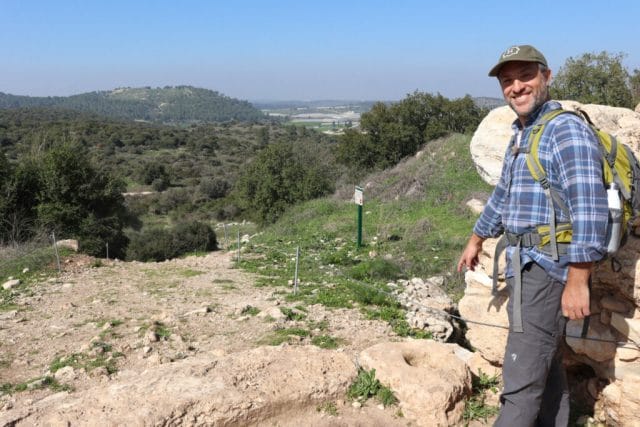 Hiking can be dangerous and is done entirely at your own risk. Information is provided free of charge; it is each hiker's responsibility to check it and navigate using a map and compass.