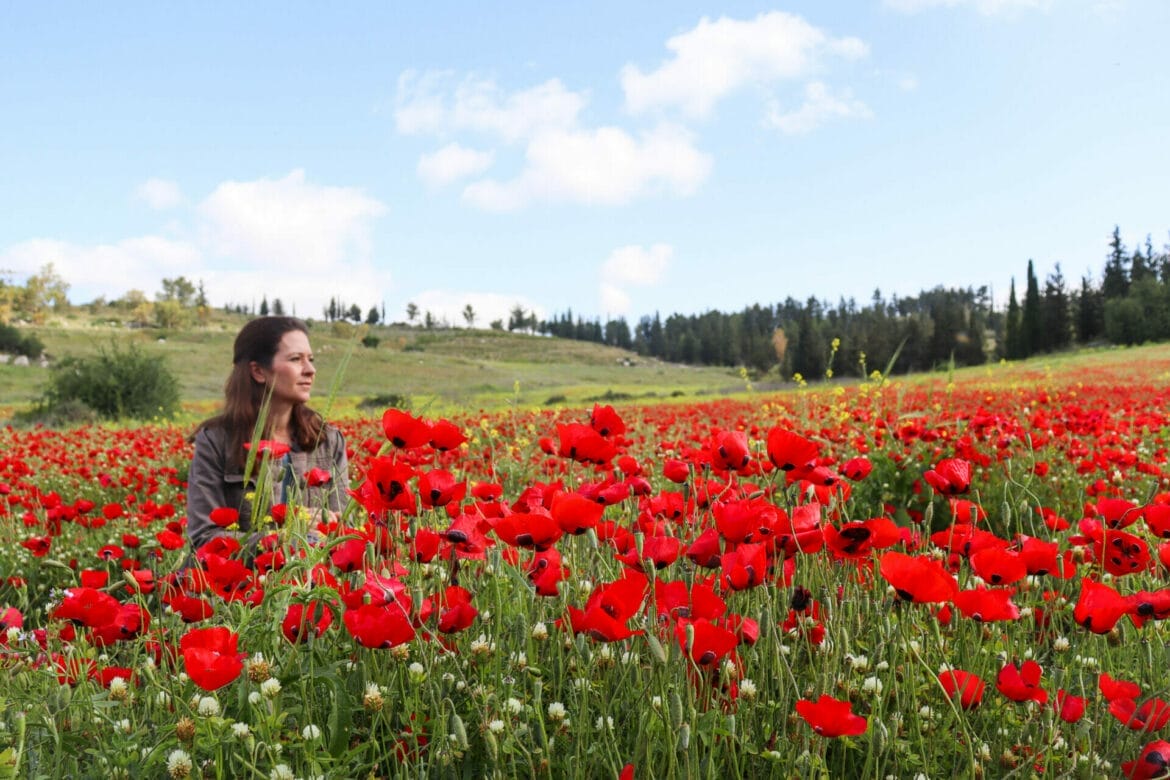 Click here to go straight to hike notes.
Update! No poppies here anymore!!! (May 3, 2023)
Just when it seemed that flower season was fading away, the poppies appeared.
This past week, when I was searching for a Friday hike, I had my sights set on the desert. I wanted to hike through a desert stream, one with cool pools filled up by the recent rains.
But as Friday morning approached, I just wasn't feeling myself (those spring viruses were getting me down!) An almost two hour ride into the desert and a challenging hike didn't seem like the right plan for the day. So instead, we did a quick pivot, and planned out a short 4.5 kilometer hike not too far away on Burma Road.
Burma Road is one of our favorite places to hike and bike. This incredible bypass road was build during the Israeli War of Independence, as a path to get water and supplies into besieged Jerusalem. Walking along any part of the trail, you can see maps and read bits of history on posted signs. Especially around Independence Day (which is this Wednesday), hiking this trail is an inspiring way to connect to Israel's history and the miracles which led to the founding of our country.
There are many beautiful picnic areas and nice places to stop along the trail. We planned out our hike to begin at Mitzpe Har El, one of the many historical stopping points on Burma Road. Word on the street was that there were fields of blossoming, red poppies at Mitzpe Har El. These tall, crimson flowers are not to be confused with red anemones, Israel's national flower, which blossom abundantly during the months of February and March. Poppies appear in mid-April, taking over fields around the country with their cheery red petals that dance in the wind.
Thus, it was settled. Friday morning, we packed up our bags and set off to Mitzpe Har El on Burma Road.
Here's how we hiked this perfect for the season trail at Burma Road:
Yeah, This is It
Usually, our Burma Road hikes are extremely quiet. Although there are other hikers and bikers who like to adventure on Burma Road, it is a very long stretch of trail, and remains relatively remote compared to some other popular trails.
But on that Friday morning, we pulled onto the road and found some sort of large gathering. At one of the picnic areas, there were big signs, and an unreasonable number of cars gathered. And that wasn't all.
As we drove past the gathering, we encountered a tractor parade, one colorful tractor after the next, some large, some small, plowing straight down the road, decorated with Israeli flags.
It was very, very cute. But I feared that the solitude I longed for would be hard to come by that morning.
As we passed the tractor parade, we saw our destination in the distance. A carpet of red shone from the green grasses up ahead. This was the poppy explosion.
Frolicking Once Again
We got out of the car and began to follow the narrow paths through the endless field of poppies. Despite the ruckus up the road, this field remained quiet and untrampled. There were one or two other couples walking through the poppies. But the fields were so large and endless that it really felt like there was no one else there.
Of course, the first thing we did was take lots and lots of pictures. I was missing the flower photography of February, and I relished the opportunity to get down on the ground and snap away.
Poppies are different than anemones. First of all, they are taller, making it much easier to catch them at a good angle. They also have characteristic black dots on their petals.
After a really long photo shoot, we were ready to decide on our next step. Should we stay here in the field of poppies and have an early breakfast in the sunshine? Or should we continue along the trail and hope to reach another spot that was just as nice?
We chose to breakfast with the flowers.
Picnic in the Flowers
We had just one question: Would we be able to find a spot in this ridiculously beautiful place where we felt we had privacy and quiet?
Long trails led through the poppies, which seemed to continue to every corner – small hills on one side, forests on another. We decided to follow the trails into the distance and see where we ended up. As long as we were in the far end of the flower fields, we thought we could get some peace and quiet.
And we were right! In the distance, there were a few patches of trail that were large enough for a picnic for three (me, my husband, and our border collie). We sat down in a patch, surrounded by gorgeous flowers, and broke out the coffee and lemon blueberry muffins.
Let's Stay a While
I can't think of very many picnic spots that have been better than the one we chose that morning. With the sun on our face on that cool spring day, surrounded by red poppies, it felt like we were in a little piece of heaven.
Not only that, but the tall poppies shielded us from the world. We felt hidden in our own secret spot. Even if there had been ten couples wandering through the fields, I don't think we would have noticed.
Big bumblebees buzzed from flower to flower and small white butterflies flitted in between. Tall mustard and white clover grew in between the red poppies. I wished that I had a way to capture the entire scene in a photograph. But there was too much amazingness happening all at once.
Eventually, after our coffee and muffins and carrot sticks were finished, I laid back to feel the warm sun on my body. This place couldn't have been more perfect.
Aren't We Here for a Hike?
When we were ready to get moving, we packed up our stuff and made our way back through the flowers. We had planned a little hike for that morning – and we weren't going to miss that, no matter how beautiful the flowers were. We set off down Burma Road, enjoying the shade of the pine trees and picking tall asparagus from the sides of the road as we walked.
Tucked away in some of the little clusters of pine trees, campers had set up tents. With picnic tables, fire pits, and even a bathroom or two, this seemed like an amazing place to spend a weekend. We walked on by towards the Israel Trail, where we would leave the main road for a foray into wilder country.
A Perfect Little Loop
We hiked down the Israel Trail, enjoying the beautiful scenery, the rich history, and the relative quiet. There were no tractor parades on this part of the trail, and we were left to ourselves to soak up the views, check out the wild carrots, and read up on the history of Burma Road. Eventually, we looped back up towards the main part of Burma Road.
As we headed back the way we came, we noticed more little picnic areas and quiet places tucked away into the forest. At this season, wildflowers blossomed aplenty, in shades of pale yellow, purple, and pink. Since this stretch of Burma Road was paved (although not the Israel Trail part), we imagined returning with older parents or with our granddaughter in her baby stroller for a beautiful spring walk through the woods.
This short loop trail at Burma Road was a perfect choice for a relaxed mid-April foray into nature. Between the gorgeous fields of poppies and beautiful forest trails, this hike was just what the doctor ordered.
Hikers' Notes:
Here's what you need to know to hike this trail from Mitzpor Har El on Burma Road:
You can reach the flower fields without any hiking at all. Just follow the Waze point in the table at the top of the page.
Much of this trail is on paved roads. There are picnic areas along the path. This would be a great place to go for a day out with family, including strollers or wheelchairs.
Suitable for dogs.
Great for kids.
We hiked this trail on April 21, 2023. Visit this area in the month of April to see fields of poppies.
To follow the trail, use the trail marker gallery, trail map, and Google Earth file in the table at the top of this page.
Don't forget to read my guide to the navigational features in this post before you hit the trail!
Trail map from Amud Anan.
Questions? Have you been to Mitzpor Har El or hiked Burma Road? Let's hear about it in the comments!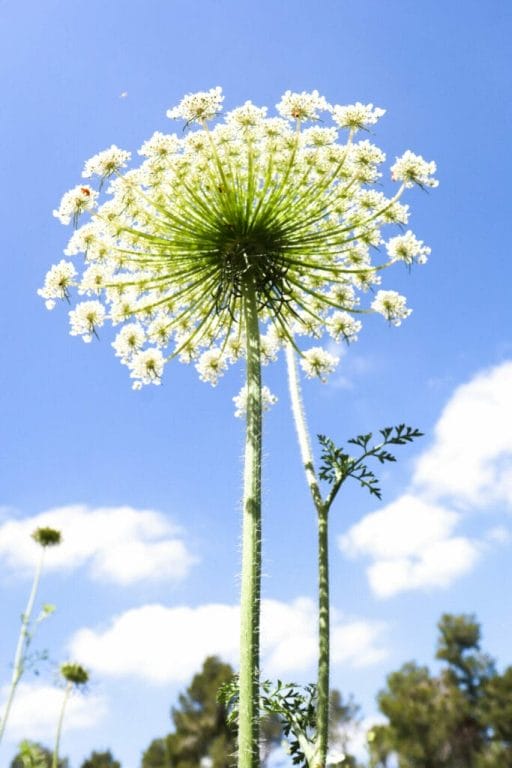 Hiking can be dangerous and is done entirely at your own risk. Information is provided free of charge; it is each hiker's responsibility to check it and navigate using a map and compass.